20+ Easy, Healthy Pasta Recipes
These nutritious pasta recipes are all designed by a Registered Dietitian, try one for dinner tonight! This collection of recipes features all kinds of healthy pasta dishes, including vegetarian pastas, vegan pastas, shrimp pastas, and pasta sauces.
Do you often wonder "is pasta good for you"? As a Registered Dietitian, I'm here to assure you that pasta can absolutely be a part of a healthy diet!
Is pasta healthy?
On its own, pasta is a minimally processed food, made from just wheat flour, water, and sometimes eggs. One cup of regular cooked pasta provides 2.5 grams of dietary fiber and 8 grams of plant-based protein!
What makes a pasta recipe nutritious is what you add to the pasta. Because pasta is so versatile, it's the perfect vehicle for lots of healthy additions, like vegetables, healthy fats, and high quality proteins.
Vegetables add dietary fiber, antioxidants, vitamins, and minerals
Healthy fats you can add to pasta include olive oil, olives, nuts, and healthy pasta sauces.
Pasta is delicious with all sorts of proteins, including shrimp, seafood, tofu, and cheese.
As you can see, pasta can be a nutritious, well balanced meal that provides carbohydrates, fiber, protein, and healthy fat. Enjoying pasta in this way helps keep you full and satiated by slowing digestion and stabilizing blood sugar levels.
Read on for all of the healthy pasta recipes, or click on the categories below to jump:
Vegetarian Pasta Recipes
Pasta with Quick & Healthy Green Sauce
This vibrant spinach and basil green sauce for pasta is a delicious way to get your greens in. Make it tonight for an easy weeknight dinner win, or meal prep a batch for a week of healthy eats! Ready in 30 minutes or less.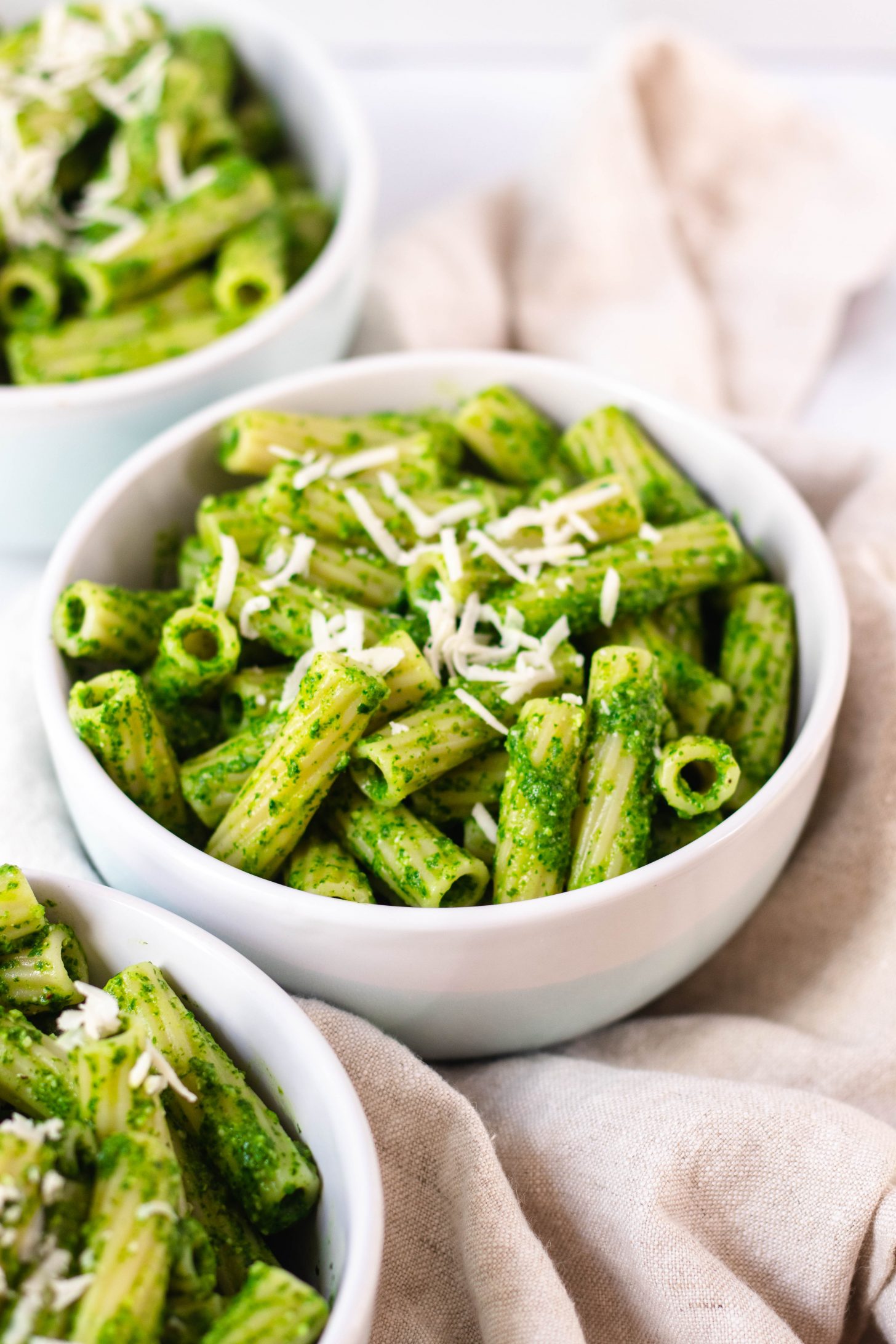 Creamy Lemon Garlic Kale Pasta
This vegetarian pasta recipe features a deliciously creamy lemon garlic sauce and nutrient-dense kale! Made on the stovetop in about 20 minutes, this creamy kale pasta is a comforting and cozy weeknight meal. Use your favorite long, wide noodle like fettuccine for this recipe.
Delicata Squash Pasta with Broccoli and Sage
This vegetarian pasta recipe is a favorite when delicata squash is available. Penne pasta is tossed with sautéed delicata squash, broccoli, sage, pine nuts, and parmesan cheese. It's a quick pasta recipe that comes together in 30 minutes or less.
Cauliflower and Kale Pasta with Lemon Garlic White Wine Sauce
This cauliflower and kale pasta has lots of healthy vegetables, savory capers, and parmesan cheese, all tossed in the most delicious lemon, garlic, and white wine sauce. It's easy enough to make for a weeknight meal!
Pasta alla Norma is an Italian pasta dish that features eggplant. It's typically eaten in Sicily, as it originates from Catalia, Sicily. Traditional Pasta alla Norma ingredients include pasta, eggplant, tomatoes, basil, and ricotta salata cheese. To make this recipe, I stuck mostly to the traditional ingredients it calls for, but swapped out ricotta salata for parmesan and fresh mozzarella.
Pesto pasta is one of those meals that proves simple is best. Made with just a handful of high quality ingredients, it is an extremely delicious and satisfying meal. This kale pesto pasta is just a minor twist on a classic pesto recipe, bringing a little different flavor and even more vibrant green color to the dish.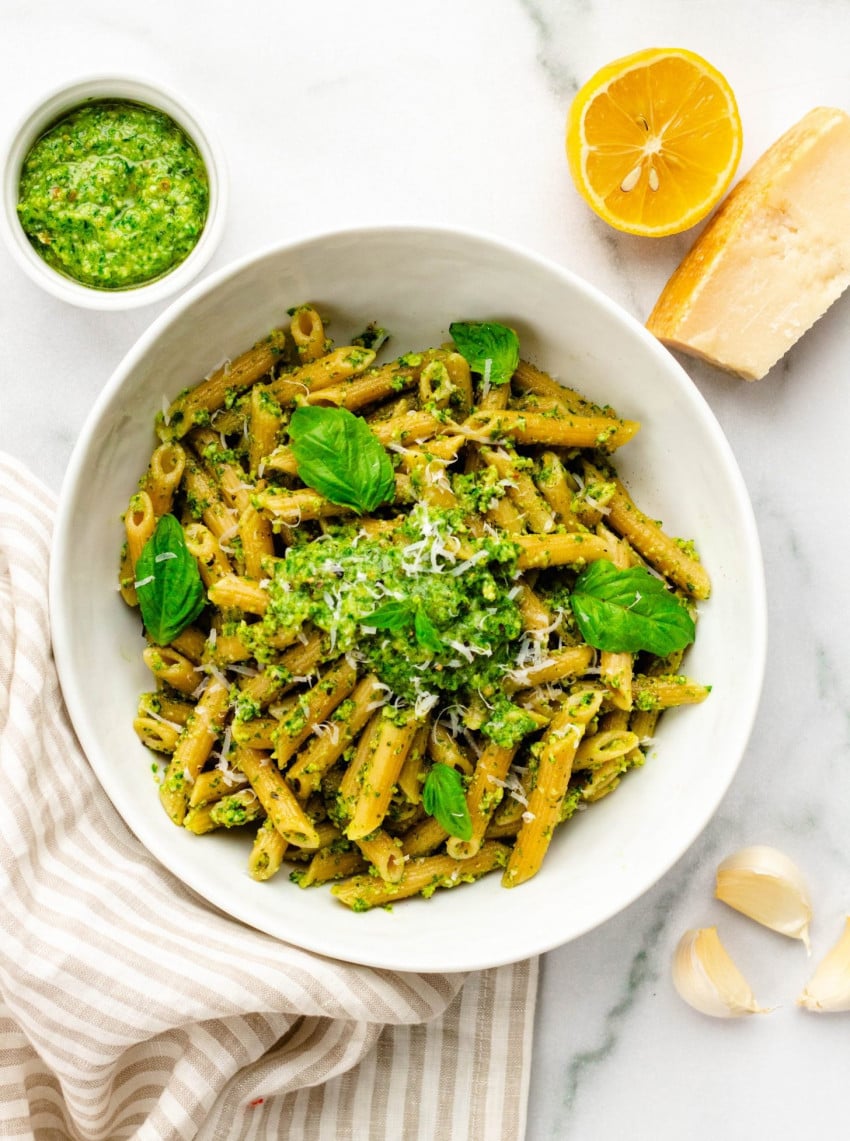 Pea Pesto Pasta with Roasted Tomatoes
This pea pesto in this dish is just as delicious as classic basil pesto, but with an extra boost of nutrition. Peas add vitamins, minerals, fiber, and plant-based protein to pesto, while giving it a vibrant green hue. You'll still find classic pesto ingredients in this recipe, including basil, parmesan cheese, and pine nuts.
Butternut Squash and Kale Pasta
This butternut squash and kale pasta is the best fall dinner recipe. It's easy, cozy, and absolutely delicious. It has the perfect mix of savory flavors from kale, vegetable broth, white wine, and parmesan cheese, balanced out with the sweet butternut squash.
Roasted Pepper and Tomato Pasta
This roasted pepper and tomato pasta is the ultimate vegetarian comfort dish. It's filled with flavors of roasted vegetables, garlic, olive oil, and fresh herbs. This pasta comes together easily in under 30 minutes. You can eat it warm or cold, so it's great as leftovers as well as fresh!
Creamy High Protein Mushroom and Spinach Pasta
This creamy mushroom and spinach pasta contains a secret healthy ingredient that replaces heavy cream and adds plant-based protein to this dish. That high protein ingredient is not cashews or tahini. It's TOFU! Silken tofu, to be exact. When blended, silken tofu has a similar consistency to heavy cream. It has a neutral flavor, so you can add whatever seasonings and spices you like.
Spring Pasta with Lemon, Asparagus. Mushrooms, and Peas
This pasta dish is spring in a bowl! It combines the fresh flavors of asparagus, dill and lemon for a light yet satisfying meal that comes together quickly.
Vegan Pasta Recipes
Pasta with Creamy Rosé Wine and Tomato Sauce
This creamy vegan pasta recipe combines ripe tomatoes with rosé wine and fresh basil to create a comforting blush pasta sauce that's completely dairy free. The rosé pasta sauce is velvety, comforting, and packed full of flavor.
Pasta with Creamy Sun-Dried Tomato Sauce
You won't believe this sun-dried tomato pasta is completely vegan! The decadent, velvety sauce coats the noodles perfectly to create this healthy pasta recipe (yes, pasta can be healthy!). Top this pasta off with fresh basil or parsley for an easy weeknight dinner win!
Creamy Pumpkin Alfredo Sauce Pasta
This pasta with homemade pumpkin alfredo sauce is the ultimate comfort food. It's rich and creamy without feeling too heavy. A deliciously savory blend of garlic, shallots, and rosemary accentuates the pumpkin flavor.
Ratatouille is a French Provençal dish made of stewed vegetables. It traditionally contains onion, garlic, eggplant, zucchini, bell pepper, tomato, and fresh herbs. This ratatouille pasta is the best warm, comforting, and healthy recipe. The ratatouille sauce is packed with vegetables and delicious flavor.
Shrimp Pasta Recipes
Angel Hair Pasta with Shrimp and Asparagus
This angel hair pasta with shrimp and asparagus is light, yet comforting and filling at the same time. It has a hefty amount of vegetables, and paired with a lean protein like shrimp, this pasta dish is actually pretty healthy!
Shrimp Scampi Zoodles and Noodles
This recipe is a twist on classic shrimp scampi. It still has tons of garlic flavor plus lemon and white wine, but it's paired with fresh summer basil and served over a combination of pasta and zucchini noodles (zoodles).
Baked Pasta Recipes
Easy Baked Pumpkin Mac and Cheese
Made with cheddar and parmesan cheeses, this baked pumpkin mac and cheese recipe is sure to please everyone! The ultra creamy sauce is made in a blender, so it's easy to make for a weeknight dinner.
Baked Goat Cheese Spinach Artichoke Pasta
This baked goat cheese spinach artichoke pasta was admittedly inspired by the viral TikTok baked feta pasta recipe, but I gave it my own delicious and healthy twist. This recipe is reminiscent of the classic spinach and artichoke dip, but filled with good for you ingredients like spinach, artichokes, and leeks. The best part is how easy it is to make, and it comes together in just about 30 minutes.
Pasta Salad Recipes
Looking for an easy and healthy recipe to bring to all your summer cookouts? This healthy roasted vegetable pasta salad is perfect for just that! It's filled with tons of vegetables, fresh basil, olives, and feta cheese and tossed in a simple lemon dressing.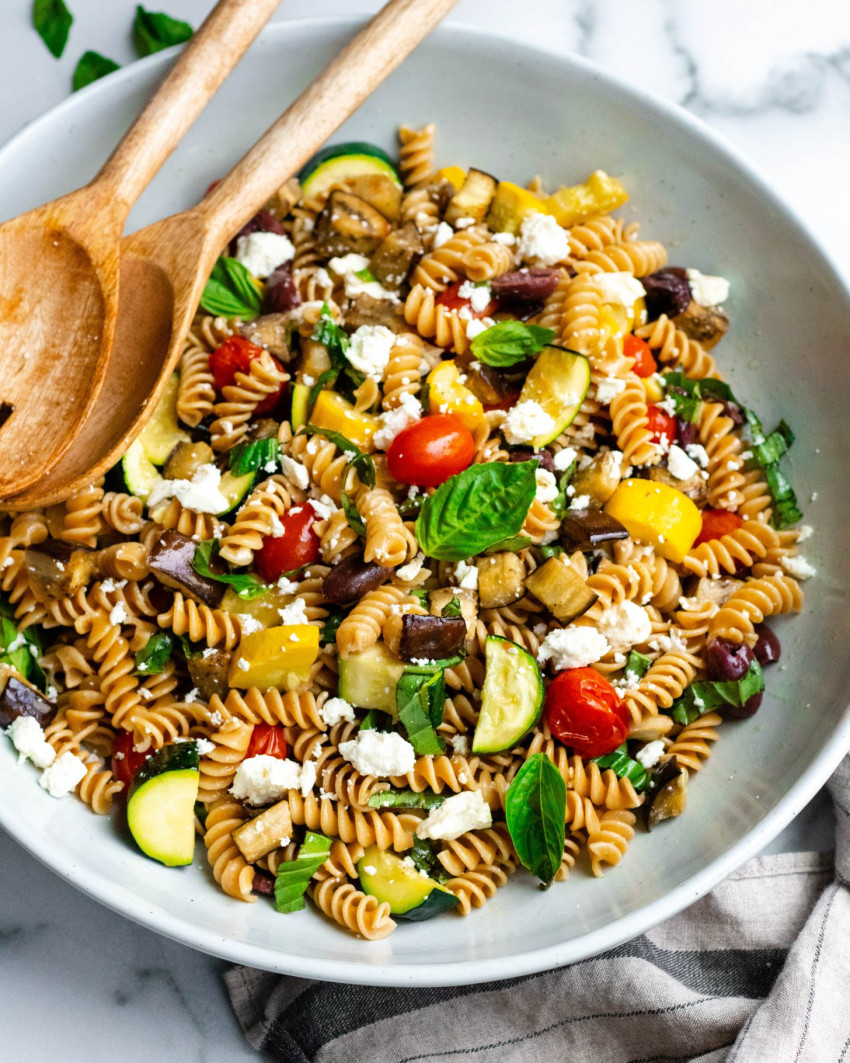 This caprese orzo pasta salad is bursting with cherry tomatoes, mozzarella cheese, and fresh basil. The simple flavors work wonderfully together when mixed with orzo pasta and a homemade basil vinaigrette.
Let me know if you love this recipe by leaving a comment or star rating below, and check out Instagram and Pinterest for more healthy lifestyle inspiration. Thanks for stopping by!
Print
20+ Easy, Healthy Pasta Recipes: Ratatouille Pasta
Author: Alex Aldeborgh
Prep Time: 20 minutes
Cook Time: 45 minutes
Total Time: 1 hour 5 minutes
Yield: serves 4
Category: main dish
Cuisine: Italian
Diet: Vegan
---
Description
These nutritious pasta recipes are all designed by a Registered Dietitian, try one for dinner tonight! This collection of recipes features all kinds of healthy pasta dishes, including vegetarian pastas, vegan pastas, shrimp pastas, and pasta sauces. 
---
1 medium eggplant, diced into 1 inch pieces
2 zucchinis, diced
1 yellow bell pepper, diced
4 tbsp olive oil, divided
Salt
Pepper
1 onion, diced
1 shallot, thinly sliced
3 cloves garlic, minced
1/2 tbsp Italian seasoning blend
4 roma tomatoes, chopped
3 tbsp tomato paste
1/3 cup fresh basil, chopped
1 tbsp balsamic vinegar
8 oz pasta (I used bowtie)
---
Instructions
Preheat oven to 420 degrees. Line two sheet pans with parchment paper.
Toss eggplant with 2 tbsp olive oil and a shake of salt and pepper, and spread out onto one sheet pan.
Toss zucchini and bell pepper with 1 tbsp olive oil and a shake of salt and pepper, and spread out on the other sheet pan.
Roast vegetables for 25-30 minutes, until beginning to caramelize and fork tender.
While vegetables roast, prepare stovetop tomato sauce. Heat remaining 1 tbsp olive oil over medium heat in a saute pan.
Add onion and shallot with a generous shake of salt and pepper. Cook for 2-3 minutes, stirring occasionally, until transparent.
Add garlic and cook for an additional 1-2 minutes.
Add Italian seasoning, stirring to coat onion mixture, and cook for 1 minute until fragrant.
Add tomatoes, tomato paste, and basil. Stir to mix everything up, then cover and cook for 10-15 minutes. Stir sauce every few minutes to ensure even cooking. Add up to 1/2 cup water as necessary to keep ingredients from sticking to the pan.
Once vegetables are done roasting, stir them into the tomato sauce. Mix everything up to combine.
Add balsamic vinegar plus salt and pepper to taste. Cover and simmer for 5-10 minutes.
While sauce simmers, prepare the pasta according to package instructions.
Mix cooked pasta into the plan with sauce. Serve warm, with fresh basil for garnish.
---
Notes
Keeps well in the fridge for up to 5 days, and tastes good warm or cold.
Add freshly grated parmesan cheese if desired/not vegan.
Keywords: healthy pasta recipes, easy healthy pasta recipes, vegetarian pasta recipes, vegan pasta recipes