These healthy homemade sauce, dressing, and dip recipes will make all your meals more flavorful and exciting. Each recipe is easy to make and full of nutritious ingredients, without compromising on taste! Plus, get the recipe for healthy homemade tzatziki sauce.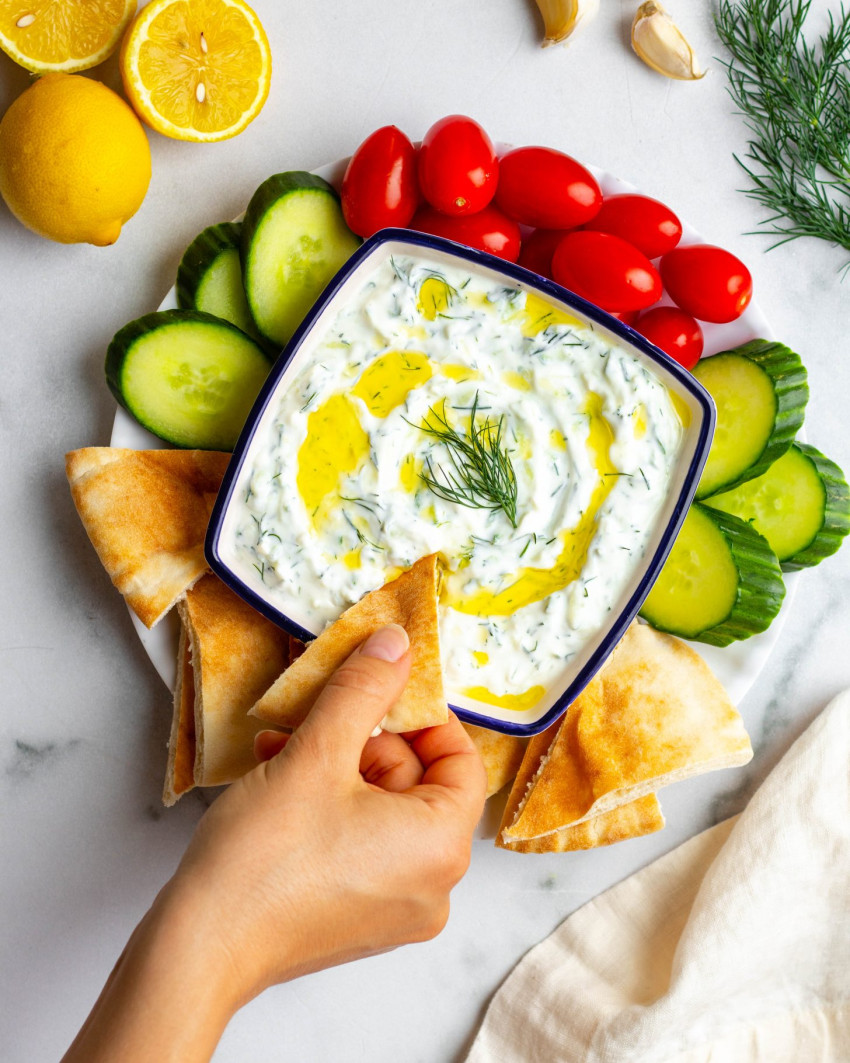 Here is my number one tip as a Registered Dietitian for making healthy foods taste delicious: add a healthy homemade dressing or sauce! Dressing is not just for salad, and it can really elevate a meal from bland to exciting. Homemade sauces are perfect to add to grilled or roasted vegetables, fish, meat, or tofu.
These healthy sauces, dressings, and dips add tons of flavor and nutrition to pasta, whole grains, vegetables, proteins, and more. You'll find plenty of recipe inspiration, from healthy homemade pesto sauce, to tahini sauce, to healthy pasta sauce! Find a homemade sauce recipe for all dietary preferences, including vegan sauces, gluten free sauces, and dairy free sauces.
Health benefits of making your own sauces and dressings
Making your own sauces, dressings, and dips instead of buying the premade versions can positively affect your health!
Homemade sauces typically have less sodium and sugar than store bought ones. Brands usually add salt and sugar for both flavor and preservation to sauces and dressings. Both sodium (from salt) and added sugar are nutrients to limit in our diets. When you make your own sauces and dressings at home, you can control exactly how much (if any!) salt and sugar you add.
They contain nutritious ingredients. Homemade dressings, sauces and dips can be full of healthy ingredients that add even more nutrition to a meal! You can add nutritious and flavorful ingredients like nuts, legumes, greens, and herbs to your sauces.
Homemade sauces make healthy foods flavorful and delicious. If you're trying to eat more vegetables or have some picky eaters in the family, add your favorite sauce or dressing to meals. Just like salad greens taste better with salad dressing, other foods like vegetables, pasta, fish, and whole grains taste amazing with a sauce!
Key ingredients in homemade sauces, dressings, and dips
While each homemade sauce will have different ingredients, I recommend keeping a variety of ingredients on hand so you can always whip up a recipe at a moments notice. Once you try different recipes and figure out which flavors you like, you can even start customizing them based on your personal preferences!
Here are some key ingredients to keep on hand to make healthy homemade sauces:
Healthy cooking oils: olive oil, avocado oil, sesame oil, rapeseed oil
Vinegars: balsamic vinegar, red wine vinegar, rice vinegar, apple cider vinegar
Citrus: fresh lemons and limes
Spices and dried herbs: turmeric, chili powder, cumin, garlic powder, oregano, Italian spice blend, red pepper flakes, salt, pepper
Fresh herbs: basil, cilantro, parsley, dill, mint
Aromatics: garlic, onion, shallot, ginger root
Nuts and seeds: almonds, pine nuts, walnuts, cashews, sesame seeds, hemp seeds
Nut butters: peanut butter, almond butter, tahini
Dairy: Greek yogurt, parmesan cheese, goat cheese
Beans and legumes: chickpeas, white beans, black beans, peas
Leafy greens: kale, spinach, arugula
Liquid sweeteners: honey, maple syrup
Mustard: Dijon, honey mustard, spicy mustard
Tools and utensils you need to make and store homemade sauces
Store your homemade sauces, dressings, and dips in glass jars, airtight containers, or salad dressing bottles. Since homemade sauces do not contain preservatives, they don't last as long as a sauce you can buy at the store. Most homemade sauces, dressings, and dips will keep well stored in the fridge for 5-7 days.
Freeze leftover sauces for up to 3 months, and just defrost them in the fridge before using them again.
What to pair with healthy sauces, dressings, and dips
Vegetables: roasted, grilled, stir fried, or steamed vegetables
Proteins: salmon, shrimp, or tofu
Grain bowls
Raw vegetables
Pita bread
Tortilla chips
Below, find the recipes for healthy homemade sauces, dressings, and dips to suit any mood!
Healthy Homemade Sauces and Dressings
Easy & Healthy Peanut Sauce Recipe
You will want to put this healthy peanut sauce on everything once you taste it! It's easy to make from simple ingredients, many of which you probably have in your pantry right now. It has flavors of peanut, sesame, ginger, garlic, and just a little bit of heat. This peanut sauce recipe is vegan and can easily be made gluten free.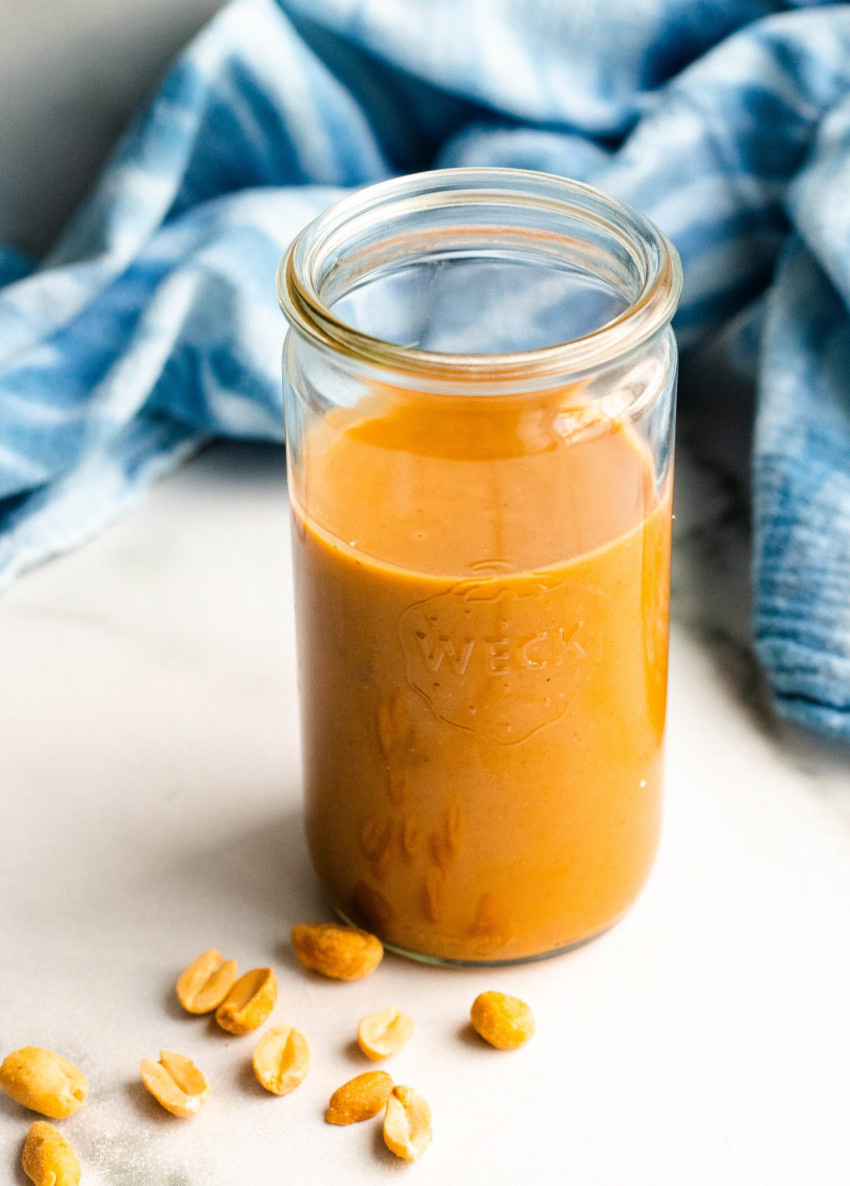 Chimichurri originates from Argentina, where it's been used in cooking and as a condiment for grilled meat. It's commonly found in Argentinian, Paraguayan, and Uruguayan cuisines. Chimichurri can be green (chimichurri verde) or red (chimichurri rojo), and traditionally includes the ingredients parsley, garlic, olive oil, oregano, and red wine vinegar. It's similar to pesto, but made with parsley!
My Argentinian-inspired chimichurri includes some additional ingredients, like cilantro and red onion. I also love to add lemon juice in addition to the red wine vinegar for fresh and zesty flavor. Chimichurri sauce is vegan and gluten free.
Romesco sauce originates from Catalonia, an autonomous region in northeastern Spain. Fishermen traditionally prepare the sauce to serve with fish. Romesco sauce is full of nutritious ingredients. It's typically made with roasted tomatoes, olive or sunflower oil, garlic, peppers, and almonds, pine nuts, or hazelnuts. Some recipes include vinegars, onion, and fresh herbs.
Romesco adds a ton of flavor and texture to foods, and it's not just for fish! It's quite versatile – use as a pasta sauce, on sandwiches, or on grilled vegetables. Romesco sauce is vegan and gluten free
This sesame ginger miso dressing is delicious on salads, grain bowls, and more. It's quick and easy to prepare, and packed with nutritious ingredients like white miso, tahini, and fresh ginger. It's quite versatile – add it to salads, grain bowls, or use it as a marinade.
Tahini Sauce Recipes
Quick & Easy Lemon Tahini Sauce
This quick and easy lemon tahini sauce is the perfect addition to salads, grain bowls, vegetables, and pretty much any meal. It takes five minutes to make and requires just a few simple ingredients. Keep a batch in your fridge to easily elevate your meals. You need just four ingredients to make this tahini sauce, and it is vegan and gluten free.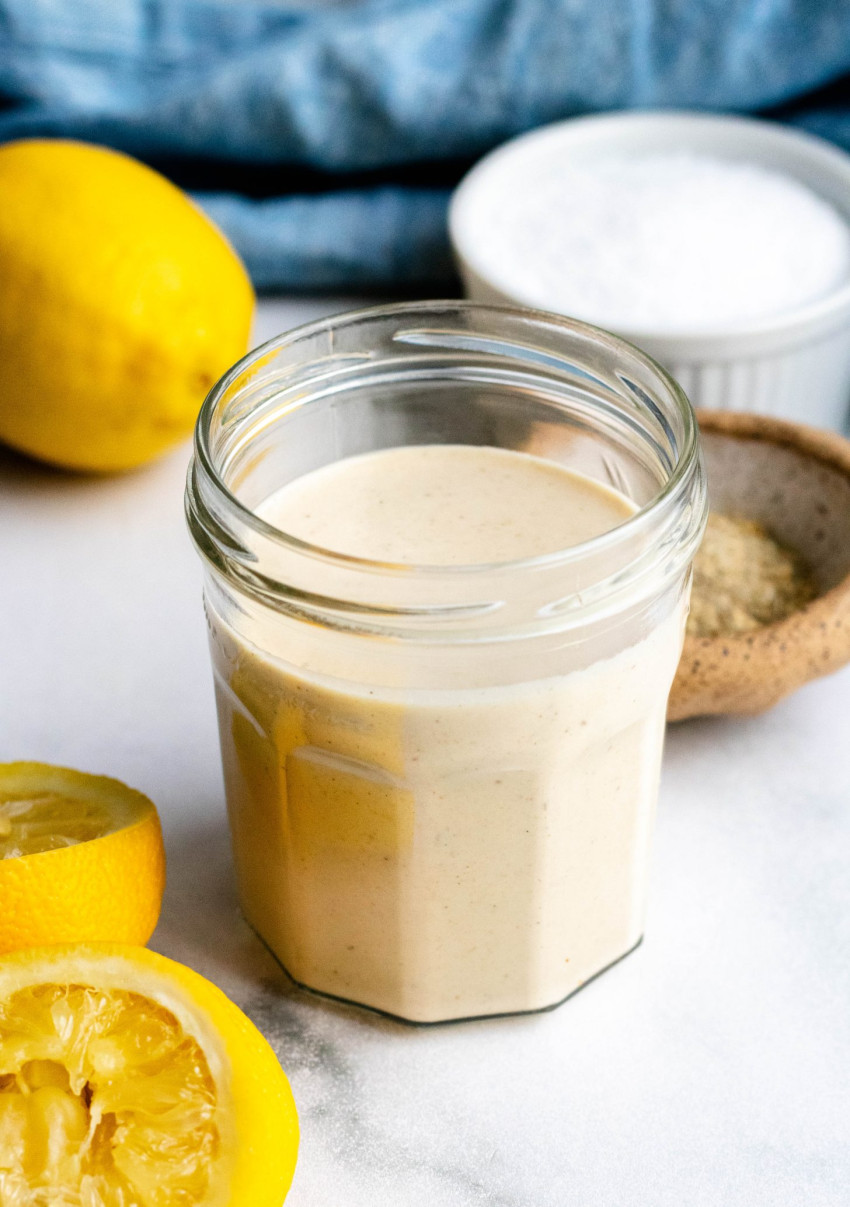 Healthy Homemade Tahini Goddess Dressing
This healthy tahini goddess dressing uses simple, nutritious ingredients and no added sugar or preservatives. It's my take on the Annie's brand goddess salad dressing, and it's thick, creamy, tangy, and herby, with ingredients like lemon, chives, and garlic. This dressing is vegan and can easily be made gluten free.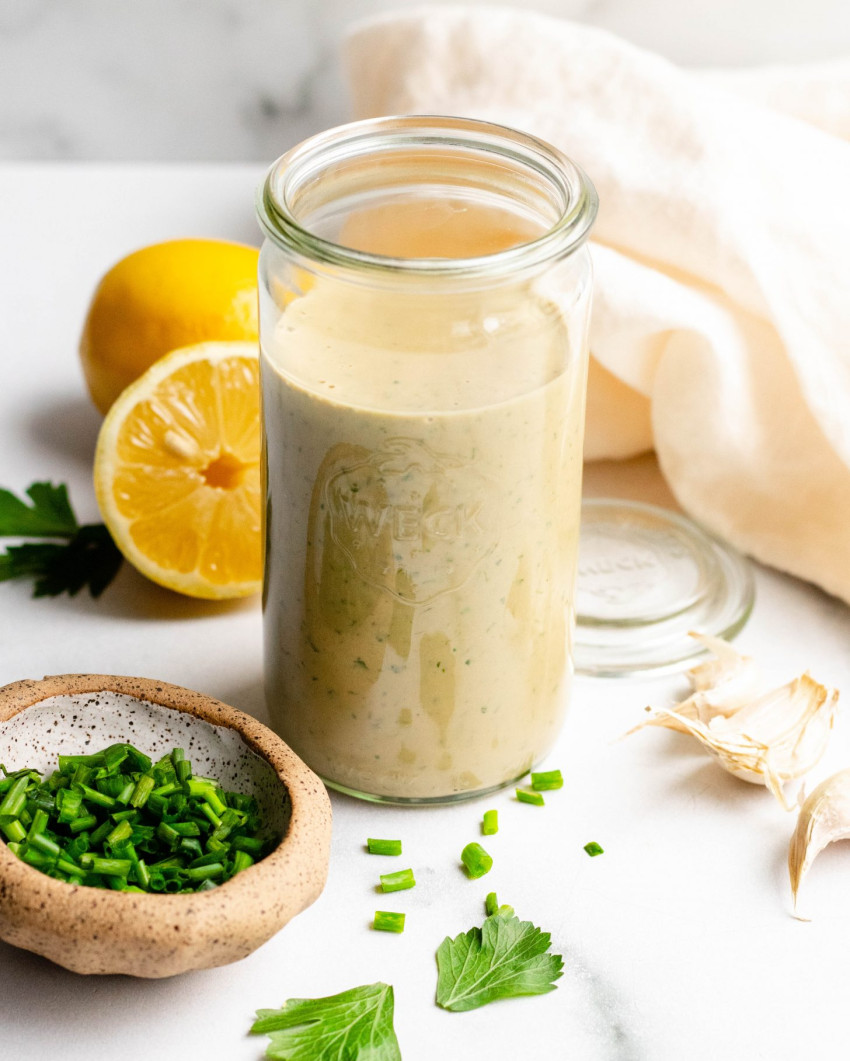 Healthy Homemade Tahini Green Goddess Sauce
This tahini green goddess dressing is so versatile, healthy, and tastes great on just about anything! I love to put this green tahini sauce on salads, grain bowls, grilled vegetables, and even as a healthy dip for vegetables and crackers. It's made in a food processor and comes together in just a few minutes. This sauce is loaded with greens including spinach and fresh herbs. It's vegan and gluten free.
Healthy Pasta Sauces
Quick & Healthy Green Sauce for Pasta
This sauce gets its vibrant green hue from spinach, and there is a whole lot of it. You'll blend an entire bag of spinach into this sauce, along with other yummy ingredients including basil, parmesan cheese, and garlic. This pasta sauce has pesto vibes, but it's a bit lighter and less oily. It's gluten free and vegetarian.
This kale pesto pasta is just a minor twist on a classic pesto recipe, bringing a little different flavor and even more vibrant green color to the dish. Kale packs a big nutritional punch, and adds many nutrients to a classic pesto recipe. This pesto recipe is vegetarian and gluten free.
Creamy Sun Dried Tomato Pasta Sauce
This vegan creamy sun dried tomato pasta tastes rich and decadent, however, it's filled with nutritious plant-based ingredients! Most pasta cream sauces call for heavy cream, but this recipe uses cashews to create that thick and creamy texture.
Healthy Homemade Dips
There are some things I rarely buy pre-made, and one of them is guacamole. Homemade guacamole is just better, fresher, and more flavorful than store bought. Plus, because it's so easy and requires minimal ingredients, including avocado, lime, salt, and garlic.
Guacamole is naturally vegan and gluten free. Pair this homemade guacamole with tortilla chips, tacos, or homemade Crunchwrap Supremes!
Hummus is a humble yet nutritious food, packed with plant based protein and healthy fats. It's naturally vegan and gluten free. You can use veggie sticks, better-for-you crackers or whole wheat pita for dipping to up the nutrition factor.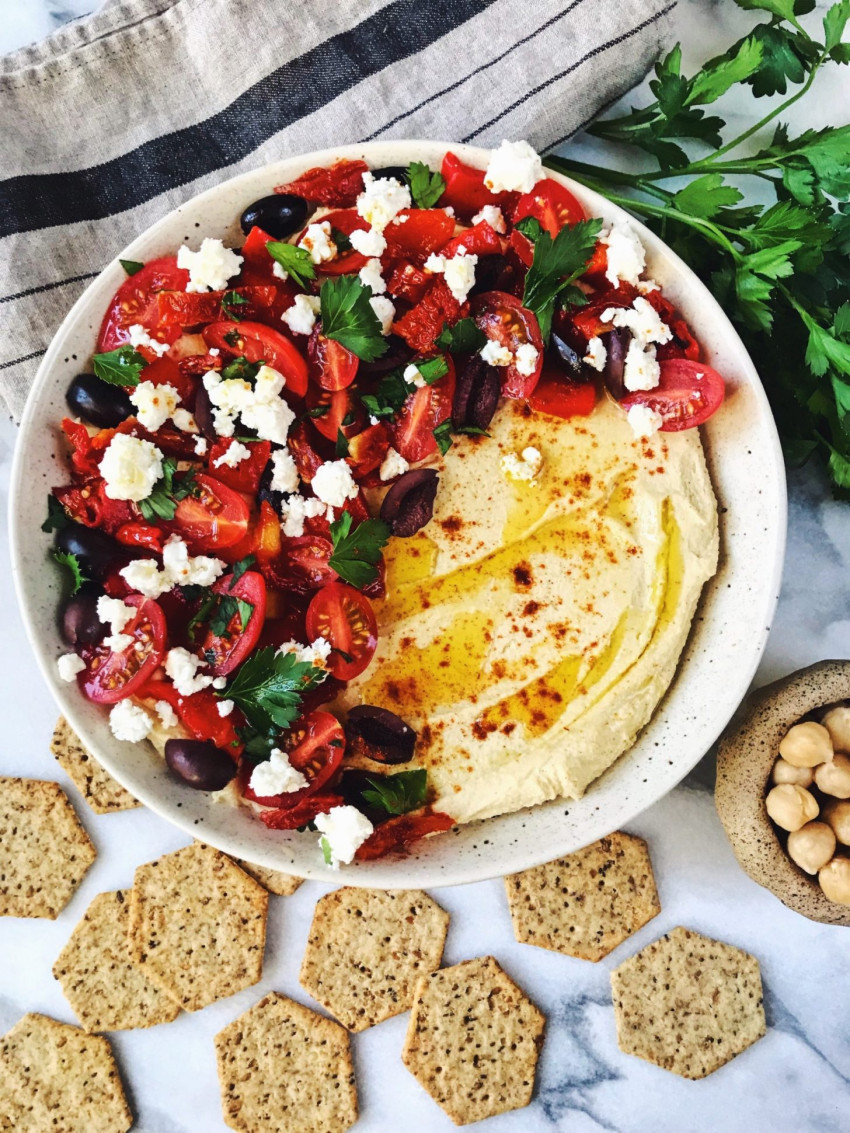 Easy and Healthy Beet Tzatziki
Tzatziki is dip or sauce made from strained yogurt mixed with cucumber, garlic, salt, lemon juice, and fresh herbs. Common herbs you'll find in tzatziki include dill, mint, and parsley. For this beet tzatziki recipe, I replaced the classic cucumbers with beets! It makes for a unique flavor and the most beautiful vibrant pink color. Tzatziki is vegetarian and gluten free.
Tzatziki Sauce (recipe below)
Traditional tzatziki sauce originates from Southeast Europe and the Middle East. It's a yogurt based sauce mixed with cucumbers, fresh herbs, garlic, salt, and lemon. It's incredibly refreshing and versatile!
You can use tzatziki sauce as a dip with vegetables and pita, as a creamy salad dressing, a sandwich spread, or paired with grilled vegetables, tofu, fish, or falafel. Tzatziki sauce is vegetarian (contains dairy) and gluten free.
Let me know if you love these recipes by leaving a comment or star rating below, and check out Instagram and Pinterest for more healthy lifestyle inspiration. Thanks for stopping by!
Print
13 Healthy Homemade Sauces, Dressings, and Dips: Tzatziki Sauce
Tzatziki is a yogurt based sauce mixed with cucumbers, fresh herbs, garlic, salt, and lemon. It's incredibly refreshing and versatile!
Author: Alex Aldeborgh
Prep Time:

10 minutes

Total Time:

10 minutes

Yield: about

2 cups

1

x
Category:

appetizer

Cuisine:

Greek

Diet:

Vegetarian
1 cup

Greek yogurt (any fat content works)

1/2 cup

grated cucumber, excess water squeezed out*

1/4 cup

fresh dill, chopped

2 tbsp

lemon juice

2

cloves garlic, minced

1 tbsp

olive oil

1/4 tsp

salt
Instructions
Combine everything together in a mixing bowl.
Mix together until well combined.
Enjoy immediately!
Notes
*Wrap grated cucumber in a clean tea towel or paper towels. Firmly squeeze out as much water with your hands.
Best eaten right away, but you can store tzatziki in an airtight container in the fridge for up to 3 days. Give the sauce a stir before serving after refrigeration.
Serve tzatziki with veggie crudite, pita, falafel, or as a salad dressing or sandwich spread.
Keywords: homemade tzatziki, tzatziki sauce
Save this post for later to one of your Pinterest boards