Spring Pasta with Lemon, Asparagus, Mushrooms and Peas
This pasta dish is spring in a bowl! It combines the fresh flavors of asparagus, dill and lemon for a light yet satisfying meal that comes together quickly.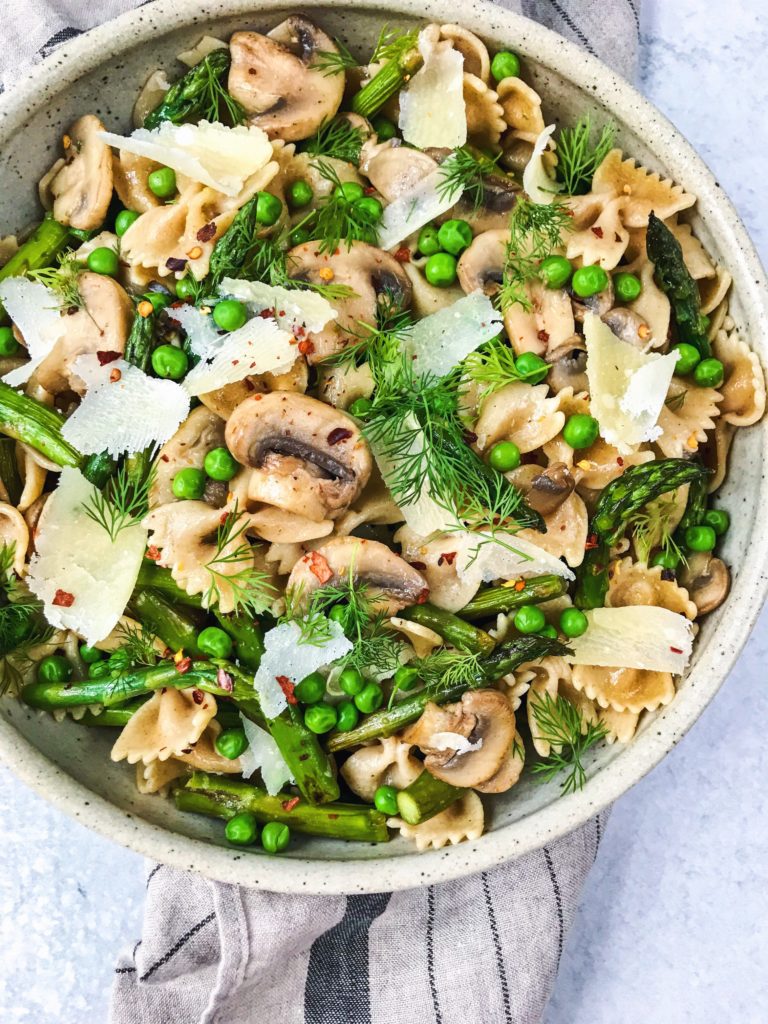 I can't believe this is my first pasta dish I am sharing on the blog! I can't think of a better way to introduce this category than with this recipe. I'm so happy to see spring produce coming into season, and decided to combine some of my all-time favorites into a meal.
As a dietitian, I've picked up on so many people avoiding carbohydrates. Whereas fat was the frowned-upon macronutrient in the past, our mindsets have shifted to demonize carbohydrates. There have been many popular fad diets that perpetuate the belief that carbohydrates are the enemy, such as the Atkin's diet, the South Beach diet, and now more recently, the Paleo and Ketogenic diets. While people may find weight loss success following these plans, just like any diets, they are highly restrictive and not sustainable for the long term.
Digestion of carbohydrates starts in our mouths thanks to enzymes in our saliva, and goes through our digestive systems, ultimately breaking down into glucose. Carbohydrate, in the form of glucose, is the body's preferred source of energy. Carbs also provide us with important nutrients and fiber that protein and fat can't give us. Ever wonder why you crave a bagel after a long run or intense workout? It's your body's way of asking you to replenish the carbohydrate stores (glycogen) it depleted by working so hard!
Besides providing us energy, nutrients and fiber, carbohydrates are just downright delicious. A life without rice, pizza and pasta just sounds so dull! Choosing 100% whole wheat/whole grain carbohydrates a majority of the time ensures you get the nutrients and fiber found in whole grains. Whole grains also have a lower glycemic index than processed ones, so they raise blood sugar levels more slowly in our bodies. But, it is also important to allow ourselves to have processed carbohydrates. Sometimes, we all just need a slice of pizza or a piece of crusty French bread. Remember that life is about balance, and eating should be a source of pleasure! Letting yourself enjoy these foods now and then without guilt will satisfy cravings and help you to live in the moment.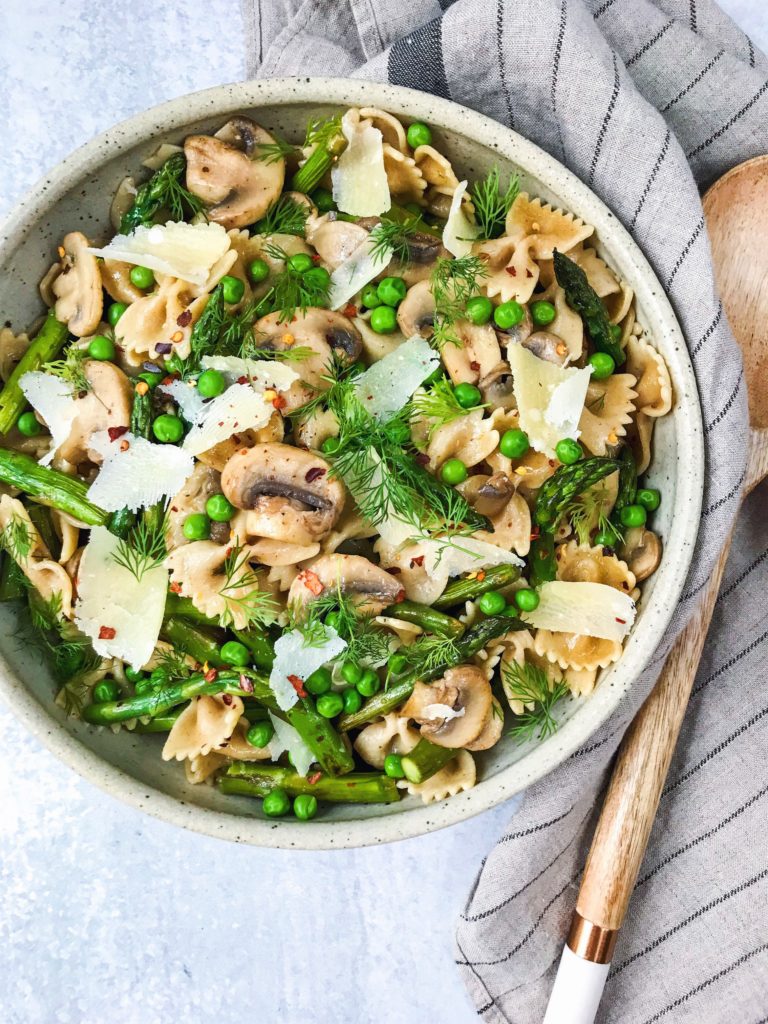 Spring Pasta with Lemon, Asparagus, Mushrooms and Peas
Serves 6-8
Ingredients
1 lb whole wheat farfalle pasta
1 cup frozen peas
1 box mushrooms, sliced
1 bunch asparagus, chopped
Salt
Pepper
1/3 cup extra virgin olive oil plus ½ tbsp
3 tbsp fresh lemon juice
1 large clove garlic, grated or minced
Zest of 1 lemon
½ cup fresh dill
½ cup grated parmesan cheese
Instructions
Bring a large pot of water to a boil and cook pasta according to package instructions. In the last 3 minutes of cooking, add the frozen peas to the pot with the pasta. Drain and set aside.
While the pasta cooks, heat ½ tbsp olive oil in a large skillet over medium heat. Add mushrooms and asparagus, along with a dash of salt and pepper until fork tender.
Whisk together the remaining olive oil, lemon juice, garlic, lemon zest and salt and pepper to taste in a bowl.
Toss pasta, peas, vegetables, and dill with the lemon olive oil sauce until combined and everything is well coated. Serve with a sprinkle of grated parmesan cheese.
If you try this recipe, tag @daisybeet on Instagram so I can see your creations!
If you love this recipe, you may also like
Save this recipe for later on one of your Pinterest boards