Chickpea and Roasted Vegetable Salad (Vegan, Gluten Free)
This zippy salad is full of plant-based protein and fresh, contrasting flavors! It is the perfect side dish to serve with your favorite spring meals.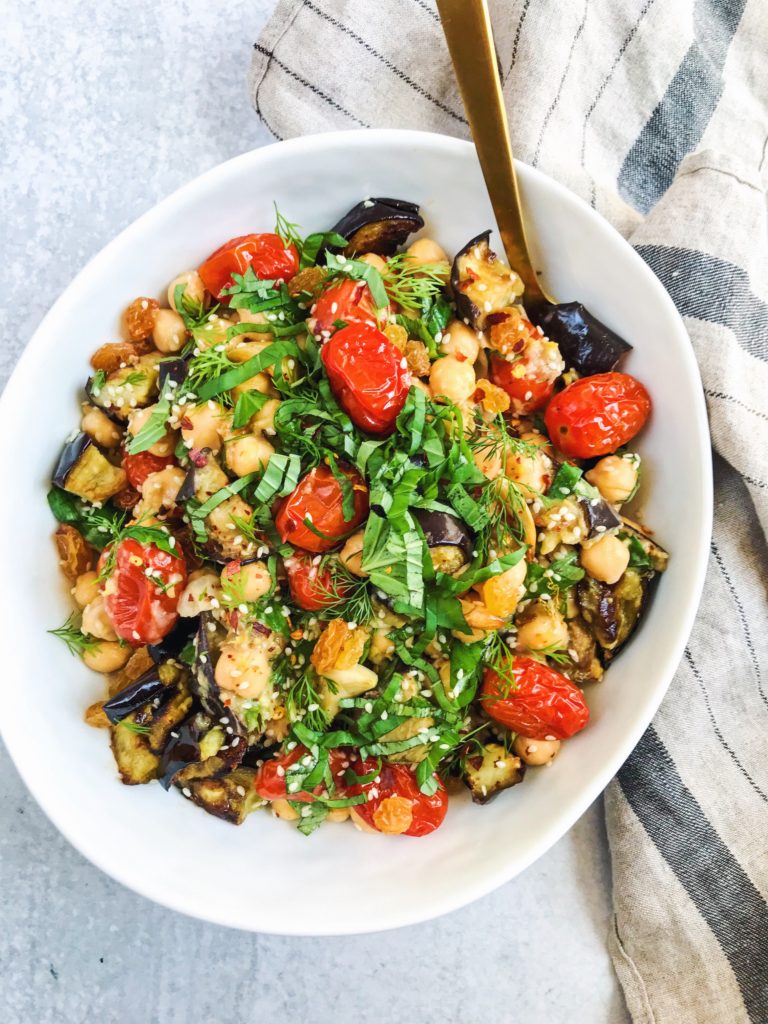 I'm currently munching on this salad for lunch as I write this blog post, and I'm definitely going to need seconds. The roasted vegetables, paired with a lemony dressing are transporting me to summertime. Something about the warmer weather makes me want to spend a little less time in the kitchen with less complicated recipes, and this one involves only a few simple steps. Roast vegetables, whisk together a simple dressing, chop fresh herbs and toss all together with canned chickpeas. Less time cooking = more time for enjoying this delicious meal outside!
Why I Love Chickpeas
Canned chickpeas are a pantry staple in my house. They are so versatile – I add them to soups, stews and salads, and love to make homemade hummus. They are an inexpensive source of plant-based protein, which will help make any meal more filling and satisfying. Chickpeas are also high in soluble fiber and act as a prebiotic. Prebiotic foods contain a certain type of fiber that our bodies no not digest, but the probiotics (aka the good bacteria) in our guts feed on! For that reason, the fiber in chickpeas and other foods may help support our gut microbiome. A healthy microbiome has been associated with weight control, better sleep, better mood, and less inflammation. I try to eat beans or legumes like chickpeas a few times per week to reap their many benefits.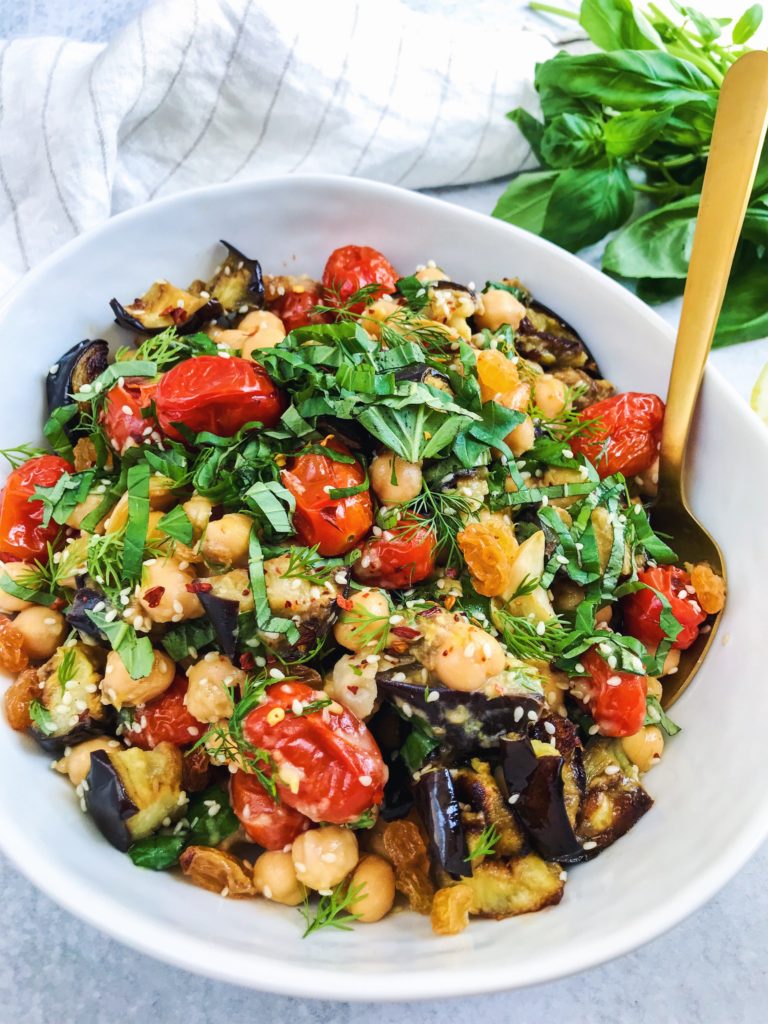 This salad takes less than one hour to make, and the recipe is very hands off. It also keeps well in the fridge, so it is a wonderful recipe to meal prep. Serve it as a side with dinner, or add a big scoop to your lunch salads to bring to work.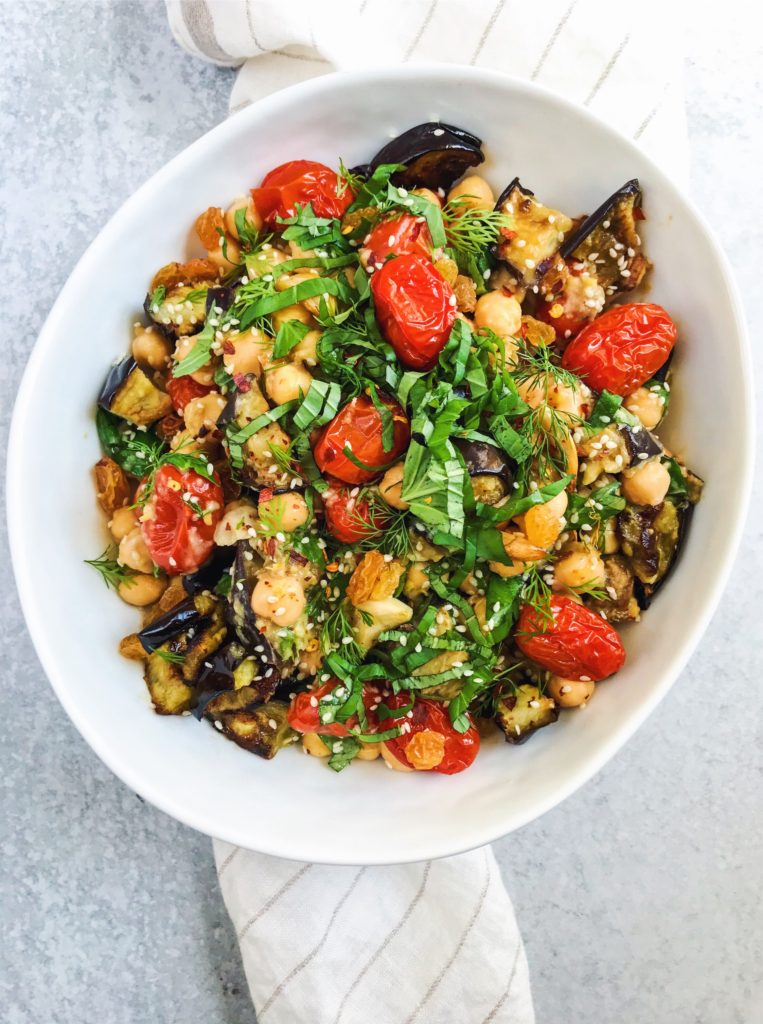 Chickpea, Roasted Eggplant and Tomato Salad with Golden Raisins (Vegan, Gluten Free)
Serves 5-7
Ingredients
5 tbsp olive oil, divided
1 large eggplant, cut into 1 inch cubes
1 pint cherry tomatoes
5 cloves garlic, peeled
Salt
Pepper
2 cans low sodium chickpeas, drained and rinsed
1 cup fresh basil, chopped
1 handful fresh dill
1/3 cup golden raisins
Dressing
2 tbsp extra virgin olive oil
Zest of 1 lemon
Juice of ½ lemon
1 tbsp red wine vinegar
½ tbsp Dijon mustard
1 tbsp sunflower seed butter (or sub tahini)
2 tbsp cold water
1 clove garlic, grated or minced
Salt and pepper to taste
Instructions
Preheat oven to 400 degrees. Line a baking sheet with parchment paper. Toss eggplant with half the olive oil and salt and pepper to taste. Roast for 30-35 minutes, tossing halfway through, until tender.
Toss remaining olive oil with cherry tomatoes and garlic cloves. Add to a parchment paper lined baking sheet and season with salt and pepper to taste. Roast for 20 minutes, tossing halfway through until tomatoes begin to wrinkle and blister.
While vegetables roast, whisk together the dressing ingredients until smooth.
Combine chickpeas, roasted vegetables, fresh herbs, raisins and dressing in a mixing bowl. Toss to combine.
This recipe keeps well in the fridge for up to 5 days.
If you make this recipe, tag @daisybeet on Instagram so I can see your creations!
If you love this recipe, you may also like
Save this recipe for later on one of your Pinterest boards