Fiber is one of the most important nutrients we need to eat every day to keep ourselves healthy. The two types of fiber, soluble and insoluble, each provide unique health benefits. In this blog post, learn the difference between soluble vs. insoluble fiber, and why you need both for optimal health.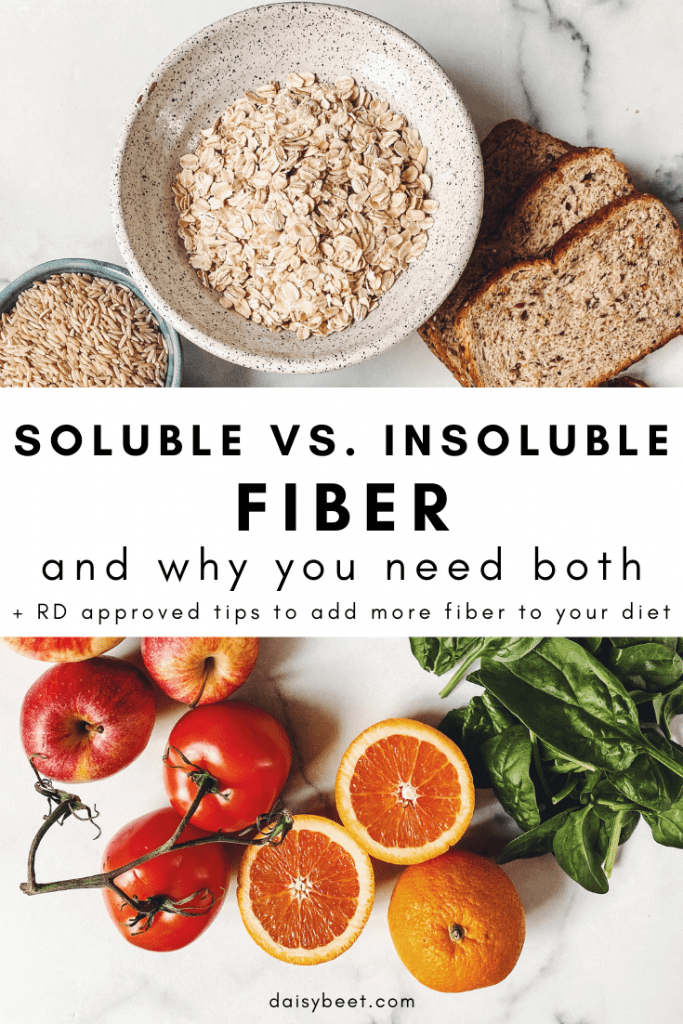 Fiber 101
What's the first thing that comes to mind when you hear the word "fiber"? For many, it's the chalky powder your grandmother mixes into water each morning. Or, it's the stuff we take to keep our bowel movements regular. Not super sexy, huh?
As a Registered Dietitian, I am making it my mission to make fiber the coolest nutrient on the block. Why, you ask?
Fiber provides us a wealth of health benefits when we eat adequate amounts. But, most Americans get half the amount of fiber we need each day (1). The current fiber intake recommendations are 25 grams a day for women and 38 grams a day for men.
What is fiber?
Fiber is the indigestible carbohydrate found in plant foods. Our bodies do not possess the enzymes needed to break down fiber into simple sugars used for energy, so it passes through our digestive tracts pretty much intact.
Fiber is found in plant foods, which includes vegetables, fruits, whole grains, beans, legumes, nuts and seeds. All plants have fiber, some more so than others.
You can also obtain fiber from fiber supplements, such as Metamucil. But, it's better to get fiber from whole food sources when possible. Whole food sources provide us with a wealth of other nutrients in addition to the fiber, such as antioxidants and micronutrients.
Fiber health benefits
Why is fiber such an important part of the diet? Because it provides several health benefits!
Types of fiber: soluble vs. insoluble
Soluble fiber
This type of fiber dissolves in water and forms a gel-like substance when we ingest it. Because it has this binding quality, soluble fiber lowers cholesterol and blood glucose levels by binding to them and pulling them out of the body.
To reap the benefits of soluble fiber, aim to get 6 to 8 grams of soluble fiber each day in your diet. Gums, pectins, and beta-glucans are all types of soluble fiber.
Food sources of soluble fiber
Black beans: 5.4 grams per cup
Brussels sprouts: 2 grams per 1/2 cup
Avocados: 2 grams per half an avocado
Pears: 1.5 grams per medium pear
Apples: 1 gram per medium apple
Oats: 2 grams per 1/2 cup dry oats
Sunflower seeds: 1 gram per 1/4 cup
Barley: 0.8 grams per 1/2 cup cooked
Flax: 1 gram per tablespoon
Insoluble fiber
Insoluble fiber does not dissolve in water. This type of fiber increases stool bulk and speeds up gastric emptying. Therefore, it promotes regularity and overall bowel health. It also helps prevent hemorrhoids and diverticulitis.
Types of insoluble fiber include lignins and cellulose.
Food sources of insoluble fiber
Asparagus: 3.4 grams per 1 cup
Blackberries: 6.2 grams per 1 cup
Chickpeas: 10 grams per cup
Cauliflower: 1.6 grams per cup
Dates: 2.8 grams per 1/4 cup
Lentils: 7 grams per 1/2 cup cooked
Peas: 7.6 grams per 1/2 cup
Quinoa: 4 grams per 1/2 cup cooked
Tips to add more fiber to your diet, naturally
Shop the 1:5 fiber to carb ratio rule. When buying breads, pastas, or whole grain products, look for a 1:5 ratio of fiber to total carbohydrates. For example, if a product has 15 grams of total carbohydrates per serving, look for at least 3 grams of fiber per serving.
Fill up on fiber during snack time. An ideal snack has both fiber + protein and/or healthy fats to fill us up between meals. If you usually have two snacks per day, you can easily add 5-10 grams of fiber to your daily intake by choosing fiber-filled foods! A few healthy snack ideas include apple with peanut butter, avocado mashed on whole grain toast, or 1 cup of berries with Greek yogurt.
Sip on a smoothie. Smoothies are an easy way to pack in a lot of fiber. Add a variety of ingredients, such as fruit, greens, flax meal, nut butters, and chia seeds. To ensure smoothies are filling and won't spike your blood sugar, be sure to include sources of protein and healthy fats in your blend.
Leave the skin on your fruits and vegetables. In many fruits and veggies, most of the fiber exists in the skin. Whether you're eating a baked sweet potato or enjoying an apple, leave the skin on to get the maximum amount of fiber from the food.
Mix up your whole grains. Rice is delicious, but it's a good idea to sometimes swap it out for other grains if you are looking to boost fiber intake. Quinoa and barley are both wonderful, high fiber whole grains to try!
If you're trying to increase your fiber intake, start adding in higher fiber foods slowly to avoid GI distress. Also, it's important to stay adequately hydrated when eating a high-fiber diet to prevent constipation.
If you loved this post, you may also like
Let me know if you love this soluble vs. insoluble fiber post by leaving a comment below, and check out Instagram and Pinterest for more healthy lifestyle inspiration. Thanks for stopping by!