Vegan Golden Milk Smoothie
This golden milk smoothie is a refreshing breakfast or snack that is packed with nutritious, anti-inflammatory ingredients. You'll love this nourishing smoothie recipe!
When I want a healing, nutrient-packed drink, I'll make myself a golden milk latte. Filled with warming spices including turmeric, ginger, cinnamon, and black pepper, it's both comforting and satisfying. For something a little more refreshing in warmer weather, I like to make a golden milk latte in smoothie form! This smoothie is vegan, dairy-free, and gluten-free.
What is golden milk?
Golden milk, or turmeric milk, is an Indian beverage with Ayurvedic roots. Traditional golden milk is made with milk, turmeric, cardamom, and honey. Turmeric has been used for thousands of years for medicinal and spiritual purposes, and the Hindu religion views turmeric as sacred.
Turmeric is a yellow spice that gives golden milk its vibrant hue, and it is loaded with antioxidants and health promoting ingredients. It has an earthy, bitter taste on it's own, but tastes amazing when paired with warming spices like cinnamon, ginger, and black pepper.
Ingredients in golden milk smoothie
Here are all the ingredients you need to make this golden milk smoothie. Everything you see here just gets added to a blender, and makes two servings.
Canned coconut milk: I used light coconut milk, but you can also substitute for your favorite plant-based milk, such as soy milk, almond milk, or oat milk.
Banana: Slice and freeze a ripe banana to put in this smoothie to add subtle sweetness and creamy texture.
Frozen cauliflower: I promise you won't taste it! Frozen cauliflower adds bulk to the smoothie plus fiber, vitamins, and minerals. If you choose to omit the frozen cauliflower, just add a handful or two of ice cubes.
Medjool dates add sweetness to the golden milk smoothie, and their caramel flavor pairs beautifully with the warming spices.
Fresh ginger adds zesty, spicy-sweet flavor, plus a lot of nutrition to this blend.
Chia seeds to add fiber, omega-3 fatty acids, and protein. You can leave them out, as they don't really impart any necessary flavor or texture – just beneficial nutrients.
Spices – you'll need turmeric, cinnamon, cardamom, and black pepper.
To make this golden milk smoothie, just add everything to a blender and blend it all up until smooth and creamy. It takes just about five minutes to make!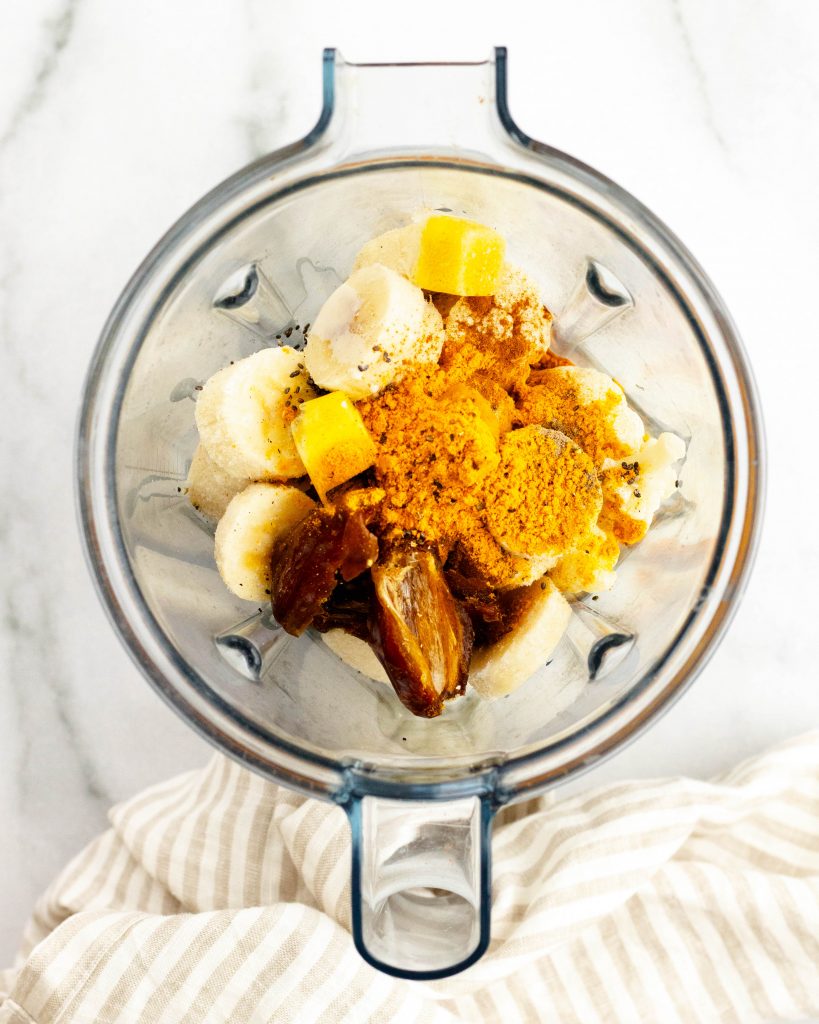 Golden milk smoothie nutritional benefits
This golden milk smoothie has some incredibly nutritious ingredients. It makes a good healthy breakfast or healthy snack option!
Turmeric is packed with an antioxidant compound called curcumin. Curcumin is anti-inflammatory, and may help reduce your risk of heart disease and prevent certain cancers. Tip: curcumin is poorly absorbed on it's own. You can enhance its absorption by eating turmeric with black pepper and a source of fat! That's why this smoothie is made with light coconut milk, which has a good amount of fat.
Medjool dates are a concentrated source of healthy nutrients. Two Medjool dates have 3.2 grams of dietary fiber, potassium, magnesium, and copper. Using medjool dates in a smoothie (or other recipes) is a great way to add sweetness with added nutritional benefits.
Cauliflower: Adding cauliflower to a smoothie serves the same purpose of adding spinach or kale in a green smoothie – tons of nutrition! One cup of cauliflower has just 30 calories, 2 grams of dietary fiber, 320 mg potassium (9 percent of your daily needs), and almost 100 percent of your daily vitamin C needs.
If you love this recipe, you may also like
Let me know if you love this recipe by leaving a comment or rating below, and check out Instagram and Pinterest for more healthy lifestyle inspiration. Thanks for stopping by!
Print
Golden Milk Smoothie (Vegan)
Author: Alex Aldeborgh
Prep Time: 5 minutes
Cook Time: 2 minutes
Total Time: 7 minutes
Yield: serves 2
Category: breakfast
---
Description
This golden milk smoothie is a refreshing breakfast or snack that is packed with nutritious, anti-inflammatory ingredients. You'll love this nourishing smoothie recipe!
---
1 1/2 cups light canned coconut milk
1 ripe banana, sliced and frozen
1 cup frozen cauliflower florets
2 Medjool dates, pitted
1 tbsp chia seeds
1 tbsp fresh ginger
1 1/2 tsp turmeric
1 tsp cinnamon
1/2 tsp cardamom
1/4 tsp black pepper
---
Instructions
Add all the ingredients to a blender in the order listed.
Blend until smooth and creamy.
Pour into two glasses and enjoy!
---
Notes
Makes two 10 oz servings.
Keywords: golden milk smoothie, vegan, gluten free
Save this recipe for later to one of your Pinterest boards