10 Healthy Smoothies with Vegetables
These healthy and delicious veggie smoothie recipes all have vegetables in them for added nutrition! Vegetables add tons of micronutrients and dietary fiber to smoothie recipes, with undetectable taste. Plus, get the recipe for the tastiest chocolate peanut butter banana smoothie.
Are you trying to add more vegetables to your diet? Try a smoothie! Smoothies are a perfect vehicle for all kinds of nutritious ingredients, including some of your favorite vegetables. As a Registered Dietitian, I love finding creative and delicious ways to eat more veggies. These vegetable smoothie recipes all have fruits and vegetables, plus many other nutritious ingredients.
Why add vegetables to smoothies?
Vegetables are some of the healthiest foods on the planet. All vegetables are considered nutrient-dense foods, meaning they have a lot of vitamins and minerals in relation to their weight. Vegetables are key sources of various micronutrients, including:
Folate
Vitamin A
Vitamin C
Vitamin E
Potassium
Vegetables are also an important source of dietary fiber. Diets high in fiber have many health benefits, such as:
Weight management
Digestive regulation
Gut health
Lower cholesterol levels
Blood sugar control
Reduced risk of certain chronic diseases
Current guidelines recommend consuming 25-35 grams of fiber per day for women and 38 grams a day for men, from fruits, vegetables, nuts, seeds, legumes, and whole grains. Adding vegetables to smoothies helps increase the nutrition of your blend, and adds to your vegetable consumption for the day!
Best vegetables to add to smoothies
Some vegetables are better suited for smoothies than others. Vegetables that have a more neutral, mild flavor blend up well with the other smoothie ingredients without imparting too much (or any) detectable flavor. Some of the best vegetables to add to smoothies are:
Leafy greens: spinach, kale
Carrots
Cucumber
Sweet Potato
Pumpkin or winter squash
Are fresh or frozen vegetables best for smoothies?
Besides leafy greens, I actually prefer to use frozen vegetables for smoothies. Frozen vegetables can replace ice in smoothie recipes to add a desirable thick texture and refreshing cold temperature. Frozen vegetables are just as nutritious as fresh vegetables, but are usually less expensive.
You can buy pre-frozen vegetables to keep in your freezer, or freeze some yourself. Note that it's important to blanch fresh vegetables before you freeze them. Blanching helps preserve nutrients, color, and texture of the vegetable.
This all being said, you can absolutely use fresh vegetables in smoothies, too! Add ice to your blend as desired to make your smoothie thicker if using fresh vegetables.
Perfect healthy smoothie formula
One of the best parts of making a smoothie is you don't necessarily need a formal recipe. When I'm making a smoothie off the cuff, I use this smoothie formula to ensure it tastes good and packs a ton of nutrition:
This smoothie formula is pretty much foolproof when you don't have a recipe! It ensures your smoothie will not only taste good, but is also nutritionally balanced. Your smoothie will have plenty of dietary fiber, protein, and healthy fat to keep you full and give you sustained energy.
Healthy protein sources to add to smoothies: Greek yogurt, hemp seeds, protein powder, peanut butter, milk or soy milk, cottage cheese, kefir, or silken tofu.
Healthy fats to add to smoothies: Nut butters, walnuts, cashews, almonds, pumpkin seeds, chia seeds, hemp seeds, flax seeds, or avocado.
Now, onto the recipes! Which healthy smoothie recipe are you going to try first?
9 Healthy Smoothie Recipes with Vegetables
Smoothies with Leafy Greens
This ginger green smoothie is so refreshing with the creamiest texture. It's packed with nutrients thanks to healthy ingredients like spinach, chia seeds, and almond butter. It's vegan, gluten free, dairy free, and soy free.
Pineapple Matcha Green Smoothie
A healthy smoothie that fills you up AND gives you a boost of energy? Count me in! This pineapple matcha green smoothie has simple, nutritious ingredients and is super easy to make. You need just five ingredients, including hemp seeds, spinach, matcha, and frozen pineapple.
This pear banana green smoothie is a delicious and nutritious breakfast or afternoon snack, flavored with fresh ginger and cinnamon. It has nutritious ingredients including pear, banana, cashew butter, and hemp seeds. This smoothie is naturally gluten free, vegan, and dairy free, and soy free. It makes two snack size portions, or one meal size portion.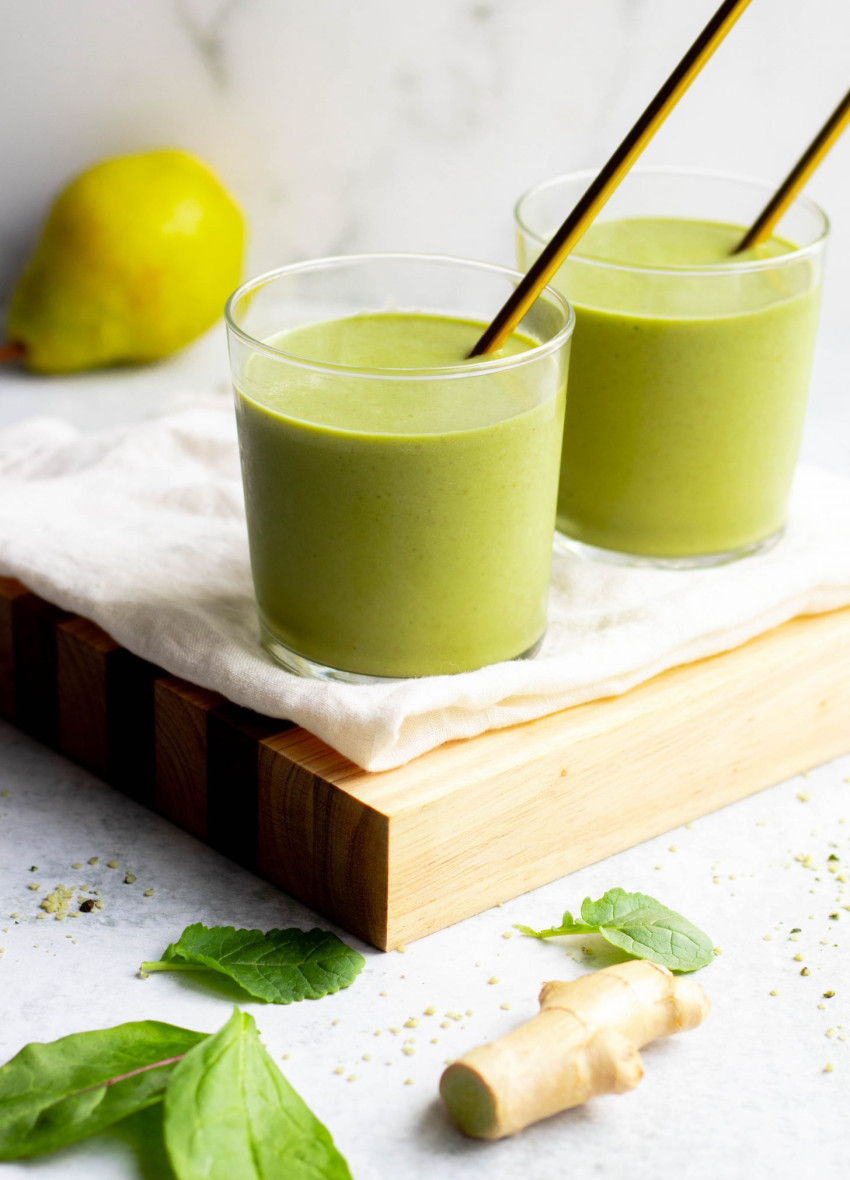 Smoothies with Cauliflower
Almond Butter and Jelly Smoothie
Sip on this delicious and healthy almond butter and jelly smoothie for a refreshing breakfast or snack. It tastes just like an AB&J sandwich, and be made with peanut butter instead. You just need a handful of ingredients: frozen berries, frozen cauliflower, almond butter, hemp seeds, and almond milk.
Feel like being transported to a tropical island without leaving your home? Whip up this pina colada smoothie for a cool, refreshing treat! Unlike traditional pina coladas, this simple smoothie is made with no added sugar, whole food ingredients, and is super nutritious.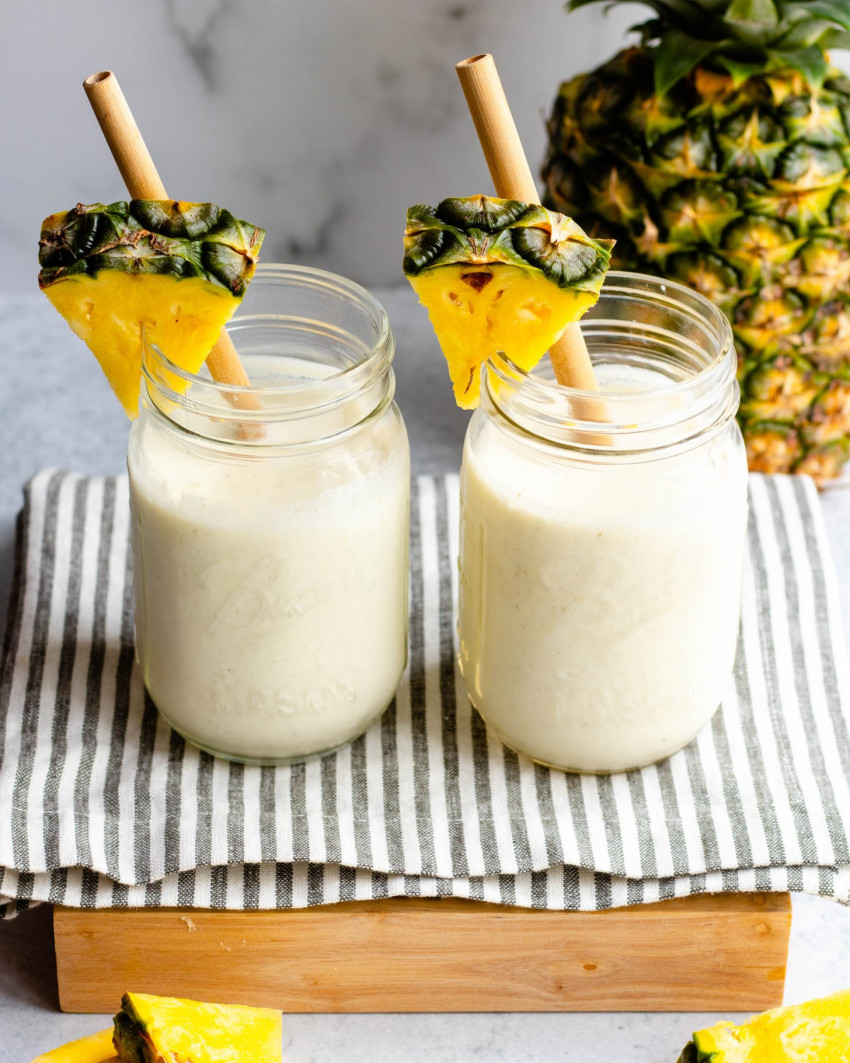 This vegan chocolate cherry smoothie is incredibly nutritious, filling, and satisfying. The combination of ingredients packs plenty of fiber, plant-based protein, and micronutrients. This recipe makes two servings, and each serving has 16 grams of dietary fiber and 14 grams of protein! It's vegan and gluten free.
Golden milk, or turmeric milk, is an Indian beverage with Ayurvedic roots. Traditional golden milk is made with milk, turmeric, cardamom, and honey. Turmeric has been used for thousands of years for medicinal and spiritual purposes, and the Hindu religion views turmeric as sacred.
When I want a healing, nutrient-packed drink, I'll make myself a golden milk latte. Filled with warming spices including turmeric, ginger, cinnamon, and black pepper, it's both comforting and satisfying. For something a little more refreshing in warmer weather, I like to make a golden milk latte in smoothie form! This smoothie is vegan, dairy-free, and gluten-free.
If you prefer licking the bowl to eating the cake when baking, this smoothie is for you. It has addicting cake batter flavor, but is actually good for you! It's vegan, gluten free, free of refined sugar, and there are no raw eggs/salmonella involved.
This smoothie is full of nutrient dense ingredients that will keep you full for hours, without a quick spike in blood sugar. Each serving has 11 grams of fiber and 12 grams of protein!
Smoothies with Beets
This red velvet smoothie is packed with chocolatey flavor like your favorite cake. You need just a handful of ingredients to make it, including frozen strawberries, beet, Greek yogurt, dates, cocoa powder, and chia seeds.
Smoothies with Zucchini
Chocolate Peanut Butter Banana Smoothie (recipe below)
This chocolate peanut butter banana smoothie is so creamy and delicious – almost like a milkshake! It packs a nutrition punch with the addition of frozen zucchini. You can't taste the zucchini at all – just chocolatey, peanut butter goodness! This smoothie is vegan and gluten free.
Let me know if you love these smoothie recipes by leaving a comment or star rating below, and check out Instagram and Pinterest for more healthy lifestyle inspiration. Thanks for stopping by!
Print
10 Healthy Smoothies with Vegetables: Chocolate Peanut Butter Banana Smoothie
Author: Alex Aldeborgh
Prep Time: 5 minutes
Total Time: 5 minutes
Yield: serves 1 or 2 1x
Category: smoothies
Method: Blender
Cuisine: American
Diet: Vegan
---
Description
These healthy and delicious smoothie recipes all have vegetables in them for added nutrition! Plus, get the recipe for the tastiest chocolate peanut butter banana smoothie.
---
1 1/2 cups unsweetened almond milk
1 frozen banana
1 cup frozen zucchini
2 tbsp creamy peanut butter
1 heaping tbsp cocoa powder
---
Instructions
Add all ingredients to a blender in the order listed.
Blend for 30 seconds – 1 minute on high, until smooth and creamy with no chunks.
Notes
Substitution ideas
Use almond butter instead of peanut butter
Try a different frozen vegetable, such as cauliflower or spinach
Omit the cocoa powder if you want a peanut butter banana smoothie
Add more protein by using regular milk or soy milk in place of almond milk. You can also add a scoop of chocolate protein powder to add more protein. 
Keywords: smoothies with vegetables, chocolate peanut butter banana smoothie, zucchini smoothie, vegan smoothies
Save this post for later to Pinterest