Health Benefits of a High Fiber Diet + High Fiber Foods to Eat Today
Fiber is one of the most important nutrients to consume. Learn all about the health benefits of dietary fiber and the difference between soluble and insoluble fiber in today's post, including a list of delicious foods to include in a high fiber diet!
Fiber is one of the most important nutrients for our diet, but it does not get the attention it deserves. Fiber is certainly less glamorous than other trendy nutrients, as it might evoke images of your grandparents sipping on metamucil. But, the benefits of fiber go so beyond keeping us regular! As a Registered Dietitian, I'm all in for making fiber the coolest nutrient, and I hope you will be too after reading this post.
What is Dietary Fiber?
Dietary fiber is the indigestible part of plants that we consume when we eat fruits, vegetables, whole grains, legumes, nuts, and seeds. Unlike the macro and micronutrients, our bodies are unable to digest and absorb fiber, so it passes through our digestive system intact.
Soluble vs. Insoluble Fiber
There are two types of dietary fiber: soluble and insoluble. They each have unique health benefits. A high fiber diet should include sources of both types to get maximum benefits.
Soluble fiber dissolves in water, so it forms a gel in our digestive tract when we eat it. Because of this, it can bind to cholesterol in our bodies to help lower cholesterol levels. Good sources of soluble fiber include oats, beans, flaxseeds, barley, and apples.
Insoluble fiber does not dissolve in water, so it speeds up digestion and increases stool bulk. Good sources of insoluble fiber include nuts, cauliflower, whole wheat products, Brussels sprouts, and raspberries.
Looking to start eating a plant-based diet? Check out my beginner's guide to the plant-based diet here!
Health Benefits of a High Fiber Diet
Keeps us regular. Fiber, especially insoluble fiber, speeds up digestion and increases stool bulk. This helps prevent constipation and diarrhea to keep our bowels healthy and regular.
Weight management. High fiber foods are very filling, and lower in calories than other foods. Including many high fiber foods in our diets can promote healthy weight management.
Lower cholesterol levels. Soluble fiber forms a gel like substance in our bodies, which binds to "bad" LDL cholesterol to rid it from our bodies. Soluble fiber may also help improve other lipid markers (1).
Controls blood sugar levels. Fiber, especially soluble fiber, helps slow the absorption of blood sugar when we eat. Studies show that soluble fiber intake can reduce HbA1C, fasting blood glucose, and insulin resistance in people with Type 2 Diabetes (2).
Promotes gut health. The good bacteria that live in our guts depend on fermentable dietary products as a source of energy so they can be healthy and grow. Fiber from our diets feeds these good bacteria, so a high fiber diet promotes probiotic health, abundance, and diversity. Healthy gut bacteria also produce short chain fatty acids (SCFAs), which have their own health benefits such as reduced inflammation and reduced risk of chronic disease (3).
Reduced risk of chronic disease. High fiber diets are naturally high in plant foods, so they also come with lots of other amazing vitamins, minerals, and antioxidants to help prevent chronic disease, such as cardiovascular disease, certain cancers, and Type 2 Diabetes.
Dietary Fiber Recommendations
The dietary fiber recommendations are 25 grams per day for women and 38 grams per day for men. For women and men over 50, these numbers drop to 21 grams and 30 grams, respectively. For reference, one half cup of black beans has about 8 grams of fiber, one cup of shredded wheat contains about 5 grams, and one half cup of raspberries has 4 grams (4). As you can see, you need to eat multiple portions of fiber rich foods (i.e. plant foods) throughout the day to meet the recommendations.
One reason why many Americans are not meeting their daily fiber needs is because the standard American diet is low in fruits, vegetables, whole grains, and legumes. There are plenty of fiber supplements out there, but they are devoid of many of the other health benefits that come with plant foods, like vitamins, minerals, and antioxidants. Plus, fiber from supplements may not be as filling as fiber from plant foods.
High Fiber Foods to Add to Your Diet
Now, the fun part! This list is by no means exhaustive, but here are some of my favorite high fiber foods to enjoy daily. There are also some yummy recipes to give you inspiration to add more fiber to your diet!
Contains 4 grams of fiber per 1 cup cooked oats. Try this Chocolate Peanut Butter Oatmeal Oatmeal or Protein-Packed Overnight Oats for an easy breakfast!
Quinoa
Quinoa contains 2.6 grams of fiber per half cup. This Mediterranean Quinoa Salad or Mushroom and Kale Quinoa would be perfect to add to your dinner menu!
Whole Wheat Pasta
Swap out white pasta for whole wheat, and you'll get 3.2 grams of fiber per half cup serving! Some of my favorite whole wheat pasta dishes are this Spring Pasta with Lemon, Asparagus, Mushrooms, and Peas, and this Pasta Salad with Roasted Vegetables and Tuna.
Kale
One cup of kale has 2.6 grams of fiber. Even more reason to keep up your kale caesar habit! Check out this dairy free version here. I've got several more kale salad recipes, as well as cauliflower and kale pasta and kale chips for you to try!
Sweet Potato
One medium sweet potato has almost 4 grams of fiber. Make sure you're eating the skin, though, as this is where most of the fiber (and other nutrients) lives! These Mexican Stuffed Sweet Potatoes are a favorite of mine.
Chickpeas
Chickpeas, or garbanzo beans, are an excellent source of plant based protein and fiber. One half cup contains 8 grams! Fill up on this Chickpea and Roasted Vegetable Salad, Loaded Greek Hummus for a Crowd, or Chickpea and Avocado Stuffed Sweet Potatoes.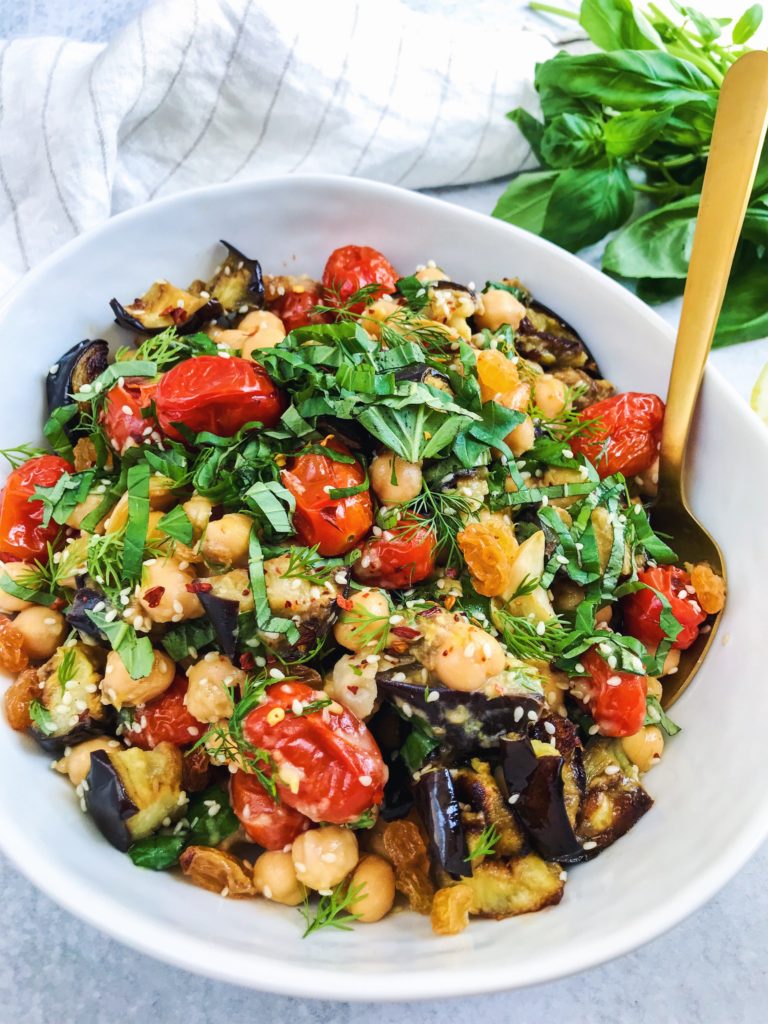 Black Beans
Black beans pack 7.5 grams of fiber per one half cup. Try out this delicious mango avocado salsa over my Mushroom Tacos or my Vegetarian Mushroom Enchiladas.
White Beans
Are you guys picking up on a bean trend here? White beans are also a good source of fiber. One half cup will give you 5.7 grams! I love to make this Dreamy Pink Beet and White Bean Dip for dipping, and this Tuscan White Bean and Kale Soup from Kristine's Kitchen sounds so cozy.
Lentils
I love lentils of all kinds. One half cup has almost 8 grams of fiber. This Coconut Curry Red Lentil Soup is one of my favorites. Also, check out this Lemony Lentil Soup by Gimme Some Oven.
Apples
One medium apple has about 4.5 grams of fiber. I love to put sautéed apples in my morning oatmeal and munch on apple nachos as a healthy snack.
Pears
Pears have even more fiber than apples. One pear has almost 6 grams of fiber! Some of my favorite pear recipes are Spiced Pear Overnight Oats and Pear Crostini with Whipped Goat Cheese and Sage.
Chia Seeds
Last but not least, chia seeds are a really excellent dietary fiber source. One tablespoon has a 4 grams! Try this Blended Chocolate Chia Pudding or this Mango Coconut Chia Seed Pudding!
High fiber diets are super healthy, because as you can see, they include lots of fruits, veggies, whole grains, legumes, nuts and seeds. If you're increasing your fiber intake, make sure to also drink plenty of water, because fiber digests better with water. What is your favorite way to get more fiber in your diet?
Let me know if you love this post by leaving a comment below, and check out Instagram and Pinterest for more healthy lifestyle inspiration.