This beet and goat cheese salad is a delicious side dish any beet lover will enjoy! The beets are tossed with goat cheese, U.S.-grown wild rice, chickpeas, and a zippy lemon vinaigrette.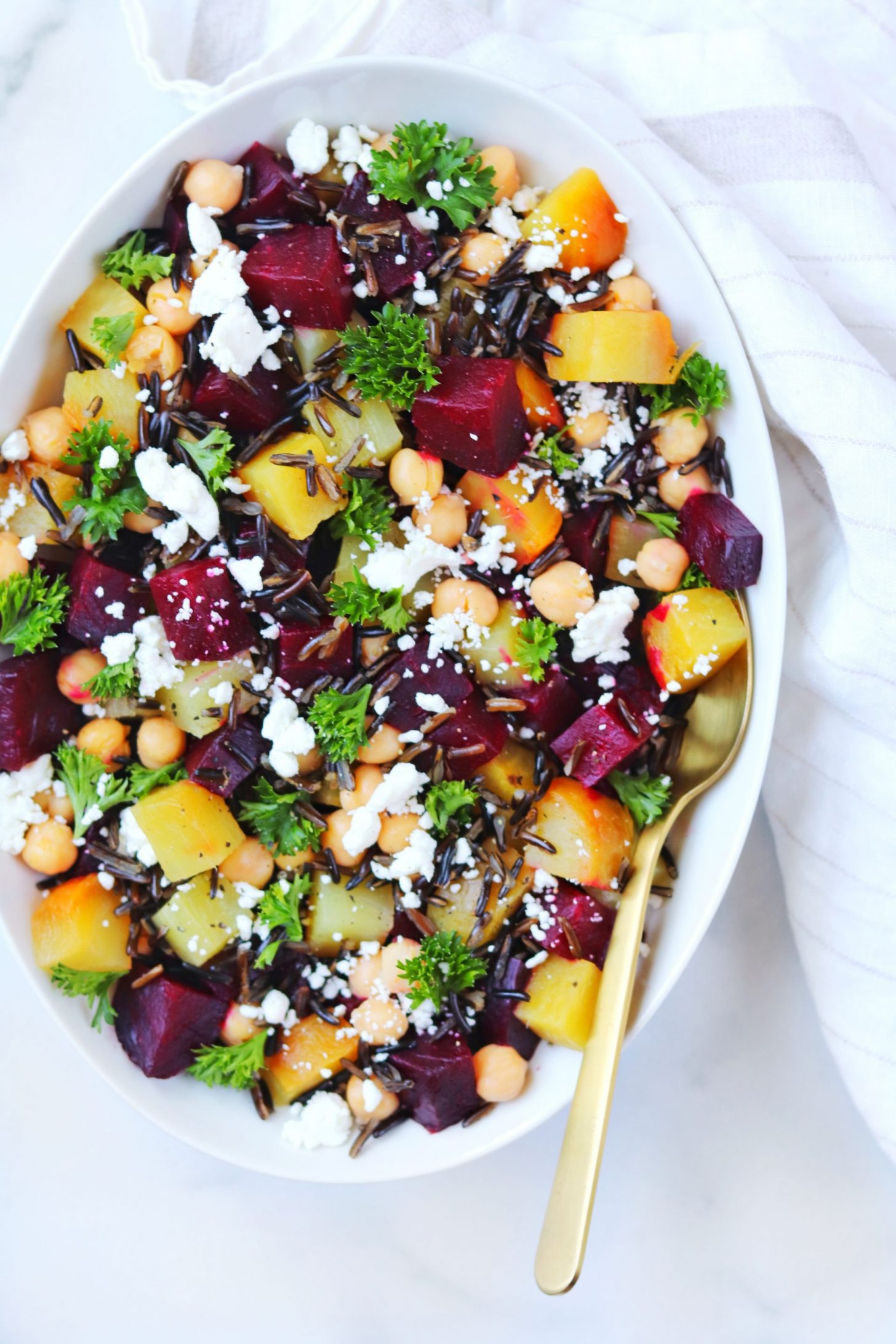 Beets are definitely a polarizing food. You either love them or you hate them. But if you love them, you know how TASTY beets are when paired with tangy goat cheese. It's one of my all time favorite food combinations!
You guys know how much I love my grain salads, and this one really tops my list. It features U.S.-grown wild rice, chickpeas, in addition to beets and goat cheese. Wild rice is a new ingredient for me, and I can already think of a million other ways I want to use this grain!
Why choose U.S.-grown rice?
Did you know the United States produces 18 billion pounds of rice per year? Neither did I! U.S.-grown rice is also extremely high quality. I recently had the pleasure of traveling to Ralston Family Farm in Little Rock, Arkansas to experience rice growing and learned about it firsthand!
During our trip, we got to tour the entire rice farm, from field, to storage, to milling, to packaging. They have a beautiful modern kitchen at the farm, where we were treated to a multi-course rice tasting, plus a delicious lunch prepared by chef Matthew Bell. We even learned how to make sushi, using antioxidant-rich purple rice! It was such a fun trip, and I am so grateful to have had the opportunity.
Here are some cool facts I learned:
Arkansas is the nation's largest rice producer.
Rice is a very sustainable crop to grow. At Ralston Family Farm, they flood the rice fields with water from the Arkansas river. Once they are done, the water goes right back into the river, in a purified state.
Some varieties of rice are high in antioxidants, like red rice and purple rice.
Rice takes about 100 days to grow between the day it is planted and when it is harvested.
Main ingredients in this roasted beet and goat cheese salad
This salad contains so many wholesome, real food ingredients. You'll load up your plate with plenty of fiber, plant-based protein, and antioxidants with this on your menu!
Red and golden beets
U.S.-grown Wild rice
Chickpeas
Goat cheese
Olive oil
Lemon juice
Parsley
Garlic
If you love this recipe, you may also like
Let me know if you love this recipe by leaving a comment or rating below, and check out Instagram and Pinterest for more healthy lifestyle inspiration. Thanks for stopping by!
Print
Roasted Beet and Goat Cheese Salad with Wild Rice and Chickpeas (Gluten Free)
This beet and goat cheese salad is a delicious side dish any beet lover will enjoy! The beets are tossed with goat cheese, U.S.-grown wild rice, chickpeas, and a zippy lemon vinaigrette.
Author: Alex Aldeborgh
Prep Time:

10 minutes

Cook Time:

1 hour 30 minutes

Total Time:

1 hour 40 minutes

Yield: serves

6

1

x
Category:

side dish
2.5

lb red and golden beets

1 cup

U.S.-grown

wild rice

1

can low sodium chickpeas, drained and rinsed

½ cup

parsley, chopped

1/3 cup

goat cheese crumbles

Salt

Pepper
Dressing
2 tbsp

lemon juice

2 tbsp

apple cider vinegar

1 tbsp

honey

1 tbsp

Dijon mustard

1 tbsp

chopped parsley

1

clove garlic, minced

3 tbsp

olive oil
Instructions
Preheat oven to 450 degrees F. Spray a covered baking dish with olive oil cooking spray.

Wash and scrub beets and add them to the prepared baking dish. Sprinkle with a little salt and cover. 

*Alternatively, you can wrap each beet in tin foil and place on a baking sheet, if you don't have a covered baking dish.

Roast beets for 45 minutes – 1.5 hours, rotating them every 20 minutes so they cook evenly. Beets will be done cooking when fork tender.

Once beets are cool enough to handle, use your hands to squeeze off the skin under cool running water. Chop into 1 inch cubes.

While the beets roast, cook the wild rice according to package instructions. I used a rice cooker on the brown rice setting, and it took about an hour.

Prepare the dressing. Whisk together lemon juice, apple cider vinegar, honey, mustard, parsley, and garlic. Slowly drizzle in olive oil while continuing to whisk until well combined.

Combine roasted beets, wild rice, chickpeas, parsley, and goat cheese in a large mixing bowl. Pour in dressing and toss until everything is well coated. Add salt and pepper to taste.
Notes
Try to choose similar sized beets for even cooking. The smaller they are, the faster they will cook.

This salad tastes good cold and holds up well as leftovers.

Store in the fridge for up to 5 days in an airtight container.
Keywords: beet and goat cheese salad, beets, wild rice, gluten free, U.S.-grown rice, goat cheese, chickpeas
Save this recipe for later to one of your Pinterest boards
Disclosure: Thank you USA Rice and The Feedfeed  for sponsoring this blog post! I'm grateful to partner with brands I love to cook with, and all opinions are my own.