Greek Quinoa Salad with Lentils (Gluten Free)
This Greek quinoa salad recipe is so easy to make! It's a perfect recipe for a warm summer day or meal prep, and is sure to please a crowd.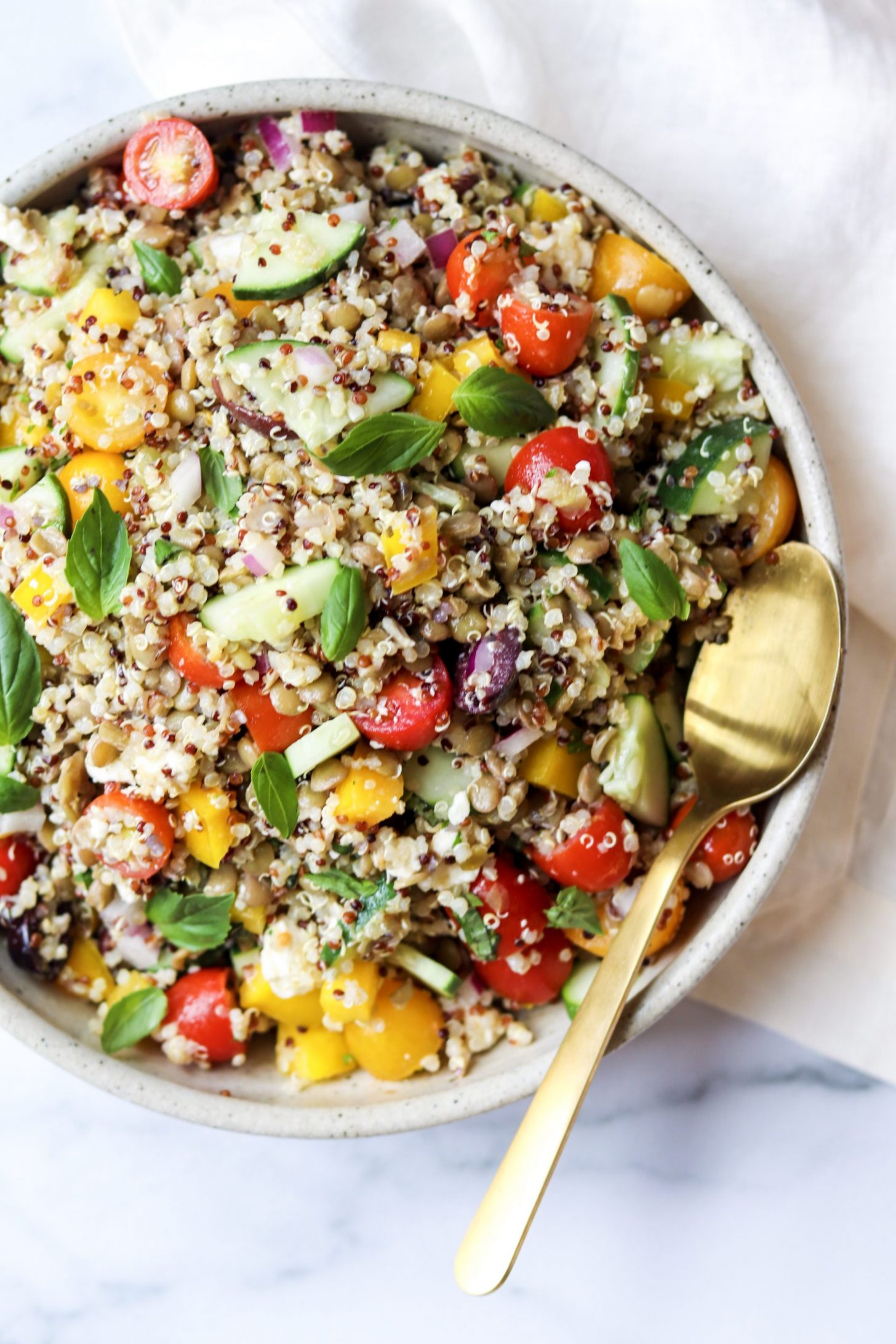 If I had to choose one cuisine to eat for the rest of my life, I'd pick Greek. It has pretty much everything I love – tons of veggies, cheese, olives, grains, nuts, legumes, seafood, yogurt, and fruit. Oh, and I can't forget baklava!
This Greek quinoa salad with lentils is basically the most delicious hodgepodge of Greek flavors all mixed together. And since it's mid-July, I got to use only the freshest, most flavorful produce that really makes this salad pop. Have you seen a more beautiful array of colors in a salad before?!
More delicious healthy quinoa recipes to try: red quinoa salad with feta cheese, kimchi fried quinoa, quinoa beet salad with butternut squash, quinoa salmon bowls with broccoli and squash, and Mediterranean gluten free quinoa salad.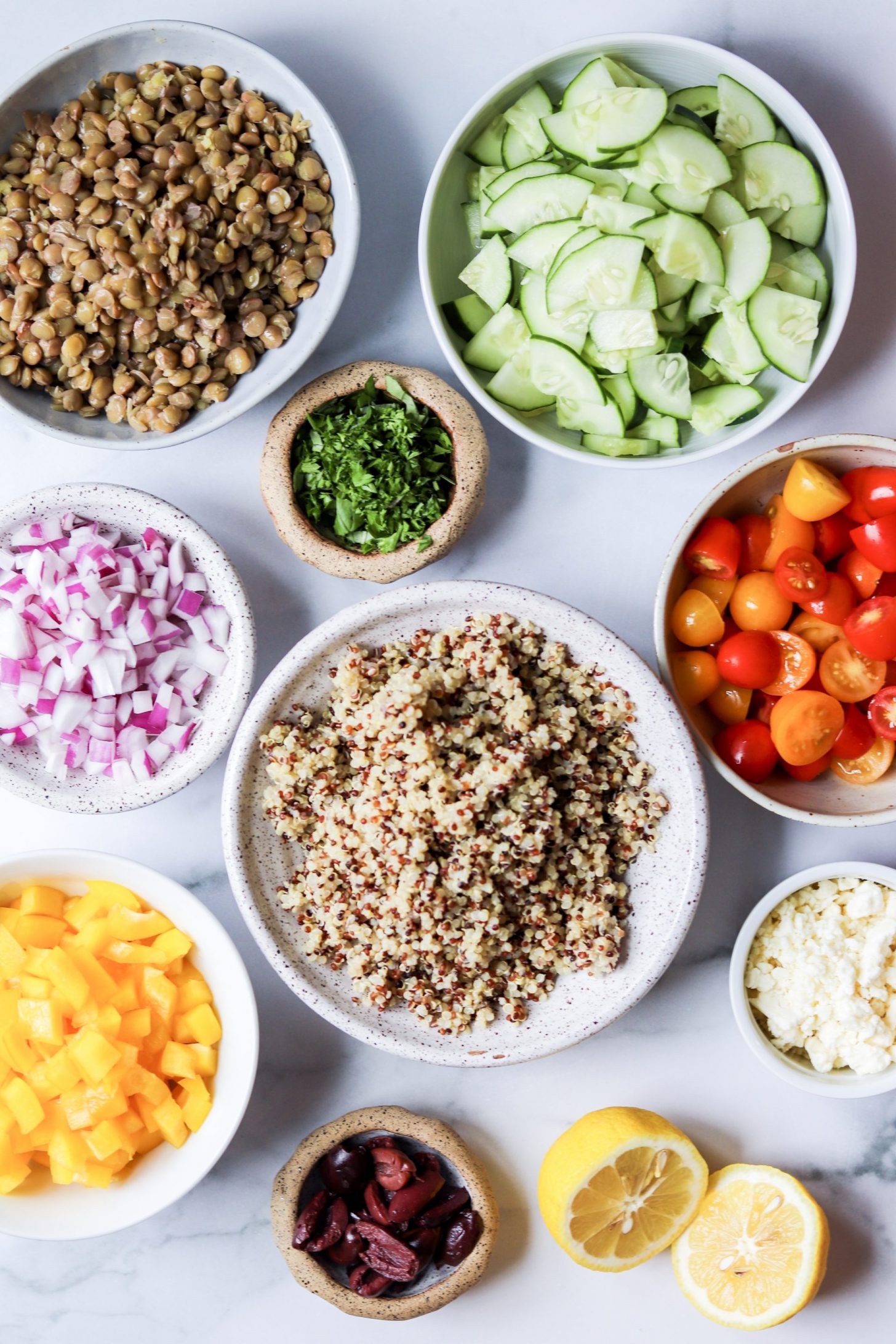 How to Make Greek Quinoa Salad with Lentils
This recipe is super simple to make. The only cooking you need to do is for the quinoa and lentils. The rest is just chopping and mixing!
Cook quinoa and lentils according to package instructions. Learn how to cook quinoa here!
Chop up all the veggies and herbs: cherry tomatoes, bell pepper, red onion, cucumber, olives, basil and parsley.
Whisk together lemon juice, red wine vinegar, Dijon mustard, honey, olive oil, oregano, and garlic powder to make your dressing.
Toss everything together in a large bowl with feta cheese.
Enjoy immediately or stick it in the fridge for later!
Main Ingredients + Some Nutrition Notes
Lentils: Lentils are a super healthy food to include in your diet. They are part of the pulses family, which also includes beans, chickpeas, and peas. Lentils are one of the best plant-based protein sources! Half a cup contains about 12 grams of protein. Lentils also are an excellent source of fiber. You can read all about the benefits of fiber here!
Quinoa: Quinoa is a pseudo-grain, and is a delicious replacement for rice. It's gluten free and another good source of plant-based protein. One cup of cooked quinoa has 8 grams of protein. Unlike many protein sources from plants, quinoa contains all nine essential amino acids, making it a complete protein.
Olives: You've heard of the health benefits of olive oil, and olives are just as nutritious! Olives have the same healthy monounsaturated fats as olive oil, which is protective against heart disease and inflammation. They are also high in vitamin E and other antioxidants.
Bell Pepper
Cherry Tomatoes
Cucumbers
Red Onion
Basil
Parsley
Feta Cheese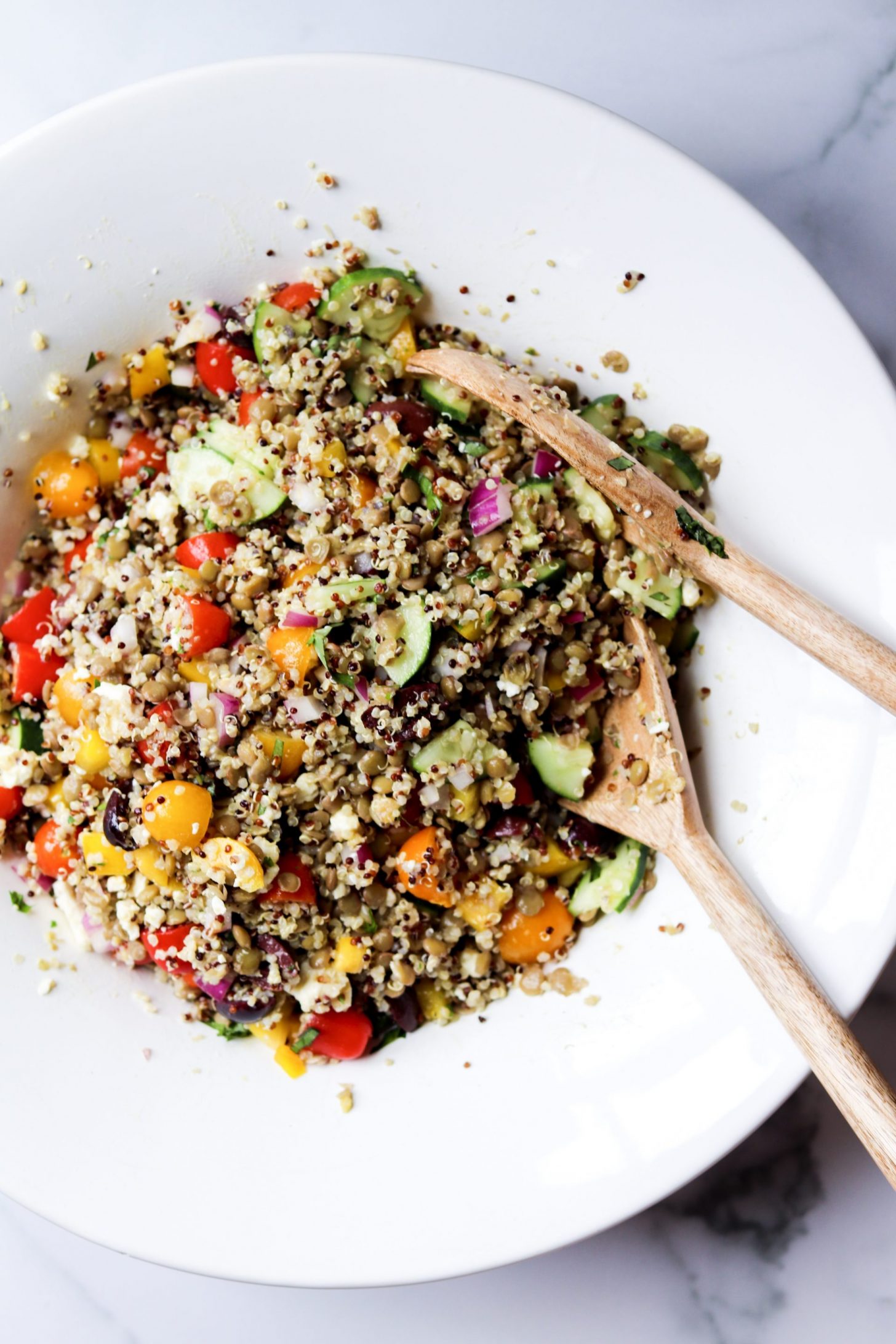 I love to meal-prep this Greek quinoa salad at the beginning of the week. I'll add a heap to a bed of Greens for a quick and filling lunch. This recipe is also perfect to make for picnics, barbecues, or potlucks!
If you love this Greek quinoa salad with lentils recipe, you may also like
Let me know if you love this recipe by leaving a comment or rating below, and check out Instagram and Pinterest for more healthy lifestyle inspiration.
Print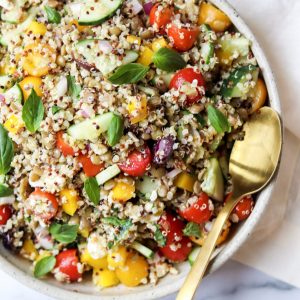 Greek Quinoa Salad with Lentils (Gluten Free)
Author: Alex Aldeborgh
Prep Time: 20 minutes
Cook Time: 25 minutes
Total Time: 45 minutes
Yield: 6–8 servings 1x
Category: side dish
---
Description
This Greek quinoa salad recipe is so easy to make! It's a perfect recipe for a warm summer day or meal prep, and is sure to please a crowd.
---
1 cup dry quinoa
1 cup dry green lentils
1 cucumber, quartered lengthwise and sliced thinly
1/2 of a red onion, diced
1 bell pepper, diced
1/2 pint cherry tomatoes, halved
1/2 cup pitted kalamata olives, halved
1/3 cup feta cheese (can eliminate for to make vegan)
1/4 cup chopped parsley
1/4 cup chopped basil
Dressing
1 tbsp fresh lemon juice
2 tbsp red wine vinegar
1 tbsp Dijon mustard
1/2 tbsp honey (sub maple syrup for vegan)
1 tsp dried oregano
1/2 tsp garlic powder
3 tbsp extra virgin olive oil
---
Instructions
Cook quinoa and lentils on the stovetop according to package instructions.
Meanwhile, chop all the veggies, olives, and herbs. Set aside.
Make the dressing by whisking together all dressing ingredients except olive oil in a small bowl. Slowly drizzle in the olive oil while whisking, until dressing is cohesive and creamy looking.
Let lentils and quinoa cool to room temperature. Then, mix them together with the veggies, olives, and herbs in a large mixing bowl.
Pour dressing into the bowl and continue to mix salad until everything is well coated.
Serve immediately, or save it for later! 
---
Notes
Keeps very well in the fridge in a sealed container for up to 5 days.
Can easily be made vegan by using maple syrup instead of honey in the dressing, and by eliminating the feta cheese. If you eliminate cheese, consider adding a little salt to taste!
Save this recipe for later to one of your Pinterest boards
Disclosure: Some of the links in this post are affiliate links, which help keep Daisybeet running. I truly love all the brands I link to, and use them frequently in my daily life!