Easy & Healthy Vegan Peanut Sauce Recipe
You will want to put this healthy peanut sauce on everything once you taste it! It's easy to make from simple ingredients, many of which you probably have in your pantry right now. This vegan peanut sauce recipe requires NO blender or food processor, just add everything to a bowl and whisk it together. Ready to use in 10 minutes for stir fries, noodle bowls, and more.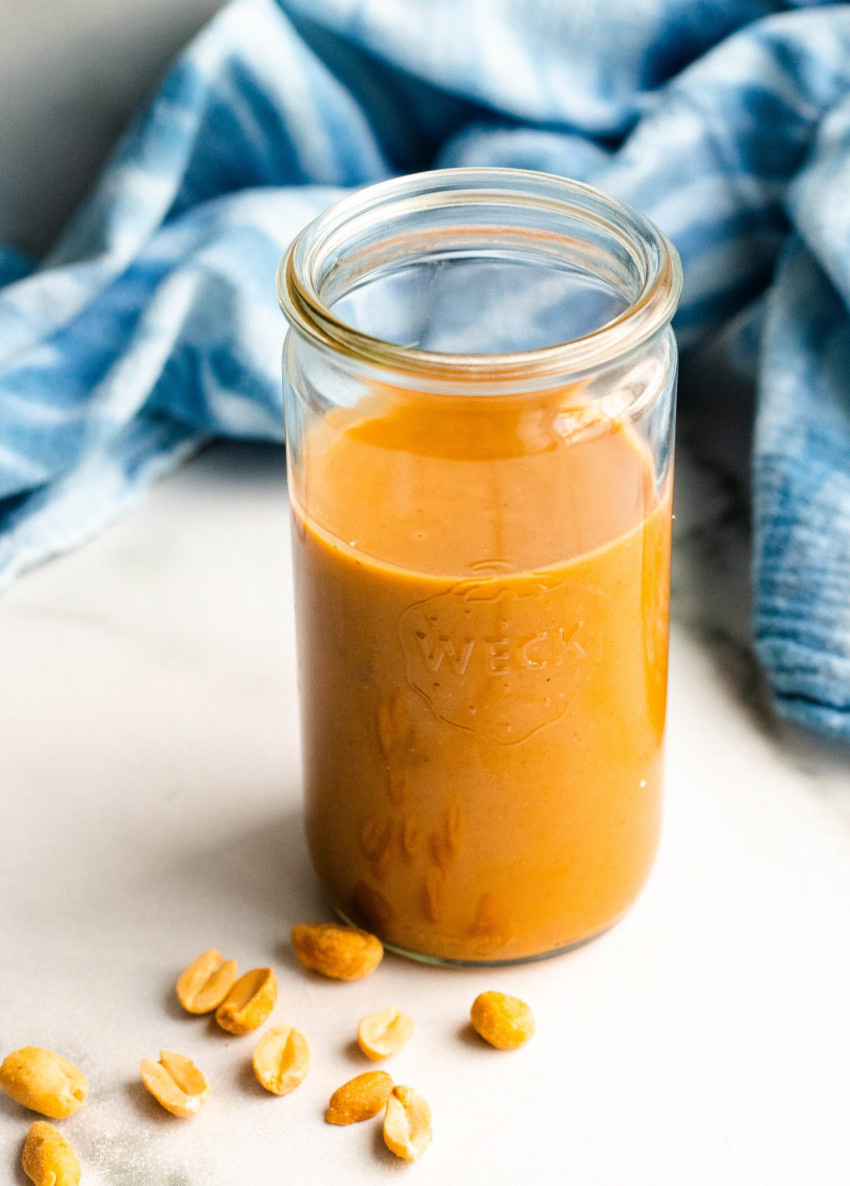 I am pretty much addicted to this healthy vegan peanut sauce.
We've been having it once a week (at least) with dinner since Ben and I started living together three years ago, and neither of us ever tires of it. This is the peanut sauce to end all peanut sauces.
As a Registered Dietitian, I love to make vegetables taste amazing when cooking for myself or others.
One of my top tips for delicious tasting vegetables is to add a sauce! This peanut sauce tastes good on all kinds of vegetables, whether they are stir-fried, roasted, or steamed.
Peanut sauce origin
While peanut sauce is typically associated with Thai cuisine here in America, it actually originates from Indonesia.
Known as satay sauce, bumbu kacang, sambal kacang, or pecel, this sauce is used widely in Indonesian dishes.
The main ingredient in authentic peanut sauce is ground roasted peanuts, but in Western countries, it is common to use peanut butter as a substitute.
This peanut sauce recipe is inspired by Indonesian and South Asian peanut sauce recipes, but is not an authentic Indonesian sauce. Check out this recipe for a more authentic Indonesian peanut sauce!
Ingredients in healthy peanut sauce
You need nine ingredients to make this recipe. You likely already have most of them in your pantry:
Soy sauce: Adds umami flavor and saltiness to the peanut sauce. If you need this recipe to be gluten free, use tamari instead.
Rice vinegar brings tangy acidity to the recipe. You can substitute lime juice for the rice vinegar for an equally tasty zesty twist!
Toasted sesame oil has such a good rich and nutty flavor, which pairs beautifully with the other ingredients in this recipe.
Creamy peanut butter: I recommend using natural peanut butter, where the only ingredients are peanuts. This type of peanut butter is runnier and whisks more easily into the peanut sauce.
Maple syrup adds just a touch of sweetness to balance out the acidic and salty ingredients. Use honey for similar results, but the recipe won't be fully vegan with this swap.
Chili paste brings just a touch of heat to the peanut sauce. You can use your favorite hot sauce as a substitute, such as sriracha instead.
Fresh ginger: Grated ginger adds warmth, spiciness, and fresh flavor to the peanut sauce.
Garlic: Because garlic is always a good addition!
Miso Paste (optional): I make this recipe with yellow or white miso paste when I have it on hand, because it adds a layer of savory complexity to the peanut sauce. If you don't have it or can't find miso paste, the recipe still tastes amazing without it!
This recipe is vegan, and can easily be made gluten free by using tamari instead of soy sauce.
If you eat gluten free and want to include the miso in this recipe, be sure to check that the miso you buy is gluten free and is not made with grains like barley.
How to make healthy peanut sauce
This sauce recipe is so easy to make! It'll take you just about five minutes to whip up.
First, measure out the soy sauce, rice vinegar, sesame oil, peanut butter, maple syrup, chili paste, and miso and add them to a medium mixing bowl.
Grate the ginger or garlic using a microplane. If you don't have one, just mince them both finely. Add the grated ginger and garlic right to the mixing bowl.
Whisk everything together with a small whisk or fork until everything is smooth and creamy, with no lumps remaining. This should produce a thick yet pourable consistency, but if you want to thin out the sauce a bit, you can add a little bit of cold water.
This recipe makes about one cup of sauce, so you'll likely have some leftover.
You can store extra peanut sauce in a jar in the fridge for up to seven days.
If it hardens up in the fridge, just pop it in the microwave for about 10 seconds to bring it back to a runnier consistency.
How to serve peanut sauce
As I mentioned before, this healthy peanut sauce tastes good on pretty much everything. Some of my favorite ways to enjoy it are:
Peanut butter nutrition
Even though peanut butter got a bad reputation for a while, it's quite a nutritionally dense food.
Peanut butter is a good source of plant-based protein, healthy fats, and micronutrients. Two tablespoons of peanut butter provides:
8 grams of protein
2 grams of dietary fiber
Heart healthy fats: 8 grams of monounsaturated fat and 4 grams of polyunsaturated fat
208 mg (five percent of your daily needs) of potassium
12 percent of your daily magnesium needs
Ginger nutrition
Ginger has been used throughout history as a remedy in traditional and alternative medicine.
Ginger contains a compound called gingerol with powerful antioxidant and anti-inflammatory properties.
Gingerol is responsible for most of the medicinal benefits of ginger, including aiding digestion, reducing nausea, and fighting infections.
Because of it's powerful antioxidant properties, ginger may also help prevent certain diseases like Alzheimer's.
Sesame oil nutrition
Cooking with sesame oil and adding it to your foods is a heart-healthy choice.
Most of the fat in sesame oil comes from unsaturated fatty acids. Replacing saturated fat in your diet with unsaturated fat can lower heart disease risk and reduce your cholesterol levels.
One tablespoon of sesame oil has 5 grams of monounsaturated fat, 6 grams of polyunsaturated fat, and just 2 grams of saturated fat.
Sesame oil also contains antioxidants, which help fight inflammation and keep our cells healthy.
Let me know if you love this recipe by leaving a comment or star rating below, and check out Instagram and Pinterest for more healthy lifestyle inspiration. Thanks for stopping by!
Print
Easy & Healthy Peanut Sauce Recipe
Author: Alex Aldeborgh
Prep Time: 10 minutes
Total Time: 10 minutes
Yield: 1 cup 1x
Category: sauces
Method: No bake
Cuisine: Thai
Diet: Vegan
---
Description
You will want to put this healthy peanut sauce on everything once you taste it! It's easy to make from simple ingredients, many of which you probably have in your pantry right now.
---
4 tbsp soy sauce or tamari
3 tbsp rice vinegar
2 tbsp sesame oil
2 tbsp maple syrup
1/3 cup creamy natural peanut butter
1 tsp chili paste (add more if you prefer spicer food)
2 inch knob fresh ginger, grated or minced
2 cloves garlic, grated or minced
2 tbsp white or yellow miso paste (optional)
---
Instructions
Add the soy sauce, rice vinegar, sesame oil, maple syrup, peanut butter, chili paste, and miso (if using) to a medium mixing bowl.
Grate or mince the ginger and garlic and add it to the bowl.
Whisk everything together until smooth and creamy with no lumps. 
Notes
Store in a jar in the fridge for up to seven days.
Keywords: vegan, healthy peanut sauce
Save this recipe for later to one of your Pinterest boards