20-Minute Crunchy Kale Slaw with Apples
This kale and apple slaw is a delicious side dish for any meal. It's got a cravable crunchy texture and is filled with nutritious ingredients including kale, green apples, cabbage, carrots, and almonds. It's tossed in the most delicious creamy tahini apple cider dressing that everyone will love!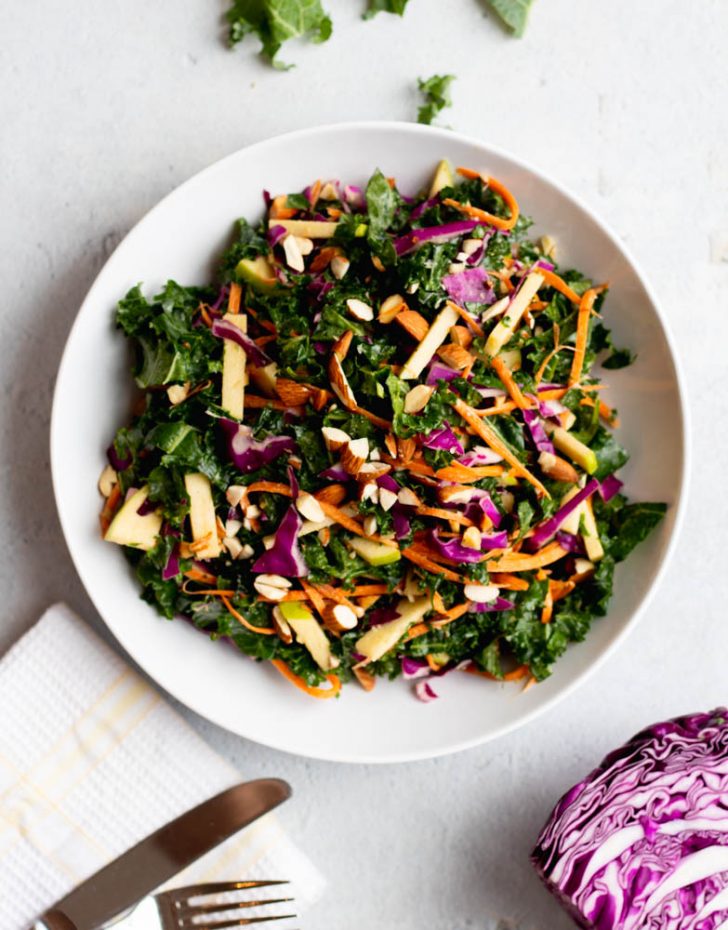 As a Registered Dietitian, you probably won't be surprised to learn that I love kale. I've got plenty of nutritious recipes with kale here on the blog, including kale salads, pasta with kale, and kale pesto! I even have a comprehensive guide on how to prepare kale.
This kale apple slaw is definitely a new favorite kale salad recipe of mine! It has the best crunchy texture and it's super easy to make. Kale slaw salad can be prepared in advance since kale doesn't get soggy like other greens, making it a great option for meal prepping.
This recipe is vegetarian and gluten free. You can easily make the recipe vegan by using maple syrup instead of honey in the dressing. This recipe comes together in about 20 minutes, and it makes a big batch, serving 6-8 people as a side dish.
Step-by-step video
Ingredients in kale slaw with apples
Here is everything you need to make this recipe, including the ingredients needed for the salad dressing:
Kale: I used curly kale, but you can use another kale variety, such as lacinato/dinosaur kale.
Red cabbage
Carrot
Green apple
Shallot
Extra virgin olive oil
Salt and pepper
Kitchen tools needed
You'll need a good chef's knife for all the chopping, a metal baking tray on which you can toast the almonds, and a small jar to prepare the dressing in. A julienne peeler is also helpful for shredding the carrot, but you can always just chop it up into matchsticks with your knife.
How to make kale apple slaw
First, toast the almonds in the oven for about five minutes. Don't skip this step! It brings out better flavor and a crunchier, more desirable texture in the almonds.
Finely chop the kale, thinly slice the red cabbage, and cut the apple into thin matchsticks. Add them to a large mixing bowl.
Peel and julienne the carrot using a julienne peeler, or cut it into thin matchsticks. Add it to the bowl with the other vegetables.
Roughly chop the toasted almonds. Add them to the mixing bowl.
Combine all the dressing ingredients together in a small jar, like a mason jar: olive oil, tahini, apple cider vinegar, honey, Dijon mustard, minced shallot, salt, and pepper. Close the jar and shake it up until everything is well combined.
Pour the dressing over the slaw ingredients and use salad spoons to thoroughly toss everything up. Add a shake of salt and pepper to taste.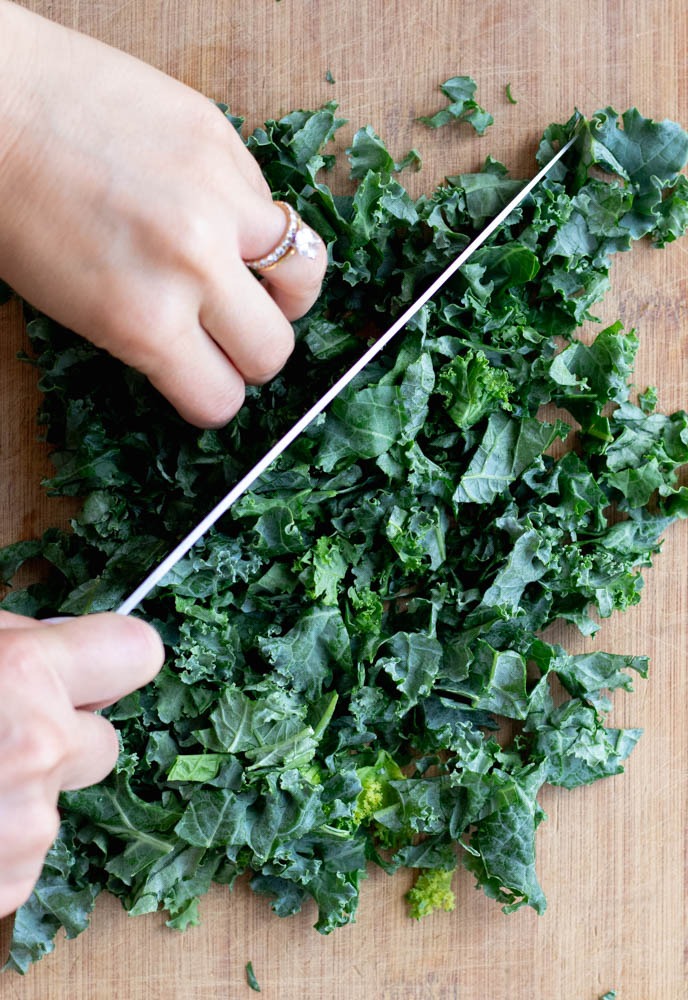 How to prep kale
If you bought a bunch of curly or lacinato kale to make this slaw, it's important to prepare it properly! Here's How to easily prepare kale for this salad, or any other kale recipe you may have:
Run a knife down the length of the kale leaves as close to the tough stem as possible to remove the leaves. Repeat on the other side.
Discard the kale stems (or save them to add to smoothies or homemade veggie broth).
Break up the kale leaves into bite size pieces using your hands.
Thoroughly wash the kale under cold running water. Dry it using a clean towel or in a salad spinner.
For this recipe, you'll then want to chop up the kale into fine pieces with a chef's knife.
Do I need to massage kale for this recipe?
Since the kale is finely chopped, there is no need to massage the kale for this recipe! The chopping action breaks it down enough to a suitable texture for eating it raw.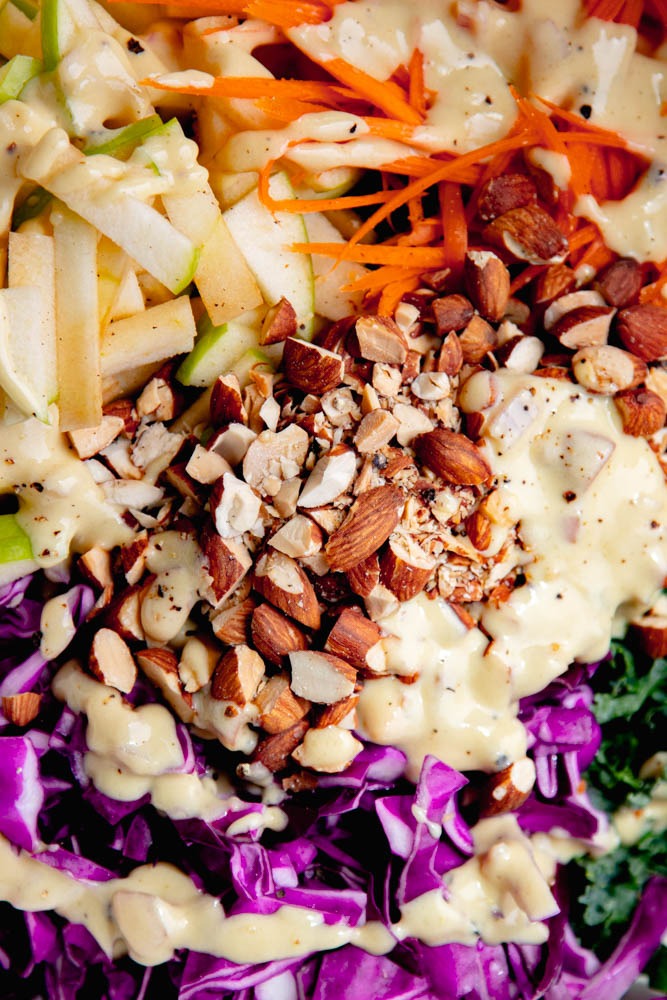 How long does kale slaw last?
This kale slaw will stay good for 2-3 days after it is prepared! This makes it a great salad option for meal prepping.
Store leftover kale slaw in an airtight container in your fridge. You may notice the apples beginning to brown as they sit, but they are still perfectly fine to eat.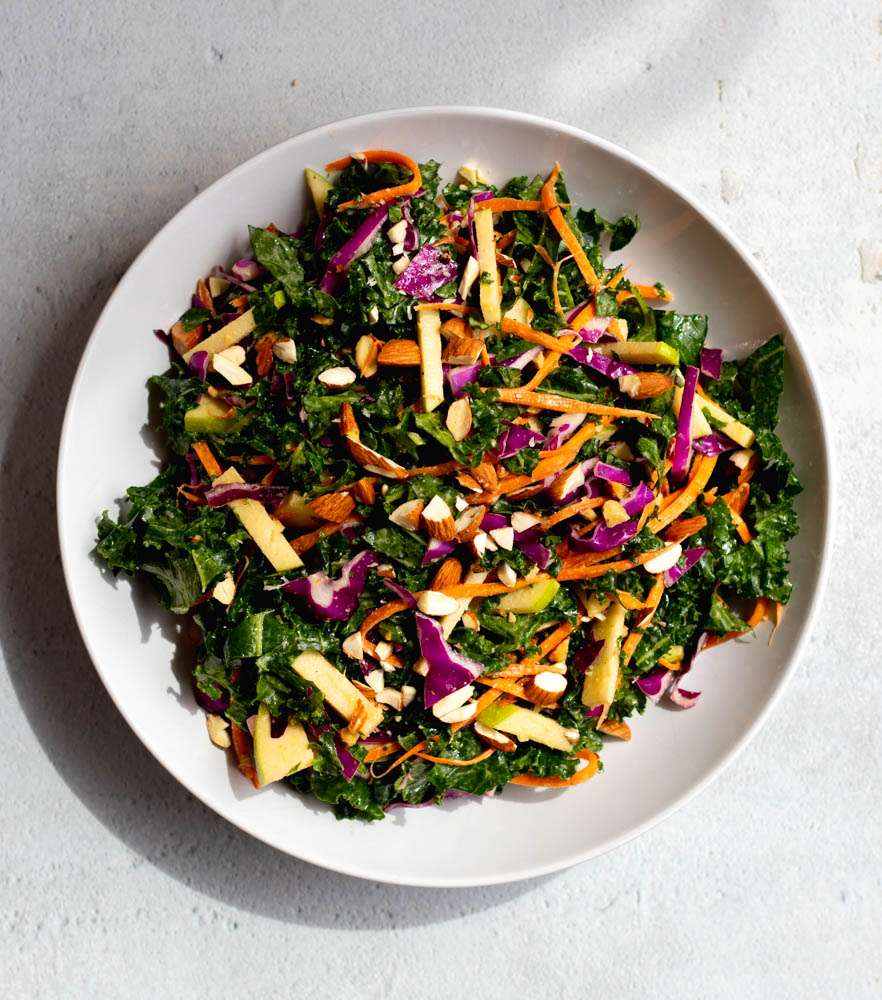 Let me know if you love these recipes by leaving a comment or star rating below, and check out Instagram and Pinterest for more healthy lifestyle inspiration. Thanks for stopping by!
Print