30-Minute Nutritious Broccoli Cheese Frittata
This simple one-pan frittata features nutritious broccoli and two types of cheeses: cheddar and gruyere. Start by cooking it on the stovetop and finishing it in the oven to yield a fluffy vegetable frittata that's perfect for breakfast, lunch, or dinner!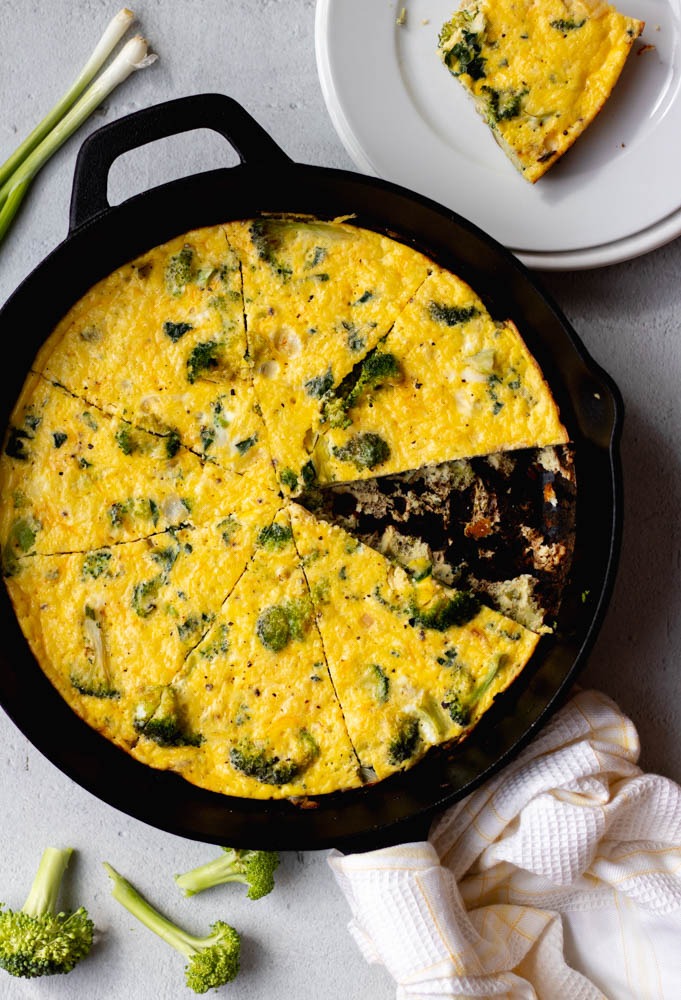 As a Registered Dietitian, one of my favorite ways to use up a bunch of vegetables in the fridge is to make a vegetable frittata. They're easy to prepare and are a great option for breakfast, lunch, or dinner. I've got plenty of frittata recipes on the blog, including my asparagus and leek frittata, smoked salmon frittata, vegetable egg white frittata, spinach potato frittata, and even mini frittatas in a muffin tin!
This easy broccoli and cheese frittata is a one-pan cast iron skillet frittata that takes just about 30 minutes to prepare. It's packed with fiber-filled broccoli and protein-rich eggs (yes, eggs are good for you) – this fiber + protein combination will keep you full for hours! It's made in a 12-inch cast iron skillet, which yields 8 servings.
Ingredients in broccoli cheese frittata
Here is everything you need to make this frittata:
Large eggs
Broccoli
White onion
Scallions
Plain Greek yogurt
Cheddar cheese
Gruyere cheese
Olive oil
Salt and pepper
Ingredient substitution suggestions
Swap out the cheddar or gruyere for a different cheese, such as mozzarella or feta.
Use an equal amount of milk or regular yogurt instead of Greek yogurt.
Add a big handful of greens like spinach to pack in even more vegetables.
If you don't have scallions, you can use chives or shallot instead.
Kitchen tools needed
To make this frittata, you will need a 12-inch cast iron skillet, a medium to large mixing bowl, and a whisk.
How do you make a frittata?
This frittata starts on the stovetop, and then is transferred to the oven to finish cooking. Here's how it's done:
Preheat the oven to 350 degrees F.
Whisk together the eggs, Greek yogurt, salt, and pepper in a mixing bowl until smooth. Stir in the shredded cheeses. Set aside.
Cook the onion, scallions, and broccoli seasoned with salt and pepper in the cast iron skillet in olive oil. Cook them for about five minutes so the broccoli is still a little bit firm.
Reduce the skillet heat to low-medium. Use a mixing spoon to spread the vegetables out into an even layer in the skillet.
Pour the egg mixture over the vegetables and give everything a quick gentle stir.
Cook frittata on the stove top for about 3 minutes on low-medium heat, until the edges just begin to set.
Transfer the frittata to the oven using oven mitts. Continue to cook for 10-15 minutes, until the center is just set and still has a slight jiggle.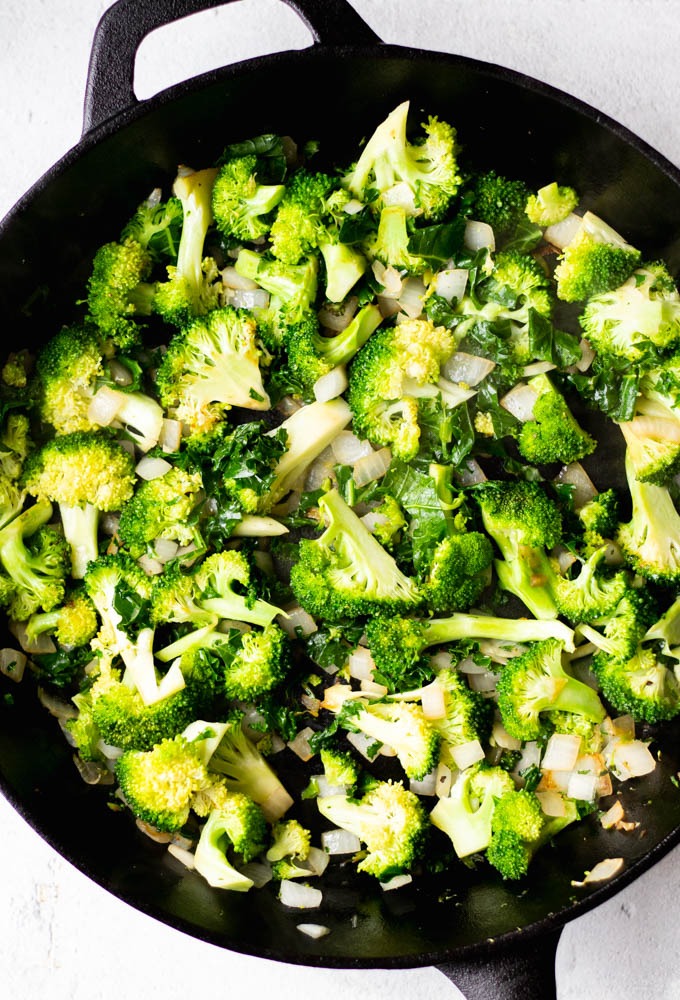 Can I prepare frittatas in advance?
Yes, frittatas can be prepared ahead of time, making them a great option for meal prep. Just cover the cooked frittata with plastic wrap and store it in the fridge for 3-5 days.
You can reheat the whole frittata in the oven set to 300 degrees. Heat it for 15-20 minutes, or until it is heated through. Or, you can heat individual portions in the microwave for about 45 seconds.
What to serve with frittata
Pair a frittata with a complex carbohydrate and non-starchy veggies for a filling well-balanced meal. The combination of fiber, protein, and healthy fats will keep you feeling full and help stabilize blood sugar levels.
Let me know if you love this post by leaving a comment or star rating below, and check out Instagram and Pinterest for more healthy lifestyle inspiration. Thanks for stopping by!
Print