10 Healthy and Delicious Kale Salads
A round up of the best healthy, yummy, and easy-to-make kale salads! Plus find the recipe for this delicious strawberry kale salad with goat cheese and farro.
As a Registered Dietitian, I love to make vegetables delicious, easy to prepare, and accessible to all, especially with hard-to-love vegetables like kale! One of my favorite ways to enjoy kale is in a kale salad. Kale salads are easy to prepare, perfect for meal prep, and totally customizable based on whatever flavors you feel like eating.
While raw kale is tough and bitter on its own, a well prepared kale salad truly transforms the vegetable into something totally delicious. If you've never made a kale salad before, I've got you covered, with plenty of healthy and delicious kale salad recipes! Which one are you going to try first?
Kale nutrition benefits
Kale is one of the most nutrient dense foods on the planet. It's loaded with so many nutrients! One cup of raw kale provides:
2 grams of dietary fiber
3 grams of plant-based protein
206 percent of your daily Vitamin A needs
684 percent of your daily Vitamin K needs
134 percent of your daily vitamin C needs
In addition, kale is also rich in several antioxidants, including vitamin C, beta-carotene, flavonoids, and polyphenols. Antioxidants help protect our cells by fighting inflammation.
How to make delicious and healthy kale salads
First, remove kale leaves from the tough fibrous stems. You can just use your hands and rip them off, or slice the off with a knife. Discard the stems or save them to put into green smoothies, juices, or homemade vegetable broth.
Wash and dry your kale leaves. You can use a clean dish towel, paper towels or a salad spinner to dry off the leaves.
Massage the kale leaves. This step is crucial, as it makes the kale tender and much more pleasant to eat! To massage the kale, put all the kale leaves in a large mixing bowl. Drizzle a little olive oil over the leaves plus a pinch of salt. Use your hands to massage the oil into the leaves for about 1 minute. You'll notice the kale become softer as you continue to massage it.
Alternatively, you can massage your salad dressing right into the kale instead of olive oil. I like to do this if I am using a creamier dressing, because it helps coat the kale leaves in the dressing.
For massaged kale salads, it is best to use mature kale like curly kale or lacinato (dinosaur) kale. Baby kale is too tender and won't hold up.
Add your toppings and dressing. A basic massaged kale salad is the perfect blank canvas for healthy salad toppings that add flavor, texture, and nutrition. The kale salad base is naturally vegan, gluten free, and dairy free.
Healthy kale salad topping ideas
Since kale is such a hardy green, it holds up well to pretty much any topping. Here are some of my favorite additions to kale salads:
Cheese: goat cheese, feta cheese, parmesan cheese
Nuts and seeds: Almonds, pecans, walnuts, pepitas, sunflower seeds
Fresh fruit: Apples, berries, pears
Dried fruit: Cranberries, raisins, figs
Grains: Quinoa, farro, wild rice
Healthy fats: olives, avocado
Roasted or grilled vegetables
Kale salad meal prep tips
Kale salads are unique in that they hold up well in the fridge, even when dressed. Kale doesn't wilt like softer greens, so kale salads are perfect for meal prepping.
If you are meal prepping a kale salad, I recommend waiting to add softer, delicate, and high water content ingredients until right before serving. Ingredients like berries and cucumber are two examples of toppings to wait to add.
Most cheeses, grains, proteins, nuts, and dried fruits are fine to be mixed right in when you're making the kale salad ahead of time.
Store kale salads in the refrigerator in an airtight container for 3-5 days.
10 Kale Salad Recipes
Fall Kale Salad with Butternut Squash, Brussels Sprouts, and Apples
This fall kale salad embodies the season in one delicious bowl! It's filled with roasted butternut squash, Brussels sprouts, and apples, and is perfect for lunch or a light dinner.
This kale and apple slaw is a delicious side dish for any meal. It's got a cravable crunchy texture and is filled with nutritious ingredients including kale, green apples, cabbage, carrots, and almonds. It's tossed in the most delicious creamy tahini apple cider dressing that everyone will love!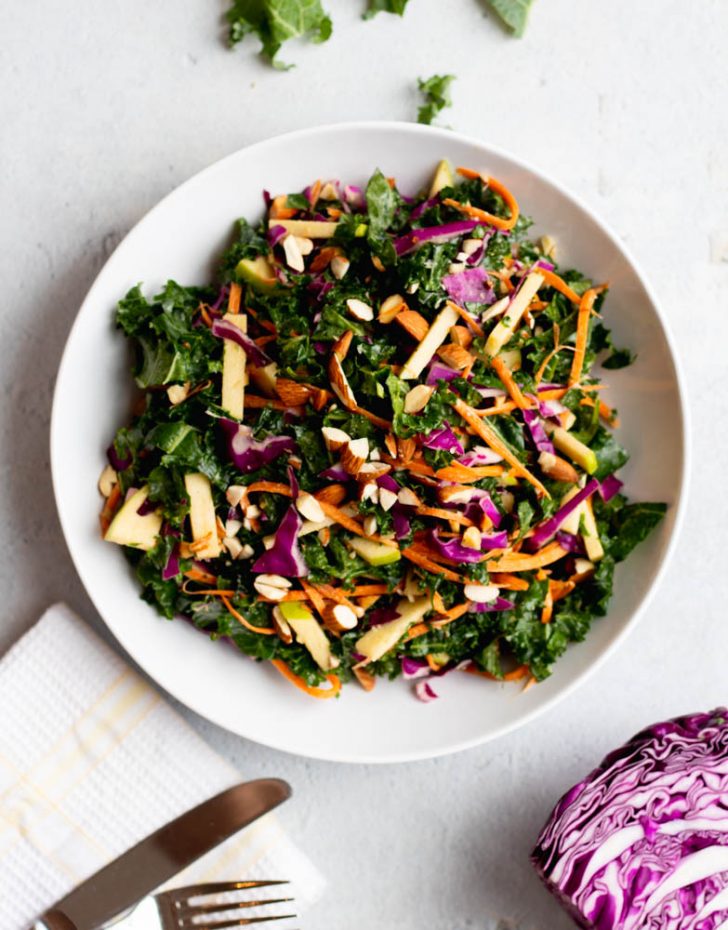 Shredded Brussels Sprouts Salad with Kale and Apples
Say hello to your new favorite salad! This shredded Brussels sprout salad is crunchy, lemony, cheesy, and a little bit sweet. It's perfect for meal prep! It's with shredded kale and brussels sprouts.
Warm Kale Salad with Delicata Squash
This warm kale salad is a perfect healthy side dish for any meal. It's a delicious way to get your greens in, especially when you're not in the mood for a cold salad. Kale is lightly sauteed with garlic is paired with sweet roasted delicata squash, avocado, pomegranate seeds, pepitas, sesame seeds, and parmesan cheese.
Make this kale citrus salad when you're feeling weighed down by a few days of indulgent eating. It's delicious, filling, and packed with nutrition from avocado, citrus fruits, tofu, and cucumber.
Kale Salad with Creamy Goddess Dressing
If you think you hate kale, I bet you'll change your mind once you try this kale salad with goddess dressing. It's savory, creamy, and kind of addicting! Add whatever salad toppings you like to this salad.
Kale Caesar Salad with Spice Roasted Chickpeas
This kale caesar salad will be your new favorite way to eat kale! For this recipe, you'll toss kale in a homemade, dairy free Caesar dressing and top it with crunchy roasted chickpeas. This recipe is perfect for meal prep!
Kale Quinoa Salad with Fall Roasted Vegetables
This kale quinoa salad is the perfect easy meal prep recipe that uses delicious seasonal fall produce! It's vegan and gluten free, and sure to please even kale skeptics.
Grain salads with kale
These grain salads feature kale as a primary ingredient. Kale is an excellent leafy green to use when making grain salads because it is so hardy!
Beet Quinoa Salad with Butternut Squash, Kale, and Pecans
This beet quinoa salad is the perfect healthy lunch recipe to make ahead for the week. It's loaded with nutrients, flavor, and texture – everyone will love it!
Fall Farro Salad with Butternut Squash, Kale, Pomegranate, and Goat Cheese
This fall farro salad would make a perfect vegetarian addition to your Thanksgiving table this year (or any time of year). It's packed with delicious fall ingredients, and everyone will love it!
Print
10 Nutritious Kale Salad Recipes: Strawberry Kale Salad
Author: Alex Aldeborgh
Prep Time: 10 minutes
Cook Time: 15 minutes
Total Time: 25 minutes
Yield: Serves 4
Category: salad
Cuisine: American
Diet: Vegetarian
---
Description
This strawberry kale salad with goat cheese and farro makes a light, healthy, and satisfying meal. It's loaded with nutritious ingredients and flavor.
---
8 cups curly kale leaves, removed from stems
1–2 tbsp olive oil
Pinch of salt
2 cups cooked farro (1 cup dry)
1/2 cup roasted slivered almonds
1 pint strawberries, stems removed and halved
4 oz log goat cheese
Dressing
1/2 cup olive oil
1/3 cup balsamic vinegar
2 tbsp honey
1 tbsp Dijon mustard
Salt
Pepper
---
Instructions
Add kale to a large mixing bowl. Drizzle the olive oil on the kale with a pinch of salt.
Use your hands to massage the kale for about 1 minute, until softened and tender.
Add the farro, slivered almonds, and strawberries to the kale. Use your hands to crumble the goat cheese on top.
Put the dressing ingredients with a pinch of salt and pepper in a small jar. Close the jar and shake vigorously to emulsify the dressing.
Pour the dressing over the salad, and gently mix together the salad with salad spoons to coat everything in the dressing.
---
Notes
Because the strawberries are so delicate, this salad is best served right away. If you want to make this salad ahead of time, mix everything together except for the strawberries. Add the strawberries right when you are ready to serve. 
Keywords: best kale salad, strawberry kale salad, strawberry goat cheese kale salad, healthy kale salad recipes
Save this recipe for later to one of your Pinterest boards