My Go-To Breakfast: Cacao-Banana Oatmeal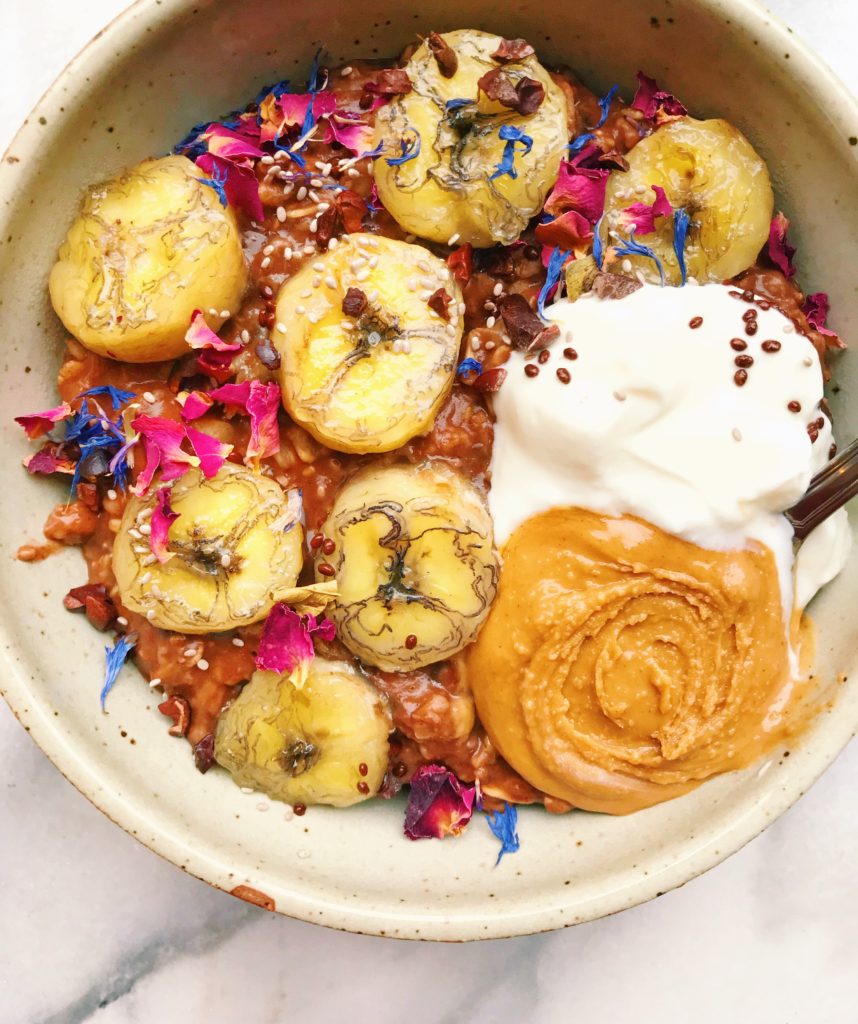 Rise and shine! You guys know by now how much I love my oatmeal for breakfast. I've been eating it every morning 99% of the time for years – it's almost comical! I occasionally get messages for my oatmeal recipes or for tips to make oatmeal more exciting. I decided to write a post here for you all to refer to! Not to toot my own horn, but I think I've mastered the bowl of oats.
Before my oatmeal love affair came to be, I went through many years of protein smoothies for breakfast, starting in college. I would start my day with a smoothie consisting of ice, a frozen banana, some skim milk, and a scoop of chocolate meal replacement protein powder. Sometimes I would add in a spoonful of powdered peanut butter, too. This breakfast couldn't have been more than 300 calories, and while it was delicious, I never felt completely full afterwards. I always NEEDED a midmorning snack a few hours later as I could hear my stomach rumbling. This coincided with a time in my life where I was very "calorie conscious". I would select foods based off of their calorie count rather than their nutrition qualities. I was eating a lot of low fat products, that, looking back, were definitely loaded with artificial ingredients. I absolutely loved my college experience, but I realize now that it was an environment which perpetuated this type of eating and thinking about foods. I subconsciously compared my body to others and made food choices based off what my peers were doing, which meant low calorie, low fat, and sometimes lacking real food ingredients.
Once I began researching nutrition more, I realized this protein smoothie habit was probably not the most nutritious way to start my day. Not only did it leave me hungry for real food a few hours afterwards, but the ingredient list was a mile long. There was a myriad of ingredients I could not pronounce. I decided to transition to real food based smoothies, and began making oatmeal in the winter when it was colder. I noticed that oatmeal filled me up much more than smoothies, and sustained me all the way until lunch on my less active days. I also enjoyed the act of eating food, physically chewing, and taking my time enjoying breakfast, rather than slurping down a smoothie in 3 minutes.
Don't get me wrong now, I think smoothies are delicious and refreshing! They are an excellent way to add calories and nutrients in the clinical setting, and can be very healthy when you are mindful of the ingredients you add. For me, though, physically eating a big breakfast works best. Oatmeal is my breakfast of choice for so many reasons. It is quick and easy to make, cheap, delicious, customizable, and filling.  One of my favorite ways to flavor my oatmeal is by adding sweet caramelized banana, cacao powder, cinnamon and nut butter. This satisfies my undying sweet tooth in a nutritious way! I hope all of you who have a sweet tooth try this recipe.
Here are some of the ingredients you'll need:
Old fashioned rolled oats
Raw cacao powder (unsweetened cocoa powder is fine, too)
Cinnamon
Banana
Peanut butter (or another nut butter)
Salba Chia chia seeds
And the nutrition breakdown:
Oats: Oats are one of the best sources of soluble fiber. This type of fiber has many health benefits. A diet containing soluble fiber can lower cholesterol levels, because the fiber binds to cholesterol in your body so it can be excreted. It also is not fully absorbed, so it does not cause a rapid spike in blood sugar levels. Soluble fiber keeps you fuller for longer because it is digested slowly, and helps keep you regular by adding bulk when you go to the bathroom.
Cacao Powder: Raw cacao powder is rich in antioxidants in the form of flavanols. The flavanols found in cacao powder may have more powerful antioxidant effects than those in green tea and blueberries! Flavanols may have numerous heart-healthy functions. They can reduce inflammation by inhibiting inflammatory cytokine production. Flavanols also may prevent blood clots by reducing platelet aggregation and reduce oxidative damage within blood vessels.
Salba Chia chia seeds: Chia seeds are also a good source of soluble fiber, and thus exert similar health benefits as oats. Notice how they swell when you add liquid? They expand to 10x their dry weight! This adds a lot of bulk to your diet and fills you up. Chia seeds are also a rich plant-based source of omega-3 fatty acids. Omega-3's are essential fatty acids we must consume in our diets, because our bodies cannot produce them. They are essential for growth and development, can lower blood triglyceride levels and may be anti-inflammatory. I love Salba Chia in particular for so many reasons! There are over 100 different strains of chia seeds, but they grow only the 2 strongest varieties.  They are a single source company, co-own and operate all of their farms, and partner directly with the farmers to ensure the best possible seeds. Salba Chia also grows ALL of their chia seeds organically with no pesticides! Therefore, the nutritional profile of their products is always top quality.
Without further adieu, here is my favorite oatmeal recipe. Adding the banana to the bowl before you microwave your oats breaks it down so it becomes super creamy and extra sweet. No other sweeteners needed!
Ingredients:
½ cup oats (I use old fashioned)
~1 cup water (enough to top off the oats in your bowl)
1 small ripe banana
1 tbsp cacao powder
½ tbsp Salba Chia chia seeds
Dash of Cinnamon
1 tbsp nut butter
Toppings of choice: I like fresh fruit, hemp hearts, cacao nibs, etc.
Instructions:
In a microwave safe bowl, add oats and water.
Slice the banana into the bowl and stir.
Microwave for 2-2.5 minutes, until cooked.
Remove bowl and stir in chia seeds, cinnamon and cacao powder.
Add nut butter and toppings of choice, and enjoy!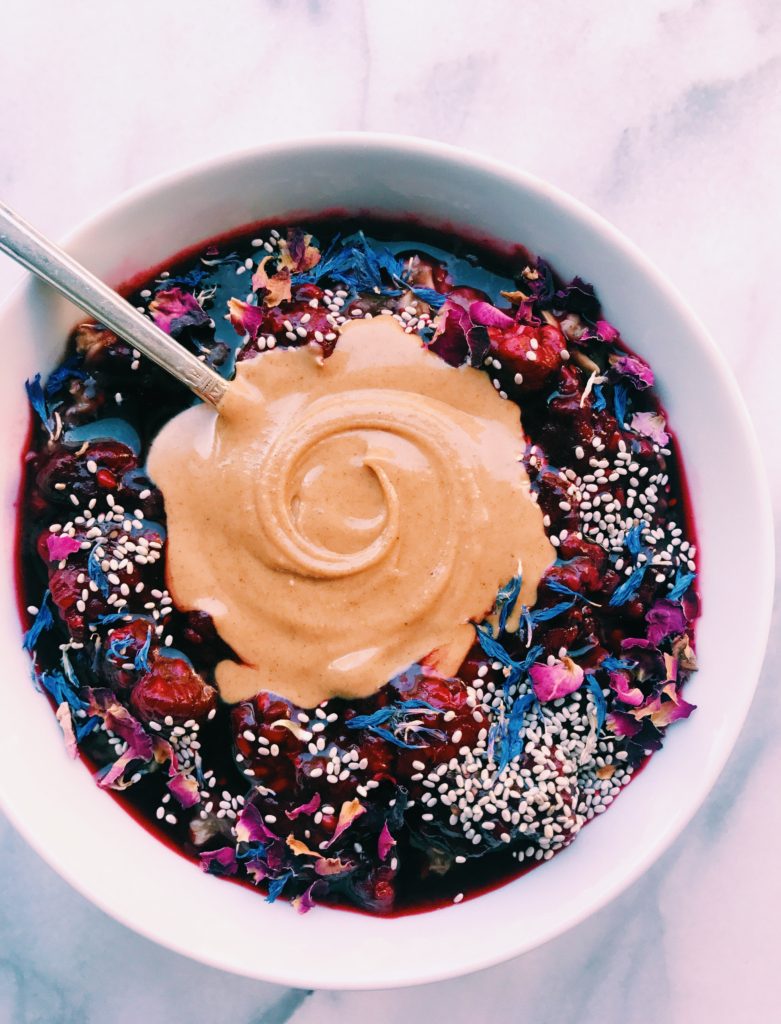 I hope you guys enjoy this simple recipe. Oatmeal is very customizable – I love to experiment with different spices! Tag your oatmeal bowls with #Daisybeet so I can see your lovely creations.