Vegetable Frittata with Sweet Potato Crust (Gluten Free)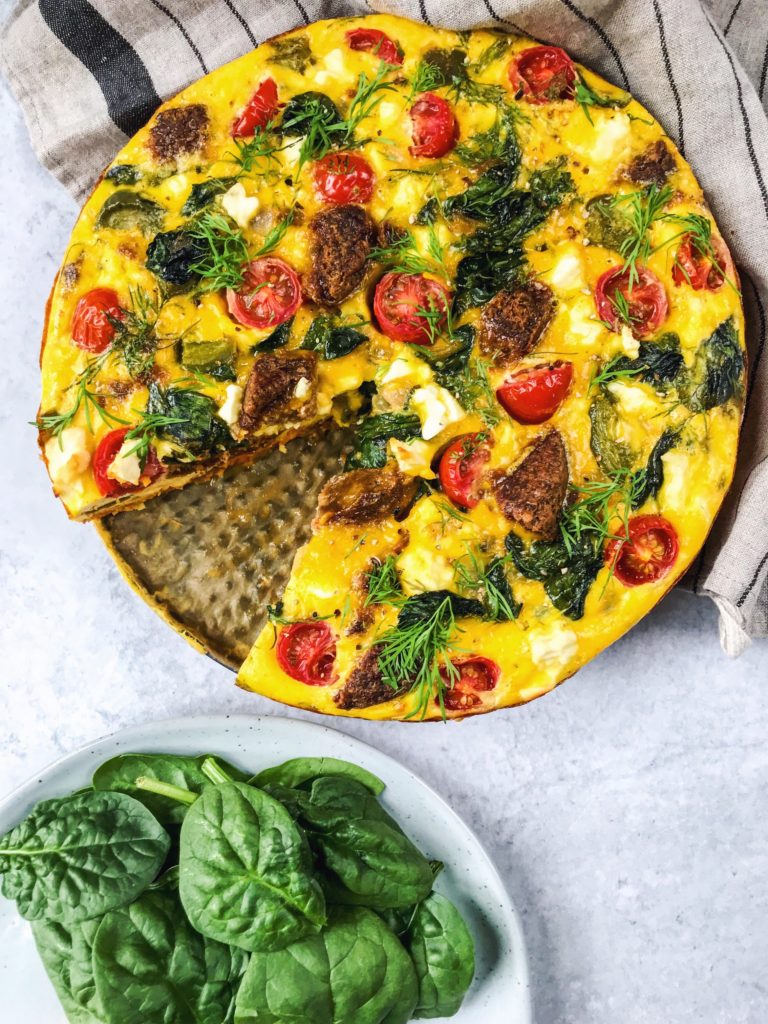 Something about spring makes me want to make ALL the brunch foods – I wonder what it is! Maybe it's the idea of Easter brunch, or simply the warmer weather that makes me want to enjoy a meal outside with my friends. You guys know I love my oatmeal bowls for breakfast, but I am all about the egg dishes for brunch! I love enjoying a veggie packed omelet or frittata when I go out. They're super filling and can pack in so much flavor and nutrition from the addition of vegetables.
Frittatas are my GO TO when hosting brunch for a crowd. They are so nice to have prepared ahead of time, so you can spend time enjoying your company rather than flipping 2 dozen individual eggs for everybody! Frittatas are also incredibly customizable. There are endless add-in combinations, so you'll never get bored of having the same thing twice! The rule of thumb I like to use is to choose 3-4 veggies, a cheese, and a fresh herb for a lots of flavor.
For this recipe, I chose some classic egg-dish veggies – peppers, onions, spinach and tomato, plus the yummiest SWEET POTATO crust! I added crumbled feta cheese because I love the salty, briny flavor it brings, as well as fresh dill – because, spring! I also used veggie sausages in this recipe for even more of a savory, protein-packed kick. I don't eat meat, so I love having delicious veggie alternatives on hand to add to my recipes. I chose the from their new Pure Plant Protein line. They pack 18 grams of high-quality plant based protein per serving and include 3 different types of veggies! They are gluten free and soy free (they use pea protein), so they're safe to eat for many people with food allergies or sensitivities.
I hope you guys try this protein-packed frittata! You can make it to serve to friends for brunch, or add it to your meal prep this weekend to have for lunches all week!
Ingredients
2 large sweet potatoes, cut into ¼ inch thick rounds
2 tbsp avocado oil, divided
½ tsp paprika
Salt
Pepper
½ of a white onion, diced
1 green bell pepper, diced
3 large handfuls baby spinach
½ cup cherry tomatoes, sliced in half
10 large eggs
¾ cup full fat Greek style yogurt
½ cup crumbled feta cheese
1/3 cup fresh dill
Instructions
Preheat oven to 420 degrees F. Line a large baking sheet with parchment paper.
Toss sweet potato rounds with 1 tbsp avocado oil, paprika and a little salt and pepper. Bake for 30 minutes, flipping halfway through. Reduce heat to 325 degrees F.
While sweet potatoes cook, prepare veggie sausages according to package instructions, then cut into bite size pieces.
Cook vegetables: heat remaining avocado oil in a frying pan. Add onion, and cook for 2-3 minutes until translucent. Add peppers, cooking another 2-3 minutes. Stir in spinach plus salt and pepper to taste, until spinach is wilted. Remove from heat and let cool.
Whisk together eggs and yogurt, then stir in feta cheese.
Stir cooked veggies, cherry tomatoes, veggie sausage and dill into the egg mixture.
To prepare the frittata, line a springform pan with parchment paper and grease the sides with spray oil. Lay the sweet potato rounds on the bottom of the pan, and use your hands to press them down slightly so the entire surface is covered. Place pan on a baking sheet, then pour in egg mixture.
Bake frittata for 50-70 minutes until it has puffed up, edges are nicely browned, and there is no uncooked egg. It should still be slightly jiggly! Let cool before removing from springform mold and slicing.
*This recipe can be prepared ahead of time and stored in the fridge up to 5 days.
If you try this recipe, tag @daisybeet on Instagram so I can see your creations!
Thank you Dr. Praeger's for sponsoring this blog post! I'm grateful to partner with brands I love to cook with, and all opinions are my own.