The Best Fudgy Tahini Brownies (Gluten Free, Oil Free)
These tahini brownies are incredibly chocolatey and fudgy. They're free from gluten, oil and refined sugar, but you'd never know it. Tahini is the hero of this recipe, which eliminates the need for oil or butter while still keeping the brownies super moist and giving them a rich flavor. These brownies take just 30 minutes to make, so what are you waiting for?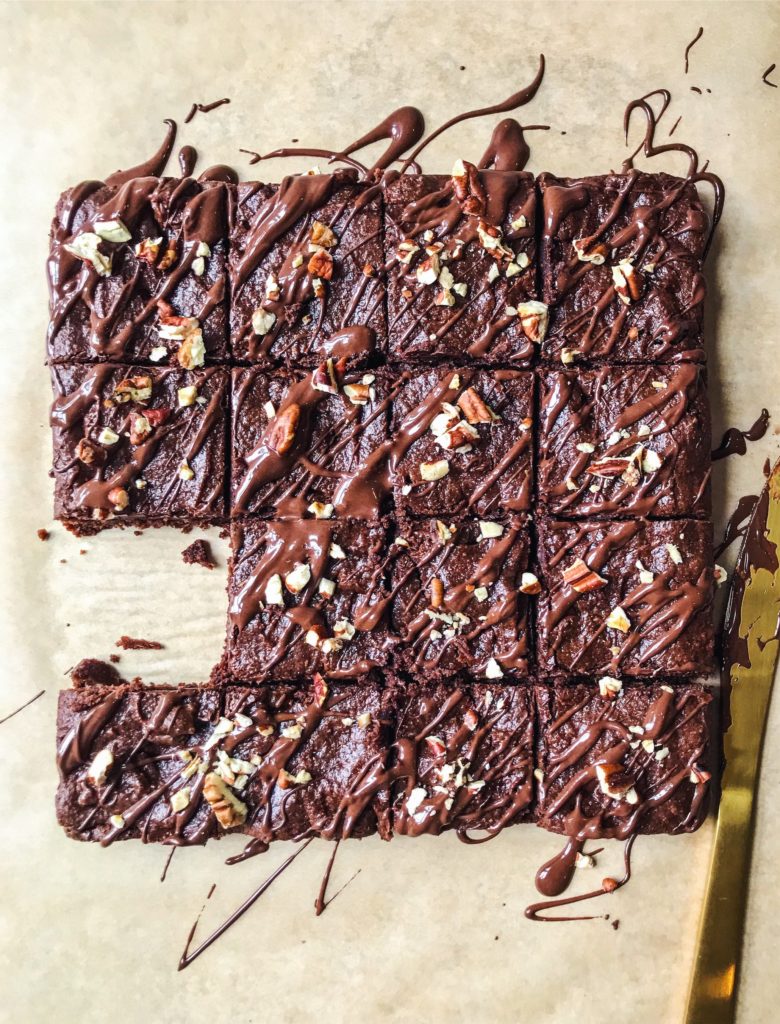 This is the second brownie recipe I've posted in the last three weeks, but I'm not making any apologies. Dessert is regarded quite highly in my house, so frequent brownie baking sessions are welcome. If anyone wants to stop by, I'd be happy to share!
I've always enjoyed baking, even as a little kid. I definitely get it from my mom, who is one of the best bakers I know! As an RD, I love to promote an "all foods fit" approach to eating. That means it's OK to have sugar and dessert when your body is craving it! I absolutely eat "real" ice cream, cookies, brownies, and pie. These treats don't come without high sugar and saturated fat content, though, so I truly enjoy creating more nutritious versions of my favorite desserts! I prefer to think of these as additions to my diet, rather than completely replacing the real versions of these desserts. This mindset allows me enjoy treats when I'm craving them or during social events without guilt!
Nutrition Notes for Tahini Brownies
These tahini brownies have some super nutritious ingredients. Cacao powder contains polyphenols and flavanols which have potent antioxidant activity. The flavanols in cacao may help lower blood pressure by increasing nitric oxide in the blood. Tahini, which is made from ground sesame seeds, adds healthy fats and protein to this recipe. It also contains important minerals like magnesium and calcium, and it can be difficult to meet our needs with both of these minerals. Almond flour also adds healthy fats, protein and fiber.
A Few Recipe Notes
Subbing a different nut butter for tahini will keep this recipe moist and fudgy, but may alter the flavor slightly.
Try adding other mix-ins as desired, such as a handful of walnuts.
Do not overmix the wet ingredients, because the tahini may thicken significantly.
This recipe will keep in a sealed container in the refrigerator for up to one week, or frozen up to 3 months.
If you love this recipe, you may also like
Let me know if you love this recipe by leaving a comment or rating below, and check out Instagram and Pinterest for more healthy lifestyle inspiration. Thanks for stopping by!
Print
The Best Fudgy Tahini Brownies (Gluten Free, Oil Free)
Author: Alex Aldeborgh
Prep Time: 10 minutes
Cook Time: 20 minutes
Total Time: 30 minutes
Yield: 16 brownies 1x
Category: Dessert
Method: Baking
---
Description
The best fudgy tahini brownies that are free from gluten, oil and refined sugars.
---
1 cup smooth tahini
½ cup pure maple syrup
1 tsp vanilla extract
1 tbsp strong brewed coffee
1 large egg
1/3 cup cacao powder or unsweetened cocoa powder
1/3 cup almond flour
½ tsp baking powder
½ tsp kosher salt
½ cup dark chocolate chips
¼ cup chopped walnuts for topping (optional)
Chocolate Drizzle
¼ cup dark chocolate chips
½ tsp coconut oil
---
Instructions
Preheat oven to 350 degrees F. Grease an 8×8 baking pan.
Whisk together tahini, maple syrup, vanilla extract, coffee, and egg in a medium bowl until just combined.
Whisk together cacao powder, almond flour, baking powder, and salt in a large mixing bowl. Pour wet ingredients into dry and stir until combined.
Fold in chocolate chips.
Pour batter into prepared baking pan and smooth it out.
Bake for 20-22 minutes until a toothpick comes out clean. Let cool before slicing into 16 squares.
Melt together remaining chocolate chips and coconut oil in a small saucepan on low heat. Use a spoon to drizzle melted chocolate over brownies, and sprinkle with chopped walnuts.
---
Keywords: tahini brownies, healthy brownies, healthy dessert
Save this recipe for later to one of your Pinterest boards
Disclosure: Some of the links in this post are affiliate links, which help keep Daisybeet running. I truly love all the brands I link to, and use them frequently in my daily life!