Spinach, Mushroom, and Caramelized Onion Goat Cheese Quesadilla
A modern and more nutritious take on the classic cheese quesadilla. This recipe calls for sprouted grain wraps, goat cheese and lots of vegetables for lots of nourishing ingredients in every bite.
This quesadilla might be my new favorite lunch to whip up when I am home. This meal feels decadent and even a little bit fancy, but it is loaded with good-for-you ingredients! Goat cheese is one of the top three best cheeses in my opinion (right up there with brie and fresh mozzarella). I almost always have it served cold in a salad or spread on a cracker, but after making this recipe, warm goat cheese is where it's at!
In addition to goat cheese, this quesadilla packs in lots of vegetables. The combination of sweet caramelized onion, mushrooms and spinach will give you about one full serving of veggies per quesadilla. That's just about the easiest way to get you closer to your five a day!
I used Angelic Bakehouse sprouted 7-grain wraps instead of traditional flour tortillas for this quesadilla to make this recipe even more nutritious. These wraps are made with sprouted grains, which may be easier for many people to digest! Sprouting a grain also increases the levels of B vitamins including folate, fiber and amino acids. Sprouted grains also have a reduced glycemic index than non-sprouted grains. This means that sprouted grains cause a slower, more stable rise in blood sugar after consuming them. I absolutely love the nutty taste and texture of these wraps, and they become perfectly soft yet crispy when griddled in the skillet!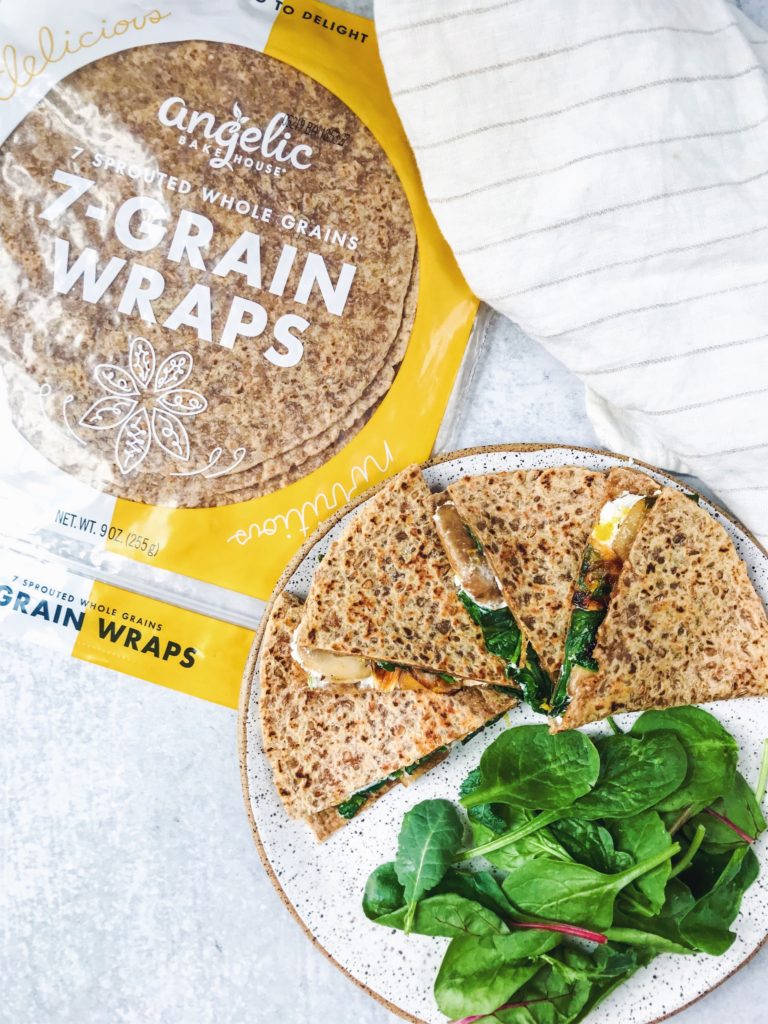 This recipe is easily customizable, as different cheeses and vegetables would pair well with these wraps.
Print
Spinach, Mushroom, and Caramelized Onion Goat Cheese Quesadilla
Author: Alex Aldeborgh
Prep Time: 10 minutes
Cook Time: 30 minutes
Total Time: 40 minutes
Yield: 4 quesadillas 1x
Category: Main Dishes
---
Description
A modern and more nutritious take on the classic cheese quesadilla.  
---
1 Vidalia onion, sliced
1 1/2 tbsp olive oil, divided
1 tbsp balsamic vinegar
2 cups sliced mushrooms
4 handfuls baby spinach
4 Angelic Bakehouse sprouted 7-grain wraps
1 small log of goat cheese
Zest of 1 lemon
---
Instructions
Heat 1 tbsp of olive oil in a skillet on low-medium heat. Add the sliced onion and cook for 20-25 minutes, stirring frequently, until onions are a light golden brown. Deglaze with balsamic vinegar.
Heat remaining olive oil in a separate skillet over medium heat. Add the sliced mushrooms, cooking about 5 minutes, then stir in spinach until wilted. Remove veggies from skillet and wipe clean.
Heat the same skillet on medium heat, and add a few sprays of spray oil.
Arrange the quesadillas by spreading 1-2 tbsp goat cheese on onto each wrap. Top with cooked vegetables and lemon zest, and fold over to close.
Cook each quesadilla 2-3 minutes per side until wrap begins is warm and begins to crisp.
---
Keywords: goat cheese, quesadilla, caramelized onions
If you love this recipe, you may also like
Save this recipe for later on one of your Pinterest boards
Thank you Angelic Bakehouse for sponsoring this blog post! I'm grateful to partner with brands I love to cook with, and all opinions are my own.