RD-Approved Costco Finds!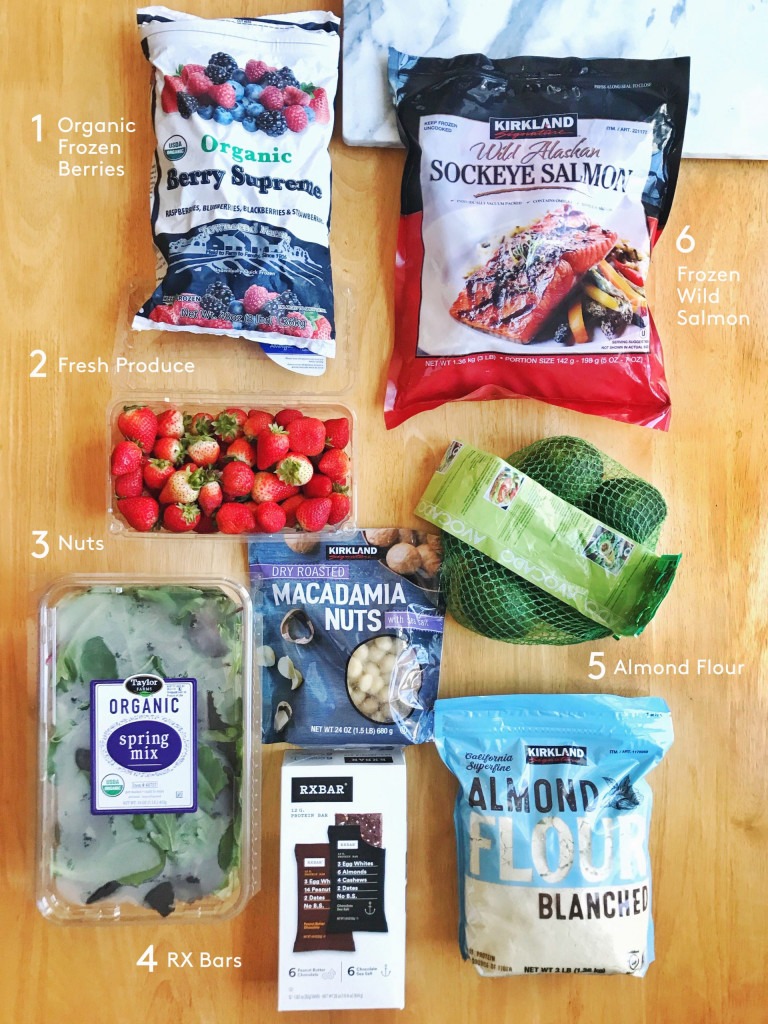 Oh, Costco. How many ways do I love you? The endless rows of giant versions of favorite foods, surprisingly great socks and sports bras, and of course, ALL the samples! I've always enjoyed going to Costco with my Mom as long as I can remember. Shopping + food sampling all in one? That's definitely my idea of an afternoon well spent.
Some of my favorite Costco finds from growing up were the salty, M&M riddled trail mix, Nature Valley granola bars, and Cup-a-Noodles. Times have changed a little since I started paying attention to what I put in my body. Gone are the days of loading up the cart with sodium-laden, sugary foods. This past weekend, I was at my parent's house helping my mom pack up for their upcoming move. We took a lunch break and went to Costco per my request. Buying in bulk/shopping wholesale can be difficult when shopping for a small household, but knowing your eating habits and purchasing longer lasting, not fresh items can be a really smart financial move. These items here fit seamlessly into mine and Ben's eating habits,  so I wanted to share some of the best deals I found with you guys! I've also noted a range of ways to use each item so you're able to have some variety in your meals, and make sure nothing goes to waste.
Organic Frozen Berries: 3 pound bag for $8.89
This purchase was such a no brainer! Ben and I use frozen fruit regularly, plus frozen foods lasts a long time. I would have spent almost 20 dollars on 3 pounds of organic frozen berries at Whole Foods! I don't always buy organic produce because of the cost, but strawberries are on the "Dirty Dozen" list, so I try to buy organic berries whenever possible.
Ways to use frozen berries: smoothies, berry-chia jam, as a topping for oatmeal or pancakes
Fresh Produce: 1 pound clamshell of organic mixed greens for $3.69, 2 pounds of organic strawberries for $4.99, 6 avocados for $5.69
Purchasing produce at Costco can be tricky if you have a small household. This is where knowing your eating habits is essential! For me, I know that I eat a lot of greens each week, as I make big salads for lunch, and often like a bed of greens with my dinner. I also love fresh berries with my breakfast. Once the berries are on their last legs, I'll make a batch of chia jam, or Ben will throw them into his morning smoothie. We also both love avocado, and will each easily eat half an avocado in a day.
Ways to use greens: salads, stir fries, green smoothies, add a few handfuls to homemade pesto, in omelets
Ways to use strawberries: smoothies, top oatmeal or yogurt bowls, sliced in pancakes, add to salads, mash onto toast in place of jam, berry-chia jam, muddle or puree and add to a cocktail (or mocktail)!
Ways to use avocados: sliced in salads or for sandwiches, avocado toast (duh), avocado egg salad, chocolate avocado mousse, guacamole, creamy garlic avocado pasta sauce, smoothies, a green goddess salad dressing
RX Bars: 12 bars for $16.99 ($1.41 per bar)
These are one of my favorite on-the-go snacks to have on hand! I love how simple the ingredient list is, and these bars actually tide my hunger over, as they are a good source of both fiber and protein. Costco only sells a box with their Chocolate Sea Salt and Peanut Butter Chocolate, but those happen to be two of my favorite flavors. Also, this box of 12 is almost 10 dollars less expensive than a box of 12 on RX Bar's website!
Nuts: Various prices, didn't see anything over $30 dollars for up to 48 oz
Nuts are one of the healthiest, nutrient-dense foods to include in your diet. Costco has a huge variety of different nuts and nut mixes. I usually opt for unsalted varieties to limit sodium consumption. While these bags and containers of nuts aren't cheap, if you consume them regularly they are a good price compared to typical grocery store prices.
Ways to use nuts: on their own as a snack, make your own trail mix, in place of granola on a yogurt bowl, in pesto, blend your own nut butter, crunchy topping for salads and grain bowls, roasted with different spices, added to homemade granola
Almond Flour: $11.99 for 3 pounds
This was such an exciting find for me! While I do not follow a gluten free diet, I like to use almond flour in healthier baked goods, because of all the beneficial nutrients it has compared to enriched wheat flour. Almonds and almond flour are high in protein, fiber, monounsaturated fats, magnesium and iron. I had just purchased a 1 pound bag of almond flour at Trader Joe's for $7.99 the week before, so getting 2 pounds MORE for only 4 extra dollars was a steal!
Ways to use almond flour: all those yummy baked goods you have saved on Instagram, pancakes, homemade peanut butter cups, combined with crushed nuts to make a crust on baked fish
Frozen Wild Sockeye Salmon Filets: $32.99 for 3 pounds
Last but not least, I found this large bag of wild frozen salmon! I love that the pieces are already pre-portioned and individually vacuum packed. I always choose wild salmon over farmed when it's affordable, but buying it fresh can be SO expensive. Buying frozen seafood in general is a great way to save money. A 2 pound bag of wild frozen salmon at my Whole Foods was $24.99 for 2 pounds. That's $12.50 a pound vs. 11 dollars a pound at Costco…great savings!
Ways to use frozen salmon: baked or pan fried with lemon juice and herbs, salmon tacos, salmon burgers, salmon egg sandwich, in place of tuna in tuna salad
Buying in bulk is certainly not for everyone, but I love it when I have the option! It definitely takes a little creativity and planning, but can save you money in the long run. I started Daisybeet to show you guys that healthy eating really can be affordable and attainable for all, and I hope I was able to help a little with this guide! I would love to hear your tips and tricks for wholesale shopping for small households, as well as your favorite Costco finds 🙂