Protein-Packed Spinach & Potato Frittata
This fluffy vegetable frittata is a nutritious breakfast, brunch, or lunch dish. It's cooked in a cast iron skillet on the stovetop and finished off in the oven, and ready in about 30 minutes. You'll love this protein-packed egg and veggie frittata!
This spinach and potato frittata deserves a spot on your table next time you host a brunch! Made with whole eggs, Greek yogurt, and cheese, this frittata is packed with high quality protein to keep you full and satiated. Nutritious Greek yogurt adds a boost of protein and helps make the frittata fluffy and light.
You'll start by cooking this vegetable frittata it in a cast iron skillet on the stovetop. Finishing it off in a preheated oven yields a fluffy and perfectly cooked egg frittata. This easy recipe takes just about 30 minutes to prepare, and makes four large servings or 6-8 smaller servings.
More healthy frittata recipes to try: asparagus frittata, smoked salmon frittata, broccoli cheese frittata, and veggie egg white frittata.
Ingredients in spinach potato frittata
Here is everything you need to make this vegetable frittata recipe:
Eggs
Plain Greek yogurt – I used 2% low fat
Russet potatoes
Baby spinach
White onion
Garlic
Cheddar cheese
Pecorino romano cheese
Sage
Thyme
Garlic powder
Smoked paprika
Olive oil
Salt and pepper
Kitchen tools needed
I recommend having a good chef's knife, a cutting board, and a 10-inch cast iron skillet to make this recipe.
You could use a 12-inch cast iron skillet, but the frittata will be thinner and you may need to reduce cooking time in the oven. If you don't have a cast iron skillet, you can use a similarly sized oven-safe stainless steel or nonstick skillet.
Step-by-step video
How to make spinach potato frittata
Preheat the oven to 400°F.
Whisk eggs, Greek yogurt, cheeses, and a pinch of salt and pepper together in a medium mixing bowl. Set aside.
Heat olive oil in cast iron skillet over medium heat. Add onion, garlic, and fresh herbs. Cook for a few minutes.
Add diced potatoes and spices. Cook for about 15 minutes, and cover the cast iron skillet halfway through cooking. Stir regularly until fork tender.
Stir in roughly chopped spinach until wilted.
Reduce heat to low-medium. Pour in the egg mixture.
Cook for 1-2 minutes, until the edges just begin to set.
Transfer frittata to the oven for 10-15 minutes until center is just barely jiggly.
What to serve with frittata
Here are some salads and vegetable side dishes that would pair perfectly with this frittata:
Storage
You can keep store leftover frittata in the fridge in an airtight container for 3-5 days.
Reheat individual portions in the microwave for 45 seconds or until warmed through.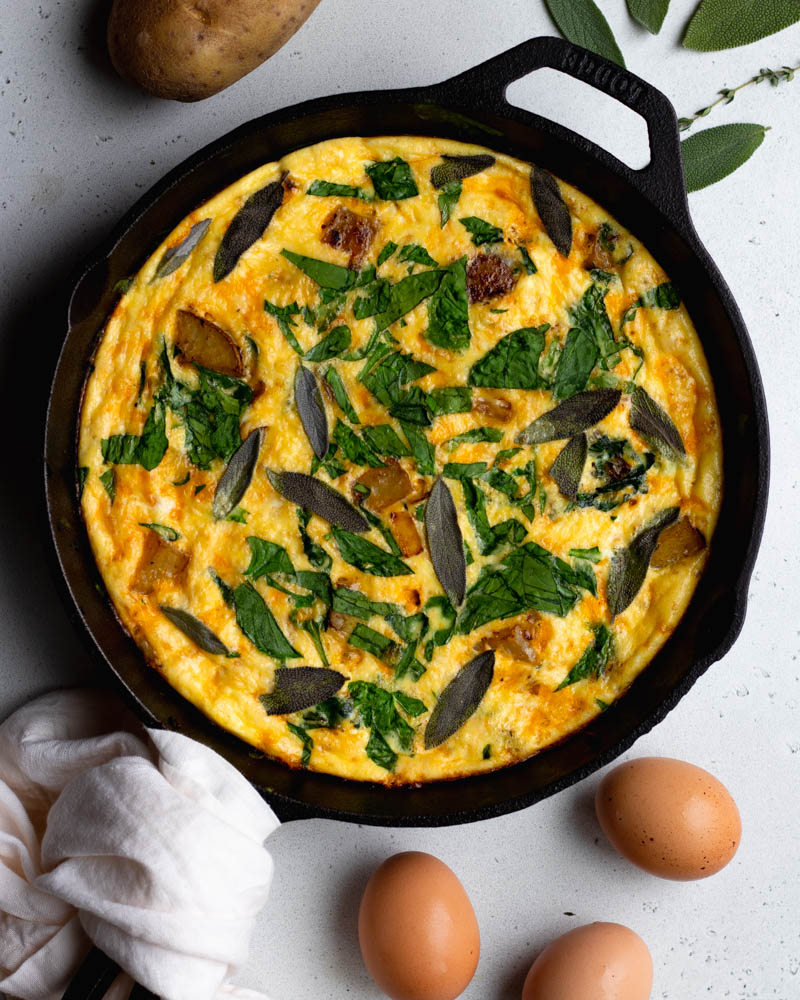 Let me know if you love these recipes by leaving a comment or star rating below, and check out Instagram and Pinterest for more healthy lifestyle inspiration. Thanks for stopping by!
Print