30+ Protein-Packed Recipes with Greek Yogurt
Find over 30 recipes made with nutritious, protein-packed Greek yogurt, including the recipe for homemade tzatziki sauce! Greek yogurt is a versatile ingredient that you can add to all kinds of meals.
Thick and creamy Greek yogurt is a versatile ingredient in the kitchen. Not just for yogurt parfaits, you can use it to make everything from salad dressing, to smoothies, and even frittatas! As a Registered Dietitian, I love to include it in my recipes since it has so many nutrition benefits. Even if you limit animal products, you may want to think about including dairy in a plant-based diet for numerous benefits!
What's the difference between Greek yogurt and regular yogurt?
Regular yogurt is made by heating milk with the addition of live bacteria. The bacteria converts the naturally occurring sugar in the milk – lactose – into lactic acid. Greek yogurt is made by taking regular yogurt and straining it. The result is a thicker yogurt product with more protein than regular yogurt.
Nutritionally, Greek yogurt and regular yogurt do have some differences. Greek yogurt has more protein (nearly double) than regular yogurt, and less carbohydrate. It's an excellent source of high quality protein – a 7 ounce serving of low-fat Greek yogurt provides 20 grams!
Greek yogurt recipes
Scroll down to browse over 25 recipes using Greek yogurt, or click on the links below to navigate to where you want to go:
Smoothies with Greek yogurt
Strawberry Banana Kiwi Green Smoothie
This simple strawberry banana and kiwi smoothie takes just a few minutes to make for a healthy breakfast or snack! You need just six nutritious ingredients and a blender to whip up this refreshing smoothie for one.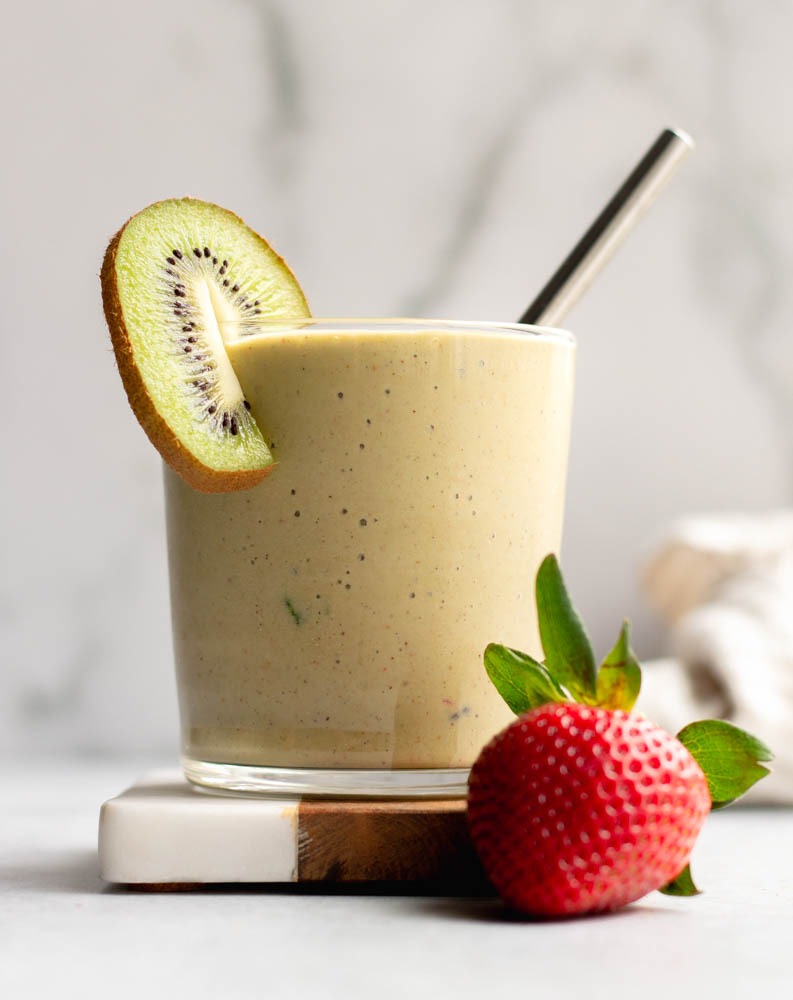 This red velvet smoothie is packed with chocolatey flavor like your favorite cake. Made with simple, nutritious ingredients and ready to sip in 5 minutes.
Overnight oats with Greek yogurt
This recipe is filled with fresh and tropical flavors like mango, lime, and coconut. The oats become super thick and creamy, taste amazing, and will keep you full for hours.
Cinnamon and maple syrup make these cinnamon roll overnight oats irresistible! It takes just a few minutes to prepare a batch tonight for a healthy breakfast ready to eat in the morning. You need just seven ingredients to make this recipe.
Zucchini in oatmeal? Yes, you read that right! If you've ever eaten zucchini bread, you know that zucchini is actually a delicious ingredient in sweet recipes. It's mild flavor pairs perfectly with the ingredients in this overnight oats recipe, including cinnamon and banana.
Chai latte overnight oats are the perfect make-ahead healthy breakfast. They're filled with warming spices and nutritious ingredients like chia seeds and Greek yogurt.
This spiced overnight oatmeal recipe is a cozy and filling breakfast, and features baked pear. When baked with spices, the pear gets super soft, sweet, and even more delicious.
Bircher Muesli is the OG Overnight Oatmeal recipe. It was developed by a Swiss physician, Maxamilian Bircher-Brenner, for his patients. The original recipe calls for grated apple, lemon juice, and raw hazelnuts, and oats soaked overnight in water. My version is super fresh and nutritious!
Peanut Butter Banana Overnight Oats
If you love the classic combination of peanut butter and banana, you are going to adore this recipe. These overnight oats are naturally sweetened with mashed banana, and are packed with protein from Greek yogurt, chia seeds, and hemp seeds.
Breakfasts with Greek yogurt
These fresh papaya boats filled with Greek yogurt, fresh fruit, and granola are a nutritious, quick, and easy breakfast. They're packed with protein and fiber to keep you full for hours and take just a few minutes to prepare!
A whole grain, higher protein pancake recipe made with 5 simple ingredients. Whip up a batch of these this morning for a healthy, filling and delicious breakfast!
Whole Grain Banana Bread with Chocolate Chips, Cranberries and Blueberries
This banana bread is made with whole grain spelt flour and packed with chocolate chips and berries. It has a super moist crumb and is just sweet enough.
Frittatas with Greek yogurt
This fluffy vegetable frittata is a nutritious breakfast, brunch, or lunch dish. It's cooked in a cast iron skillet on the stovetop and finished off in the oven, and ready in about 30 minutes. You'll love this protein-packed egg and veggie frittata!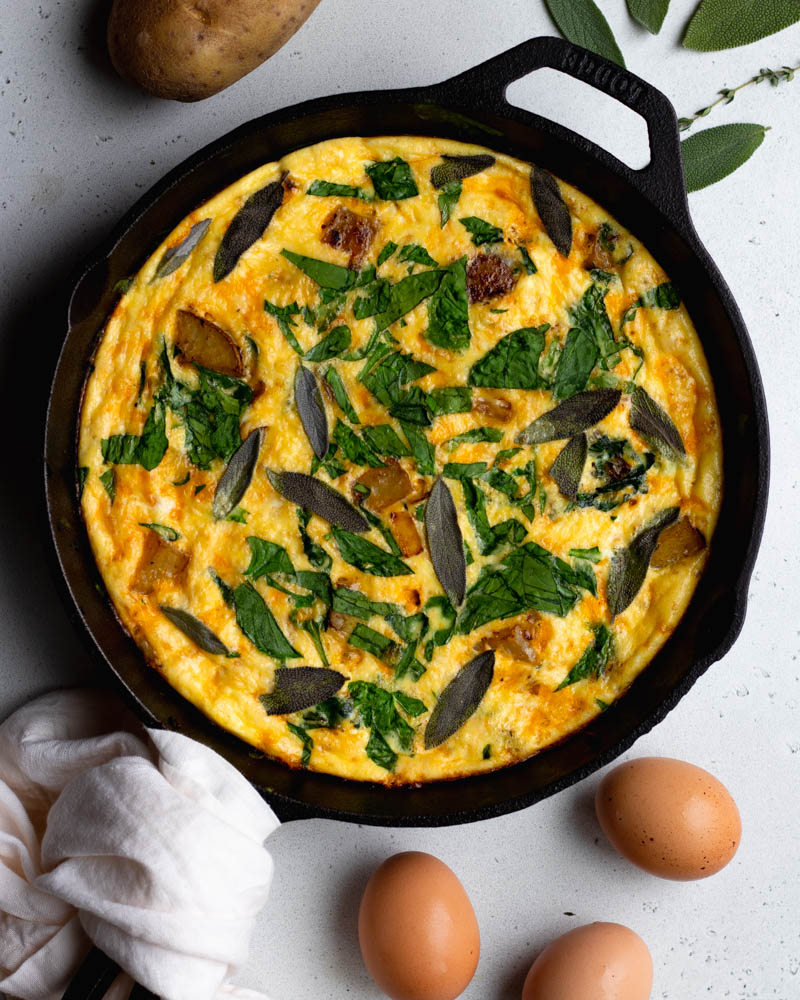 30-Minute Broccoli Cheese Frittata
This simple one-pan frittata features nutritious broccoli and two types of cheese: cheddar and gruyere. Start by cooking it on the stovetop and finishing it in the oven to yield a fluffy vegetable frittata that's perfect for breakfast, lunch, or dinner!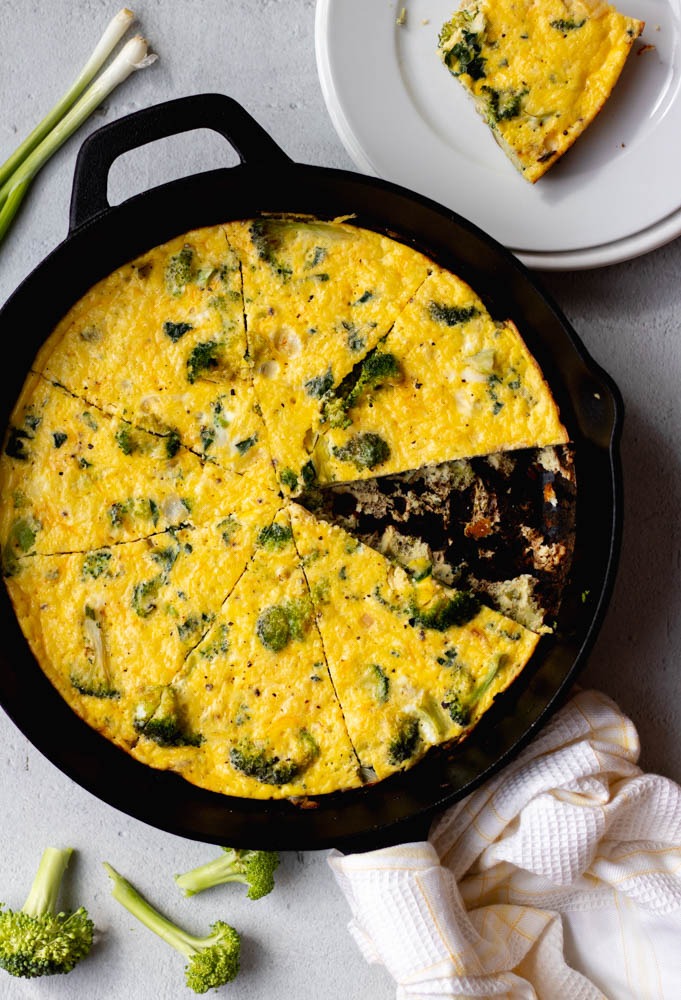 This smoked salmon and vegetable frittata is a nutritious and delicious breakfast or brunch recipe. Ready to eat in 45 minutes, you can prepare this protein-packed frittata ahead of time for your next brunch at home!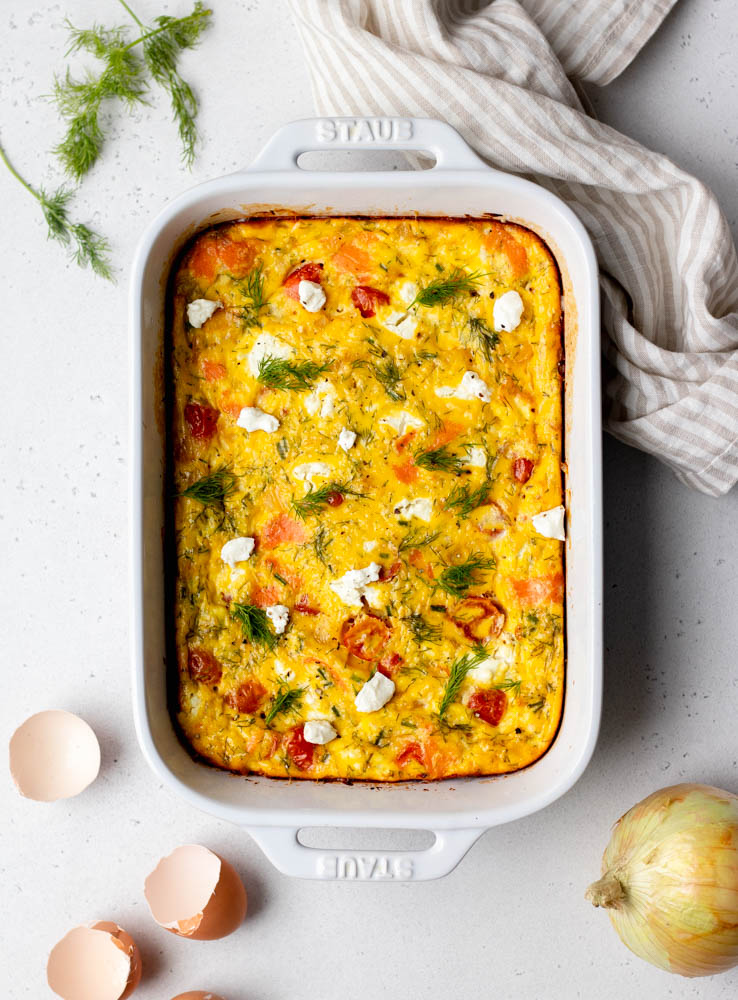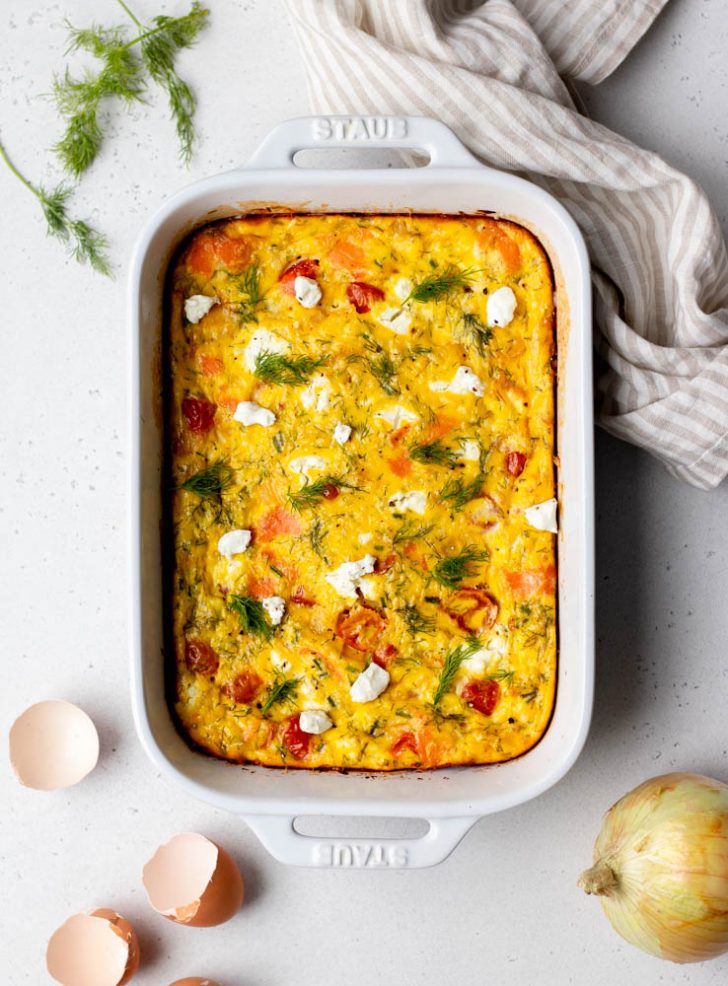 Egg White Frittata with Spinach, Tomatoes, and Feta
This veggie-filled egg white frittata recipe is packed with protein but doesn't compromise on flavor. Baked in the oven, this frittata is easy to prepare and makes a delicious healthy breakfast or brunch dish. This will be your new favorite way to eat egg whites!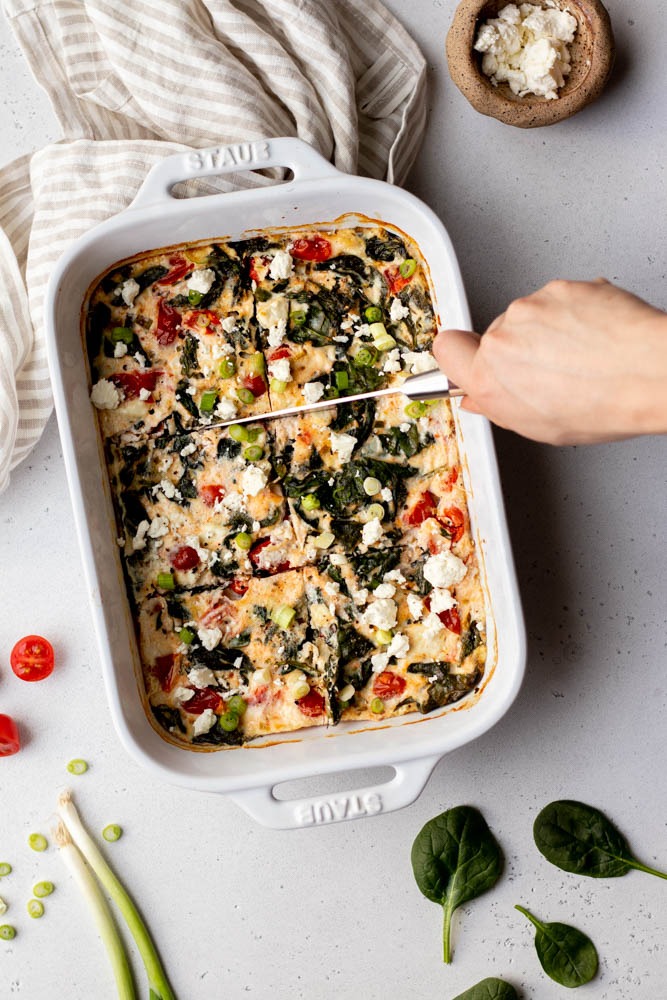 Asparagus and Leek Frittata with Goat Cheese
This asparagus and leek frittata with goat cheese makes the most delicious healthy brunch! Filled with spring vegetables and tangy goat cheese, everyone will love this light and flavorful frittata.
Vegetable Frittata with Sweet Potato Crust
This protein-packed frittata is filled with fresh veggies, dill, feta cheese, and veggie sausage. It even has a delicious "crust" of roasted sweet potato rounds! Perfect for breakfast, brunch, or lunch.
Mini Frittatas in a Muffin Tin – Five Ways
Mini frittatas baked in a muffin tin are an easy protein-packed breakfast or snack that are ready to eat in under 45 minutes. Try these five different vegetable and cheese flavor combinations. Make a batch ahead of time and store in the fridge for a week of healthy meals!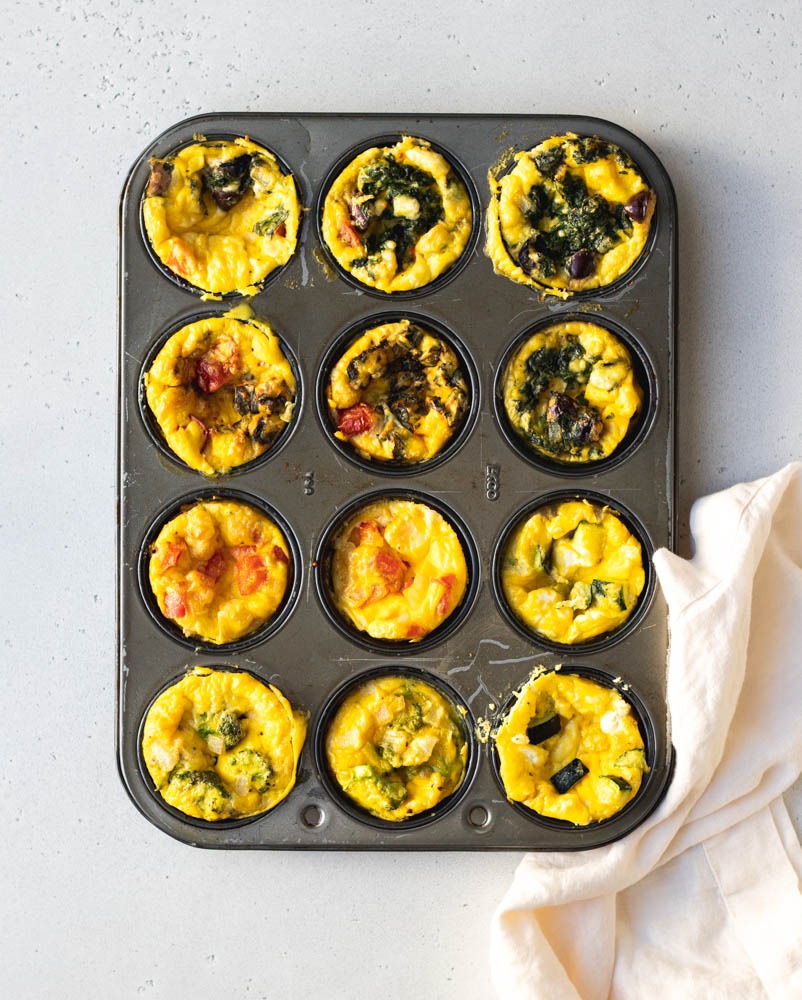 Dressings and dips with Greek yogurt
This healthy homemade Greek yogurt salad dressing is creamy, zesty, and versatile. It's quick & easy to make and perfect for tossing into salads or drizzling on grain bowls, sandwiches, or wraps.
Greek Yogurt Feta Dill Dressing
This creamy feta dill dressing is made with Greek yogurt for a nutritious boost of protein. It's fresh, zippy, and takes just five minutes to prepare in a food processor. Use it to dress salads, as a spread for sandwiches, or drizzled onto grain bowls!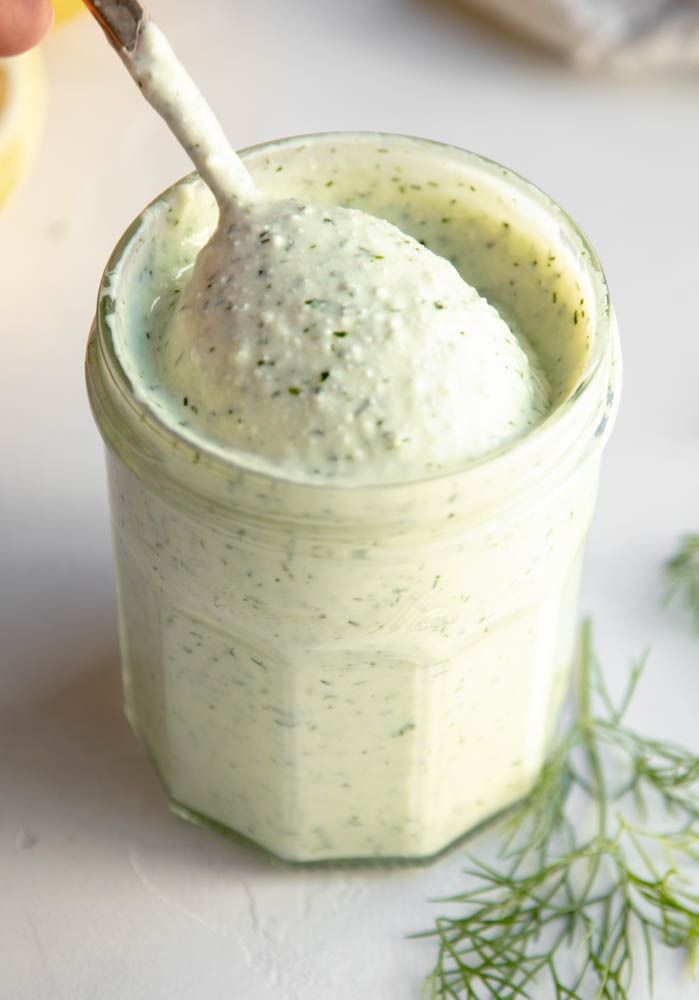 This flavorful ranch dip is made with protein-packed Greek yogurt and a homemade ranch seasoning blend. It takes just five minutes to prepare. It's the best healthy dip for veggies, chips, or pita. Make a batch to serve at your next gathering!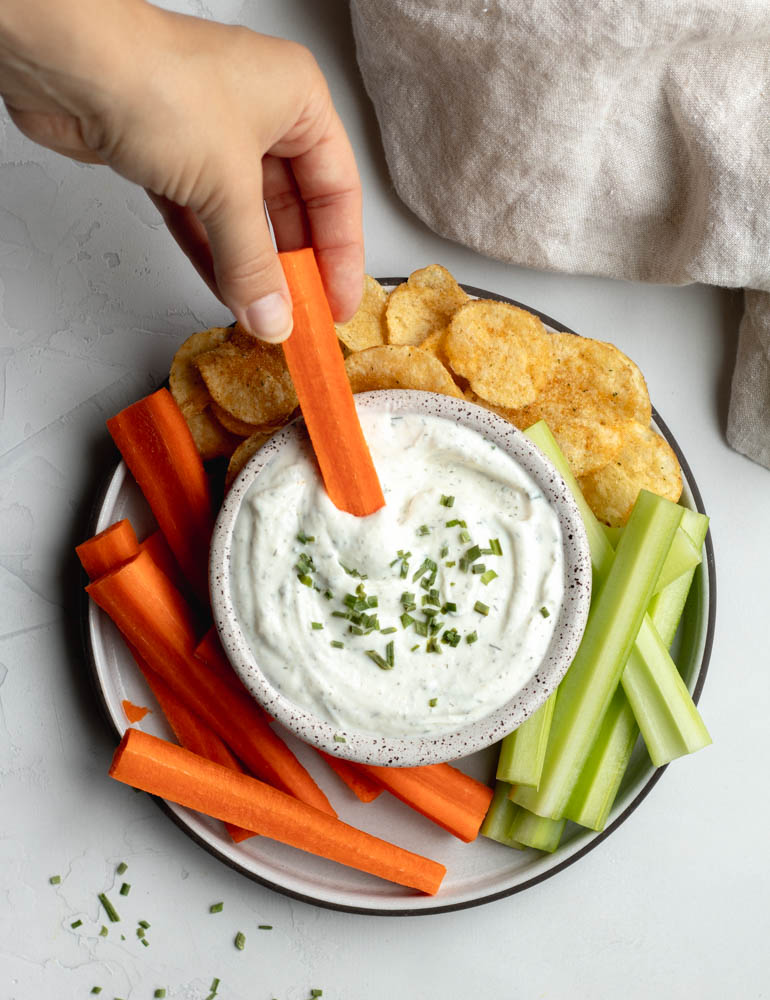 This healthy avocado greek yogurt dip tastes amazing with veggies and chips or spread onto a sandwich. It features nutritious ingredients including avocado and plain Greek yogurt. Just blend everything together in your food processor to make this creamy dip in 5 minutes!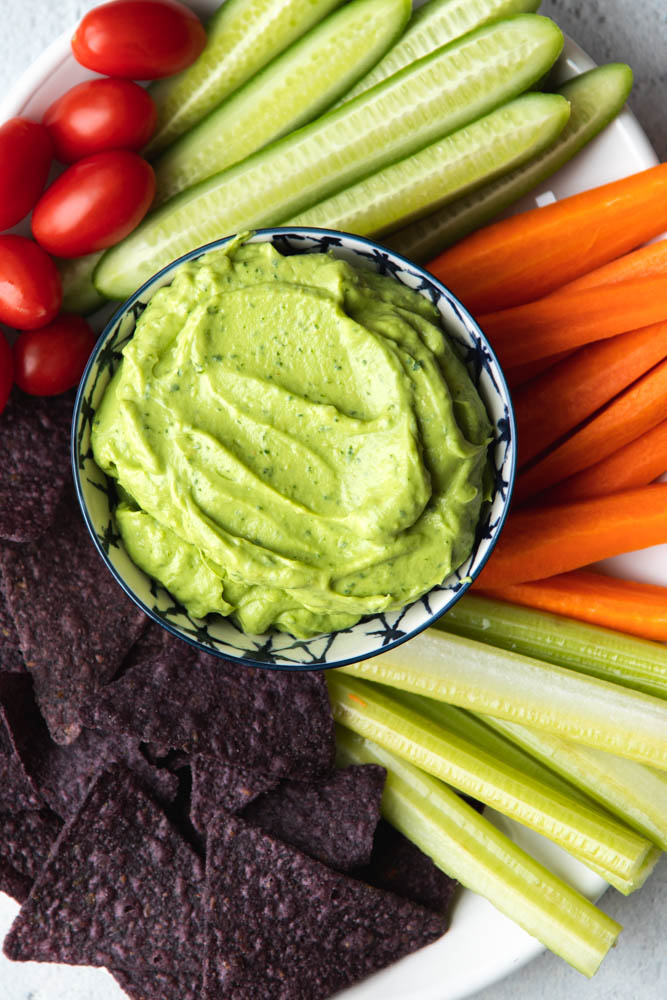 Honey Whipped Goat Cheese Dip with Pomegranate
Make this easy honey whipped goat cheese as an appetizer for your next gathering! Topped with pomegranate seeds and balsamic glaze, serve it with crostini for a quick yet delicious dish.
Pear Crostini with Whipped Goat Cheese and Sage
You can also make this delicious pear crostini using the same honey whipped goat cheese! This pear crostini is topped with honey whipped goat cheese, warm sauteed pears, and crispy sage. Serve up this easy appetizer at your next gathering, or make something special to have with dinner during the week.
This homemade tzatziki recipe uses creamy Greek yogurt, grated beets, fresh herbs, and lemon to create a dip that takes just 10 minutes to prepare. It takes just a few minutes to make, and everyone will love it! Isn't the pink color gorgeous?
Prefer traditional tzatziki? Tzatziki is a yogurt based sauce mixed with cucumbers, fresh herbs, garlic, salt, and lemon. It's incredibly refreshing and versatile! You can put this Greek yogurt dip on salads, grain bowls, in sandwiches, and more.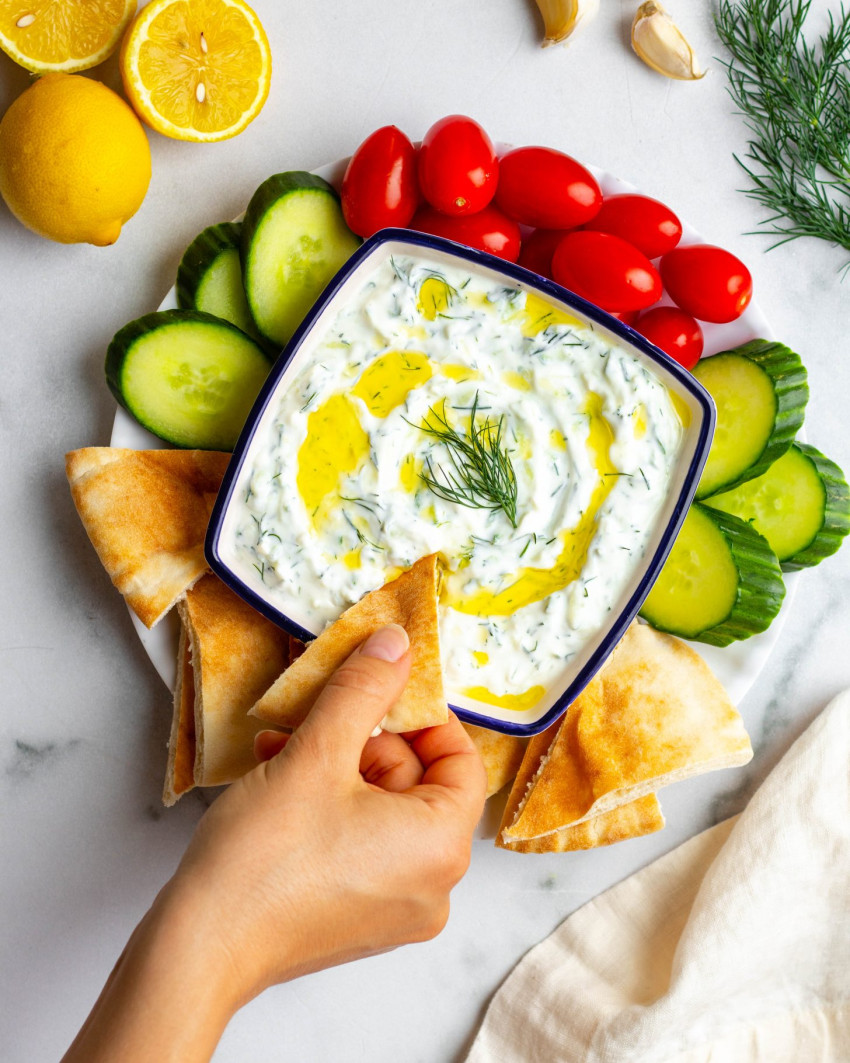 Main dishes with Greek yogurt
This Greek yogurt marinated salmon is moist and flavorful. This recipe is ready in under an hour – including marinating time! Bake the salmon in the oven or throw it on the grill.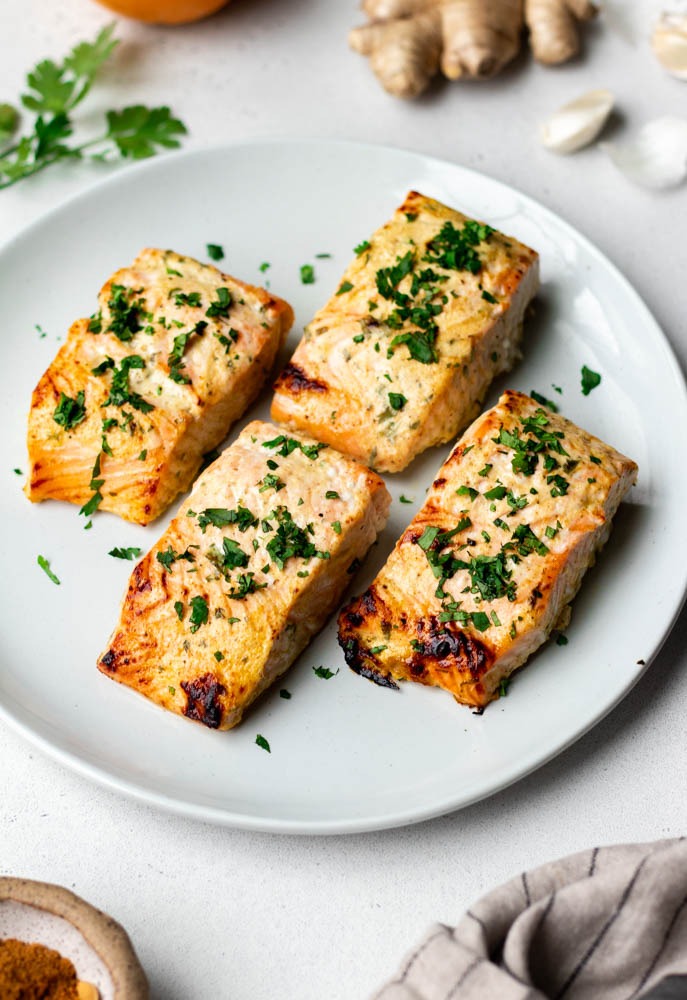 Healthier Egg Salad with No Mayo
This protein-packed healthy egg salad recipe is made with Greek yogurt instead of mayonnaise, so it's still creamy and delicious! It's an easy recipe that comes together quickly, and made with a handful of simple ingredients.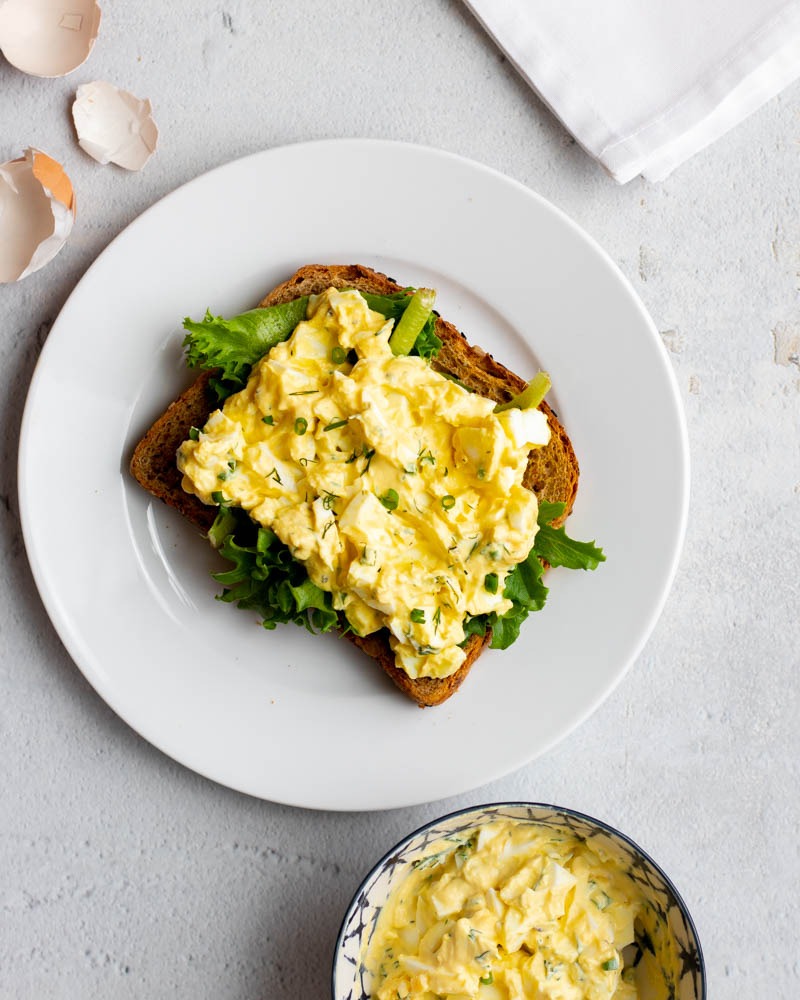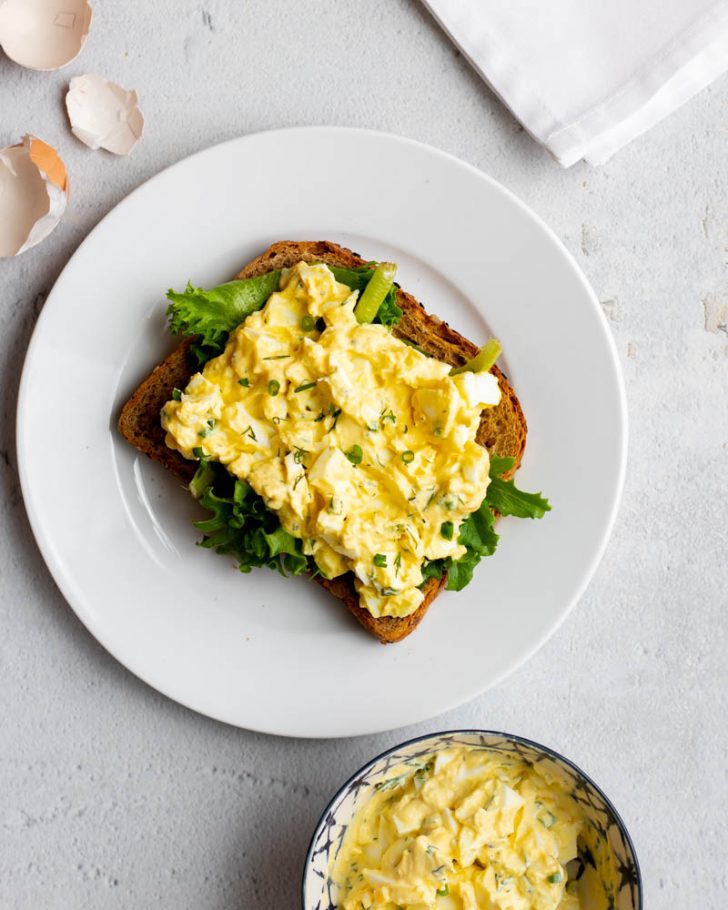 Vegetarian Gyro Bowls with Portobello Mushrooms
Vegetarian gyro bowls are a an easy weeknight recipe filled with some of your favorite Mediterranean flavors. Instead of meat, these grain bowls feature savory portobello mushrooms! Featuring homemade Greek yogurt tzatziki sauce.
Grilled Salmon Tacos with Red Cabbage Slaw
These grilled salmon tacos feature a zesty red cabbage slaw, made healthier with Greek yogurt. Ready in under 30 minutes, make these tacos for an easy weeknight meal.
Shrimp Tacos with Spicy No-Mayo Slaw and Guacamole
These shrimp tacos use a similar Greek yogurt based cabbage slaw to the above salmon tacos. They're full of fresh flavor with homemade guacamole, pico de gallo, and refried beans.
Homemade Vegetarian Crunchwrap Supreme
Make a healthier, tastier version of Taco Bell's crunchwrap supreme at home! This vegetarian version is customizable, full of flavor, easy and quick to make.
Mix up your weeknight meals with these healthy and fresh lemon dill salmon burgers! Paired with lemon dill Greek yogurt sauce, have them on the table in under 30 minutes.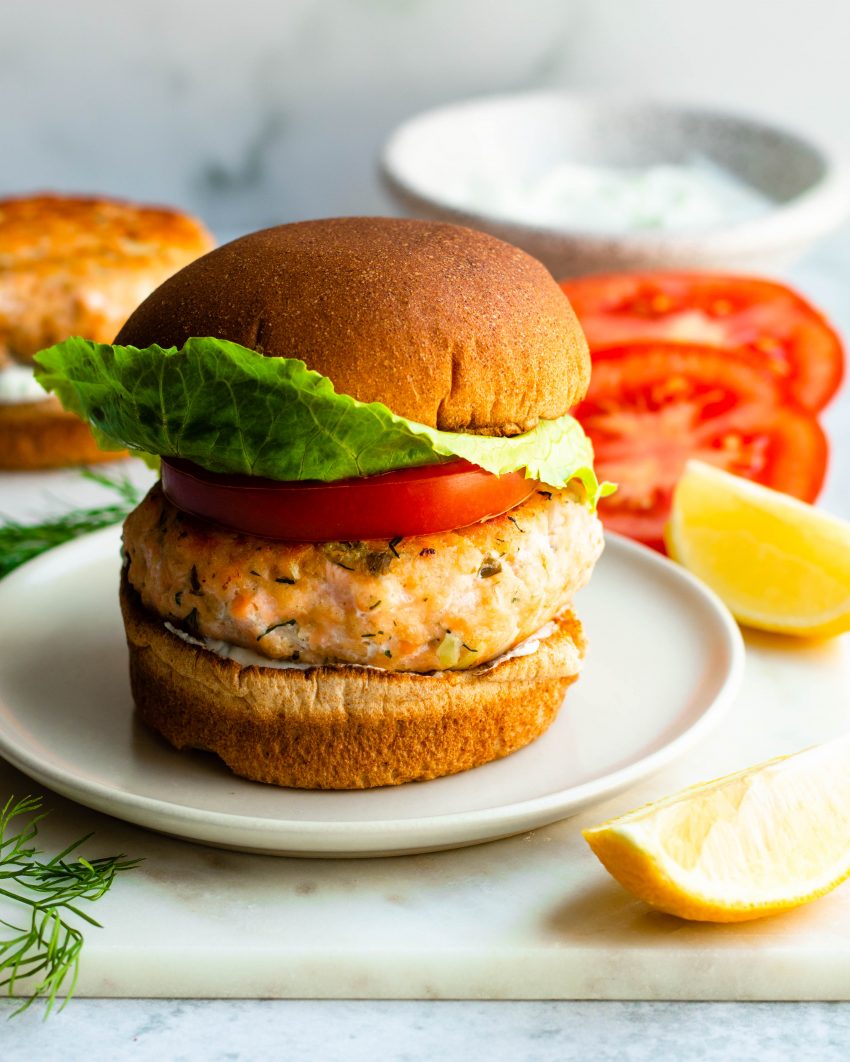 Side dishes with Greek yogurt
Roasted Delicata Squash with Middle Eastern Yogurt Sauce
If you love winter squashes, you're going to love this recipe! Sweet delicata squash is roasted and paired with a creamy and delicious Middle Eastern Greek yogurt sauce.
Roasted Zucchini with Curry Yogurt Sauce
Bring roasted zucchini (or any vegetable) to the next level with a creamy, flavorful curry yogurt sauce! Everyone will love this easy vegetarian recipe.
Parmesan Baked Zucchini Fries with Tzatziki Dipping Sauce
Crispy, crunchy, and parmesan cheese-y, these baked zucchini fries are super addicting. Serve them with homemade tzatziki for the ultimate healthy snack!
Let me know if you love this recipe by leaving a comment or star rating below, and check out Instagram and Pinterest for more healthy lifestyle inspiration. Thanks for stopping by!
Print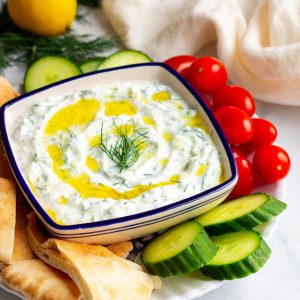 30+ Protein-Packed Recipes with Greek Yogurt: Homemade Tzatziki Sauce
Author: Alex Aldeborgh
Prep Time: 10 minutes
Total Time: 10 minutes
Yield: about 2 cups 1x
Category: appetizer
Cuisine: Greek
Diet: Vegetarian
---
Description
Find over 25 recipes made with nutritious, protein-packed Greek yogurt, including the recipe for homemade tzatziki sauce! Greek yogurt is a versatile ingredient that you can add to all kinds of meals.
---
1 cup plain Greek yogurt (any fat content works)
1/2 cup grated cucumber, excess water squeezed out*
1/4 cup fresh dill, chopped
2 tbsp lemon juice
2 cloves garlic, minced
1 tbsp olive oil
1/4 tsp Kosher salt
---
Instructions
Combine everything together in a mixing bowl,
Mix together until well combined. 
Enjoy right away! 
---
Notes
*Wrap grated cucumber in a clean tea towel or paper towels. Firmly squeeze out as much water with your hands.
Best eaten right away, but you can store tzatziki in an airtight container in the fridge for up to 3 days. Give the sauce a stir before serving after refrigeration.
Serve tzatziki with veggie crudite, pita, falafel, or as a salad dressing or sandwich spread.
Keywords: homemade tzatziki sauce, tzatziki sauce, tzatziki dip