One Pot Farro and Vegetable Soup with Chickpeas
This nourishing vegetable soup with is packed with nutrient-dense ingredients like whole grain farro, chickpeas, carrots, and kale. It's easy to make and comes together in under one hour in one pot on the stovetop. Serve with some crusty bread for a healthy and comforting meal.
In the cooler months living in New England, I make a lot of healthy soup recipes because they are so cozy and comforting. Some of my current favorites include carrot potato soup, cabbage farro soup, and roasted pumkin apple soup.
As a Registered Dietitian, I love that I can pack tons of healthy vegetables, whole grains, and beans into soup recipes. This farro and vegetable soup has so many nourishing ingredients – whole grain farro, chickpeas (aka garbanzo beans), kale, carrots, celery, and more! It's easy to make in a stock pot on the stovetop and ready to eat in about 45 minutes.
This easy veggie soup recipe is vegan and dairy free (besides the optional parmesan cheese topping), soy free, and nut free. It makes 6-8 servings and will keep well in the fridge for leftovers.
Step-by-step video
Ingredients in farro vegetable soup
Here is everything you need to make this recipe:
Onion
Garlic
Celery
Carrots
Bell pepper
Kale
Olive oil
Salt and pepper
Kitchen tools needed
You will need a large stock pot with a lid, a good knife for chopping vegetables, a cutting board, and measuring spoons to make this recipe.
How to make farro vegetable soup
Start by getting your mis-en-place: have your ingredients chopped, peeled, measured out, and prepped.
Cook onions, garlic, celery, carrots, and salt and pepper. This helps build a flavorful base for the soup.
Add spices and tomato paste and cook for a few minutes.
To the pot, add farro and bell pepper. Stir to let the farro toast up for a minute.
Add the liquids – vegetable broth and canned diced tomatoes. Bring to a boil, then reduce to a simmer and cover. Cook for about 25 minutes until farro is tender.
Add drained and rinsed chickpeas and kale. Cover and cook for another 5 minutes until kale is wilted.
Serve soup by itself (vegan) or garnished with shredded parmesan cheese (vegetarian).
Serving suggestions
This soup recipe is a fairly well-balanced meal on its own – it contains protein, fiber, and non-starchy vegetables. I like to serve it alongside a simple salad and/or some good bread to make it even more filling.
Storage
This soup keeps well stored in an airtight container in the fridge for up to five days. Reheat individual portions in the microwave for 1-2 minutes, or until warmed through.
Freezing soup: You can freeze this soup in a freezer-safe container for up to three months. Let soup cool completely before freezing. I like to use wide mouth glass jars or leak-proof silicone baggies to freeze soup.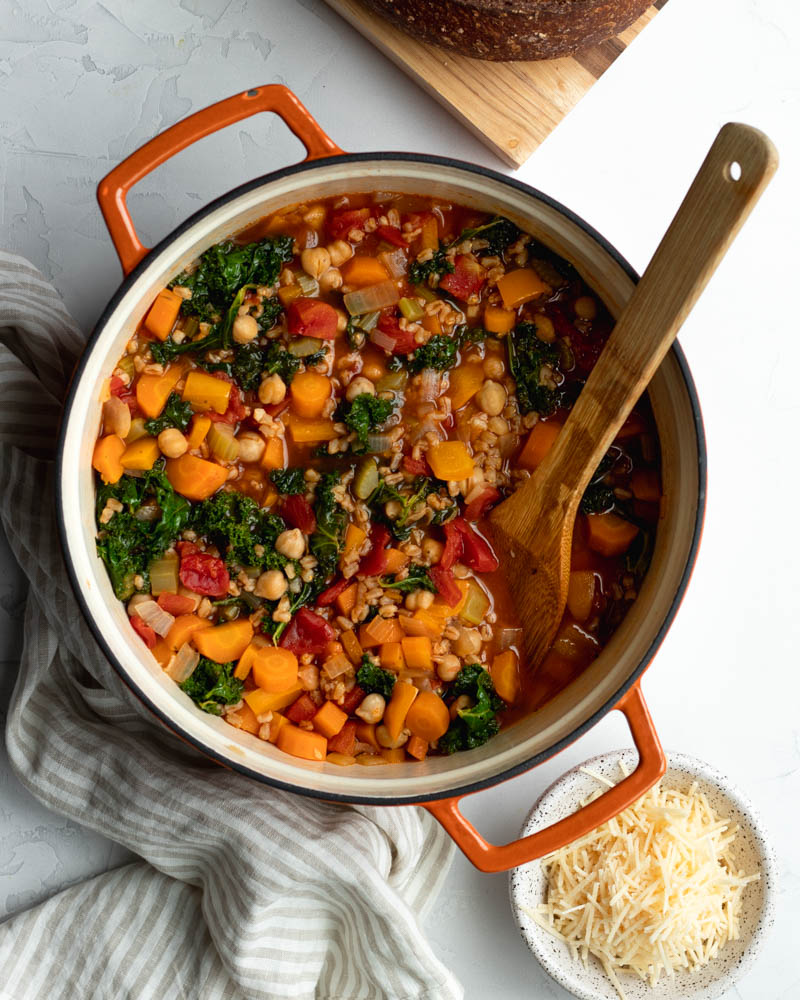 Let me know if you love these recipes by leaving a comment or star rating below, and check out Instagram and Pinterest for more healthy lifestyle inspiration. Thanks for stopping by!
Print