Mushroom and Kale Quinoa
This mushroom and kale quinoa is a delicious and healthy recipe that will be your new favorite way to prepare quinoa. It's easy to make in less than 30 minutes for a nutritious weeknight win.
As a Registered Dietitian, I try to incorporate plenty of whole grains into my diet. One of my all time favorite whole grains is quinoa! We have quinoa at least once a week at our house. It's so versatile, nutritious, and pairs well with so many different flavor combinations.
This mushroom and kale quinoa is a perfect recipe to get in your whole grains AND vegetables. This recipe is easy to make and takes less than 30 minutes so you can have it quickly on your table any night of the week. It makes a wonderful side dish, and I like to make it a more balanced meal by adding some protein like egg or tofu.
More delicious healthy quinoa recipes to try: kimchi fried quinoa, quinoa beet salad with butternut squash, quinoa salmon bowls with broccoli and squash, and Mediterranean gluten free quinoa salad.
Ingredients in mushroom and kale quinoa
Everything you need to make this recipe, below:
Quinoa is the base of this recipe. You can substitute another whole grain, just note you will need to adjust cooking time.
Mushrooms add meaty texture and savory flavor to this dish. I used cremini mushrooms, but you can use your favorite kind such as portobello, shitake, or a mushroom blend!
Kale – click on over to this post to learn how to properly prepare kale for cooking.
Mushroom broth: You'll add flavor to quinoa by cooking it in mushroom broth instead of water. If you can't find mushroom broth, use vegetable broth instead.
Lemon adds a bit of acidity to balance out the savory flavors.
White wine: Just a fourth of a cup enhances and intensifies the flavors of this dish. No worries if you don't have any, you can leave it out if needed!
Garlic
White onion
Parlsey
Olive oil, salt,and pepper
This mushroom and kale quinoa is vegan, gluten free, dairy free, and soy free. Of course, if you have it with an egg as shown here, the meal is no longer vegan. If you'd like to add a vegan protein source to this meal, I recommend cooked tofu, tempeh, or lentils.
How to make mushroom kale quinoa
Cook quinoa according to package instructions in the mushroom broth. Quinoa cooks faster than most other whole grains, and should be ready in 10-15 minutes. Fluff it with a fork once the quinoa has absorbed all the liquid.
While the quinoa is cooking, prepare the mushroom and kale mixture in a large saute pan. Heat olive oil and cook garlic and onions, then add the mushrooms with salt and pepper. Cook mushrooms for 2-3 minutes before adding all the kale.
Cook the vegetables for a few minutes, then add lemon juice and white wine. Continue to cook, stirring occasionally, until the liquid from the wine has mostly evaporated.
Remove the vegetables from heat. Add the cooked quinoa to the pan with the vegetables along with chopped fresh parsley. Stir everything together and enjoy!
Quinoa nutritional benefits
Quinoa is a very healthy whole grain food. It's higher in protein than other whole grains, and provides all 9 essential amino acids. One cup of cooked quinoa has:
8 grams of plant-based protein
5 grams of dietary fiber
High in micronutrients including magnesium, phosphorus, and manganese
A good source of folate, iron, copper, and zinc
Quinoa is a gluten-free grain, making it a good alternative to wheat products for those who have celiac disease or gluten intolerance.
Mushrooms nutritional benefits
Mushrooms add savory flavor and act as a good meat replacement in vegetarian and vegan meals. They are rich in several micronutrients, including:
Selenium
B vitamins
Potassium
Copper
Certain mushroom varieties including shitake, oyster, and split gill mushrooms also contain beta-glucan, a type of insoluble fiber that can help lower blood cholesterol. Also, mushrooms are the only plant-based food that contain vitamin D, since they are able to synthesize it from the sun like humans!
Kale nutritional benefits
Kale is one of the most nutrient dense foods you can eat. It's absolutely loaded with several nutrients. One cup of raw kale provides:
200 percent of your daily vitamin A needs
Nearly 700 percent of your daily vitamin K needs
130 percent of your daily vitamin C needs
2 grams of dietary fiber
3 grams of protein
Kale is also extremely high in various antioxidants, which help fight inflammation in the body and keep our cells healthy.
How to store leftover mushroom and kale quinoa
This mushroom and kale quinoa keeps well as leftovers. If you don't finish yours or want to prepare it as a meal prep recipe, store it in an airtight container in the fridge for 3-5 days.
I like to add the leftovers cold to a salad with other vegetables and a drizzle of balsamic vinaigrette. You can reheat it in the microwave for about a minute.
More quinoa recipes to try
Let me know if you love this recipe by leaving a comment or star rating below, and check out Instagram and Pinterest for more healthy lifestyle inspiration. Thanks for stopping by!
Print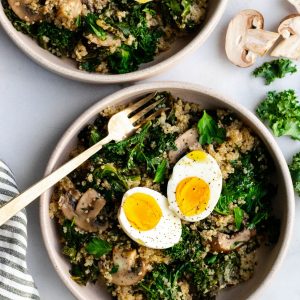 Mushroom and Kale Quinoa
Author: Alex Aldeborgh
Prep Time: 10 minutes
Cook Time: 20 minutes
Total Time: 30 minutes
Yield: serves 3
Category: side dish
Method: stovetop
Cuisine: American
Diet: Vegan
---
Description
This mushroom and kale quinoa is a delicious and healthy recipe that will be your new favorite side dish. It's easy to make in less than 30 minutes for a nutritious weeknight win.
---
1 cup quinoa
2 cups mushroom broth
2 tbsp olive oil
4 cloves garlic, minced
1 small white onion, diced
4 cups crimini mushrooms, sliced
5 packed cups curly kale
Salt
Pepper
Juice of 1 lemon
1/4 cup dry white wine, such as Sauvignon Blanc
1/4 cup fresh parsley, chopped
---
Instructions
Cook quinoa in the mushroom broth according to package instructions.
In a large saute pan, heat olive oil on medium heat. Add garlic and onion and cook for 1-2 minutes until fragrant.
Add the mushrooms to the pan and cook for 2-3 minutes until they start to soften.
Add the kale to the mushrooms with a generous shake of salt and pepper, and stir to combine. Cook for another 2-3 minutes, stirring occasionally until kale starts to wilt a bit.
Pour in the white wine and lemon juice. Continue to cook for a few minutes, until the liquid mostly cooks off. Continue stirring as you cook.
Once the quinoa is done, add it to the saute pan with the vegetables. Add the parsley and mix everything together.
Enjoy as a side dish on its own, or add your favorite protein to make this a more filling meal.
---
Notes
4 cups of mushrooms and 5 cups of kale may sound like a lot, but both shrink down significantly when cooked. If your pan is too small, you can add the kale in two batches.
Keywords: gluten free, vegan, mushroom and kale quinoa
Save this recipe for later to one of your Pinterest boards