Mediterranean Baked Feta (Gluten Free)
This Mediterranean baked feta is the tastiest and prettiest appetizer. It's also incredibly easy to make in under 30 minutes. Served with crusty toasted bread, everyone will devour this dish.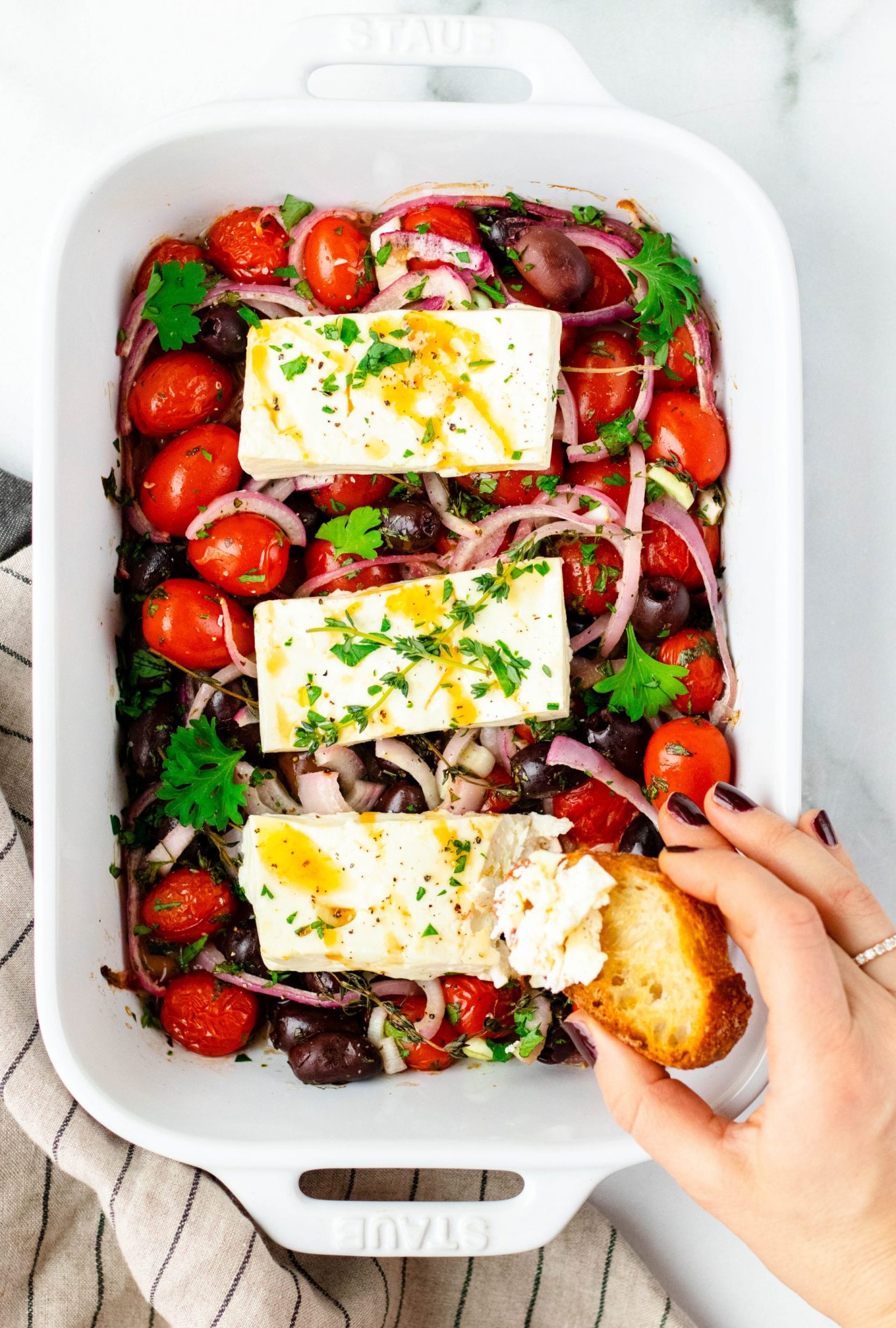 I don't mean to toot my own horn, but this is one of my favorite recipes I've made in a while. Ben is equally as enthusiastic about this Mediterranean baked feta, proclaiming it to be restaurant quality!
I love this recipe for so many reasons. First, it just looks so pretty and impressive. But even though it looks beautiful, it really couldn't be easier to make – and comes together in about 30 minutes. This recipe is also healthy and full of nutrients like vitamins, minerals, antioxidants, and healthy fats.
Ingredients in Mediterranean baked feta
Here is everything you need to make this dish today:
Feta cheese
Cherry tomatoes
Red onion
Garlic
Kalamata olives
Parsley
Lemon
Thyme
Salt
Pepper
Is Mediterranean baked feta healthy?
Sometimes, we hear that cheese is bad for us and we should not eat it. But for any food, it all depends on the larger context of our diet as a whole! No food is "good" or "bad" because our diets are so much more complex than a single food.
This Mediterranean baked feta is a healthy appetizer that contains lots of ingredients commonly consumed in a Mediterranean style diet. The Mediterranean diet has been widely researched for its health benefits, and has been shown to reduce the risk of heart disease, lower cholesterol and blood pressure, and may be protective against certain cancers and dementia.
A Mediterranean diet is rich in plant-based foods, like fruits, vegetables, legumes, and whole grains. Healthy fats are a mainstay of the Mediterranean diet in the form of olive oil, olives, and omega-3 rich fish and seafood. Those following a Mediterranean diet also eat small amounts of dairy regularly – including Greek yogurt and cheese.
The ingredients in Mediterranean baked feta provide lots of nutrition:
Olives and olive oil are rich in heart healthy monounsaturated fats
Tomatoes are a good source of vitamin C, vitamin K, folate, potassium, and the antioxidant lycopene
Onions are rich in antioxidants and sulfur-containing compounds, which may help protect against cancer
How to make Mediterranean baked feta
First, add cherry tomatoes, olives, sliced onion, garlic, and parsley together in a bowl. Mix everything in olive oil, lemon juice, salt, and pepper.
Transfer to a rectangular baking dish in a single layer. Place sprigs of fresh thyme on top of the mixture.
Slice a block of feta cheese into three large rectangles. Place the feta cheese slices on top of the tomato and olive mix. Drizzle a little olive oil over everything.
Bake in the oven. Once the dish is removed from the oven, drizzle with honey and sprinkle on more fresh parsley. Serve warm with toasted bread or pita chips.
More Mediterranean diet recipes to try
Let me know if you love this recipe by leaving a comment or rating below, and check out Instagram and Pinterest for more healthy lifestyle inspiration. Thanks for stopping by!
Print
Mediterranean Baked Feta (Gluten Free)
Author: Alex
Prep Time: 5 minutes
Cook Time: 30 minutes
Total Time: 35 minutes
Yield: serves 4 as an appetizer 1x
Category: appetizer
---
Description
This Mediterranean baked feta is the tastiest and prettiest appetizer. It's also incredibly easy to make in under 30 minutes. Served with crusty toasted bread, everyone will devour this dish.
---
1 pint cherry tomatoes
1/2 cup red onion, thinly sliced
3 cloves garlic, sliced
1/2 cup pitted kalamata olives
1/3 cup parsley, chopped
Juice of half a lemon
3 tbsp olive oil, divided
1/4 tsp salt
1/4 tsp pepper
6 sprigs fresh thyme
1 8 oz block feta cheese, sliced into thick slabs
1 tbsp honey
Sliced and toasted baguette, for serving
---
Instructions
Preheat oven to 350 degrees F.
Combine cherry tomatoes, onion, garlic, kalamata olives, parsley, lemon juice, 1.5 tbsp olive oil, salt, and pepper in a mixing bowl and stir everything together.
Transfer to a 10×7 baking dish. Top with sprigs of thyme.
Place the blocks of sliced feta on top of the vegetables. Drizzle with the remaining olive oil.
Bake for 25-30 minutes, until feta cheese is soft and spreadable. 
Drizzle the honey on top of the hot feta cheese, and dig in with your toasted bread!
---
Notes
Best served right from the oven.
Keywords: mediterranean baked feta, gluten free
Save this recipe for later to one of your Pinterest boards