Loaded Greek Salad Hummus For a Crowd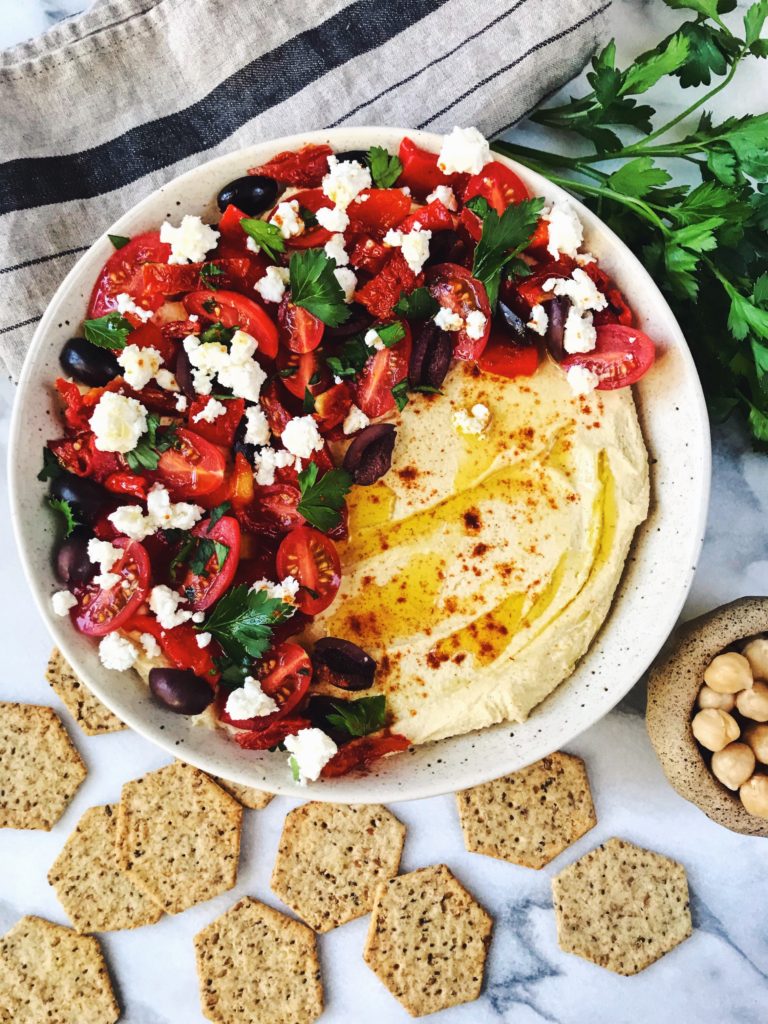 What's your favorite appetizer to snack on at parties? One of my go-to choices is a hummus! It's a humble yet nutritious food, packed with plant based protein and healthy fats. You can use veggie sticks, better-for-you crackers or whole wheat pita for dipping to up the nutrition factor. Pulses, which include beans, lentils, peas (and the chickpeas found in hummus) are substantial sources of important minerals like iron, magnesium and potassium, and they are also rich in fiber. Many of the world's longest living populations eat diets rich in pulses!
Recently, someone asked me to bring an appetizer to a holiday party. When bringing a dish to a gathering, I like to choose something nutritious to balance out some of the heavier foods that will be served. Naturally, I thought of hummus! Store bought hummus usually gets the job done, but homemade is ALWAYS better. If you haven't made your own before, you are missing out! Think about how creamy, smooth and fresh the hummus is at your favorite Mediterranean restaurant. You can have that at home in about 5 minutes with this recipe! To up the "wow" factor, I added some delicious toppings to this hummus, so it was a really beautiful presentation to show off. Your guests will never know this took you less than 20 minutes to make 🙂 This recipe makes A LOT of hummus, so make sure you have a hungry crowd ready to dig in.
Ingredients:
Hummus
1 28 oz can low sodium chickpeas, drained and liquid reserved
¼ cup reserved chickpea liquid
¼ cup cold water
1/3 cup tahini
2 tbsp fresh lemon juice
3 tbsp extra virgin olive oil
1 large clove garlic, roughly chopped
½ tsp cumin
½ tsp salt, or more to taste
Toppings
¼ cup pitted and halved Kalamata olives
¼ cup chopped roasted red pepper
5-10 cherry tomatoes, halved
4-5 sun dried tomatoes, chopped
2-3 tbsp crumbled feta cheese
2 tbsp fresh parsley
Paprika and extra virgin olive oil for garnish
Veggie sticks and crackers for serving (I used Simple Mills Sprouted Seed crackers)
Instructions:
Combine all ingredients for hummus in a high speed blender or food processor. Blend on high speed until creamy. Add a few tbsp of cold water if needed to aid blending.
Move hummus to a medium shallow serving bowl. Arrange toppings on hummus so they cover about half the hummus.
Serve with veggie sticks, crackers or whole wheat pita immediately, or refrigerate until serving. Drizzle with olive oil and sprinkle with paprika before serving.
I hope you guys try this easy, beautiful recipe! Tag @daisybeet on Instagram so I can see your beautiful creations 🙂