Homemade Honey Nut KIND Bars
This easy homemade KIND bar recipe is simple, delicious, and healthy. Make a batch today for a week of healthy snacks!
Say hello to your new favorite easy healthy snack recipe – these homemade honey nut KIND bars! Just like store bought KIND bars, these are made with whole nuts, seeds, and dried fruit that you can see. Packed with a variety of whole nuts and dried fruit, these bars are lightly sweetened and held together with honey. They're a filling and delicious healthy homemade snack!
As a Registered Dietitian, I love making and sharing healthy snack ideas with you all. An ideal snack will have a combination of protein and fiber, and these homemade KIND bars have both! They're also rich in heart healthy fats, so they really pack a nutrition punch.
This easy healthy snack recipe makes 10 bars. It's gluten free, dairy free, soy free, and plant-based.
Ingredients in homemade honey nut KIND bars

Here is everything you need to make these homemade KIND bars:
Raw unsalted nuts: You can use whatever nuts you enjoy most in these bars. I used a mixture of almonds, pecans, peanuts, hazelnuts. I also mixed in some pumpkin seeds.
Dried fruit: I used dried cherries for this recipe, but you can use dried cranberries, raisins, or chop up some dried apricot instead.
Honey adds light sweetness and helps all the ingredients stick together. I don't recommend substituting honey with maple syrup, because it is thinner and won't have the same sticking power as honey.
Cinnamon to add warm and comforting flavor.
Salt enhances all the flavors in this recipe.
How to make homemade honey nut KIND bars
First, toast the raw nuts in the oven. Toasting the nuts greatly enhances their flavor and texture, so don't skip this step!
Combine the toasted nuts with dried cherries, cinnamon, and salt in a mixing bowl. Pour the honey over everything and mix thoroughly to coat all the nuts in the honey.
Line an 8×8 inch baking dish with parchment paper, and pour the nut mixture into the pan. Use a spatula or your clean hands to press the nuts down into the pan in an even layer. Be sure to press down very well so everything sticks together.
Bake the bars in the oven for 10-15 minutes, until the honey starts to bubble. Remove from the heat and let it cool completely. You can stick the bars in the fridge to speed up the cooling process.
Once completely cool, cut into 10 rectangular bars.
Tips for making + storing homemade KIND bars
Measure the ingredients accurately. You want to measure the nuts, dried fruit, and honey precisely in this recipe. If you use too many nuts or dry mix ins, there won't be enough honey to coat everything, and the ingredients won't stick together.
Line the bottom and sides of the baking dish with parchment paper to easily remove the bars to slice them. Honey is of course a very sticky ingredient, so you don't want the bars sticking to the bottom of the pan.
Store in the refrigerator. To keep the bars together, it's best to store them in the refrigerator, especially in warmer temperatures. They should keep well in an airtight container for up to two weeks stored in the fridge.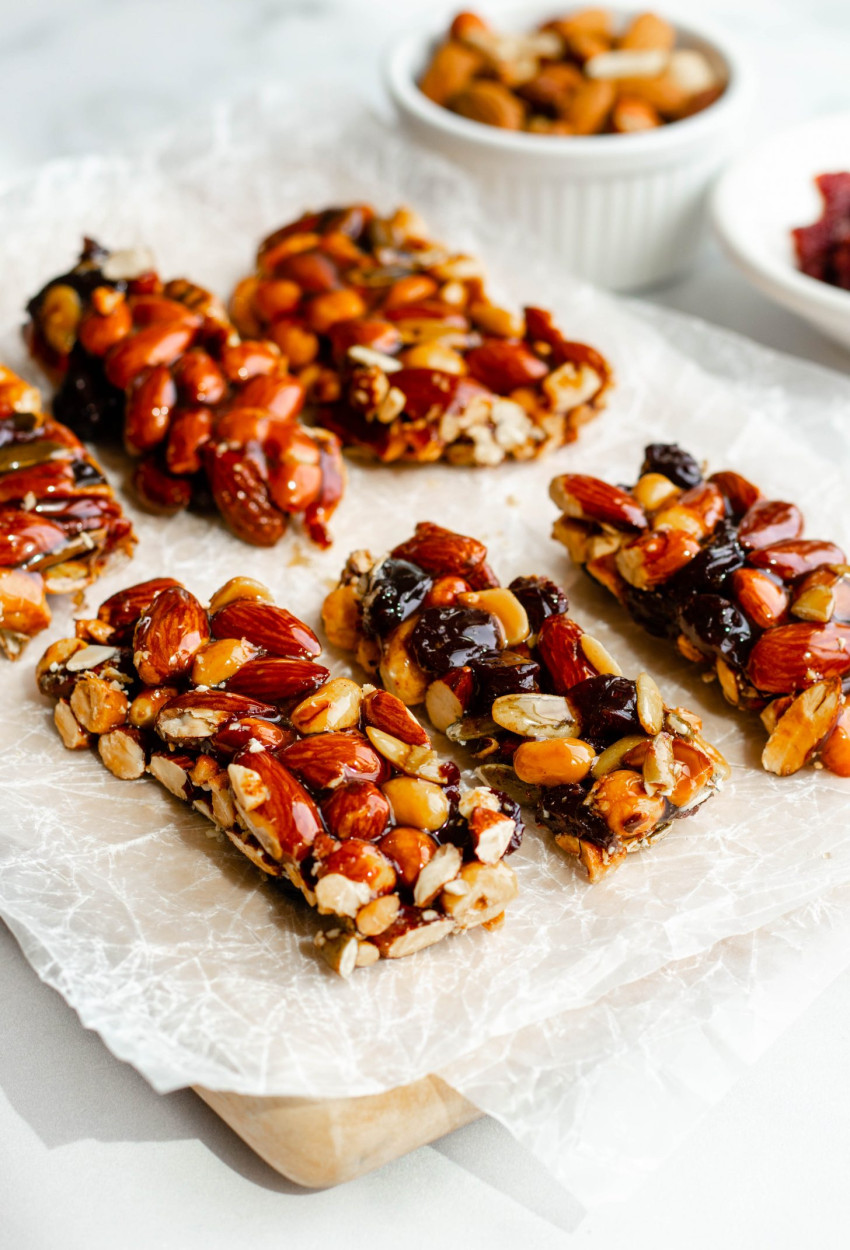 Almonds nutrition benefits
Almonds are an incredibly nutritious food to include in your diet. One ounce of almonds contains:
3.5 grams of fiber
6 grams of plant-based protein
14 grams of fat
An excellent source of magnesium, manganese, and Vitamin E
A majority of the fat in almonds comes from monounsaturated fat. This type of fat is considered a healthy fat, because it lower "bad" LDL cholesterol in the blood, therefore lowering your risk for heart disease or stroke. Other food sources of monounsaturated fat include olive oil, olives, and avocado.
Peanuts nutrition benefits
Peanuts are technically a legume like beans, but they have a similar nutrient profile to nuts and seeds. Peanuts are a very healthy food to eat. One ounce of peanuts provides:
2.4 grams of fiber
7.3 grams of plant-based protein
14 grams 4 grams of fat
An excellent source of niacin, vitamin E, copper, and manganese
Similar to almonds, a majority of the fat from peanuts comes from unsaturated fat – both monounsaturated and polyunsaturated fat. And because peanuts are technically a legume, they have more protein than any other nut.
More healthy homemade snack recipes to try
Let me know if you love this recipe by leaving a comment or star rating below, and check out Instagram and Pinterest for more healthy lifestyle inspiration. Thanks for stopping by!
Print
Homemade Honey Nut KIND Bars
Author: Alex Aldeborgh
Prep Time: 10 minutes
Cook Time: 15 minutes
Total Time: 25 minutes
Yield: 10 bars 1x
Category: snack
Method: oven
Cuisine: American
Diet: Vegetarian
---
Description
This easy homemade KIND bar recipe is simple, delicious, and healthy. Make a batch today for a week of healthy snacks!
---
2 1/4 cup raw, unsalted mixed nuts
1/3 cup dried cherries (or other dried fruit like raisins)
1/4 tsp cinnamon
1/4 tsp salt
1/3 cup honey
---
Instructions
Preheat oven to 350 degrees F. Line an 8×8 baking pan with parchment paper that covers the bottom and sides.
Spread all the nuts out on a metal baking sheet and toast them in the oven for 5-8 minutes until fragrant.
Mix together nuts, dried cherries, cinnamon, and salt in a mixing bowl.
Add the honey and stir it in to evenly coat all the ingredients.
Transfer everything to the prepared baking dish. Use your hands or a rubber spatula to firmly press everything into the pan.
Bake for 10-15 minutes, until the honey is bubbling.
Remove from the oven and let the bars cool completely so the honey hardens up. You can put the pan into the fridge to speed up the cooling process.
Slice into 10 bars. I like to remove the whole slap from the baking dish by pulling up the side flaps of parchment paper and setting it down on a cutting board to slice.
Notes
These bars are best kept in the fridge, especially in warmer weather. The honey will start to come back to room temperature when left out, making the bars prone to breaking apart.
Store the bars in a single layer on wax paper in an airtight container, and put wax paper between layers to prevent them from all sticking together. 
Keywords: homemade KIND bars, healthy homemade snacks, healthy snack recipes, easy healthy snacks
Save this recipe for later to one of your Pinterest boards