Healthy Homemade Tahini Goddess Dressing
This nutritious and delicious homemade tahini goddess dressing is smooth, creamy, and versatile. Make a batch to add to salads and meals all week long!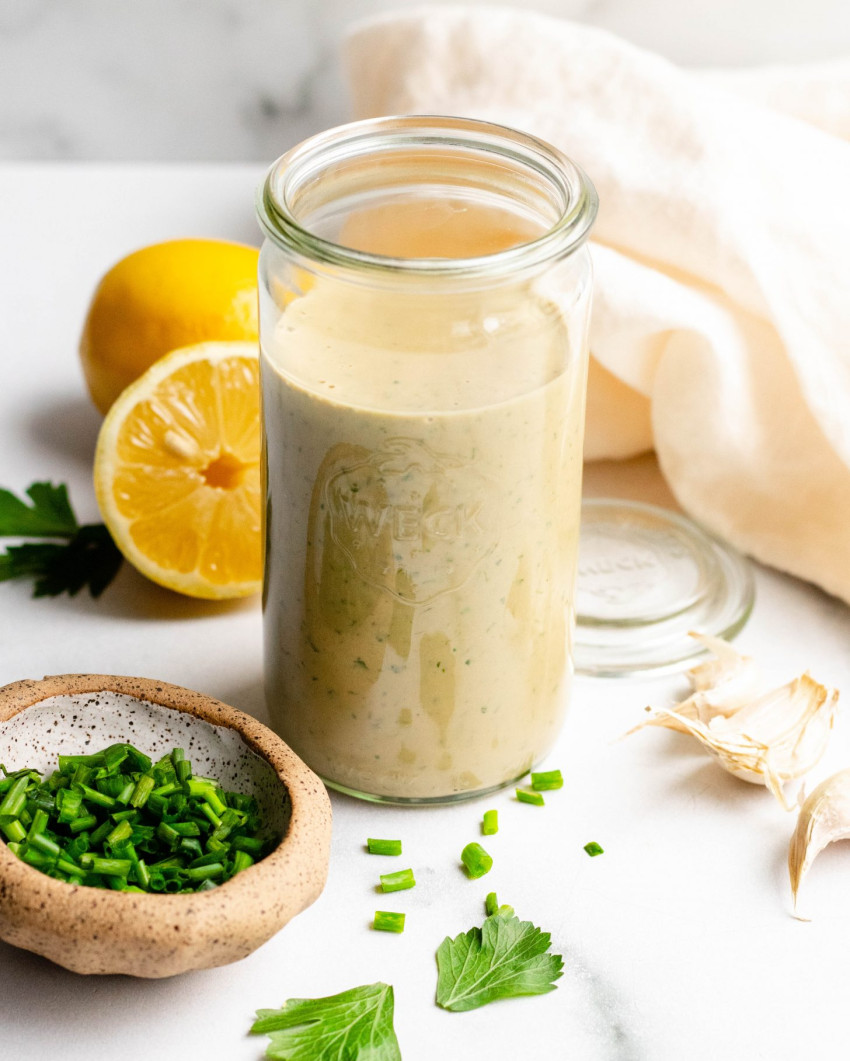 Have you ever tasted Annie's Goddess Dressing? It's one of my absolute favorites – it's thick and creamy with the perfect balance of salty, tangy, and herb flavors. It tastes amazing on all kinds of meals, from salads to grain bowls and on grilled vegetables. It takes 5 minutes to make.
As a Registered Dietitian, one of my best tips to make vegetables and other healthy foods taste great is to add a healthy homemade sauce. Homemade sauces are often more nutritious than store bought ones, because you can completely control the ingredients you use. This healthy tahini goddess dressing uses simple, nutritious ingredients and no added sugar or preservatives.
What is tahini?
Tahini is a paste made from ground sesame seeds. It has a similar consistency to natural peanut butter, but it's a little more runny. Tahini is a traditional ingredient in Middle Eastern, Mediterranean, and North African cooking, used on it's own or added to dishes like hummus and baba ghanoush. It has a nutty, earthy, slightly bitter taste.
Whether you love tahini or not, I encourage you to try this recipe because the other flavors really enhance and make the tahini sing! I recommend using a high quality tahini, which tends to be less bitter.
Tahini nutrition benefits
Tahini is a very healthy food to include in your diet. Two tablespoons of tahini provides:
A majority of the fat in tahini comes from healthy fats, polyunsaturated and monounsaturated fat. The polyunsaturated fat in tahini is made up of essential omega-3 and omega-6 fatty acids. These types of fat are essential in our diet because our bodies cannot produce them. They're important for fighting inflammation, cell integrity, and improving heart health.
Ingredients in healthy homemade tahini goddess dressing
Here are all the ingredients you need to make this healthy homemade sauce recipe. You likely have most of the ingredients in your pantry already!
This recipe is naturally vegan and dairy free. To make this sauce gluten free, you can use gluten free tamari or coconut aminos instead of soy sauce.
Feel free to try different herbs in this tahini goddess dressing. It would be delicious with dill, mint, or basil!
How to make homemade tahini goddess dressing
This recipe couldn't be easier to make! Just add all the ingredients to a food processor and blend it up until smooth and creamy. You might need to scrape down the sides of the bowl a few times to ensure all the ingredients are incorporated.
This recipe makes about a cup of dressing. Store your homemade tahini goddess dressing in a jar in the fridge. It should stay fresh for about a week to a week in a half.
Serving suggestions
This homemade tahini goddess dressing is quite versatile and tastes great with all sorts of foods. Here are some ideas for how to use it:
More healthy homemade sauce recipes to try
Let me know if you love this recipe by leaving a comment or star rating below, and check out Instagram and Pinterest for more healthy lifestyle inspiration. Thanks for stopping by!
Print
Healthy Homemade Tahini Goddess Dressing
Author: Alex Aldeborgh
Prep Time: 10 minutes
Total Time: 10 minutes
Yield: makes about 1 cup 1x
Category: sauces
Method: Food Processor
Cuisine: American
Diet: Vegan
---
Description
This nutritious & delicious DIY tahini goddess dressing is smooth, creamy, and versatile. Make a batch to add to salads and meals all week long!
---
1/3 cup tahini
1/3 cup apple cider vinegar
1/4 cup olive oil
1 tbsp lemon juice
3 tbsp soy sauce or gluten free tamari
1 clove garlic
1/4 cup chives
1/4 cup parsley
Pinch of salt
---
Instructions
Put all the ingredients in a food processor.
Blend until smooth and creamy. You may need to scrape down the sides of the bowl a few times.
Drizzle on salads, meals, grilled veggies, etc.
Notes
Store in the fridge in a jar for up to a week and a half.
Keywords: homemade tahini goddess dressing, healthy homemade dressing, healthy homemade sauce
Save this recipe for later to one of your Pinterest boards