30+ Healthy Cookout Side Dishes
Over 30 nutritious side dishes to bring to summer cookouts, BBQs, and parties including salads, pasta dishes, vegetable sides, and dips. Plus, get the recipe for a fresh and simple summer fruit salad.
Summer is officially in full swing, and it's time for cookouts and outdoor parties with friends and family. While classic cookout dishes like potato salad and corn have their place on the table, sometimes you want a more creative and healthier side dish to munch on with your burger.
As a Registered Dietitian, I love making and sharing healthy side dishes at cookouts. This recipe round up has you covered for all your side dish desires! Find recipes for pasta salad, green salads, vegetable sides, dips, and more.
Best types of healthy side dishes to serve at a cookout
Whether you're hosting or bringing a side dish to a friend's BBQ, there are so many delicious side dish recipes to choose from. Most cookouts will have main entrees off the grill like hamburgers, veggie burgers, salmon burgers, hot dogs, grilled chicken, or grilled kebabs. So, you'll want to make sure your side dishes compliment a variety of protein choices. Some healthy cookout side dish ideas include:
It's also a good idea to serve appetizers or finger foods for guests to enjoy while the main meal is on the grill. I love to prepare a healthy dip recipe and serve it with chips, pita bread, and crunchy raw veggies.
What makes a recipe a good option for a cookout side?
It's important to consider a few things when deciding on a recipe to make for a cookout side dish. Follow these simple guidelines to choose cookout side dish recipes:
Easy to prepare ahead of time. A recipe that doesn't need to be eaten right away is ideal for a summer cookout.
Tastes good cold or at room temperature. Most cookout side dishes will be served room temperature or directly from the fridge. Choose recipes that don't need to be served hot.
Yields enough to feed a group. If a recipe normally only serves 3-4 people, you may want to double it for a cookout so everyone can have a taste. If you aren't the host, check in with them to see approximately how many guests will be eating.
Appeal to people with different dietary needs and preferences. If friends and family have different dietary needs, it's nice to have one or two options that everyone can enjoy together.
Food safety tips for summer cookouts
When hosting or attending a summer BBQ, it's super important to practice good food safety! Warm summer temperatures make it easy for foodborne bacteria to thrive, which can cause unwanted food poisoning.
Food safety starts with safe preparation. Wash your hands frequently when preparing a recipe, especially if handling raw meat or fish. Thoroughly rinse raw fruits and vegetables in water before you cut them and add them to recipes.
Avoid cross-contamination. Use separate knives, cutting boards, and utensils for high risk foods like raw egg, raw meat, poultry, and seafood. Keep these raw foods separate from other foods when stored in your refrigerator. Use separate, clean utensils and bowls for serving your prepared foods.
Cook food to the proper internal temperature. Check using a food thermometer. Here are the minimum internal temperatures needed to kill off harmful foodborne bacteria:

145 degrees F for whole cuts of meat and for fish
160 degrees F for ground meat, like burgers
165 degrees F for poultry

It's important to keep side dishes within certain temperature ranges as well:

Keep hot foods hot at or above 145 degrees F
Keep cold foods cold at or below 40 degrees F
As a general rule of thumb, do not leave food out for over two hours, or over one hour if the temperature is above 90 degrees F. When in doubt, throw leftovers away if they've been sitting out for longer.
Below, find over 30 healthy summer cookout side dishes!
30+ healthy summer cookout sides
Salads
This strawberry kale salad with goat cheese and farro makes a light, healthy, and satisfying meal or side dish. It's loaded with simple, nutritious ingredients and flavor. Kale salads are easy to prepare ahead of time, because the greens don't wilt after dressing like softer greens.
Citrus, Beet, and Burrata Salad
Burrata is a soft Italian cheese made from cow's milk. It consists of an outer layer of fresh mozzarella, which contains an inner layer of stracciatella and cream. It's rich, creamy, and absolutely delicious. This citrus, beet, and burrata salad is the perfect easy salad and is packed with nutrients like antioxidants, vitamin C, and folate.
Tomato, Avocado, and Cucumber Salad
This tomato avocado cucumber salad celebrates the freshest summer produce! It's SO easy to make, fresh, delicious, and healthy. Since this recipe is so simple with so few ingredients, you want the highest quality ingredients. I suggest seeking out locally grown produce, especially tomatoes!
Peach Caprese Salad with Heirloom Tomatoes
This peach caprese salad shouts "SUMMER!" from the rooftops. Filled with fresh peaches, heirloom tomatoes, and basil, it's a super quick recipe to make with summer produce. There are only five ingredients in this salad (besides salt, pepper, and olive oil)! Because of this, it's important to get the best quality, freshest produce to make this dish shine.
Authentic Greek Horiatiki Salad
A horiatiki salad is an authentic Greek dish you'll find on menus and in homes all over the country. The main ingredients are tomato, cucumber, green bell pepper, red onion, feta cheese, Kalamata olives, and olive oil. Horiatiki salads are simply dressed with a bit of red wine vinegar and a generous amount of good quality olive oil. They're seasoned lightly with salt and dried oregano.
Corn, Avocado, and Tomato Salad with Strawberries and Goat Cheese
This corn, tomato, and avocado salad basically has all my favorite summertime flavors dumped into one bowl together. Cherry tomatoes, sweet corn, creamy avocado, fresh basil, goat cheese, and juicy strawberries – it's like a party with every bite!
Burrata Salad with Tomatoes and Melon
I love adding fresh fruit to salads in the summer, but I usually choose berries, apples, or pears. While I was in Nice, France, I ate a salad with cantaloupe melon, tomatoes, and burrata. I was instantly mesmerized. When cantaloupe is in season and ripe, it is GOOOOD. It's the perfect mildly sweet and crunchy contrast to the other ingredients! Drizzled with pesto oil and balsamic glaze, you will adore this unique salad.
Watermelon Feta Salad with Cucumber and Mint
This watermelon feta salad is the most refreshing summer side dish. The salty, briny feta is surprisingly delicious paired with sweet and crunchy watermelon. It's the perfect post-beach or 4th of July Barbecue treat! All you need is five simple ingredients, one bowl, and 20 minutes to get this on the table.
Pasta Dishes
This caprese orzo pasta salad is bursting with cherry tomatoes, mozzarella cheese, and fresh basil. The simple flavors work wonderfully together when mixed with orzo pasta and a homemade basil vinaigrette. This orzo pasta salad tastes great room temperature and chilled right from the fridge.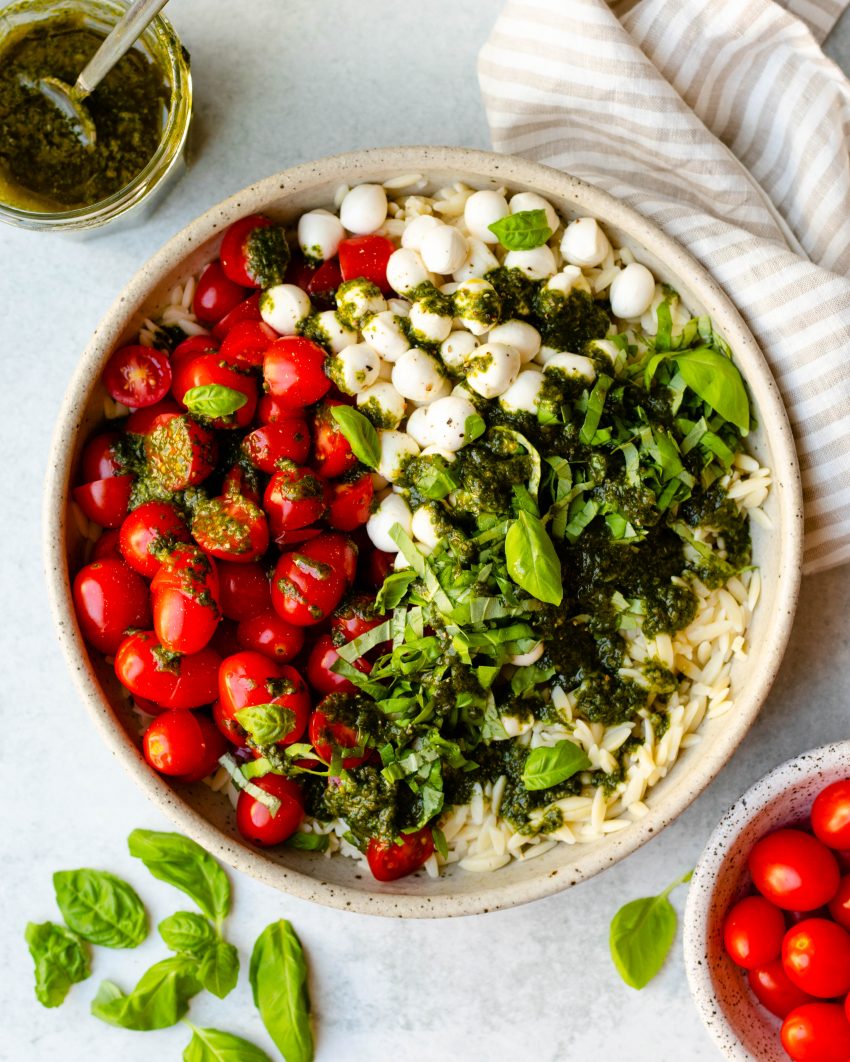 Healthy Roasted Vegetable Pasta Salad
This pasta salad is about half vegetables, half pasta. So you're getting just as much vegetable in each bite as you are pasta! While this pasta salad recipe is nutritious, it's also filled with fresh flavor and will appeal to everyone! It takes just about 30 minutes to make, and tastes good warm or cold. It's also easy to prepare in advance, so you can spend more time hanging out with your friends at a summer party or barbecue.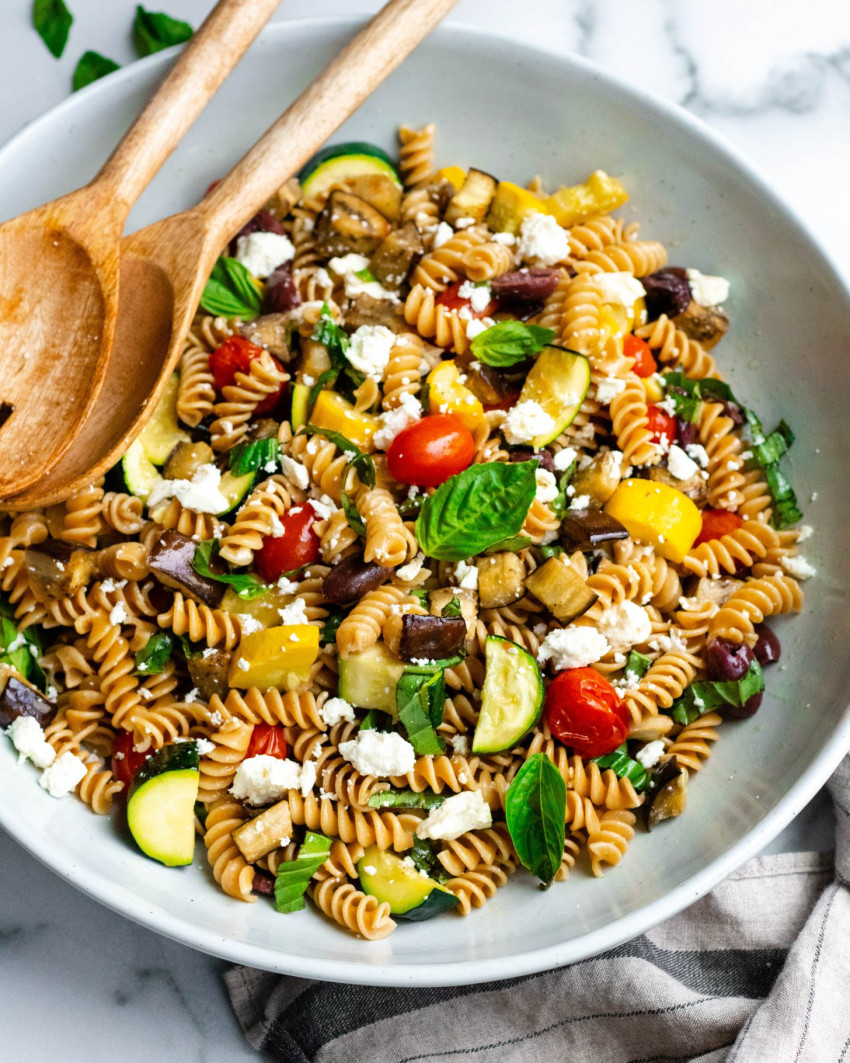 Pesto pasta is one of those meals that proves simple is best. Made with just a handful of high quality ingredients, it is an extremely delicious and satisfying meal. This kale pesto pasta is just a minor twist on a classic pesto recipe, bringing a little different flavor and even more vibrant green color to the dish.
Pesto pasta tastes good hot or cold, making it perfect to bring along to a summer cookout!
Quick & Healthy Green Sauce for Pasta
This sauce gets its vibrant green hue from spinach, and there is a whole lot of it. You'll blend an entire bag of spinach into this sauce, along with other yummy ingredients including basil, parmesan cheese, and garlic. This pasta sauce has pesto vibes, but it's a bit lighter and less oily. I like to serve it with rotini or fettuccine.
Pasta Salad with Roasted Vegetables and Tuna
This easy pasta salad is an easy, light and refreshing recipe for warmer weather. It's filled with veggies including corn, tomatoes, and zucchini. The addition of canned tuna in olive oil gives this meal a delicious and filling boost of protein.
Vegetable Sides
If you're not a fan of traditional, mayo-heavy potato salad, this romesco potato salad is for you! Soft potatoes are tossed in an addicting homemade romesco sauce for a flavorful summer side dish.
Romesco sauce originates from Catalonia, an autonomous region in northeastern Spain. Fishermen traditionally prepare the sauce to serve with fish. Romesco sauce is full of nutritious ingredients. It's typically made with roasted tomatoes, olive or sunflower oil, garlic, peppers, and almonds, pine nuts, or hazelnuts.
Grilled Eggplant with Feta Cheese and Herbs
These light and fresh grilled eggplant slices are soft, tender, and are even more delicious topped simply with feta cheese, fresh herbs, and lemon juice! This recipe can be made with just about any kind of eggplant, including globe eggplant (as I used), Italian eggplant, graffiti eggplant, white eggplant, or Japanese eggplant. For thinner eggplant varieties, you may have to cut them in another shape instead of rounds.
Sweet and Smoky Baked Sweet Potato Fries
These baked sweet potato fries are loaded with sweet and smoky flavor! Seasoned with cinnamon and smoked paprika, you will want to make them again and again. They are so simple to make, and everyone will love them. Serve them with ketchup or another exciting dip!
Roasted Broccoli with Lemon Tahini Sauce
Roasted broccoli becomes even more delicious with the addition of a simple and flavorful lemon tahini sauce. This is one of my favorite ways to eat broccoli! The lemon tahini sauce is also great on other vegetables and makes an excellent salad dressing.
Pesto tastes amazing on just about anything, and cauliflower is the perfect vehicle! All you need is six ingredients and a blender or food processor to make this vegan pesto. While traditional pesto uses parmesan cheese, you will use nutritional yeast in this vegan version. This gives the pesto a cheesy, umami flavor without the use of cheese!
You can also try this cauliflower recipe with my kale pesto if you'd prefer a more traditional pesto with parmesan cheese.
This Moroccan spiced cauliflower is an easy and delicious way to prepare the vegetable. It is seasoned with ras-el-hanout, which is a traditional Moroccan spice blend. It's full of warming flavors like ginger and coriander. I also added fresh chopped dates and cilantro to the roasted cauliflower. The savory sweet profile of this dish is amazing!
Whole grain dishes
Cilantro Lime Quinoa Salad with Avocado
This vegan cilantro lime quinoa salad with avocado is a super delicious way to add a whole grain into your cookout meal. It's made with simple and nutritious ingredients like quinoa, avocado, tomatoes, and corn. You can easily substitute a different whole grain instead of quinoa for similar results. Try making it with farro, brown rice, or even whole wheat orzo pasta!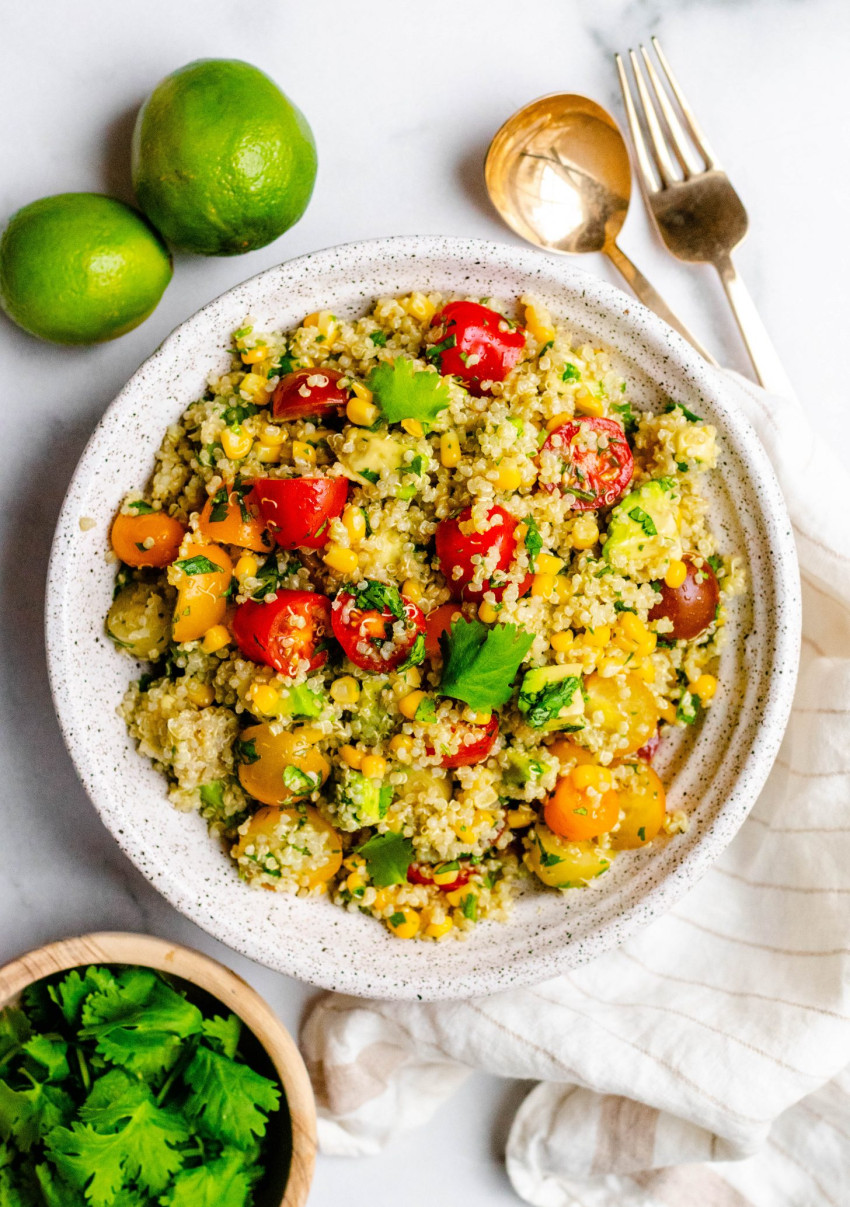 Farro Salad with Spice Roasted Vegetables and Feta Cheese
This farro salad is packed with spice roasted cauliflower and carrots, feta cheese, and a zesty, herby homemade dressing. Farro is an ancient grain, thought to originate in Mesopotamia. It refers to three different types of wheat grain: einkorn, emmer, and spelt. If you are in the US or Europe, the most commonly found type is emmer.
Farro cooks up fluffy but maintains a unique chewy, al dente texture. It has a mild, slightly sweet and nutty flavor which is quite pleasant.
This farro salad features some of my favorite summertime veggies: asparagus, corn, and cherry tomatoes. There is also lots of garlic, fresh basil, and chickpeas for a boost of protein. Walnuts add an pleasantly unexpected crunch to the salad plus lots of nutritional benefits.
This vegan quinoa salad is light, refreshing, and flavorful. It's loaded with crunchy vegetables including cucumber, tomato, red onion, and bell pepper. The salad is seasoned with simple lemon dressing and lots of fresh herbs. It's the perfect compliment to a burger!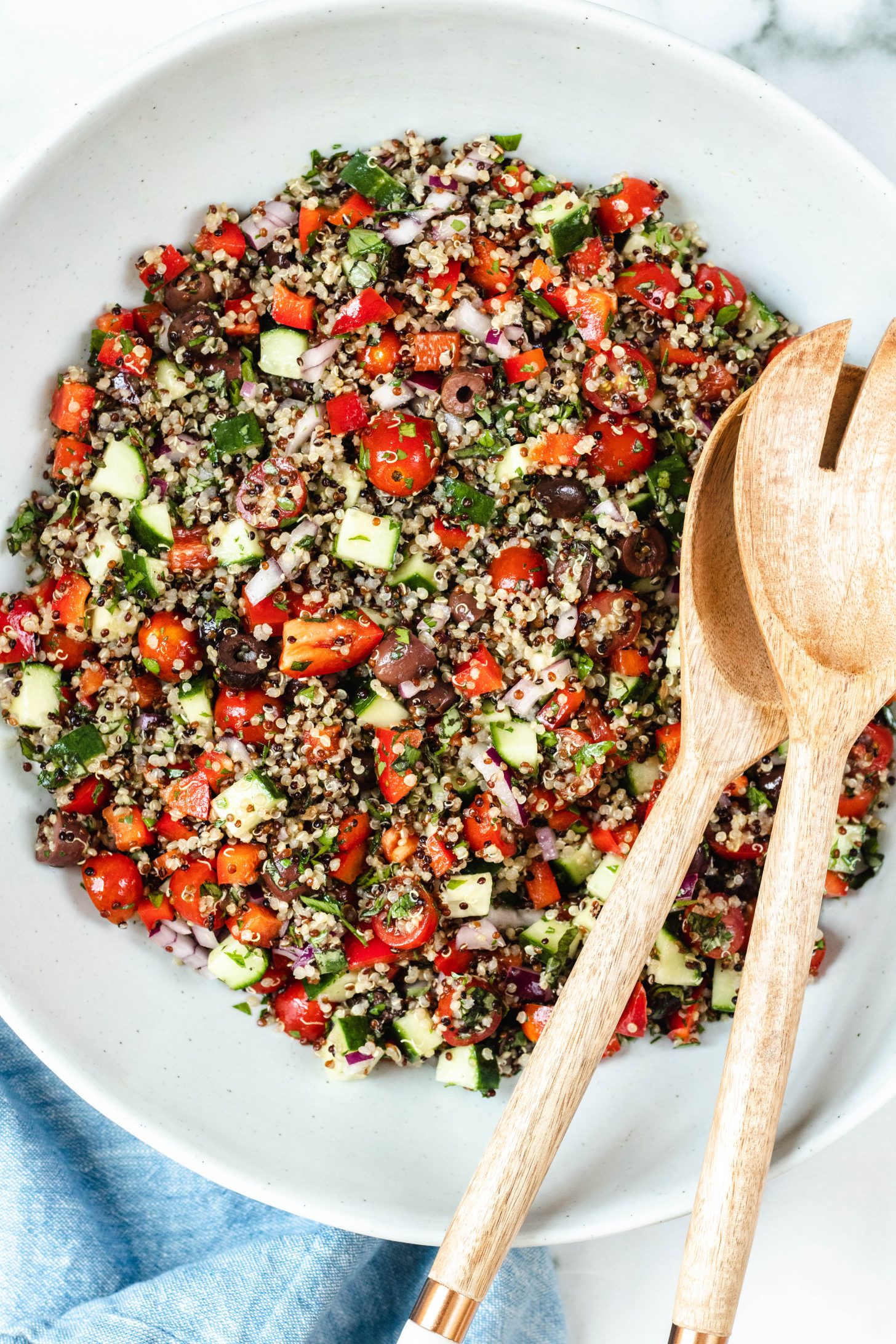 Greek Quinoa Salad with Lentils
This quinoa salad is basically one big Greek salad mixed with cooked quinoa. You've got feta cheese, olives, cucumber, tomato, red onion, and more in the ingredients list. Lentils add a boost of plant-based protein to make this salad more filling and satisfying.
You need 10 ingredients to make this pesto zucchini quinoa salad. Cooked quinoa is mixed with roasted zucchini, sun dried tomatoes, and a homemade vegan pesto! It's a simple and delicious recipe that takes advantage of all the fresh zucchini in season now.
Dips
Tzatziki dip is one of my all time favorites! It's fresh and light so perfect for summer cookouts. Made with simple, nutritious ingredients including Greek yogurt, cucumber, dill, and lemon. Tzatziki is also an excellent sauce for grilled vegetables, a salmon burger, or grain bowl!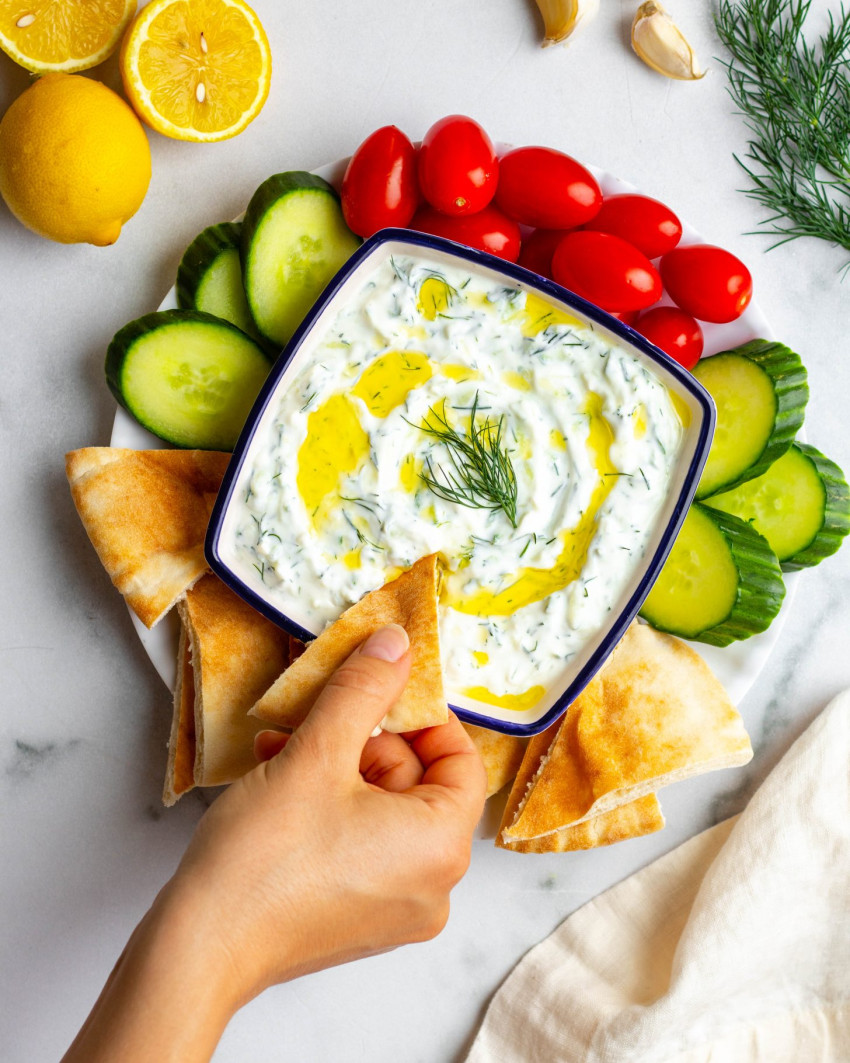 Traditionally, tzatziki is made with cucumber. Swap out the cucumber for grated beet and you get this dreamy beautiful pink tzatziki dip! You can make a batch of each if you are having a large gathering or BBQ.
Homemade guacamole is always preferable to store-bought, and it's so easy to make! You just need a handful of nutritious ingredients, including avocado, tomatoes, onion, lime, salt, and garlic. I enjoy guacamole with or without cilantro – it's delicious either way!
Loaded Greek Salad Hummus for a Crowd
Take a simple batch of hummus to the next level with this loaded Greek salad hummus! Topped with delicious healthy foods like olives and roasted red peppers, everyone will love this dip. This recipe makes a large batch of hummus, perfect for a big gathering!
Dreamy Pink Beet and White Bean Dip
This white bean dip is similar to hummus, but made with white beans instead. It's incredibly smooth and creamy. It gets the gorgeous pink color from beets, which add just a subtle flavor. Serve this dip like you would hummus, with crudite, crackers, or pita bread.
This cashew-based vegan queso dip is fun and delicious! It's full of spicy, smoky, flavor and totally elevates your dipping/saucing situation. It takes just five minutes to make in a blender. This vegan queso is perfect for dipping chips and veggie sticks, but especially these oven roasted potato wedges! They're seasoned with chili powder, for even more Tex-Mex-inspired flavor.
Healthy Homemade Tahini Green Goddess Sauce
This thick and creamy tahini based sauce also makes a delicious dip for veggies and chips. It's super easy to make – just add all the ingredients to a food processor. It has nutritious ingredients including tahini, spinach, and fresh herbs.
This sauce recipe doubles down as a delicious dip! It really could not be easier to make. Just whisk together four ingredients – tahini, lemon juice, salt, and garlic powder – and add water to thin it out. You can drizzle this sauce over grilled vegetables, too!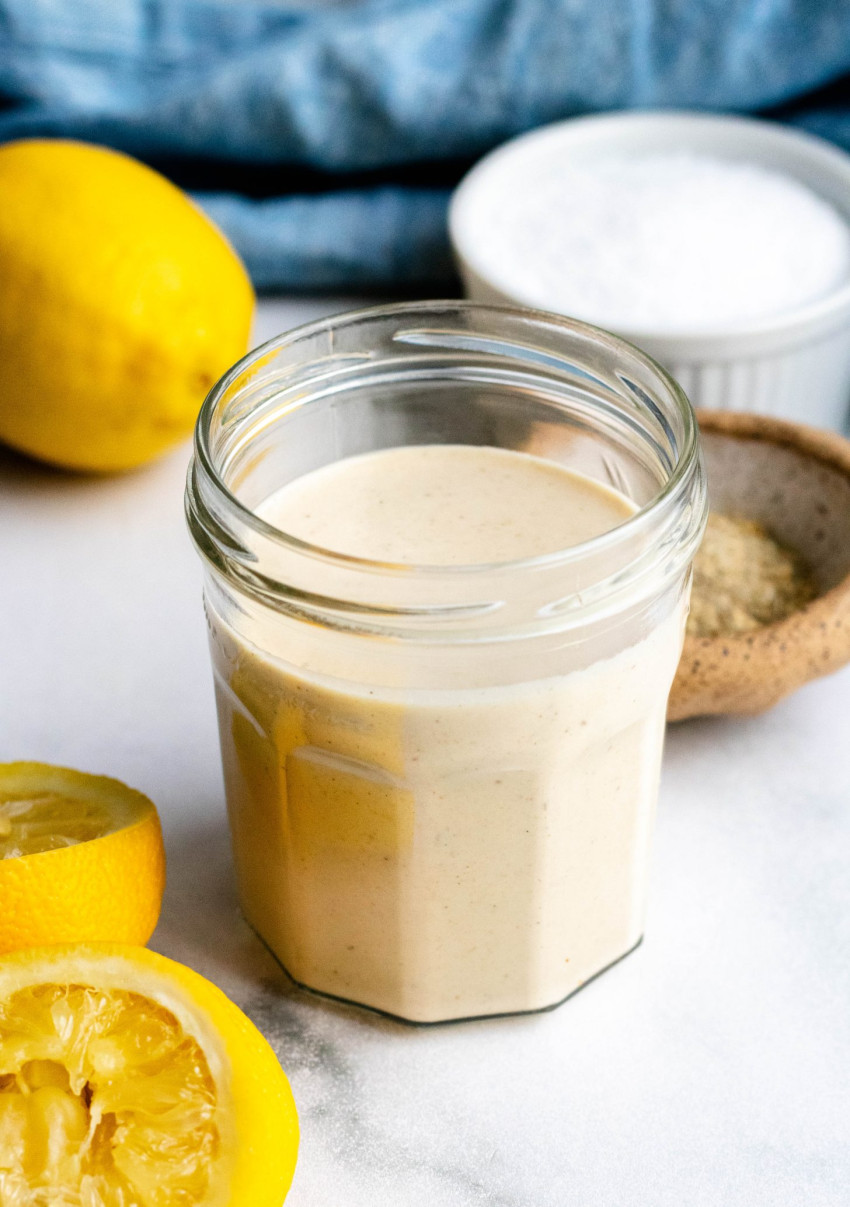 Fruit Salad (recipe below)
Fruit salad is a classic healthy summer side dish. You can use any fruit you want from pineapple to melon to grapes. I took advantage of all the summer fruits in season right now, and loaded this fruit salad up with peaches, berries, and kiwi.
Sometimes I like to add fresh mint to fruit salad. It adds incredibly refreshing flavor that compliments the sweet fruit so nicely! I don't like to add dressing to fruit salad, because the fruit is sweet and flavorful enough on it's own.
How to make summer fruit salad
Fruit salad is so easy to make. Just wash your fruits in cold water, chop them up, and add them to a big mixing bowl. Gently mix everything together and you are ready to dig in!
I recommend preparing this fruit salad the day you plan to serve it. You can definitely make it in the morning and put it in the fridge for a few hours before you plan to eat it.
Leftover fruit salad is good for 1-2 days in the fridge, but the fruit may soften and start to brown as it sits.
Print
30+ Healthy Cookout Side Dishes: Summer Fruit Salad
Author: Alex Aldeborgh
Prep Time: 10 minutes
Total Time: 10 minutes
Yield: serves 4-6 1x
Category: side dish
Cuisine: American
Diet: Vegan
---
Description
This summer fruit salad is a healthy and easy side dish for a gathering. It's filled with peaches, berries, kiwi and (optional) fresh mint.
---
3 peaches, cubed or sliced
3 kiwis, peeled and cubed
2 cups strawberries, stems removed and halved
2 cups blackberries
1 cup blueberries
1/4 cup fresh mint, chopped (optional)
---
Instructions
Add the fruit and mint to a large mixing bowl.
Stir everything together to combine.
---
Notes
I recommend preparing this fruit salad the day you plan to serve it. You can definitely make it in the morning and put it in the fridge for a few hours before you plan to eat it.
Leftover fruit salad is good for 1-2 days in the fridge, but the fruit may soften and start to brown as it sits. You can add a squeeze of lemon juice to prevent browning.
Feel free to swap out the fruit for other varieties, like pineapple, melon, or grapes.
Keywords: summer fruit salad, fruit salad with mint
Save this post for later to Pinterest