Healthy Chimichurri Sauce
You'll want to put this healthy chimichurri sauce on everything! It's packed with fresh herb flavor and super easy to make. It comes together in just about 10 minutes, so prep some tonight to have for the week.
This healthy chimichurri sauce is absolutely LOADED with flavor. If you love fresh herbs, garlic, and lemon, this recipe is for you! This chimichurri sauce tastes good on just about anything you put it on.
As a Registered Dietitian, I love to make my own sauces at home because they're generally healthier than store bought options. A good homemade sauce can really elevate a meal from good to GREAT, because they add so much flavor complexity to any dish.
What is chimichurri?
Chimichurri originates from Argentina, where it's been used in cooking and as a condiment for grilled meat. It's commonly found in Argentinian, Paraguayan, and Uruguayan cuisines. Chimichurri can be green (chimichurri verde) or red (chimichurri rojo), and traditionally includes the ingredients parsley, garlic, olive oil, oregano, and red wine vinegar. It's similar to pesto, but made with parsley!
My Argentinian-inspired chimichurri includes some additional ingredients, like cilantro and red onion. I also love to add lemon juice in addition to the red wine vinegar for fresh and zesty flavor.
Ingredients in healthy chimichurri sauce
Here are all the ingredients you need to make this chimichurri sauce:
Parsley
Cilantro
Lemon juice
Garlic
Red onion
Salt
This recipe is quite forgiving and easily customizable based on what you have on hand or preferences. For instance, you can use whatever fresh herbs you have in your refrigerator instead of or in addition to parsley and cilantro. Try it with dill, mint, or basil. You can also swap lemon juice for lime juice, and apple cider vinegar for the red wine vinegar.
This chimichurri sauce is suitable for those with dietary restrictions, including vegan, gluten free, dairy free, soy free, and nut free.
How to make healthy chimichurri sauce
Food processor: To save time and effort, I always make chimichurri in a food processor. Just put all the ingredients, except for the olive oil, into the food processor and mix until everything is chopped up but still textural. Then add the olive oil and pulse 3-5 times to combine.
By hand: If you don't have a food processor, you can easily make chimichurri by hand! It's actually traditionally made using finely chopped ingredients, so this is a more authentic preparation method. To make chimichurri without a food processor, finely chop the herbs and mince the garlic and onion. Add all the ingredients to a small mixing bowl and use a spoon to mix everything together.
You can store leftover chimichurri sauce in a jar or airtight container in the fridge for up to one week.
As chimichurri sits out or stores in the fridge, the oil may separate a bit from the other ingredients. Just give it a quick stir to re-incorporate it before serving.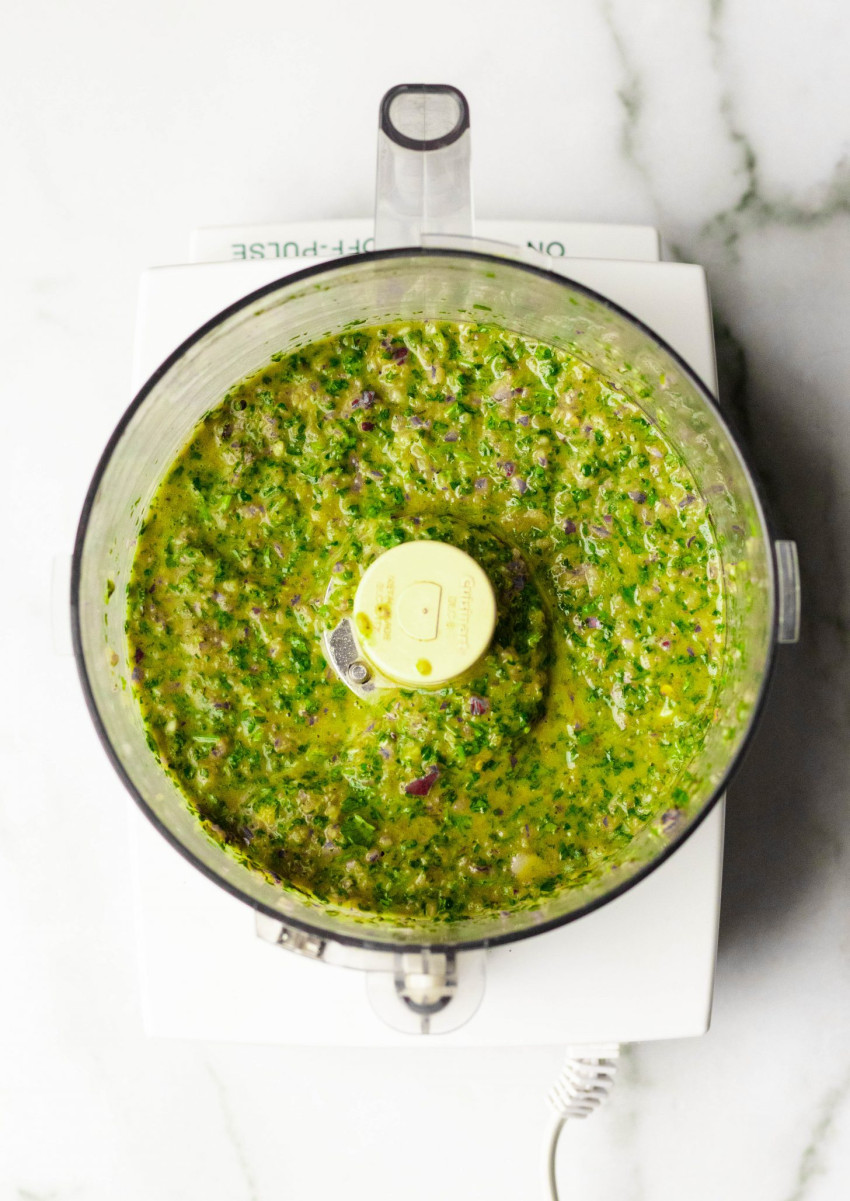 What makes this chimichurri sauce healthy?
Homemade sauces are usually much healthier than store bought versions. When you buy a sauce from a store, it's often filled with excess sodium, preservatives, and added sugars. Making your own sauce at home allows you to control the amount and quality of ingredients you use. When making homemade sauces, be mindful that they will not stay fresh as long as store bought ones, because they won't have any preservatives.
This chimichurri sauce is incredibly flavorful thanks to the simple, high quality ingredients. Both parsley and cilantro are high in Vitamins A, C, and K. This chimichurri sauce has an abundance of healthy fat, thanks to olive oil. Most of the fat found in olive oil is heart healthy monounsaturated fat, which can help reduce the risk of heart disease and lower "bad" LDL cholesterol.
How to serve chimichurri sauce
As I mentioned at the beginning of this post, this chimichurri tastes great on just about anything. You can add it to a variety of savory dishes, like:
Grilled or Roasted Vegetables
Sweet potatoes
Burrito bowls or grain bowls
Want to try making more homemade healthy sauces? Check out my latest post which features over 10 healthy homemade sauce, dressing, and dip recipes!
Let me know if you love this recipe by leaving a comment or star rating below, and check out Instagram and Pinterest for more healthy lifestyle inspiration. Thanks for stopping by!
Print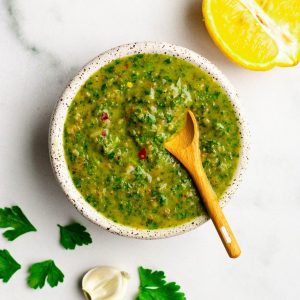 Healthy Chimichurri Sauce
Author: Alex Aldeborgh
Prep Time: 10 minutes
Total Time: 10 minutes
Yield: about 1 cup 1x
Category: sauces
Method: Food Processor
Cuisine: Argentinian
Diet: Vegan
---
Description
You'll want to put this healthy chimichurri sauce on everything! It's packed with fresh herb flavor and super easy to make. It comes together in just about 10 minutes, so make some tonight to have for the week.
---
1 cup fresh parsley
1 cup fresh cilantro
1/2 cup red onion, roughly chopped
1 clove garlic
1 tbsp red wine vinegar
Juice of half a lemon
1/4 tsp red pepper flakes
1/4 tsp salt
1/2 cup olive oil
---
Instructions
Add all the ingredients, except the olive oil, to a food processor. 
Blend for about 30 seconds, until everything is well chopped but still textural. You may need to scrape down the sides of the bowl once or twice to ensure everything is evenly chopped.
Add the olive oil to the food processor.
Pulse 3-5 times to combine the olive oil with the rest of the ingredients.
Transfer to a jar or small bowl and serve.
Notes
If you don't have a food processor, you can make this chimichurri by hand by finely chopping/mincing the herbs, onion, and garlic. Add the other ingredients and stir to combine.
Store in the fridge for up to one week in a jar.
Keywords: healthy chimichurri sauce, chimichurri sauce, healthy homemade sauces, vegan, gluten free
Save this recipe for later to one of your Pinterest boards