Chickpea + Avocado Stuffed Sweet Potatoes (Vegan, Gluten Free)
The holiday season is in full force! Hanukkah began Sunday evening, and Christmas is just a few weeks away. I feel extremely grateful this year to be in Boston, so I don't have to miss out on spending time with family. Both my parents and Ben's live in the area, so we're able to celebrate with everyone.
One thing I'm looking most forward to is helping my mom prepare everything for Christmas Eve and Christmas. I already spent a weekend helping her make homemade raviolis and decorating the house. She also follows a pescatarian diet, and we have a few other vegetarians coming to celebrate, so I wanted to create a quick and delicious meat-free entrée. I think being vegetarian for so many years, I am extra in-tune with dietary restrictions of others. I always appreciate when others go out of their way to make sure there are veggie friendly options for me, so I try to do the same!
These sweet potatoes are a perfectly balanced meal in themselves: they have filling fiber (sweet potatoes) and protein (chickpeas) paired with healthy fat (avocado) and a pile of greens for a little extra nutritious kick. The chickpea avocado filling takes 5 minutes to prepare, and you can prep the sweet potatoes the night before and just reheat. They're also meat-eating boyfriend approved, so everyone at your table is sure to enjoy these.
Are you guys preparing food for people with dietary restrictions this year? I would love to hear what you are making!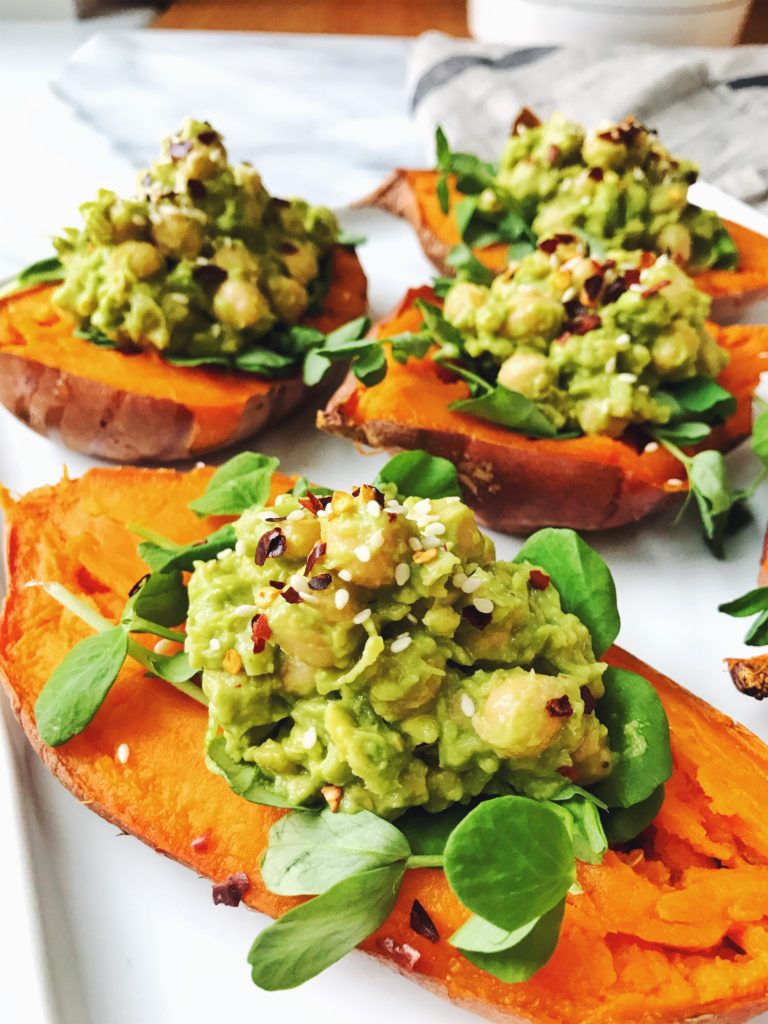 Ingredients:
4 medium sweet potatoes
1 can chickpeas, rinsed and drained
1 ripe avocado
Juice of ½ lemon
½ tsp cumin
½ tsp garlic powder
2 tsp Dijon mustard
Salt and pepper to taste
A few large handfuls of greens (I used Organicgirl Protein Greens)
Red pepper flakes
Instructions:
Preheat oven to 425 degrees F. Scrub sweet potatoes, then poke a few holes into them with a fork. Roast for about 1 hour until very soft.
In the last 10-15 minutes of sweet potatoes cooking, mash together chickpeas, avocado, lemon juice, cumin, garlic powder, mustard, salt and pepper. Mash some of the chickpeas, but keep some whole.
Let sweet potatoes cool for 10 minutes after roasting. Cut in half lengthwise and mash with a fork to form a small well.
Top each sweet potato half with a handful of greens and a few heaping spoonfuls of chickpea avocado mash. Sprinkle with red pepper flakes for a little heat, if desired. Serve warm.
Recipe makes 8 servings.
If you guys try this recipe, tag @daisybeet on Instagram so I can see your creations! Happy Holidays!