A Registered Dietitian's Healthy Pantry Staples
Want to stock your kitchen like a dietitian? Here are my pantry staples I always have to make healthy eating easier and more convenient.
Cooking more meals at home is a great way to eat healthier and save money. However, if you're new to cooking, this can be overwhelming! In order to cook healthy food, you need to have healthy ingredients in your kitchen. This is why it is so important to keep your pantry stocked with some nutritious essentials.
I love to cook at home, and I make sure to always have these essential ingredients in my kitchen. I make a note on my grocery list whenever I am running low to restock. It is so much easier to create simple, healthy meals in a pinch when you have nutritious ingredients on hand!
A Dietitian's Healthy Pantry Staples
Healthy cooking oils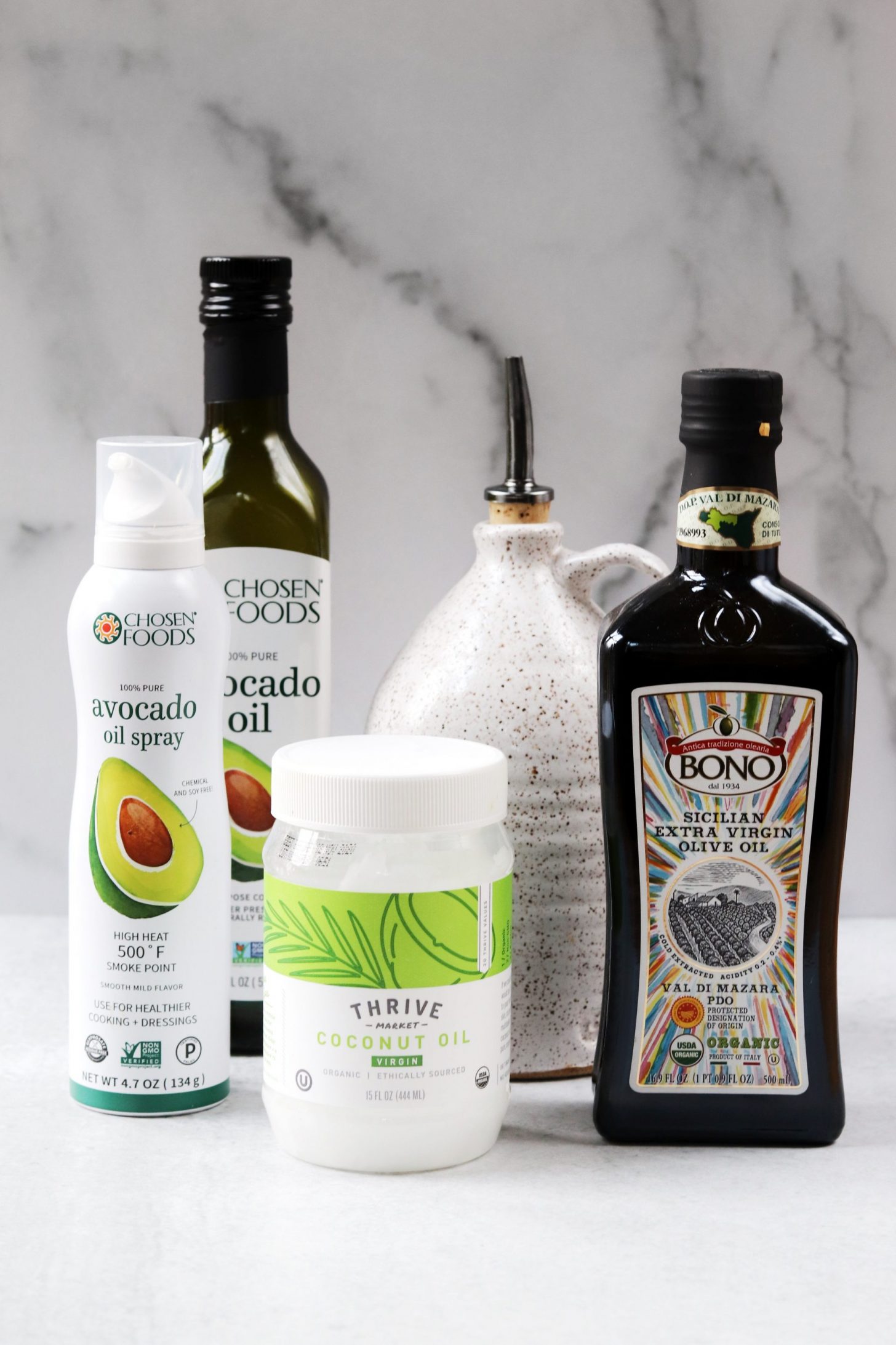 I use a few different oils in my cooking, depending on certain factors. Avocado oil is wonderful for high heat cooking, and extra virgin olive oil tastes amazing in salad dressings! These cooking oils offer heart healthy unsaturated fats, and are less processed than other vegetable oils. Store them in a cool, dark place to prevent oxidation.
Extra virgin olive oil
Avocado oil
Oil sprays: avocado oil, coconut oil, and olive oil (I love Chosen Foods)
Toasted sesame oil
Whole grains
Whole grain products are always in my pantry. I keep a variety on hand, including brown rice, quinoa, bulgur, and oats. I love making vegetarian stuffed eggplant or peppers, grain salads, or just simple veggie and brown rice stir fries for dinner. Here are the whole grains I currently have in my pantry:
Brown rice
Quinoa
Bulgur
Oatmeal
Farro
Frozen fruit and vegetables
These are technically stored in the freezer, but I consider them pantry staples because they last a long time. Frozen produce is just as nutritious, or more so, than fresh produce, because it is frozen at peak ripeness. Using frozen fruit or vegetables in your recipes is a great way to save money, because it is quite inexpensive. I love to heat up frozen fruit to make chia jam and add frozen peas to pasta dishes. I usually have all of the following frozen items in my freezer:
Berries
Peas
Spinach
Cauliflower rice
Mixed vegetables
Nuts, seeds, and nut butters
I always have multiple types of nuts, seeds, and nut butters in my pantry. I add nuts and seeds to oatmeal and homemade granola, and grab a handful for a snack all the time. Also, I consider peanut butter it's own food group, so a jar (or two) is an essential in my kitchen! Here are some of my favorites:
Almonds
Walnuts
Pumpkin seeds
Chia seeds
Sesame seeds
Peanut butter
Cashew butter
Almond butter
Canned goods
My pantry always has a handful of canned goods stocked away. Canned ingredients, like beans and tuna, easily add an inexpensive boost of protein to any meal. I also like to have canned tomatoes or sauce on hand to make an easy pasta sauce or add to soups. Consider purchasing a few cans of these items next time you hit the grocery store:
Beans
Tuna or salmon
Tomato sauce or paste
Diced tomatoes
Artichoke hearts
Spices and dried herbs
Start collecting your favorite spices and dried herbs to add flavor to your meals. You don't need a million different spices, but I love to have a variety on hand. If you love Mexican food, grab some cumin, chili powder, cayenne, and paprika. For Italian flavors, try oregano, parsley, thyme, and crushed red pepper. I also love Primal Palate's organic spice blends. Their adobo is my absolute favorite!
Vinegars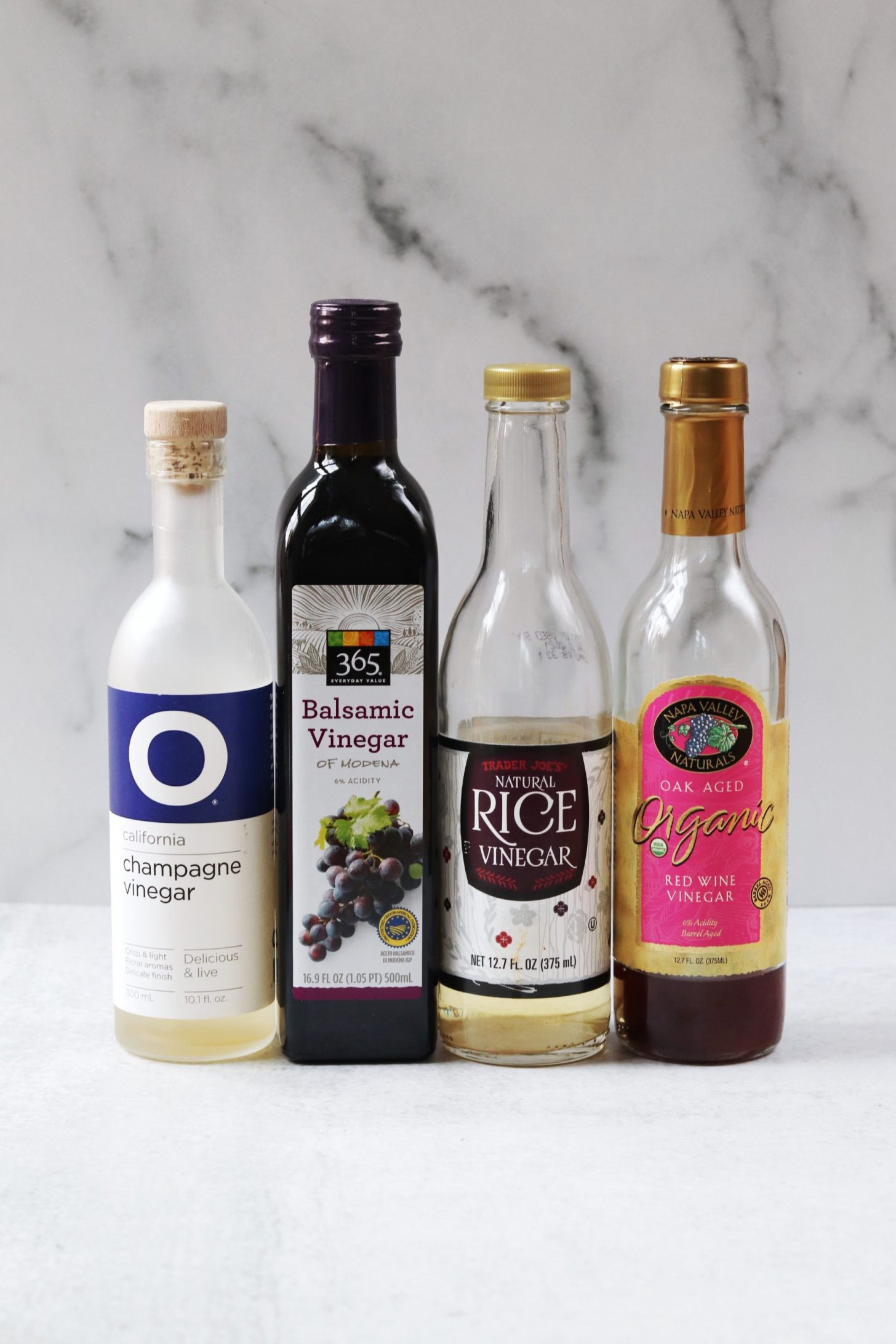 I love making homemade salad dressings and sauces to add flavor and variety to my meals. I keep several types of vinegar on hand to add to these! Here are some of my favorites:
Balsamic vinegar
Red wine vinegar
Rice vinegar
Apple cider vinegar
What are your favorite healthy pantry staples? I would love to know! Let me know by leaving a comment below, and check out Instagram and Pinterest for more healthy lifestyle inspiration. Thanks for stopping by!
Save this free pantry staples shopping list for later to one of your Pinterest boards
Disclosure: Some of the links in this post are affiliate links, which help keep Daisybeet running. I truly love all the brands I link to, and use them frequently in my daily life!