We all know it's important to eat more vegetables. Read on for easy and creative ways to add more vegetables to your diet!
If there is one thing health professionals all agree on, it is to eat more vegetables. Vegetables are nutritional powerhouses loaded with important vitamins, minerals, and fiber. Increasing vegetable consumption works for jut about any health and nutrition goal. In fact, I tell my clients to load up half their plate with vegetables at every meal!
Why you should add more vegetables to your diet
Vegetable consumption is super important for good health.Vegetables are high in vitamins, minerals, antioxidants, and fiber – all nutrients that support our health. The current US vegetable intake guidelines recommend 2-3 cups of vegetables per day (1). But, many healthcare experts would agree that when it comes to vegetables, more is.
Several studies show higher vegetable consumption is linked to lower risk of diseases including heart disease, hypertension, and certain cancers (2, 3, 4, 5, 6). Here are some reasons why you should add more vegetables to your diet:
Reduce your risk of heart disease and stroke
Help reduce high blood pressure
May reduce the risk of certain cancers, including breast cancer
Helps with weight management and weight loss, when vegetables replace other refined carbohydrates in the diet (7)
Improve GI health, thanks to fiber. Insoluble fiber adds bulk to stool, and soluble fiber can help lower cholesterol. Soluble fiber is also a prebiotic, so it feeds the good bacteria in our microbiome.
With all those benefits, you really can't go wrong with loading your plate up with more vegetables! Salads are wonderful, but I understand the desire to consume vegetables in other ways. Here are six easy and delicious ways to add more vegetables to your diet – no salads involved.
1. Add vegetables to an omelet or frittata
Eggs + veggies = a match made in heaven. This makes for a super filling meal, thanks to the protein from the eggs and fiber from the veggies. I love adding spinach, mushrooms, and tomatoes to my eggs! Check out the recipe for this Vegetable Frittata with Sweet Potato Crust for some inspiration.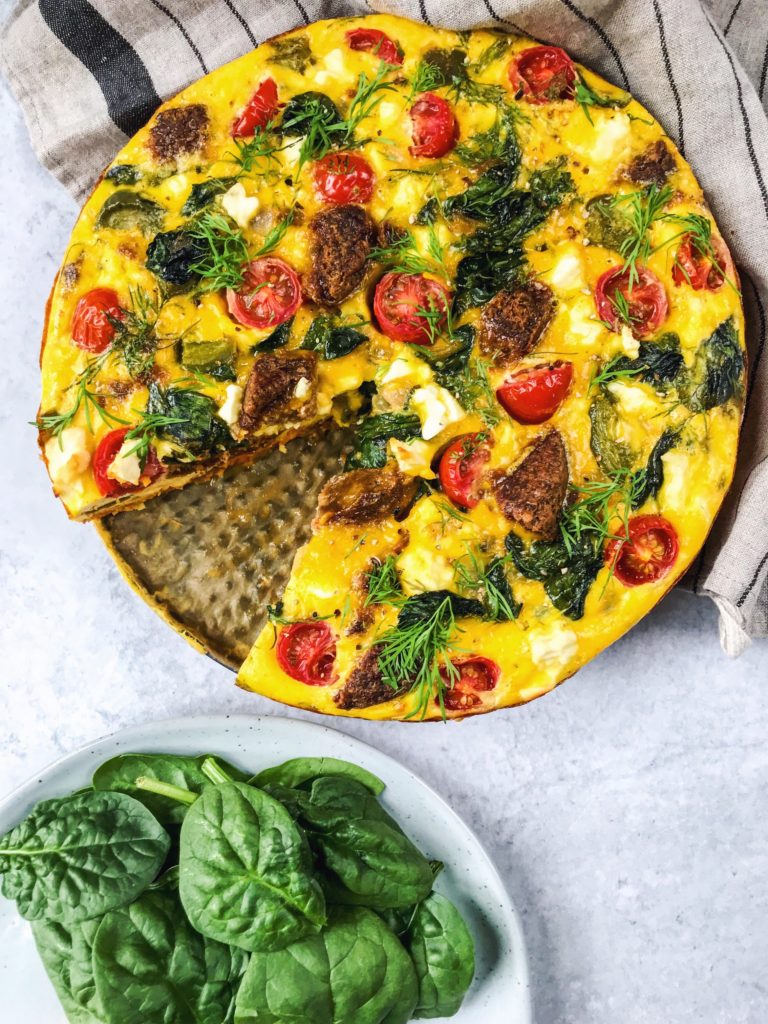 2. Spiralize vegetables into noodles
You can turn pretty much any vegetable into vegetable noodles (or zoodles) using a spiralizer. Next pasta night, try replacing half your spaghetti with zucchini noodles.
3. Make a green smoothie
Add a few handfuls of spinach to your morning smoothie – I promise you won't taste it! You can also add frozen cauliflower to smoothies without a noticeable taste change, because it has such a mild flavor. Check out this delicious green smoothie recipe from Pinch of Yum.
4. Make stuffed bell peppers
Cooking stuffed bell peppers is an easy way to increase vegetable consumption. One bell pepper equals about one serving! To really maximize your intake, add more vegetables to the filling, such as spinach, onions, or mushrooms.
5. Use riced cauliflower in your meals
Just like zucchini can transform into zoodles, cauliflower is a good substitute for grains when it is "riced". Try replacing half your grains with riced cauliflower if you want an extra boost of veggies on your plate. This cauliflower fried rice recipe is one of my favorites!
6. Top pizza with vegetables
Because what's a life without pizza? Opt for veggie toppings next time you order pizza. Some of my favorites are spinach, broccoli, and onions. Or, try this amazing looking roasted mushroom and kale pizza from Half Baked Harvest!
Let me know if you love this post by leaving a comment below, and check out Instagram and Pinterest for more healthy lifestyle inspiration. Thanks for stopping by!
Save this recipe for later to one of your Pinterest boards
Disclosure: Some of the links in this post are affiliate links, which help keep Daisybeet running. I truly love all the brands I link to, and use them frequently in my daily life!