Having trouble meal planning? These meal planning tips will help you cook healthy meals all week long!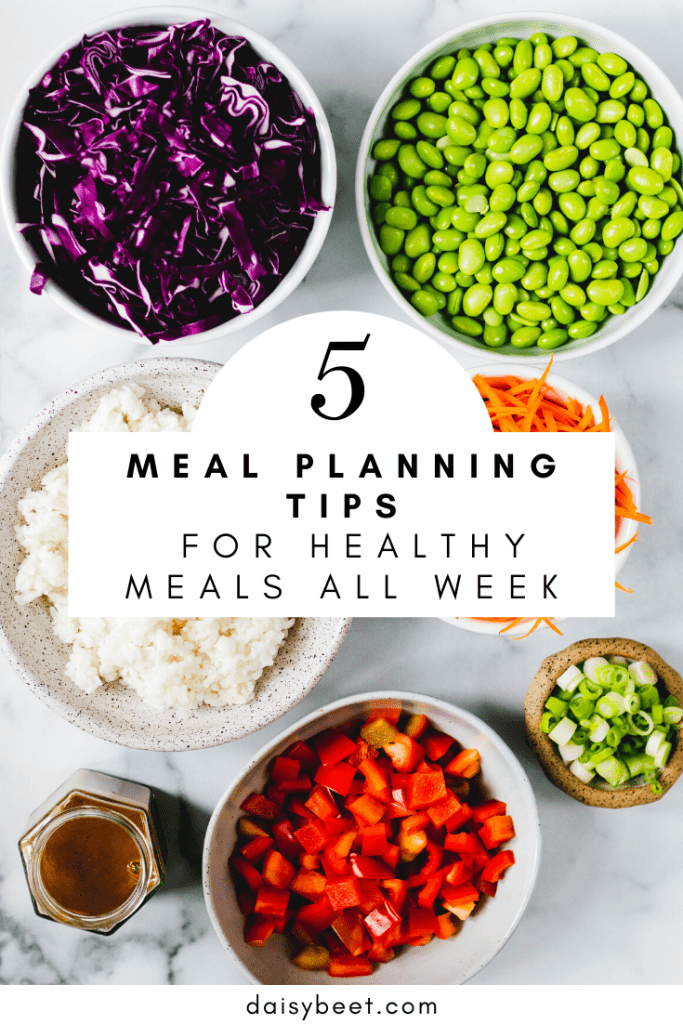 With the current state of the coronavirus pandemic, we are all spending lots of time at home and cooking meals. Many people are used to cooking occasionally, but it might be overwhelming to now have to cook pretty much every meal.
As an RD with a food blog, I've become quite adept at meal planning. I've figured out what works to save time, save money, and reduce stress throughout the week. Here are my top 5 meal planning tips to help you make meal planning easy, healthy, and fun!
5 meal planning tips
Plan meals based on what you already have.
Before doing anything, take inventory of ingredients you already have in your kitchen. See what items need to be used before going bad, and incorporate those into your meal plan for the week. For example, have a butternut squash? Make vegan tacos or chili.
Utilizing what you have prevents food waste and costs less. Also, it can help spark creativity for new meals to try.
Keep your pantry well stocked.
A well-stocked pantry makes meal planning much easier and less expensive. I like to think of the pantry as the keeper of flavor. The pantry holds all the ingredients you need to make delicious sauces and dressings, from a simple balsamic vinaigrette to a Thai inspired peanut sauce. Sauces and dressings elevate even the simplest ingredients, making even steamed vegetables delicious!
You can also add dry ingredients from your pantry to several meals during the week. Foods like brown rice, quinoa, beans, and lentils are healthy additions to your weekly recipes.
Also, you will save money on groceries every week with a well-stocked pantry. You'll already have plenty of flavorful spices, different oils, vinegars, nut butters, etc. that you don't need to shop for every week.
Wondering how to stock your pantry like a pro? Check out these blog posts on how to stock your pantry, fridge, freezer, and kitchen!
Keep it simple.
There's no need to cook several elaborate meals all week long. Keep your meals simple, and stick to recipes you are familiar with. Try one new recipe a week, and make notes to add it to your list of favorites to repeat in the future if you like it.
A majority of the meals I have each week are one's I've made several times before. Some examples are easy tofu and veggie stir frys, quinoa burrito bowls, and big batches of soup or chili. I just like to make sure each meal incorporates non starchy vegetables, a grain or carbohydrate, and a protein source.
Shop purposefully.
Make a list of all the ingredients you need before going to the store. Double check your pantry to avoid buying something you already have. Shop for the entire week all at once. It will save you time, money, and ensures your meal plan is super solid and organized, even before you hit the store.
More tips to shop purposefully – shop the sales and shop what is in season to save even more money. Check your grocery store's weekly flyer to see what is on sale before going. In season produce will usually be cheaper, but also fresher and more flavorful!
Batch cooking is your best friend.
Batch cooking is cooking large portions of different foods at once, which are meant to be mixed and matched throughout the week. When you batch cook, you set aside a few hours to prepare everything you'll eat during the week. A simple example of batch cooking would be to cook a big pot of brown rice, roast two trays of vegetables, prepare 2 homemade dressings, and chop up raw veggies for snacking. Then, you would pair these ingredients in different ways each day.
I love batch cooking for several reasons. First, it saves time overall during the week. Since everything is already cooked, all you need to do is reheat and eat! Second, it eliminates boredom from eating the same meal every day. Also, there's no need to follow a complicated recipe when batch cooking. Think simply prepared ingredients, which you will add different sauces and flavorings to each day.
If you love this post, you may also like
Let me know if you love this post by leaving a comment below, and check out Instagram and Pinterest for more healthy lifestyle inspiration. Thanks for stopping by!