Stocked up your kitchen with healthy foods, but have no idea what to make? Use these 30 healthy pantry staple recipes as inspiration for your next meal!
With most of the world under quarantine to stop the spread of COVID-19, we are food shopping and cooking at home more than usual. Many restaurants have closed, and it's important for us to stay inside as much as possible.
If you're not used to cooking every day, this might feel stressful and overwhelming. It's even more important to nourish our bodies during periods of stress like this, and that starts with food.
Luckily, pantry staples, like canned beans, dry grains, and frozen vegetables and fruit are super nutritious! We can make simple, delicious, and healthy meals using pantry ingredients as the star.
Here are 30 of my favorite healthy pantry staple recipes. Each recipe features a majority of ingredients that are dry goods, canned, or frozen. Note that you can always substitute other vegetables, grains, pasta shapes, etc. based on what you have on hand.
30 healthy pantry staple recipes
Breakfast – granola
Granola is one of the easiest recipes to make at home! You just need old fashioned rolled oats, liquid sweetener, and oil as your base. Then, you can add whatever extras you want! I love to add cinnamon, nuts, seeds, coconut, dried fruit, chocolate chips…anything goes. Here are some of my favorite granola recipes.
This granola is packed with sweet cinnamon flavor, reminiscent of your favorite childhood cereal. I actually have a batch in my kitchen now!
If you love chai tea flavors, this is the granola for you. It has cinnamon, cardamom, and ginger. The coconut and dates add another level of sweet flavor to this addicting granola.
Give me anything peanut butter flavored, and I'm happy. This peanut butter granola is no exception! You'll add peanut butter and whole peanuts to this recipe, so there is plenty of peanut flavor.
Coconut Almond Sunshine Granola
This granola might be my my favorite granola recipe, if I had to choose just one! It reminds me of summer, thanks to coconut and banana chips. You won't be able to resist this one!
Breakfast – baked oatmeal
If you've never made baked oatmeal, you are in for a treat! Baked oatmeal is super easy to make, delicious, and a great make-ahead breakfast option. Each of my baked oatmeal recipes serves 6, so you can feed the whole family.
Because carrot cake is the best cake, no doubt about it! This baked oatmeal recipe has freshly grated carrots, cinnamon, golden raisins, and walnuts. It tastes amazing topped with vanilla yogurt.
Berry Banana Baked Oatmeal with Chocolate Chips
You can use fresh or frozen berries in this baked oatmeal recipe, whatever you have on hand.
Banana Baked Oatmeal with Peanut Butter and Chocolate Chips
It doesn't get much better than peanut butter, banana, and chocolate. You'll definitely want a second serving of this baked oatmeal!
Additional breakfast recipes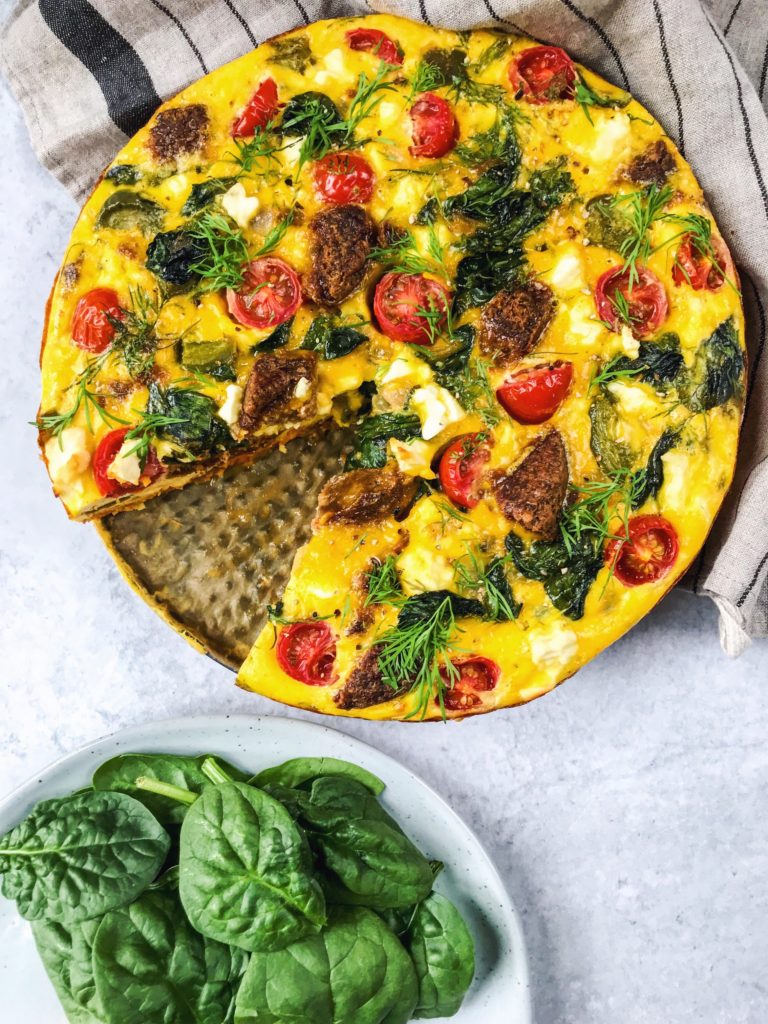 Vegetable Frittata with Sweet Potato Crust
If you're more of a savory breakfast person, frittatas are a great way to use up vegetables about to go bad. Use whatever veggies you have on hand – fresh or frozen would both work.
Bircher Muesli is the OG overnight oatmeal recipe. My version is made with oats, chia seeds, green apple, and yogurt. It's super creamy and filling, thanks to lots of fiber!
Entrees – grains
You can have any of these entree healthy pantry staple recipes for lunch or dinner. The base of the following meals is grains – from rice to quinoa! Whole grains have several health benefits, are affordable, and shelf stable. You can sub out different grains based on what you have available.
Jasmine rice is the base for this crunchy, flavorful, Thai-inspired rice salad. You'll add a mix of fresh and frozen produce to this recipe, plus the most amazing homemade peanut sauce!
Veggie Packed Kimchi Fried Quinoa
Fried rice fans, this one's for you. This veggie packed kimchi fried quinoa is a delicious way to use up leftover quinoa (or another grain). You can add any fresh or frozen veggies that appeal to you. I love broccoli and peas!
Green Goddess Grain Bowls with Avocado Miso Dressing
All my favorite green ingredients are in this recipe! Farro is the base of this nourishing plant-based bowl. You'll top everything with an easy homemade avocado miso dressing, but feel free to add your favorite dressing instead.
Farro Salad with Roasted Vegetables and Feta Cheese
This grain salad has it all – caramelized roasted vegetables, crunchy walnuts, filling chickpeas, salty feta cheese, and fragrant fresh basil. It's one of my all-time favorites!
Greek Quinoa Salad with Lentils
I'll never get sick of Greek salads, especially when combined with quinoa! This recipe also gets a boost of filling fiber and plant-based protein from lentils. If you don't have lentils, chickpeas would be a great substitution.
Entrees – pasta
Pasta is always an easy, affordable, and crowd pleasing meal. And it can absolutely be part of a healthy diet! I always add tons of vegetables to pasta dishes to make them delicious and nutritious. You can use regular white pasta, or try a different variety. I like whole wheat, chickpea, and lentil pastas.
This pasta recipe is full of all types of veggies. The sauce is a giant batch of ratatouille, including eggplant, zucchini, tomatoes, onion, and garlic. The ratatouille is amazing on its own or as a side to another meal.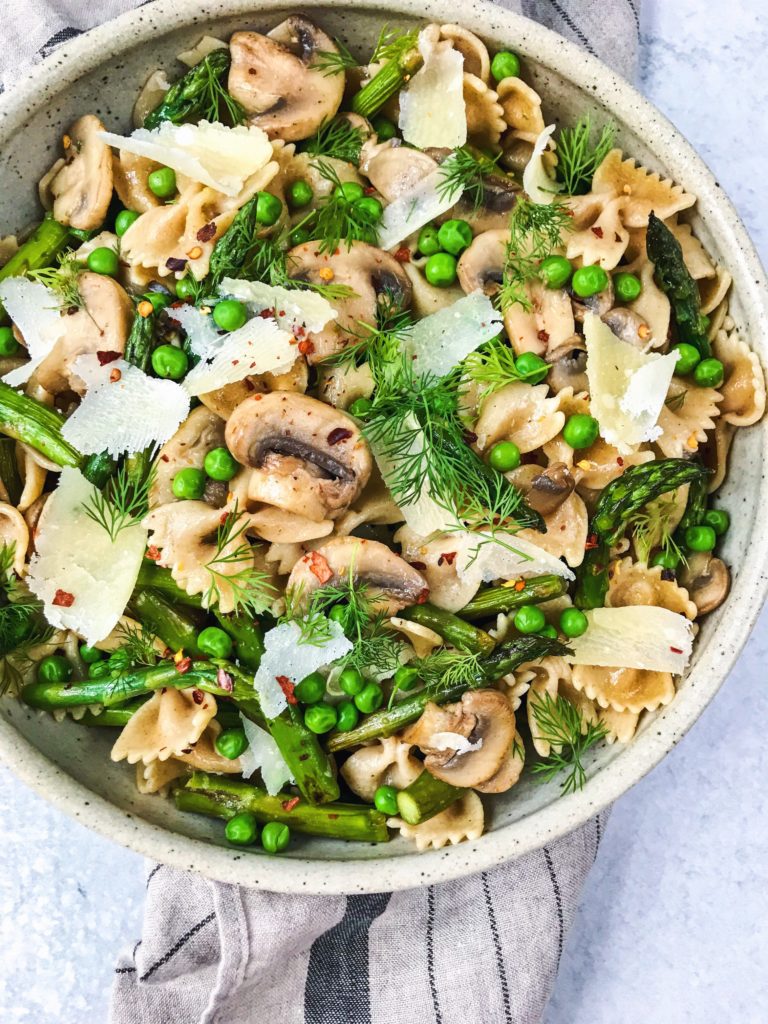 Spring Pasta with Lemon, Asparagus, Mushrooms, and Peas
Since it's technically spring now, this is the perfect dish to get in the spirit! You can use fresh or frozen spring vegetables, plus whatever type of pasta you have in your pantry.
Pasta Salad with Roasted Vegetables and Tuna
Canned tuna is another long lasting pantry staple to keep around. It's super versatile, especially when packed in extra virgin olive oil. It adds a boost of high quality protein to this delicious pasta salad.
Shrimp Scampi Zoodles and Noodles
Got frozen shrimp and zucchini noodles? This shrimp scampi zoodles and noodles recipe has tons of garlicky flavor. If you don't have zucchini noodles, just double the spaghetti and maybe toss in a different vegetable.
Creamy Rosé Tomato Basil Sauce
This sauce is incredibly creamy and completely plant-based, thanks to cashews! Including the pasta, most of the ingredients are pantry staples, like onion, garlic, nuts, and WINE 😉
Entrees – soups and stews
Few things are more comforting than a homemade batch of cozy soup. I love making big pots of soup or chili to last several meals. If you don't finish it, just portion out leftovers and store in the freezer. Here are some of my favorite easy soup and stew recipes.
This soup has minimal, inexpensive ingredients but tons of flavor. Filled with ginger, garlic, and antioxidants, it's also great to boost the immune system.
You'll use lots of pantry items in this plant-based chili recipe, including beans and diced tomatoes. If you don't have butternut squash, I recommend using sweet potato.
This springtime soup is silky smooth thanks to white beans and avocado – no heavy cream necessary.
If you don't like lentils, you are bound to change your mind after trying this soup! This recipes is one of my all time favorites. It's the perfect way to use up a can of coconut milk.
Entrees – stuffed veggies
I love making stuffed vegetables for an easy and satisfying plant-based meal. You can use peppers, tomatoes, eggplant, sweet potato…the list goes on! Here are a few that utilize pantry items.
Mexican Stuffed Sweet Potatoes
Many of the ingredients in this recipe are canned, jarred, or frozen. But these stuffed sweet potatoes do not lack flavor!
Quinoa Enchilada Stuffed Peppers
Stuffed peppers are always a fun and easy weeknight recipe. This plant based version utilizes many canned, dry, and frozen foods. Feel free to use a different grain or bean based on what you have.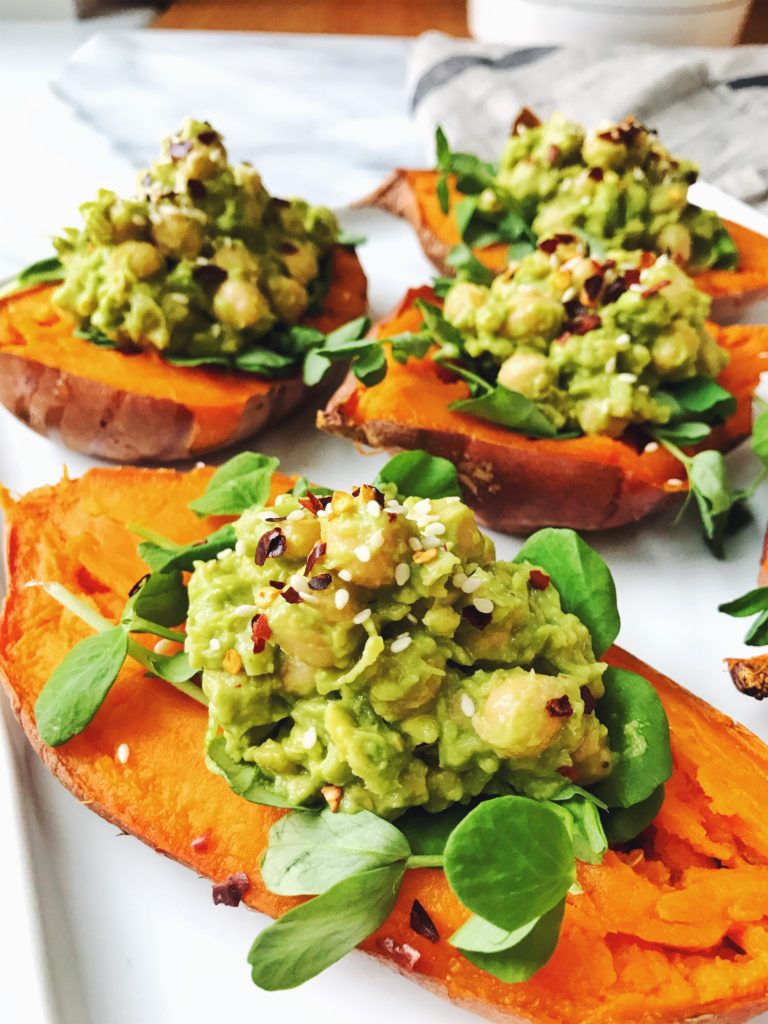 Chickpea and Avocado Stuffed Sweet Potatoes
This recipe combines some of my favorite ingredients: chickpeas, avocado, and sweet potato. This meal is super easy to make, so it's pretty fool proof.
Desserts
Because dessert is the best meal of the day! The following dessert recipes use simple ingredients, many of which you probably already have in your kitchen.
Soft Almond Butter Oatmeal Raisin Bars
If you love oatmeal raisin cookies, add these bars to your list! They're made with oatmeal, oat flour, almond butter, and raisins.
Almond Butter Oatmeal Chocolate Chip Cookies
If chocolate chips and oatmeal are more your thing, make these cookies. Feel free to sub peanut butter for almond butter.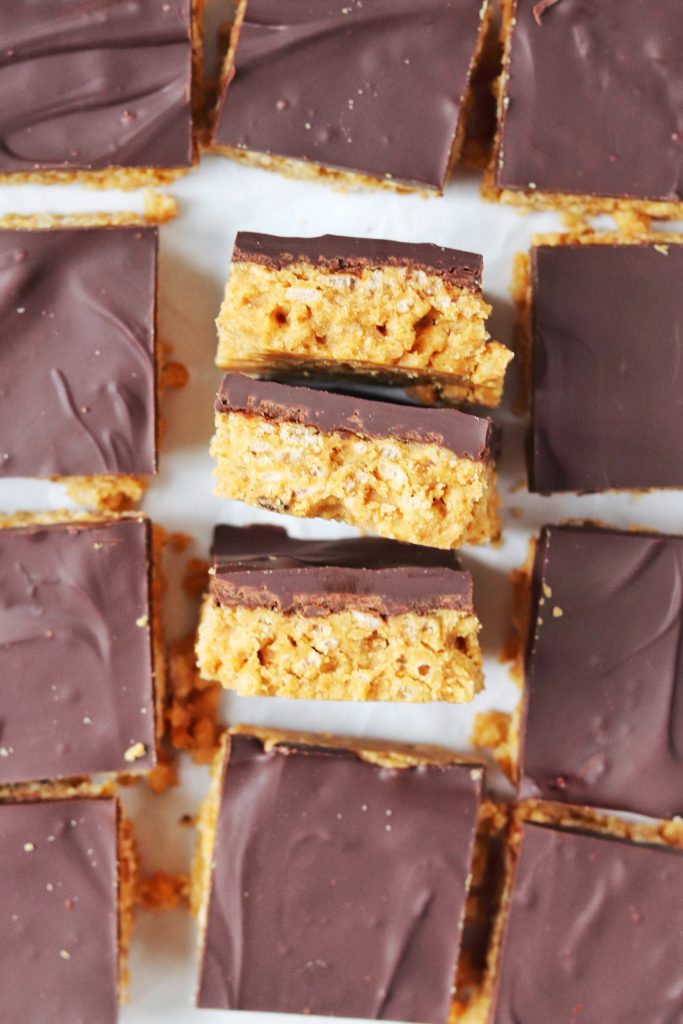 Chocolate Peanut Butter Rice Crispy Treats
These rice crispy treats are the grown up version of your favorite childhood bake sale dessert.
Edible Chocolate Chip Cookie Dough
This cookie dough is made with a secret ingredient…chickpeas! It's a high protein, high fiber treat.
If you love this post, you may also like
Let me know if you love this post by leaving a comment below, and check out Instagram and Pinterest for more healthy lifestyle inspiration. Thanks for stopping by!