25+ Recipes with Root Vegetables
Make use of nutritious root vegetables like beets, carrots, and sweet potatoes with these delicious and simple recipes. You'll find lots of inspiration for root vegetable appetizers, side dishes, mains, breakfasts, and even desserts!
As a Registered Dietitian, I try to incorporate fruits and vegetables from all categories regularly in my diet, which includes root vegetables! This produce family includes so many delicious and versatile vegetables. There are tons of ways to cook and enjoy root vegetables, even in ways you don't expect!
Jump to the recipes
What are root vegetables?
Root vegetables are plant parts that grow underground and that we consume as food. These vegetables act as energy storage for the plant when it grows, and they store energy in the form of carbohydrates. Each type of root vegetable will have a unique blend of sugars, starches, and fiber.
Root vegetables are considered a dietary staple in different parts of the world. Certain West African, South African, tropical, and Oceanian cultures rely on root vegetables for carbohydrates over cereal grains (like rice).
Types of root vegetables
There are many different types of root vegetables throughout the world. Here are some common ones you'd likely be able to find in grocery stores near you.
Beets
Parsnips
Carrots
Rutabaga
Celery Root
Turnips
Sweet Potatoes
Yams
Potatoes
Jicama
Radishes
Kohlrabi
Yucca
Cassava
Jerusalem Artichokes
How to store root vegetables
Some root vegetables are best stored under refrigeration. Keep carrots, parsnips, celery root, radishes, jicama, turnips, rutabaga, and beets in the crisper drawer. You can wrap these in a damp towel to keep them even fresher.
Store potatoes, sweet potatoes, and yams in a cool, dry place, like a pantry, in a bowl or basket. Store potatoes separately from onions, as onions can cause them to go bad more quickly.
Root vegetable nutrition benefits
Each type of root vegetable will have different nutrition profiles, but overall they are an incredibly nutrient dense food group to include regularly in your diet. In general, root vegetables provide dietary fiber, micronutrients, and antioxidants.
A high fiber diet helps with weight management, digestive health, gut health, heart health, and more. Here are some select root vegetables and their dietary fiber content per one cup:
Sweet potatoes or carrots: 4 grams (16 percent of your daily needs)
Parsnips: 7 grams (28 percent of your daily needs)
Beets: 3.4 grams (15 percent of your daily needs)
Yams: 6 grams (24 percent of your daily needs)
Turnips: 2.3 grams (9 percent of your daily needs)
Many root vegetables are a good or excellent source of Vitamin A, B Vitamins, potassium, magnesium, and folate. I encourage you to eat a wide variety of different types of root vegetables to get a variety of nutrients in your diet!
Below, find over 25 delicious and nutritious root vegetable recipes!
Appetizers with Root Vegetables
This homemade tzatziki recipe uses creamy Greek yogurt, grated beets, fresh herbs, and lemon to create a dip that takes just 10 minutes to prepare! Since it's a Greek yogurt sauce, it's quite nutritious and packed with protein.
Dreamy Pink Beet and White Bean Dip
This pretty pink dip is similar to hummus, but you'll use white beans instead of chickpeas. Of course the pink coloring comes from beets. They're one of the most nutritionally dense root vegetables, and are high in nitrates, which, when converted into nitric acid in the body, can lower blood pressure.
Sweet Potato Toasts with Mediterranean Salsa
This delicious appetizer recipe uses sweet potato toasts in place of bread! They're topped with rosemary white bean dip and Mediterranean salsa – think cucumber, olives, sun dried tomatoes, and olive oil packed tuna.
Easy Vegan Queso with Oven Roasted Potato Wedges
You're going to want to dip everything in this vegan queso! It is made with simple, nutritious ingredients, including cashews, spices, and nutritional yeast. Plus, it's super easy to prepare. It's downright addicting paired with chili spiced, oven roasted potato wedges.
Salads with Root Vegetables
Citrus, Beet, and Burrata Salad
This citrus, beet, and burrata salad is the perfect easy salad recipe to showcase winter produce this season. It's packed with nutrients like antioxidants, vitamin C, and folate. Serve this as a tasty side dish with your holiday meal, or with any weeknight dinner.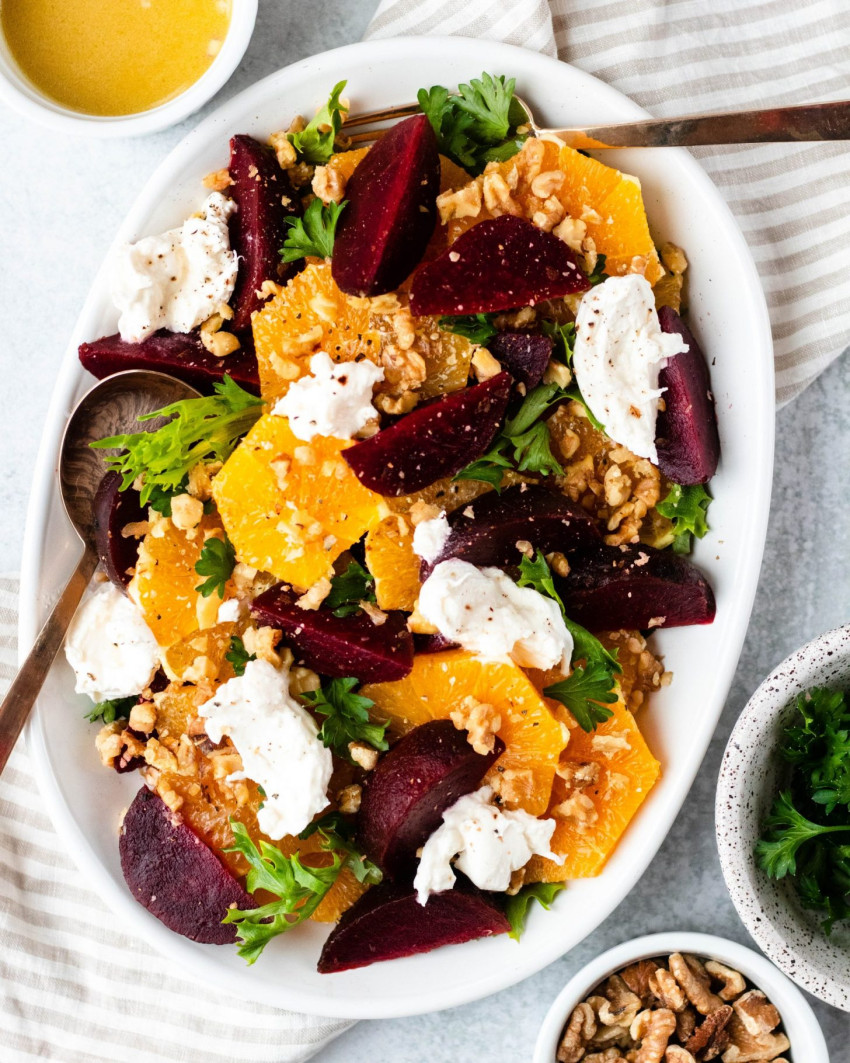 Beet Quinoa Salad with Butternut Squash
This beet quinoa salad is the perfect healthy lunch recipe to make ahead for the week. It's loaded with nutrients, flavor, and texture – everyone will love it! The main ingredients include beets, butternut squash, kale, pecans, and quinoa. This recipe is vegan and gluten free.
Roasted Beet and Goat Cheese Salad with Wild Rice and Chickpeas
This beet and goat cheese salad is a delicious side dish any beet lover will enjoy! The beets are tossed with goat cheese, chewy wild rice, chickpeas, and a zippy lemon vinaigrette. I love using both golden beets and red beets in this dish because they look so beautiful together.
Quinoa, Avocado, and Roasted Root Vegetable Salad
When you're craving all the veggies, this quinoa, avocado, and roasted root vegetable salad hits the spot! This salad is simple but satisfying, as it has plenty of plant-based protein from the edamame and quinoa. Toss it in a homemade apple cider vinaigrette for a light and healthy meal.
Side Dishes with Root Vegetables
Roast up these two root vegetables, beets and parsnips, for an easy and nutritious side dish to serve with a holiday meal or weeknight dinner. This recipe calls for simple ingredients, and is ready to eat in under an hour.
If you have an air fryer, add this air fryer carrot fries recipe to your list! They're so easy to make in under 20 minutes, and you need just five simple ingredients. Carrot fries are a healthier alternative to French fries, especially when made in an air fryer instead of deep fried. Serve them as a nutritious side dish with your favorite burger!
Honey Roasted Carrots with Pomegranate and Feta
Roasting carrots completely transforms their flavor. The dry heat brings out the natural sweetness as the sugars caramelize from the heat. They become tender, sweet, and pretty addictive. I could easily eat a whole pan of roasted carrots fresh from the oven, especially when topped with pomegranate seeds and feta cheese!
Maple Roasted Carrots with Ginger Beet Tahini Sauce
If you prefer maple to honey, try these maple roasted carrots! After they have been roasted, drizzle them with a delicious homemade beet, tahini, and ginger sauce.
If you're not a fan of traditional, mayo-heavy potato salad, this romesco potato salad is for you! Soft potatoes are tossed in an addicting homemade romesco sauce for an flavorful summer side dish. Romesco sauce originates from Catalonia, an autonomous region in northeastern Spain. Fishermen traditionally prepare the sauce to serve with fish. Romesco sauce is full of nutritious ingredients. It's typically made with roasted tomatoes, olive or sunflower oil, garlic, peppers, and almonds, pine nuts, or hazelnuts. Some recipes include vinegars, onion, and fresh herbs.
Maple Cinnamon Sweet Potato Wedges with Pecan Crumble
These caramelized, cinnamon-y, maple-y sweet potato wedges are so delicious, especially with the addition of a pecan crumble topping. Think of the crumble topping almost like granola. It adds even more sweet cinnamon flavor, plus the element of crunch. The contrasting textures in this dish is amazing!
Sweet and Smoky Baked Sweet Potato Fries
These baked sweet potato fries accompany tons of meals as a perfect side dish. Serve them with baked salmon and vegetables, or with a hearty veggie burger! You need just 6 ingredients to make this vegan and gluten free size dish: sweet potatoes, olive oil or avocado oil, cinnamon, smoked paprika, salt, and pepper.
Tahini Citrus Cauliflower Sweet Potato Salad
This nutritious side dish features roasted cauliflower and sweet potatoes, and a creamy tahini citrus dressing. It's a unique take on traditional potato salad, so it is perfect for a cookout or BBQ. This recipe is vegan and gluten free.
Ginger Roasted Beets, Sweet Potatoes, and Pears
This simple side dish features roasted pears mixed in with sweet potatoes and beets. Roasting the pears, just like roasting vegetables, enhances the sweet flavors. Fresh ginger adds zingy and fresh flavor to the mix. This recipe is vegan and gluten free.
Mains with Root Vegetables
This carrot ginger soup is full of anti-inflammatory ingredients including ginger and garlic. It's creamy (yet dairy free), spicy, and comforting for a cold winter day, especially if you're feeling a little under the weather. This recipe is vegan and gluten free.
Mexican Stuffed Sweet Potatoes
These Mexican stuffed sweet potatoes are a vegetarian dream meal. The sweet potatoes get super creamy and caramelized when roasted, and their flavor pairs beautifully with Mexican spices like cumin and chili powder. Even better topped with homemade guacamole!
Chickpea and Avocado Stuffed Sweet Potatoes
Another stuffed sweet potato, this version is filled with a chickpea and avocado mash. This recipe is packed with plant-based protein, healthy fats, and dietary fiber! You can also use the chickpea and avocado mash on sandwiches or bagels, like a vegan tuna salad. This recipe is vegan and gluten free.
Baked Zucchini, Beet, and Sweet Potato Fritters
Add these root vegetable fritters to salads or serve them with a delicious dip. These fritters are baked instead of deep fried, making them a healthier option. They still get nice and crispy in the oven. This recipe is vegetarian and dairy free.
Breakfasts and Desserts with Root Vegetables
This heavenly carrot cake baked oatmeal is such a treat for a crisp fall or winter morning! It's full of warming spices like cinnamon and ginger, crunchy walnuts, and golden raisins. If you love carrot cake, you definitely need to try this recipe! It's vegan and gluten free.
I love the chocolatey richness of a slice of red velvet cake. It's so much more fun to eat than regular chocolate cake, because of the pretty color, right? This smoothie recipe features several nutritious ingredients strawberries, beets, dates, cacao powder, and chia seeds. It is nut free and gluten free!
Vegetable Frittata with Sweet Potato Crust
This frittata is loaded with different vegetables including bell pepper, spinach, and cherry tomatoes. To make a delicious crust, you'll line the pan with roasted sweet potato rounds before adding the egg mixture and baking. This recipe is vegetarian and gluten free.
Whole Wheat Morning Glory Muffins
Have you ever had a morning glory muffin? They're not as common to find in bakeries, but if you see one, grab it! Or, you can make a batch of these healthy muffins. Morning glory muffins are packed to the brim with yummy ingredients, including shredded carrots, apples, nuts, and dried fruit. They're just sweet enough, and spiced with cinnamon and cardamom. This recipe is vegetarian and dairy free.
Almond Butter Sweet Potato Muffins with Chocolate Chips
These muffins are packed with nutritious ingredients, including almond butter, sweet potato, and spelt flour! They're made without oil or butter, but are still incredibly moist. They've got fiber and healthy fats to keep you full and power you through a busy day. They're just sweet enough – naturally sweetened with roasted sweet potato and maple syrup! This recipe is dairy free and vegetarian.
Five Ingredient Sweet Potato Brownies
These healthier brownies are super moist, thanks to smooth and creamy sweet potato. They are super easy to make – just blend everything together in a food processor and bake! This recipe is vegan and gluten free, and uses nutritious ingredients like tahini and oat flour.
Let me know if you love this recipe by leaving a comment or star rating below, and check out Instagram and Pinterest for more healthy lifestyle inspiration. Thanks for stopping by!
Print
25+ Recipes with Root Vegetables: Beet Quinoa Salad
Author: Alex Aldeborgh
Prep Time: 10 minutes
Cook Time: 25 minutes
Total Time: 35 minutes
Yield: serves 4-6 1x
Category: Salads
Diet: Vegan
---
Description
This beet quinoa salad is the perfect healthy lunch recipe to make ahead for the week. It's loaded with nutrients, flavor, and texture – everyone will love it!
---
Beet Quinoa Salad
1 cup dry quinoa
1 medium butternut squash, peeled and diced (about 2 cups of squash)
1 tbsp olive oil
1/4 tsp cinnamon
Salt
Pepper
1/2 cup pecan pieces
1 1/2 cups beets, diced small (1 full package of pre-cooked beets)
4 leaves curly kale, stems removed and finely chopped
Dressing
4 tbsp olive oil
3 tbsp balsamic vinegar
1 1/2 tbsp honey mustard
1/4 tsp salt
---
Instructions
Preheat oven to 410F. Line a baking sheet with parchment paper.
Toss the butternut squash with olive oil, cinnamon, and a generous shake of salt and pepper. Roast for 20-25 minutes until fork tender, flipping once halfway through.
Cook quinoa according to package instructions.
Toast pecans in a small skillet on medium heat. Toss the pan occasionally to prevent nuts from burning. Nuts will be done when fragrant and deeper brown in color – about 5 minutes.
Prepare and chop the beets and kale.
Add all the dressing ingredients to a jar, close the jar, and shake vigorously to make the dressing.
Add all the ingredients to a large mixing bowl. Pour on the dressing and toss everything well to combine. Enjoy!
---
Notes
Recipe keeps well in the fridge for 3-5 days in an airtight container.
Keywords: beet quinoa salad, recipes with root vegetables, root vegetable recipes, beet recipes