20+ Nutritious Recipes with Tahini
Find over 20 healthy recipes to make with tahini, all created by a Registered Dietitian. You'll find plenty of different ways to use tahini, including tahini sauces, tahini dressings, main dishes, side dishes, and even desserts!
Tahini is one of the most versatile ingredients to use in your cooking. It is a common ingredient in Middle Eastern and Mediterranean cuisines, and if you've ever made homemade hummus, you probably have a jar sitting in your pantry!
You can use tahini in so many different ways, including sauces, dressings, main dishes, salads, side dishes, breakfasts, and even desserts. Keep scrolling for the recipes, or click on the sections below to learn more:
What is tahini?
Tahini is a paste made from ground sesame seeds. It is a common ingredient found in Middle Eastern, Mediterranean, and North African cuisines. Tahini is often served as a sauce on it's own, or served as a tahini-based sauce with foods like pita, falafel, meat, and vegetables.
What does tahini taste like?
Tahini looks like peanut butter and other nut butters, but it is not sweet. It has an earthy, nutty flavor that can sometimes be slightly bitter. Tahini is essentially sesame seed butter, so it has a smooth, creamy texture. It is more runny than other nut butters, and tastes great mixed into a sauce with simple ingredients like lemon juice and garlic.
Tahini nutrition benefits
In addition to being delicious, tahini is also packed with nutrients. One ounce of tahini (about two tablespoons) provides:
4.8 grams of plant-based protein
2.6 grams of dietary fiber (9 percent of your daily needs)
0.346 mg thiamine (29 percent of your daily needs)
0.134 mg riboflavin (10 percent of your daily needs)
1.545 mg niacin (10 percent of your daily needs)
9.75 mcg selenium (18 percent of your daily needs)
120.77 mg calcium (9 percent of your daily needs)
2.54 mg iron (14 percent of your daily needs)
Because it is a source of plant-based protein, calcium, and iron, tahini is particularly beneficial for those on a vegan, vegetarian, or plant-based diet. One ounce of tahini has about 15 grams of fat, but a majority of the fat comes from heart healthy mono- and polyunsaturated fatty acids.
Below, find over 20 healthy vegetarian and vegan tahini recipes!
Tahini sauces and dressings
Quick & Easy Lemon Tahini Sauce
This quick and easy lemon tahini sauce is the perfect addition to salads, grain bowls, vegetables, and pretty much any meal. It takes five minutes to make and requires just a few simple ingredients. Keep a batch in your fridge to easily elevate your meals.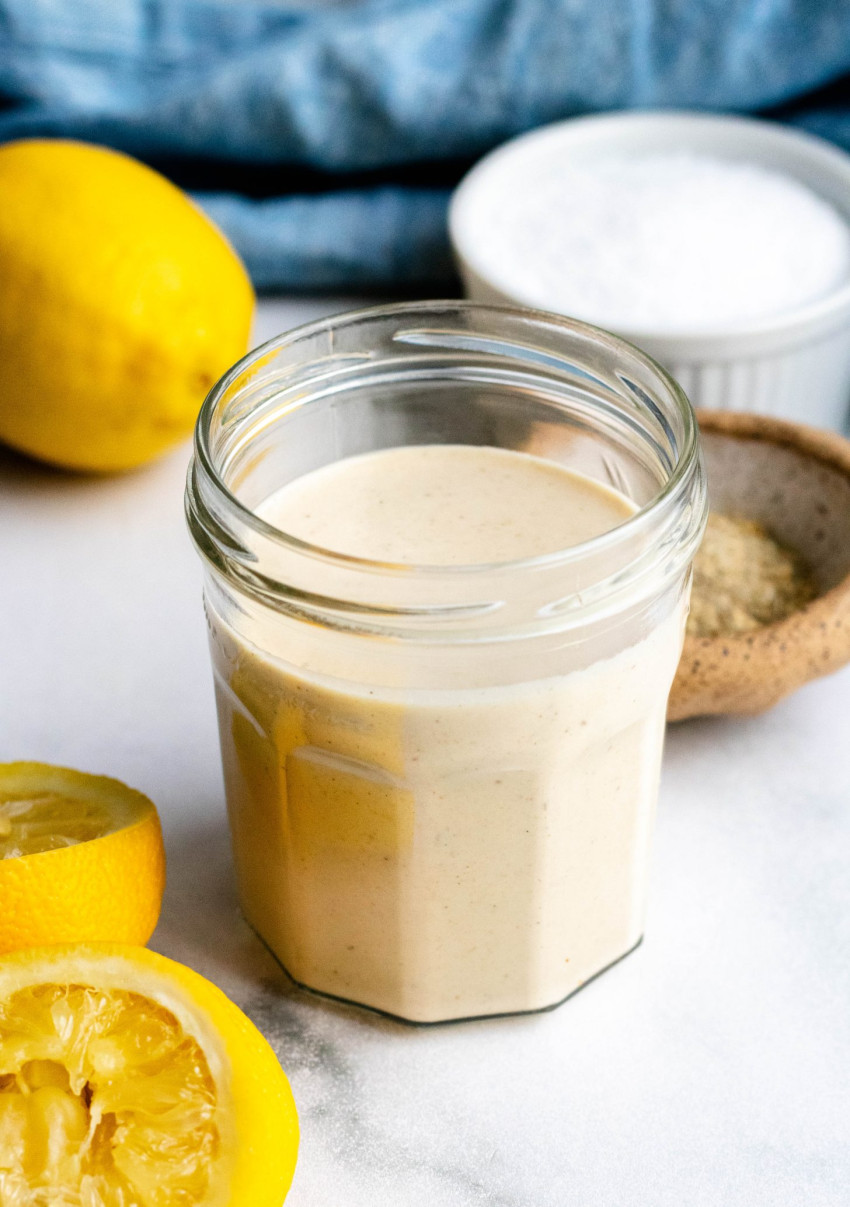 This nutritious and delicious homemade tahini goddess dressing is smooth, creamy, and versatile. It's reminiscent of Annie's Goddess Dressing. Make a batch to add to salads and meals all week long! This recipe is naturally vegan and dairy free.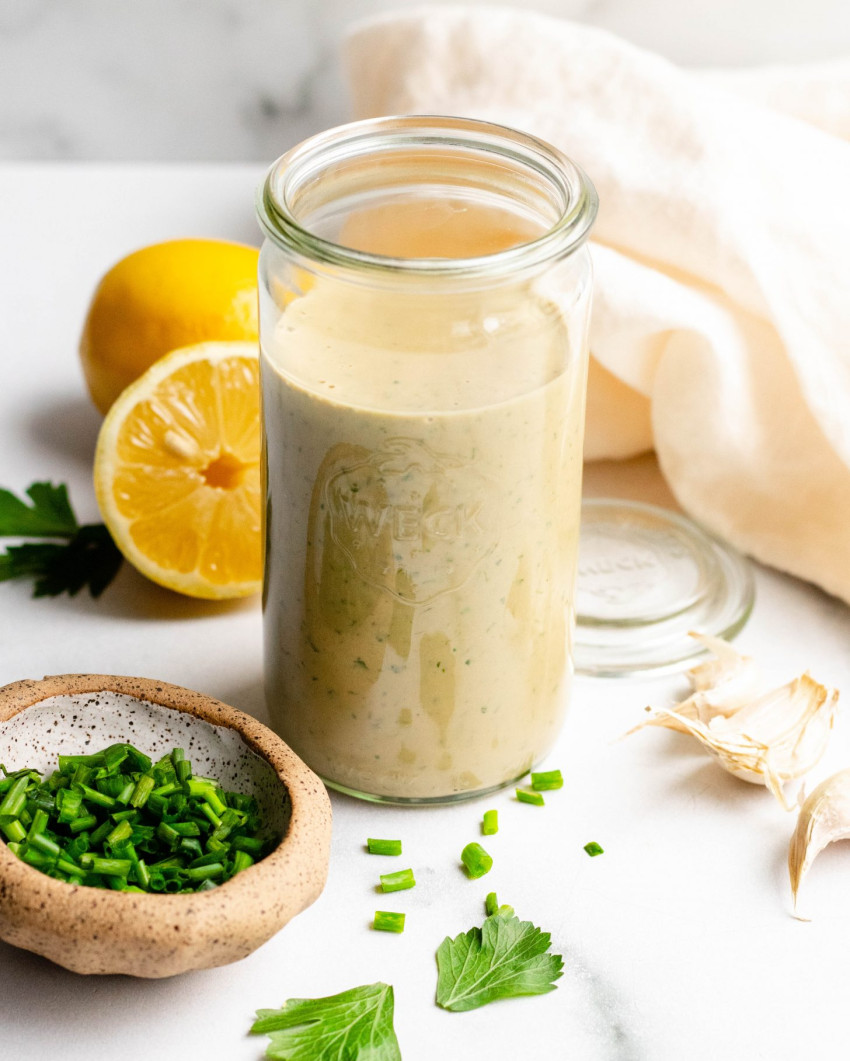 This versatile green goddess tahini sauce is packed full of bright, zesty flavors and pairs perfectly with salads, grain bowls, falafel, and much more. It gets its beautiful green color from basil, cilantro, and baby spinach.
This sesame ginger miso dressing is delicious on salads, grain bowls, and more. It's quick and easy to prepare, and packed with nutritious ingredients like white miso, tahini, and fresh ginger.
Side dishes with tahini
Oven Roasted Brussels Sprouts with Maple Tahini Sauce
These oven roasted Brussels sprouts are perfectly crispy and drizzled with a delicious maple tahini sauce. They are and easy and delicious side dish to serve whenever you have Brussels sprouts in the kitchen. This recipe is vegan and gluten free.
Roasted Broccoli with Lemon Tahini Sauce
Serve this roasted broccoli with lemon tahini sauce to vegetable skeptics, and watch their faces light up in surprise. This vegan and gluten free recipe is simple to make and perfect for a weeknight dinner.
Roasted Broccoli with Sesame Ginger Tahini Sauce
Roasted broccoli is one of my favorite vegetables on it's own, with just a little olive oil, salt, and pepper. Adding a delicious sauce takes it to the next level. This sesame ginger tahini sauce is completely addicting drizzled over a warm bowl of roasted broccoli.
Make this insanely flavorful miso sesame ginger eggplant for dinner tonight! It's easy, delicious, vegan, and gluten free. Serve it over your favorite rice, add some baked tofu, and you have yourself a yummy balanced meal everyone will love.
Tahini Citrus Cauliflower Sweet Potato Salad
This recipe is full of zingy flavor, contrasting textures and plenty of nutrients. If you are looking for a unique dish to bring to any gathering, look no further than this tahini citrus cauliflower sweet potato salad! You'll wow your friends with a creamy yet incredibly simple dressing that coats the vegetables, making them super addicting.
Maple Roasted Carrots with Ginger Beet Tahini Sauce
Roasting carrots with a little maple syrup brings out delicious natural sweetness of the vegetable. You'll love them drizzled with a pink ginger beet tahini sauce!
Main dishes with tahini
This miso grilled tofu recipe is easy to prepare and super tasty. It's marinated and dressed with a delicious homemade sesame ginger miso tahini dressing. Add this vegan tofu dish to your next cookout menu!
This vegan sheet pan dinner is loaded with vegetables, sweet potatoes, and tofu, and topped off with an addictive lemon tahini sauce. Sheet pan dinners are simple and make for fast clean up. Make this easy weeknight recipe tonight!
Roasted Cauliflower Tacos with Cilantro Lime Tahini Sauce
These roasted cauliflower tacos are seriously the best. Roast cauliflower with lots of spice and add homemade cilantro lime tahini sauce, avocado, pickled red onions, and fresh herbs.
Stuffed Eggplant with Bulgur, Tomato, and Dried Figs
This stuffed eggplant recipe is filled with bulgur, tomato, chickpeas, dried figs, basil, and spices for a delicious vegan meal everyone will enjoy!
Breakfasts, snacks, and desserts with tahini
Tahini Granola with Giant Clusters
Once you try this homemade tahini granola recipe, you'll want to make it again and again! The giant clusters are super crunchy and totally addicting. The tahini adds a richness to all the flavors. It also makes for even thicker clusters! If you get an extra large cluster, it's almost like eating a crunchy oatmeal cookie.
If you'd like to include beets in your diet for the health benefits, but aren't keen on the taste, try this dip! You really can't taste the beet flavor, thanks to the delicious lemon juice, tahini, garlic and spices. This white bean dip is super smooth and creamy, and a fun alternative to regular hummus.
If regular hummus sounds more appealing to you, try this Loaded Greek salad hummus. This recipe is meant to serve a large crowd. Once you try making this homemade hummus with tahini, it will be hard to go back to store bought!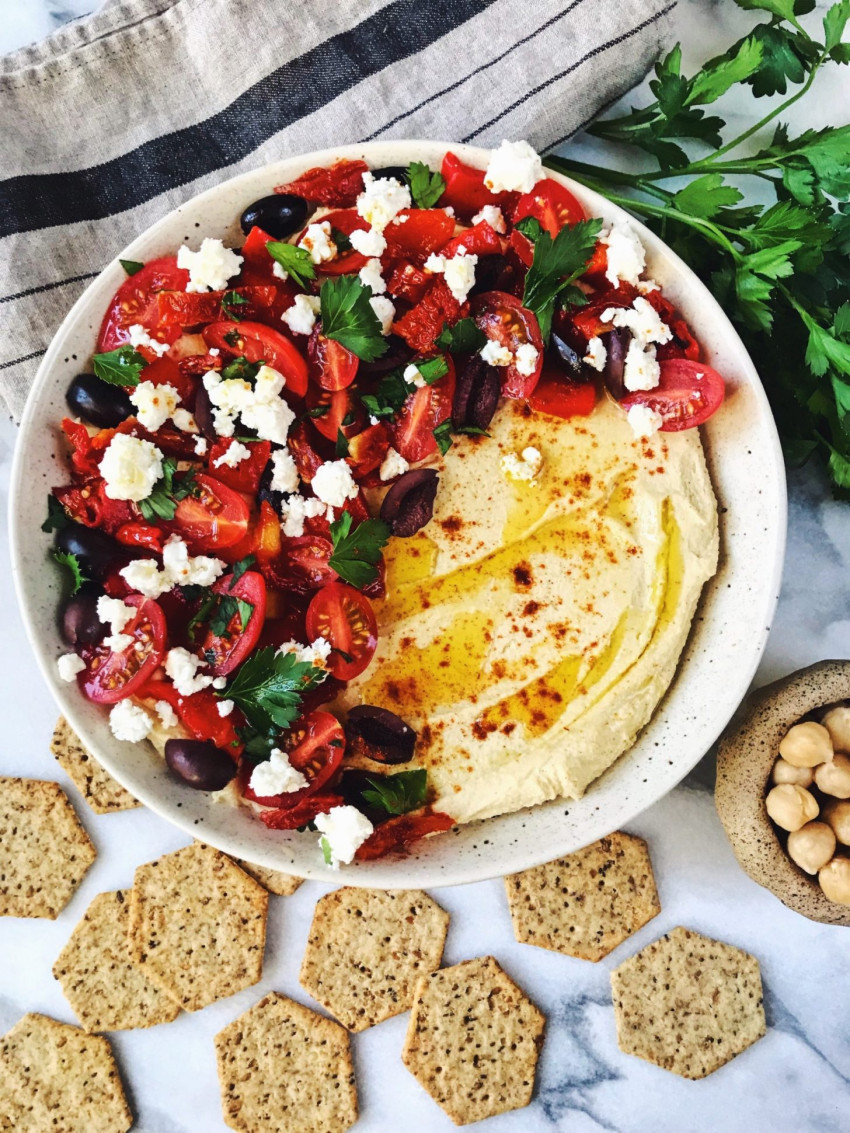 Double Chocolate Tahini Cookies
If you love chocolate, don't sleep on these double chocolate tahini cookies! They're so soft, fudgy, and most importantly, packed with rich chocolate flavor. They just happen to be vegan, gluten free, and full of healthy fats! Tahini adds a depth of flavor while providing moisture. Using tahini eliminates the need for butter or oil.
The Best Fudgy Tahini Brownies
These tahini brownies are incredibly chocolatey and fudgy. They're free from gluten, oil and refined sugar, but you'd never know it. Tahini is the hero of this recipe, which eliminates the need for oil or butter while still keeping the brownies super moist and giving them a rich flavor.
Five Ingredient Sweet Potato Brownies
These brownies are super moist, thanks to smooth and creamy sweet potato and tahini. They also could not be easier to make. Just blend everything together in a food processor and bake! You'll need just five ingredients, besides salt, baking powder, and (optional, but highly recommended) chocolate chips.
S'mores are a classic summertime treat. There is something so nostalgic about the toasted marshmallow, melty chocolate, and crunchy graham cracker combination. For those living in cities without regular access to campfires like me, these tahini s'mores blondies have it all!
Maple Pecan Tahini Blondies with Maple Pecan Glaze
Maple and pecan go together like pumpkin and spice or apples and cinnamon. They're classic fall ingredients, and when the temperature starts to drop, I am craving them all! These maple pecan tahini blondies bring maple and pecan together into a match made in heaven. The blondies are moist, fluffy, and loaded with cozy fall flavors.
Edible Chocolate Chip Cookie Dough
This edible chocolate chip cookie dough eliminates the risk of food poisoning because it doesn't contain eggs. It actually doesn't contain any other traditional chocolate chip cookie ingredients (except for chocolate chips). Made with chickpeas, tahini, oats, and maple syrup, this cookie dough is actually a good source of fiber and healthy fats!
Let me know if you love this post by leaving a comment or star rating below, and check out Instagram and Pinterest for more healthy lifestyle inspiration. Thanks for stopping by!
Print
20+ Nutritious Recipes with Tahini: Lemon Tahini Sauce
Author: Alex Aldeborgh
Prep Time: 5 minutes
Total Time: 5 minutes
Yield: about 1 cup 1x
Category: sauces and dressings
Diet: Vegan
---
Description
Find over 20 healthy recipes to make with tahini, all created by a Registered Dietitian. You'll find plenty of different ways to use tahini, including tahini sauces, tahini dressings, main dishes, side dishes, and even desserts! Plus, the recipe for the best easy lemon tahini sauce. 
---
1/2 cup tahini 
Juice of 1 lemon (about 3 tablespoons)
1/2 tsp salt
1/2 tsp garlic and herb seasoning
1/3 cup cold water
---
Instructions
Add tahini, lemon juice, salt, and garlic and herb seasoning to a bowl. Whisk them together to combine. Stop whisking when the tahini seizes up and becomes thick and grainy.
Add half the cold water and continue to whisk the sauce. Keep adding water 1 tablespoon at a time until the sauce loosens and maintains desired smooth and creamy consistency.
Drizzle over salads, vegetables, etc. 
Notes
Store in a jar in the fridge for up to 2 weeks.
Keywords: lemon tahini sauce, recipes with tahini, tahini recipes