Here are 20 delicious vegan cookie, brownie, and bar recipes to try baking right now! Which one will you try first?
Who else is baking up a storm right now? For me, baking is therapeutic, fun, and rewarding. My favorite things to bake are cookies, brownies, and bars. There's nothing like a fresh batch of chocolate chip cookies cooling on the counter!
While I am not strictly vegan, I really enjoy baking and creating vegan cookie, brownie, and bar recipes. Vegan baked goods are just as delicious as regular ones! Plus, you can eat alllll the cookie dough you want 🙂
Here is a list of 20 amazing vegan cookie, brownie, and bar recipes to try baking today. The list comes from my own blog and from around the internet. Which recipe calls out to you first?
20 amazing cookie, brownie, and bar recipes
Cookies
If I had to choose one dessert to eat for the rest of my life, it would probably be cookies. I love all types! Here are some of my favorite vegan cookie recipes.
Tahini Oatmeal Cookies with Coconut and Chocolate Chips
Never tried tahini cookies? You're in for a treat! These tahini cookies are loaded with oatmeal, coconut, and big chocolate chunks. They're easy to make and totally addicting.
Salted Chocolate Peanut Butter Cookies
Chocolate + peanut butter is one classic combination that I will always adore. These chocolate peanut butter cookies are impossibly soft and SUPER peanut buttery.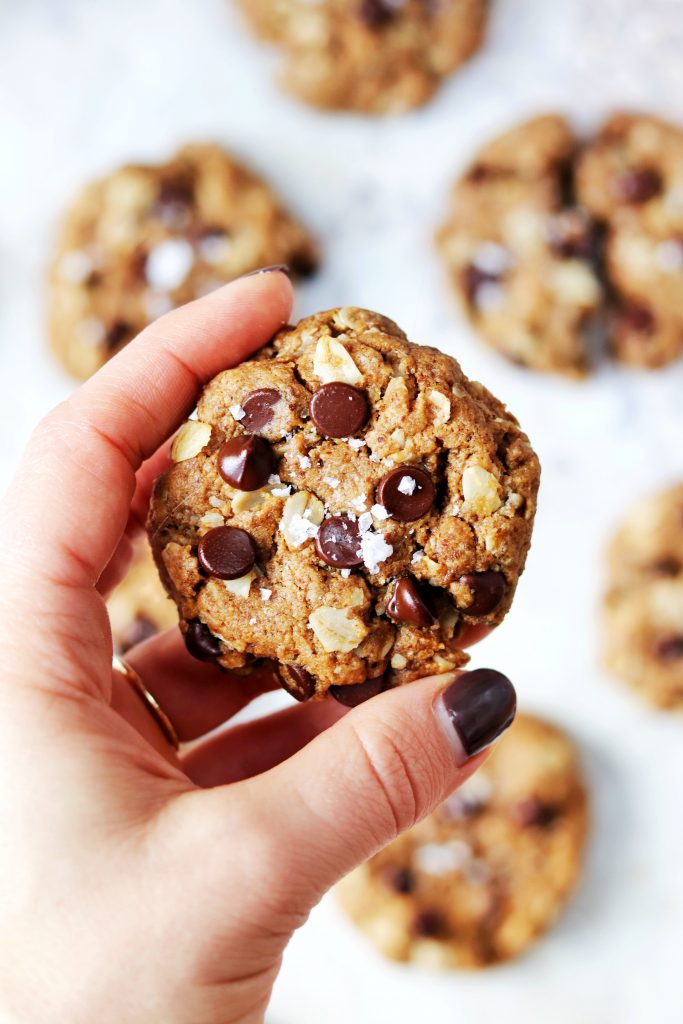 Almond Butter Oatmeal Chocolate Chip Cookies
I've made these cookies several times, and they just keep getting better. Pro tip: don't forget the generous sprinkle of flaky sea salt.
These chocolate cookies from Lazy Cat Kitchen look like a chocolate lover's dream! I definitely need to make these ASAP.
Thin & Crispy Vegan Chocolate Chip Cookies
While I usually prefer soft, chewy chocolate chip cookies, I also LOVE Tate's thin, crispy cookies. If you're a Tate's fan, you have to make this vegan version of the thin and crispy chocolate chip cookie by Beaming Baker!
Snickerdoodles are an underrated cookie. Soft and full of cinnamon, they are actually pretty amazing. This vegan version by Ellie Likes Cooking looks just perfect!
Chocolate and coconut is such a satisfying combination. This coconut chocolate cookie recipe by The Edgy Veg has all the amazing flavors of Girl Scout Samoas!
These vegan pistachio macarons by Pies & Tacos are the prettiest cookies I've ever seen! I am dying to try this recipe.
Don't these iced oatmeal cookies remind you of the packaged ones we all used to eat? This vegan version by Nora Cooks is officially on my bake list.
Four Ingredient Salted Maple Shortbread Cookies
I never knew I needed salted maple shortbread cookies until I saw these ones by Amanda Lee Lifestyle. You too, right?
Cookies with the flavor and texture of brownies? Sign me up! These chocolate almond cookies by Darn Good Veggies look pretty much perfect.
Brownies and Bars
Once you've baked your way through all the vegan cookies, it's time to move on to brownies and bars. Here are lots of amazing vegan recipes to try.
Soft Almond Butter Oatmeal Raisin Bars
These almond butter oatmeal raisin bars are like oatmeal raisin cookies on crack. They're so soft, chewy, and packed with raisins.
Healthy Almond Butter Magic Bars
These bars have all the flavor of classic magic bars, including coconut, chocolate, and nuts.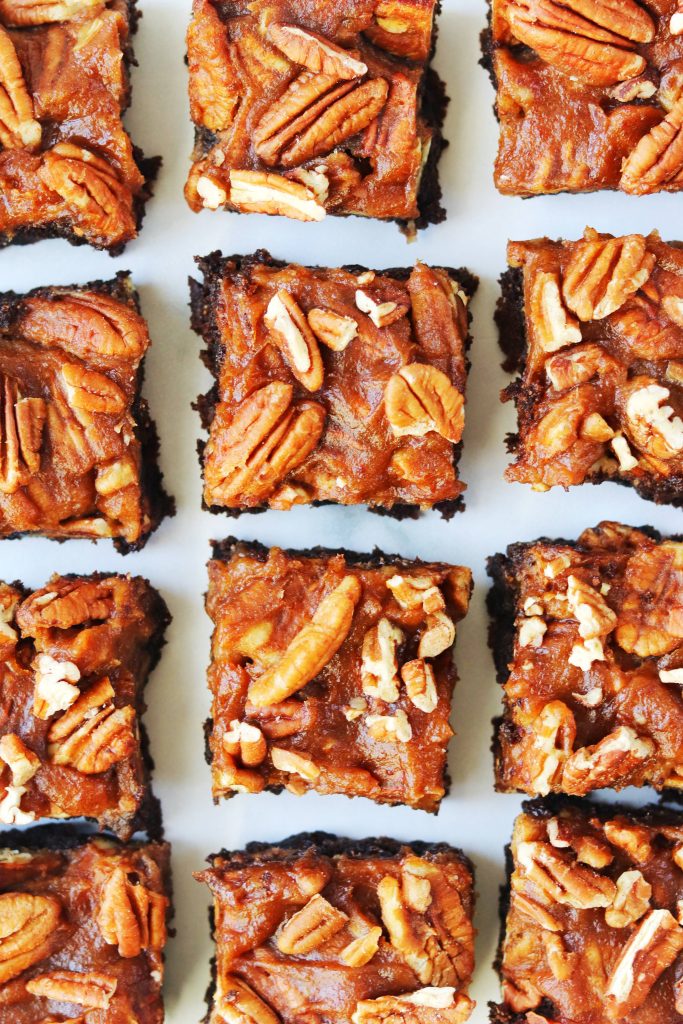 Peanut Butter Pecan Pie Brownies
Why choose between brownies and pie when you can have both? These peanut butter pecan pie brownies are full of ooey-gooey goodness.
These bars are your favorite summertime treat, but in blondie form! They are super fudgy and totally addicting.
No Bake Chocolate Peanut Butter Oatmeal Bars
You won't even need to turn on your oven to make these chocolate peanut butter oatmeal bars by Ambitious Kitchen!
Chocolate Chip Banana Blondies
Can we just talk about how fudgy these blondies by Purely Kaylie look? They are basically banana bread but quite possibly even better!
No Bake Chocolate Caramel Bars
I'm truly speechless looking at these no bake chocolate caramel bars by Running on Real Food. I would easily eat them all in one sitting!
Because this list would not be complete without a classic fudge brownie recipe. Feasting on Fruit absolutely nailed it with these babies!
ElaVegan makes all her vegan desserts look amazing, especially these cheesecake brownies! The cheesecake layer is made from tofu. Don't these brownies look incredibly decadent?
Let me know if you love this post by leaving a comment below, and check out Instagram and Pinterest for more healthy lifestyle inspiration. Thanks for stopping by!