10 Plant-Based Protein Sources to Add to Your Diet
Want to eat more plant-based? Find out some of the best plant-based protein sources you should be eating regularly for good health.
One of the greatest misconceptions in the nutrition world is that plant-based diets do not provide enough protein. As an RD, I've heard this time and time again. But, a well-planned and thoughtful vegetarian or vegan diet can provide all the nutrients we need for good health, including protein from plant-based protein sources.
Benefits of A Plant-Based Diet
Nutrition research has consistently pointed to a plant-based diet to provide numerous health benefits. Whether you're vegan or just experimenting with Meatless Monday, we can all benefit from eating more plants! Here are a few of the amazing health benefits of a plant-based diet:
Plant-Based Protein Sources
Protein is an important macronutrient, as it is the building block for body tissue. Our protein needs vary by individual based on age, activity level, health status, etc. Including a variety of the following foods in your diet daily will meet the protein needs of most people, with the added health benefits of these ingredients!
Beans
Beans of all kinds – black, kidney, chickpea, etc. – are one of the world's healthiest foods. They are a starchy protein, as they also contain some carbohydrates. Because of this, beans are a great source of dietary fiber. They are also rich in vitamins and minerals, including iron!
Protein in Beans: 15 grams in 1 cup
How to Add Beans to Your Diet:
Lentils
Lentils are similar to beans, in that they are also a starchy protein source. One cup of lentils has a whopping 16 grams of dietary fiber! Lentils have a hearty texture that holds up well as a replacement for meat in dishes like stews and sauces.
Red lentils tend to break apart when cooked, so they are great in soups and stews. Green, black, and French lentils will hold their shape when cooked.
Protein in Lentils: 18 grams in 1 cup
How to Add Lentils to Your Diet:
Peas
Peas are a versatile ingredient that have plenty of plant-based protein. They are similar to beans and lentils in that they also contain carbohydrates, and therefore fiber. Also, peas contain good amounts of several vitamins and minerals, notably vitamins A, C, K, and B-vitamins.
Protein in Peas: 8 grams in 1 cup
How to Add Peas to Your Diet:
Tofu, Tempeh, and Edamame
Tofu, tempeh, and edamame are all foods coming from the soybean. Edamame is immature soy bean, and tofu and tempeh are products made from soy. In many Asian cultures, soy is a staple protein source.
For years, there has been swirling controversy around the safety of soy in our diets, but the research has consistently shown that soy is safe and very healthy for us.
Protein in Tofu, Tempeh, and Edamame: 20 grams in 1 cup
How to Add Tofu/Tempeh/Edamame to Your Diet:
Quinoa
Quinoa is technically a seed, but it tastes, cooks and acts like a grain. Unlike other grains though, quinoa is a good source of protein. Not only that, quinoa has all nine essential amino acids, making it a complete protein. This sets quinoa apart from other plant-based protein sources!
Protein in Quinoa: 8 grams in 1 cup
How to Add Quinoa to Your Diet:
Nuts
Almonds, walnuts, macadamia, pistachios, and more are nutrition powerhouses. They are rich in energy, healthy fats, vitamins, minerals, and protein. Nuts are one of my favorite on-the-go snacks to have on hand.
Protein in Nuts: 5 grams per 1/4th cup
How to Add Nuts to Your Diet:
Seeds
Like nuts, seeds contain an abundance of heart healthy fats. They're also good sources of minerals, like calcium, magnesium, zinc, iron, and copper. Some seeds to add to your diet include sesame, pumpkin, and flax.
Protein in Seeds: 10 grams in 1/4th cup
How to Add Seeds to Your Diet:
Chia Seeds
Chia is a seed, but it gets its own category! Chia seeds are a good plant-based source of iron and calcium. What makes them extra special is they are a good plant-based source of essential omega-3 fatty acids. We can't produce these on our own, so it is important we get adequate amounts in our diet. So, since omega-3 fatty acids are mainly found in animal products, chia seeds are a great way to get these good fats if you are following a plant-based diet.
Protein in Chia Seeds: 5 grams in 1 ounce
How to Add Chia Seeds to Your Diet:
Hemp
Hemp hearts are another good source of plant-based protein. Just like chia, they are rich in heart healthy fats, including omega-3 fatty acids. Similar to quinoa, hemp is a complete protein, as it contains all nine essential amino acids.
Protein in Hemp: 6 grams in 2 tablespoons
How to Add Hemp to Your Diet:
Nutritional Yeast
Nutritional yeast is an inactive form of yeast, and is sold in flaked form. It is full of nutrition benefits, including B-vitamins and protein. In fact, it's one of the only plant-based sources of Vitamin B12. Like quinoa and hemp, nutritional yeast contains all nine essential amino acids, making it another plant-based complete protein source.
Nutritional yeast has a savory, cheesy flavor that is delicious in pasta dishes!
Protein in Nutritional Yeast: 10 grams in 2 tablespoons
How to Add Nutritional Yeast to Your Diet:
There you have it! As you can see, these delicious plant-based protein sources are full of other amazing nutrients like fiber, vitamins, and minerals. Have you tried them all?
Let me know if you love this post by leaving a comment below, and check out Instagram and Pinterest for more healthy lifestyle inspiration.
Save this post for later to one of your Pinterest boards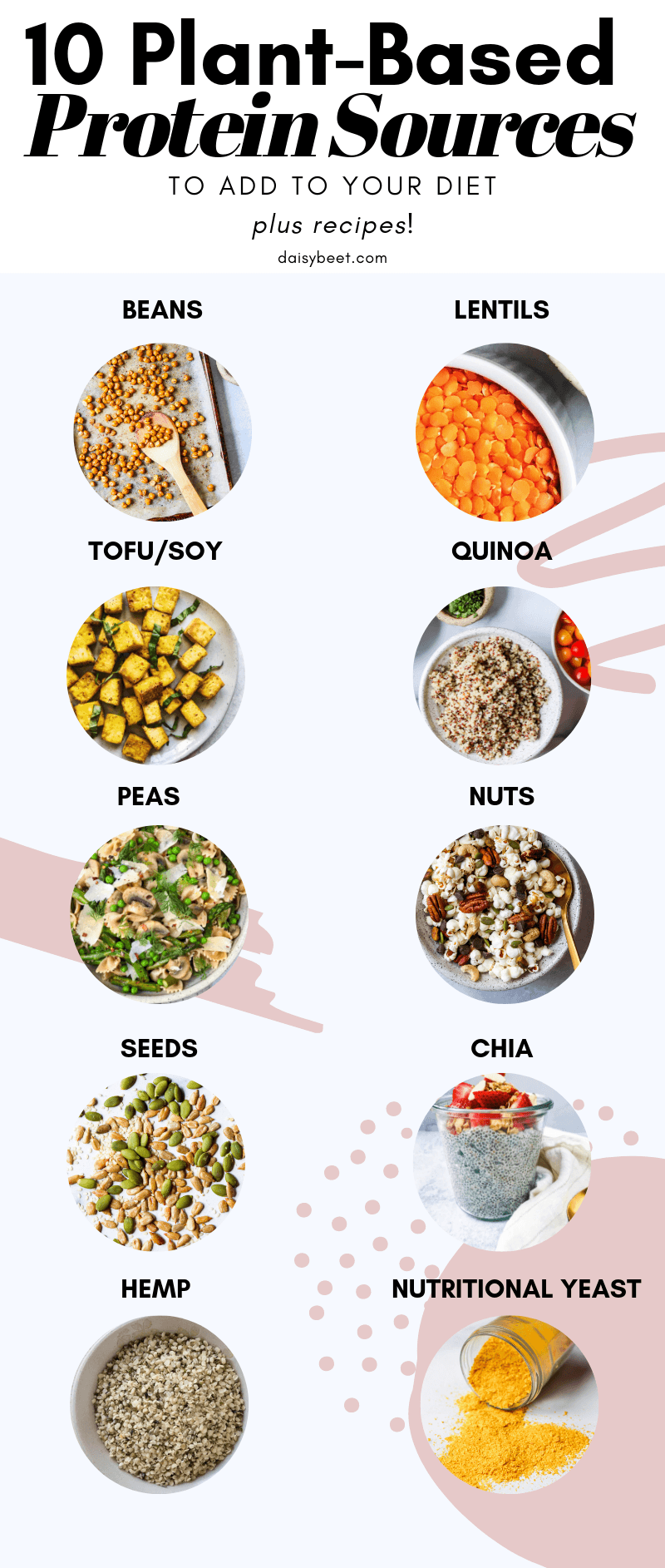 Disclosure: Some of the links in this post are affiliate links, which help keep Daisybeet running. I truly love all the brands I link to, and use them frequently in my daily life!