Make the most out of fresh and seasonal summer produce! Try one of these easy, healthy, and delicious summer salad recipes.
Summer is my favorite time of year when it comes to fruits and vegetables. There is just an abundance of super fresh, flavorful produce. Plus with the hot weather, I crave cooling foods like salads more often. It just feels EASY to eat healthy in the summertime!
When I'm craving a quick, cooling, and healthy dish to make in the summer, I always go for salads. They're an easy way to fill up on tons of vitamins, minerals, antioxidants, and fiber.
I love adding grains and cheese to my summer salads to make them more substantial. Also, tons of fresh herbs are a must!
The beauty of summer salads is that they hardly require a recipe. When in double, just chop up whatever fresh veggies you have on hand. Add salt, pepper, chopped fresh herbs, and a drizzle of olive oil and your favorite vinegar. Voila! I guarantee you'll enjoy it.
I'm sharing a round-up of my 10 favorite summer salad recipes below. Which one are you going to try first?
10 easy and healthy summer salad recipes
Last summer, we were lucky enough to travel the South of France for an epic vacation. I ordered the most amazing burrata, tomato, and melon salad at a bistro, and knew I had to recreate it at home.
This salad is topped with pesto, pine nuts, and balsamic glaze. You can either make your own pesto or use store bought!
This is one of my all time favorite summer salad recipes. It's a crowd pleaser, too! Who doesn't love creamy avocado, fresh tomatoes, and crunchy sweet corn?
The strawberries and goat cheese add a unique and special touch to this classic summer combination. You will love it!
If you can't tell, I love to add summer fruits to my salad. The sweet and tart fruit flavors contrast so well with other summer vegetables.
When peaches are in season, this simple summer peach salad is so satisfying. I recommend using peaches that are juuuust starting to ripen, so they are firm enough to hold their sliced shape.
If you can't get enough summer peaches in your salads, try this peach caprese salad recipe, too! This recipe is crazy simple, but impressive and delicious.
With a super simple recipe like this one, make sure you are using the freshest, highest quality produce you can find. Heirloom tomatoes are my favorite tomatoes to use in this recipe.
Watermelon and feta cheese is one of those combinations that makes you say, "huh?", until you try it. It's REALLY good, and it's a fun way to enjoy watermelon in a unique way.
This recipe includes crunchy cucumber and zesty lime juice. It's a great snack or barbecue side dish.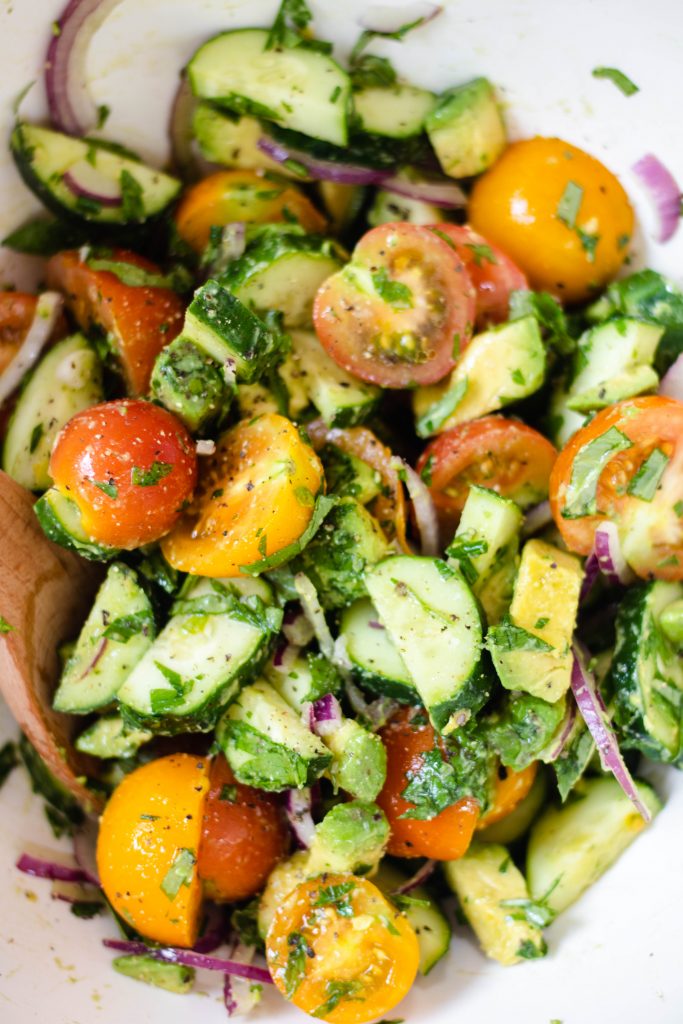 For when you DON'T feel like adding fruit to your salad…enter this tomato avocado cucumber salad recipe! The key to making this recipe extra delicious is adding tons of chopped fresh herbs. You can use whatever you have on hand, such as basil, parsley, cilantro, or dill.
I've made this recipe with both cherry tomatoes and large tomatoes. Both work beautifully!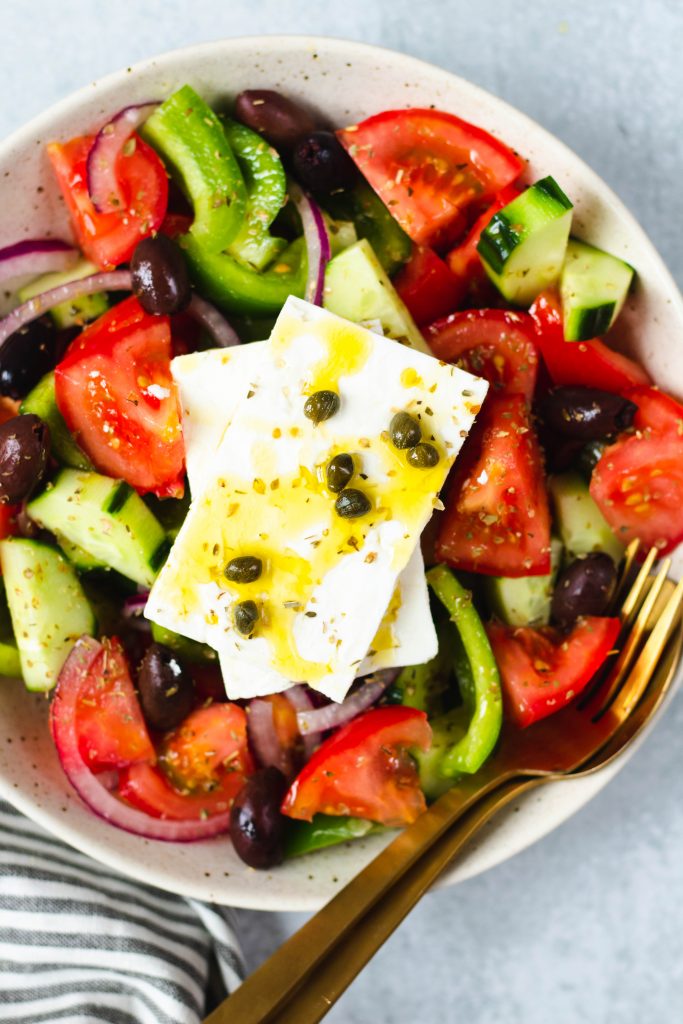 If you haven't caught on, most of my favorite summer salad recipes do not include lettuce. This stems from my love of authentic Greek horiatiki salads.
I fell in love with this salad back when I studied abroad in Greece. There's something magical about the combination of fresh tomatoes, cucumber, olives, feta cheese, and red onion. It doesn't hurt to enjoy this salad on a Greek island, too.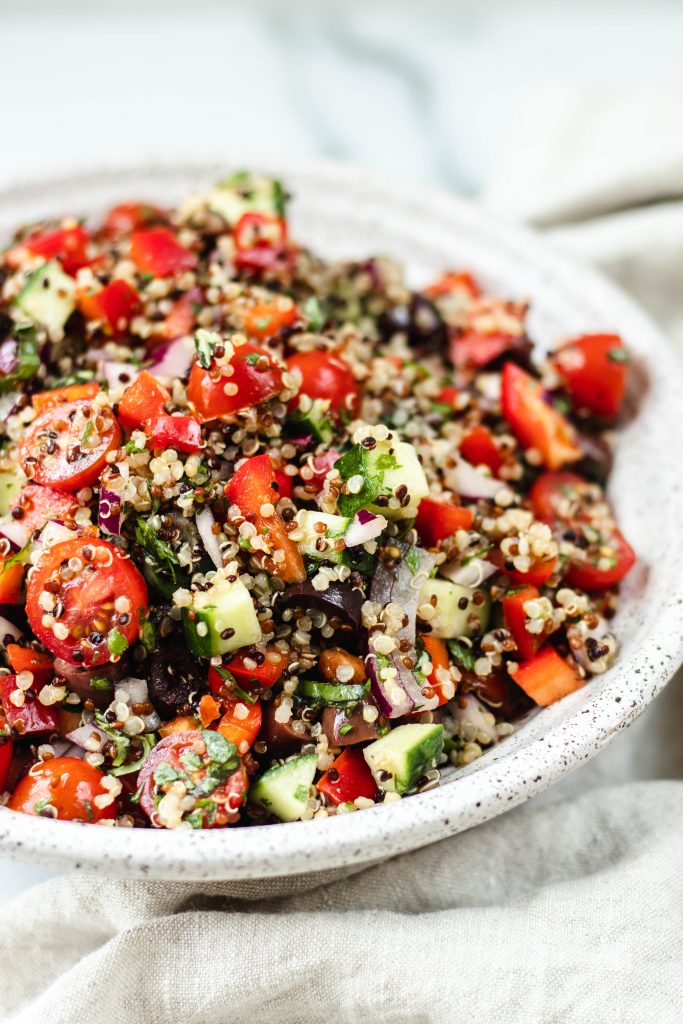 Some of the best salads are GRAIN salads. I've been super into quinoa salads recently, especially this Mediterranean quinoa salad. I've made it at least 5 times this summer!
All you need to do to make this recipe is cook some quinoa and chop up a bunch of veggies, herbs, and olives. Toss it all together in a simple lemon dressing, and you have lunch for a week!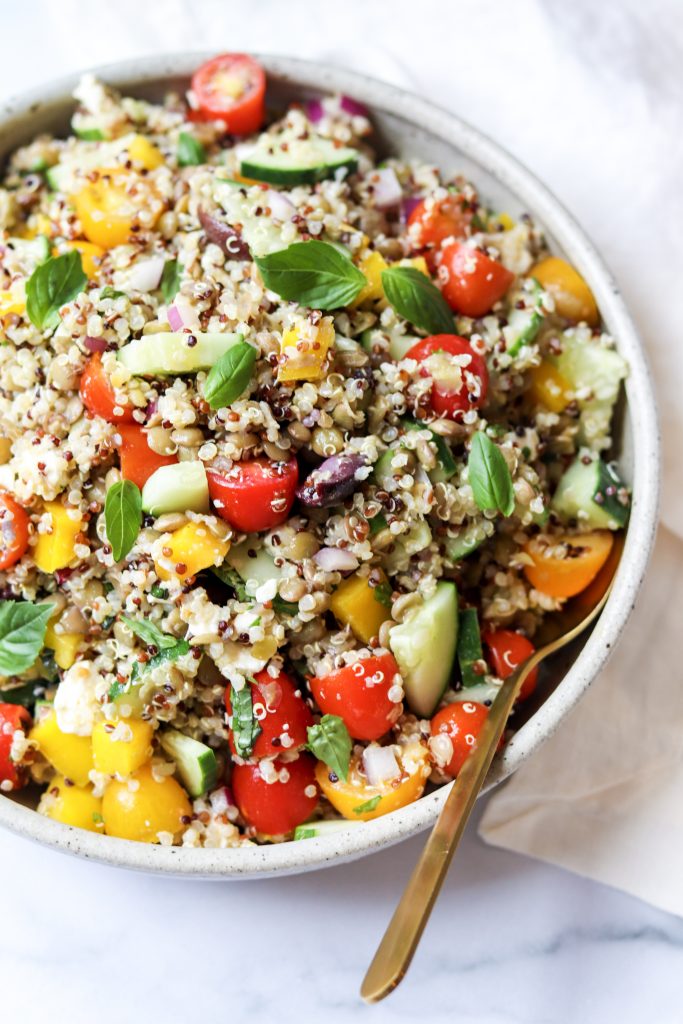 This quinoa salad is one of my most popular recipes on Pinterest, and for good reason! It's nourishing, colorful, satisfying, and easy to make.
This salad is substantial enough to be a meal salad, thanks to the plant based protein in quinoa and lentils. The vegetables, olives, and feta cheese are all inspired by Greek horiatiki salads I love so much (recipe above).
This salad recipe round-up wouldn't be complete without a kale salad recipe! This kale salad with homemade creamy goddess dressing is my favorite way to enjoy kale right now.
The creamy goddess dressing is ADDICTING. I use it to make this salad, but also drizzle it on grain bowls, roasted vegetables, and for a dip with veggies and crackers.
Let me know if you love this post by leaving a comment below, and check out Instagram and Pinterest for more healthy lifestyle inspiration. Thanks for stopping by!
Save this post for later to one of your Pinterest boards